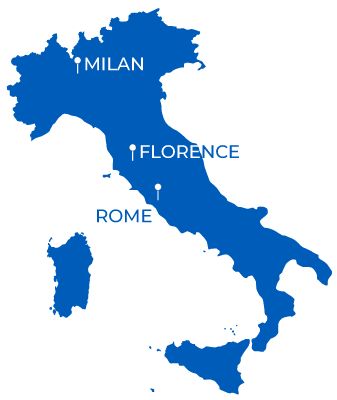 Study in Italy with CIEE and learn Italian language in this charming, historic country.
The birthplace of the Renaissance, pizza, banks, espresso machines, newspapers, the piano, and radio, Italy is known for its fantastical inventions, unrivaled natural and urban beauty, beloved culture, and delicious cuisine. Studying abroad in Italy has it all: 2,500 years of rich history in dynamic Rome, artistic tradition in scenic Florence, and fashion-forward style in urban Milan. No matter which Italian gem you choose, you're sure to have the study abroad experience of a lifetime in Italy!
Whether you choose to study for a semester, year, or summer in Italy, you can complete a variety of courses including Italian language, art, architecture, history, communication, business, performing arts, and more. There are a variety of reasons to study abroad in Italy, from the historical significance and charm of the country to the vast program offerings and excursions offered on CIEE's Italy programs. 
In Italy, CIEE gives students access to homestays, internships, volunteering opportunities, and direct enrollment options with added cultural clubs, activities, and excursions that provide a uniquely immersive international experience. Come write your story of Italy with CIEE and begin or improve your Italian language skills in the Eternal City. 
Best Places to Study Abroad in Italy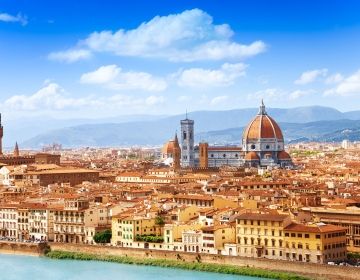 Florence
The capital of Italy's Tuscany region, Florence is one of the world's art capitals beloved for its authentic Italian culture.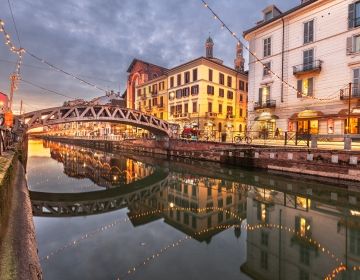 Milan
The second-largest city in Italy and a global capital of fashion and design, discover centuries-old art and culture in Milan.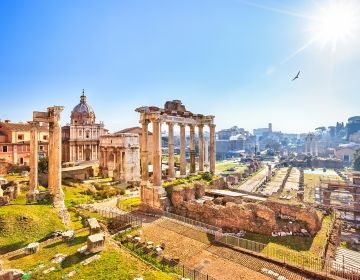 Rome
Explore Italy's historic capital city, famous for its renowned landmarks like the Colosseum, Trevi Fountain, and Spanish Steps.
Study Abroad Programs in Italy
Study Abroad in Italy Reviews
"It was an amazing experience, great way to see the world, and op-portunity to meet new people. The program and classes were amazing and they made it very easy to live life here. I never felt like I had to make it on my own and everyone was extremely supportive. I had an amazing time and made great memories."

Max P., Indiana University-Bloomington

"The CIEE staff are incredibly friendly and helpful at all stages of studying abroad. Each staff member genuinely values the health, safety, and experience of every student. They strive to make the best out of every moment spent in your host country. The program trips included in the program fee are well worth the money and offer experiences that might not be achievable without CIEE's special access. Furthermore, CIEE's program fee has been the most valuable investment of my 21 years on this planet! Thank you CIEE!!!"

Michelle R., University of Colorado-Boulder

"I really enjoyed my experience and would say it was the best time of my life. CIEE was extremely helpful and I never felt unsafe or unprotected."

Lawrencia P., Florida A&M University

"Staff and professors are very supportive and do everything they can to make the program enjoyable during these unprecedented times. They go out of their way for the students and we are greatly appreciative for it."

Jessica C., Arizona State University
Frequently Asked Questions
Study Abroad in Italy Blog
By: Priya Moran As a study abroad student in Rome , you can explore some of Italy's most beautiful and historic cities. One city you want to take advantage of... keep reading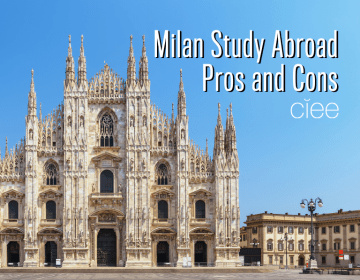 If you're considering studying abroad in Italy and have Milan as one of your top city choices – first, good thinking, and second, keep reading as we outline the pros... keep reading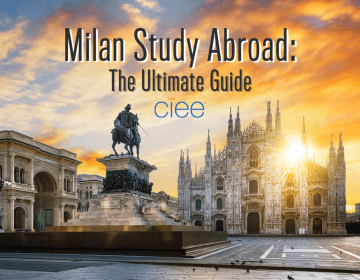 Milan , referred to as the fashion capital of the world, is a beautiful Italian city known for its multicultural vibe, design and retail innovations, and incredible museums and architecture... keep reading
STUDY IN UP TO 3 CITIES THIS SEMESTER
With CIEE's open campus model, you can design your very own study abroad semester program to include up to three different locations. Feel free to build your own program using our custom study abroad tool, spin the globe, or take a look at experiences around some of our most popular open campus combinations!