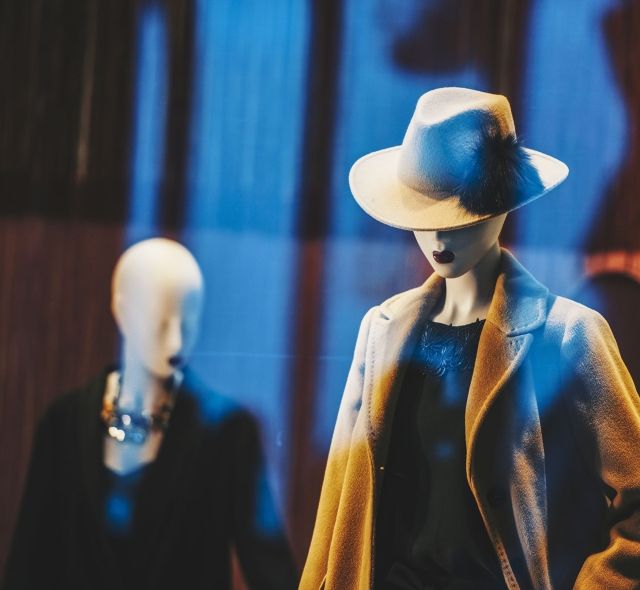 Summer Fashion, Retail & Innovation
Credit
3 semester hours
4.5 quarter hours
Eligibility
Overview
EXPLORE
Galleria Vittorio Emanuele II, Italy's oldest active shopping gallery, home to designer boutiques
TRAVEL
to the Lombardy Region from Brescia to Bergamo
VISIT
the Last Supper Painting created by Leonardo da Vinci in the late 15th century
200,000 +
visitors attend Fashion Week in Milan
80 +
museums and galleries in the city
6 TH
largest tram network in the world
Experience
Your Destination
Say hello to Milan, the second-largest city in Italy and the country's unofficial fashion capital. Home to some of Italy's major fashion brands, a booming wine industry, one of the oldest shopping centers in the world (the Galleria Vittorio Emanuele II), and a thriving international student community, there is plenty to experience and explore in the cosmopolitan city of Milan.   
When you study abroad in Milan, you call the Lombardy region of northern Italy home. Here, you'll have every opportunity to indulge in one of the canal-side cafés or restaurants in the Navigli District, explore the Sforzesco Castle to discover the city's history, and much more while immersing yourself in the local culture.   
CIEE wants all our students to feel welcomed, supported, and empowered to succeed while studying abroad. Local CIEE staff have provided details about conditions and cultural attitudes that students with specific identities might encounter in Milan.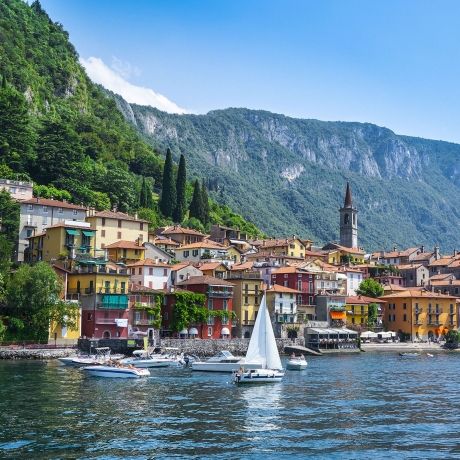 Excursions & Activities
 Explore Lake Como, the most beautiful of the northern Italian lakes   
Take excursions to emblematic Italian towns like Bologna, Bergamo or Verona   
Hang out with local students to have an aperitivo or to watch a calcio game   
Participate in a cooking and/or wine-tasting session to complement gastronomy-based courses   
Go on guided visits to Milan's iconic monuments, like the Duomo or Santa Maria delle Grazie   
Participate in guided visits to some of Milan's museums and galleries, like Pinacoteca di Brera or Museo del Novecento   
Partake in language exchange activities with local students to practice your Italian language skills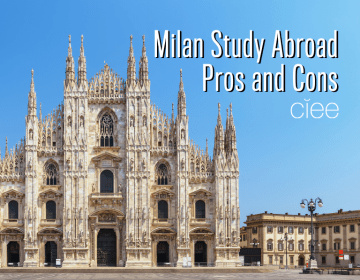 If you're considering studying abroad in Italy and have Milan as one of your top city choices – first, good thinking, and second, keep reading as we outline the pros... keep reading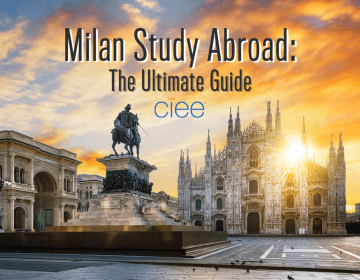 Milan , referred to as the fashion capital of the world, is a beautiful Italian city known for its multicultural vibe, design and retail innovations, and incredible museums and architecture... keep reading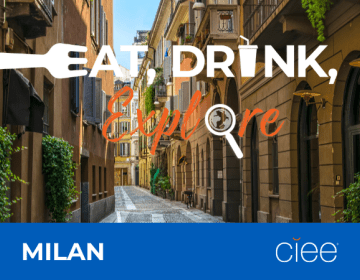 EAT Who needs GPS in Italy when you have minestrone ? Locals swear it only takes a few sips of this typical soup to know precisely where you are on... keep reading
Housing
All housing is within a 30- to 40-minute commute of CIEE Milan and has direct access to shops, supermarkets, restaurants, and public transportation.  
Apartments: Students stay in furnished apartments in single or shared rooms. Apartments have access to the kitchen and shared common spaces.   
Apartments: Meals are not included.     

 
Academics
This summer program is designed for students interested in taking fashion, retail, and innovation courses abroad through a course at CIEE's partner institution (Milano Fashion Institute), and related co-curriculars.
Students will take one course at Milano Fashion Institute (MFI). MFI is the Fashion and Luxury School of Management for Fashion Specialists of the Camera Nazionale Della Moda Italiana in partnership with Italian and International Universities. A cutting-edge fashion school, MFI was founded in 2007 to create a university center of excellence at the service of the Fashion System. MFI offers masters programs only, and some courses are open to CIEE undergraduate students.
Courses
Students choose one of the following three courses offered by MFI: 
Fashion & Luxury Management 
Over the course of this program, you'll master the knowledge of fashion and luxury management from the ground up. The stage is set with a thrilling exploration of the industry's key players, business models, and marketing strategies. From there, we dive into the magic of branding, teaching you to craft, nurture, and communicate a brand's identity like a seasoned pro. 
Branding & Fashion Communication 
This course is your way to unravel the intricacies of fashion communication and marketing. It's not just about theory; it's about hands-on, real-world experience. Through a blend of theoretical insights, real-life case studies, and dynamic assignments, you'll dive headfirst into the most pressing challenges of today's fashion communication landscape: from press & PR, to digital, through the crossroads of fashion events. 
Fashion Field & Italian Culture 
This course is your backstage pass to the vibrant world of Italian fashion and the rich tapestry of Italian culture. Step into the realm of the Italian fashion and luxury system, exploring the fashion & Italian landscape through a program full of field visits: fashion brands, lifestyle brands & places, up to the discovery of the secrets of Italian cultures: from art, to food and savours, through experiences and visits to historic landmarks and iconic sites, where you'll feel the echoes of centuries past blending with today's life.  
Note: This course listing is for informational purposes only and does not constitute a contract between CIEE and any applicant, student, institution, or other party. The courses, as described, may be subject to change as a result of ongoing curricular revisions, assignment of lecturers and teaching staff, and program development. Courses may be canceled due to insufficient enrollment.
"(GI)" denotes courses that originated at CIEE's Global Institutes and that are offered at multiple CIEE sites.
Scholarships
Scholarships & Grants
CIEE offers scholarships and grants annually to help students like you make your study abroad dream a reality.
Students who apply to this program are eligible for the following scholarships and grants:
Ping Scholarships for Academic Excellence
Trailblazer Grant
To be considered, submit the CIEE Scholarships & Grants application within your CIEE program application.
Dates & Fees
You get more for every dollar when you study abroad with CIEE, because our high-quality programs include everything from excursions to insurance. There are no hidden charges, and no disappointing surprises when you arrive.
Program

Application Due

Start Date

End Date

Fees & Housing

Program

Summer Session I 2024

3 weeks
Start Date

End Date

Fees & Housing $5,450
To help you budget, keep in mind that students are responsible for the cost of international airfare, local transportation, books and supplies, visas, and personal expenses. In addition, your college or university may charge additional fees for study abroad, or may require you to receive a transcript via CIEE's School of Record, which carries an additional fee of $500.
Program Fees
CIEE offers the most student support of any provider in its program fee, including an airport greeting, full-time leadership and support, orientation, cultural activities, local excursions, pre-departure advising, and CIEE iNext travel protection with benefits.
Participation Confirmation = $300*
Educational Costs = $2,953**
Housing = $2,000
Insurance = $197
Total Fees = $5,450
Estimated Costs
Students are responsible and manage costs related to travel, meals, books, and personal expenses. Below are estimates for consideration.
Meals not included in program fee = $218†
International Airfare = $1,250††
Local Transportation = $50
Books & Supplies = $50
Personal expenses = $150†††
Total Costs = $1,718
Financial Aid
CIEE offers the most grants and scholarships of any study abroad organization, including $8 million/year in travel grants, merit-based scholarships, institutional and MSI grants, and Gilman Go Global Grants.
*non-refundable
**direct cost of education charged uniformly to all students
†For groceries if you plan on making your own meals, budget more money if you plan on eating out regularly.
††Round trip based on East coast departure
†††$100 emergency fund + cell phone expense + toiletries
Pre-departure Advising
Advising before you depart to set goals and answer questions
Optional on-site airport meet-and-greet
Orientation
Introduction to your program plus practical information about living in your host city
On-site Staff
Full-time program leadership and support in your city
Cultural and/or Co-curricular Activities
Excursions and/or Study Tours
Travel Protection
CIEE iNext travel protection
24/7 emergency on-site support
Staff
Stephen joins CIEE with over a decade of experience in the study abroad field in Italy. He has lived and worked in Bologna and Rome, where he served first as...