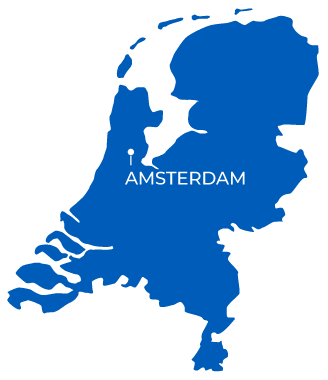 Study abroad in the Netherlands and experience world-renowned museums, art galleries, music, opera, and theater.
Located in northwestern Europe, the Netherlands is a picturesque country rich in Dutch traditions, language, and culture. Home to famous sites in Amsterdam like the Van Gogh Museum and Anne Frank House, the Netherlands is full of beautiful canals, cafes, and a vibrant arts scene that make the country worth remembering. 
When you complete a study abroad Netherlands program, you can take a variety of courses including business, the humanities, and social and environmental science. If you're looking to learn more about Dutch language, life, and culture all while earning college credit, the Netherlands is the place to be.
Choose from semester, summer, and year-long study abroad programs in the Netherlands. Enjoy world-renowned museums, art galleries, music, opera, and theater. Explore markets, cafes, and parks, and get to truly know the cities' neighborhoods and streets by bike in the most cycle-friendly country on earth.
Study Abroad Programs in the Netherlands
Study Abroad in the Netherlands Reviews
"I made lasting friendships that I can confidently say that I will keep for a long time. I stepped outside of my comfort zone while knowing that there is a support system, whether it be the friends that I made or the CIEE staff that will be there to help me. I learned so much about public health, not only in the Netherlands, but the field of study in general and may decide to pursue it as a major."

Wen Long Y., Yale University

"Lots of fun and very educational."

Nimit G., University of Arkansas

"They did a good job of keeping us busy enough during orientation to facilitate friendships and sustained their involvement throughout the program which was nice."

Alma P., Wesleyan University

"There is a lot of freedom to explore and adventure independently, which allows students to be interested in their own fields and follow those interests. While there are some structured trips and a regular class and classroom, it's nice to have some guidance, but also freedom to continue in certain areas of interest."

Jillian M., Wofford College
Study Abroad in the Netherlands Blog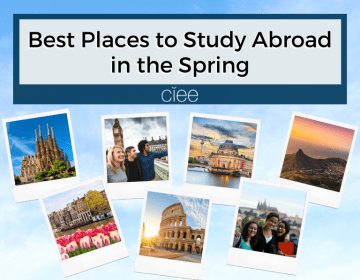 Considering a spring study abroad program? You're in the right place. Earmark this piece as we tackle the 10 best places to study abroad in the spring. These locations include... keep reading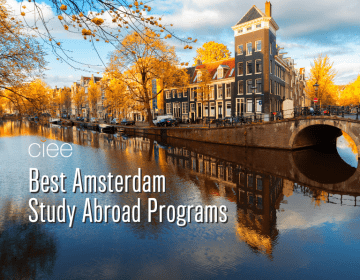 The capital of the Netherlands , Amsterdam is a beautiful European city with lots to do. It's also a really pleasant place. Seriously, it seems everyone who visits Amsterdam notes... keep reading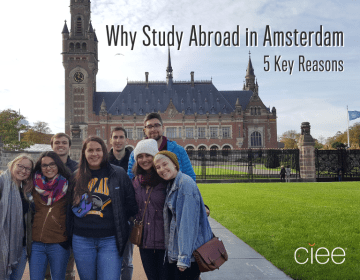 Dubbed the cultural capital of the Netherland s and considered one of the top financial centers in Europe , the opportunity to study abroad in Amsterdam promises a diverse and... keep reading
Frequently Asked Questions
The cost of studying abroad in the Netherlands varies depending on your program and the duration of your program. Luckily, there are several scholarship opportunities available to students interested in studying in the Netherlands. Find more information on CIEE's Study Abroad Scholarships and Grants page. 
If you're wondering, "Is the Netherlands a good place to study abroad?" we would say absolutely! There are several reasons to study in the Netherlands, from the country's embrace of environmentalism and multiculturalism to the history and culture of the Dutch. Whether you're looking to spend a summer, semester, or year living in the Netherlands, this country is sure to impress you with its endless opportunities to travel, study, and explore.
The Netherlands is one of the safest countries to study abroad in, with Amsterdam being one of the safest cities to study abroad in Europe. As with any study abroad program, we recommend that students keep their belongings nearby, stay aware of their surroundings, and travel in groups when possible.