Best Amsterdam Study Abroad Programs
The capital of the Netherlands, Amsterdam is a beautiful European city with lots to do. It's also a really pleasant place. Seriously, it seems everyone who visits Amsterdam notes the lovely vibe.  
Lucky for you (and us!), we offer a ton of study abroad programs in Amsterdam. Take note of our program details throughout this piece. And reach out if you have any questions – we're available! 
What Can I Study in Amsterdam? 

 
With CIEE, you'll have the chance to explore practically any subject area. We offer many courses in STEM, the arts, language, and more.  
While you're exploring this fascinating country, you'll receive an enviable education alongside your peers and other international students. All our programs are available in English, with some Dutch language courses also offered. You're in for a fun academic ride when you choose an Amsterdam study abroad program.   
If you're interested in language, society, politics, and culture, look no further than our Social Sciences + Humanities program in Amsterdam.  
Amsterdam is one of the world's most internationally diverse cities and has a rich history; what better place to dive deep into global social science and humanities than here?  
Program Length:

18 weeks 
Eligibility: 3.0 Overall GPA 
Cost: $22,950 

C

ourse Highlight: Cross-Cultural Psychology  

Location

Fun Fact: Amsterdam has more canals than Venice and more bridges than Paris 

Featured

CIEE Excursion: Experience a world-class Dutch theater or dance performance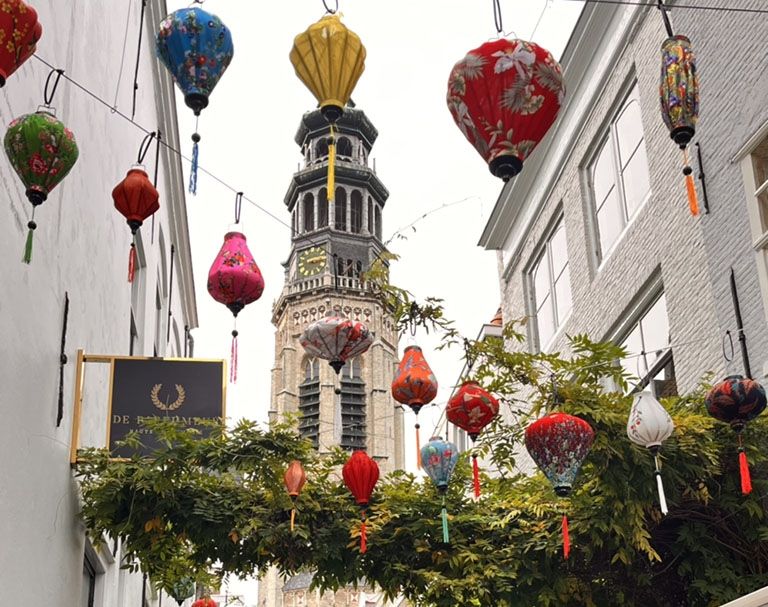 If you have a business or communications studies background, our Summer Business + Communications program is perfect for you. Visit the national stock exchange, explore Dutch contemporary television, intercultural communication, and more. Plus, spending part of your summer in beautiful Amsterdam is unbeatable.  
Program Length: Four weeks 
Eligibility: 2.5 Overall GPA 
Cost: $5,650 
Course Highlight: International Marketing 
Location Fun Fact: The Netherlands is the world's biggest flower exporter 
Featured CIEE Excursion: Paddle a canoe through the Amsterdamse Bos (Amsterdam Forest)  
Amsterdam is an economic hub featuring a wide range of businesses, from startups to corporate giants. This unique city is also eco-conscious and is making strides in the sustainability space. Studying business and culture here is a dream come true for those passionate about our increasingly globalized economy.  
Program Length: 18 weeks 
Eligibility: 3.0 Overall GPA 
Cost: $22,950 
Course Highlight: Political and Economic Development of the Netherlands and the EU 

Location Fun Fact:

The Netherlands was the first country in the world to legalize same-sex marriage  
Featured CIEE Excursion: Discover Amsterdam's canal belt on a private canal cruise or kayak ride 
Known for its innovations in public health, equality, eco-friendly practices, and more, Amsterdam's contemporary systems are unique and there's a lot to learn!  
With our Summer Contemporary Netherlands Studies, you'll have the chance to choose from three sessions and courses about the Dutch public health system, gender, race, sexuality, and popular culture, and racialization in the Netherlands.  
A few other details about this incredible program: 
Program length: Four weeks 
Eligibility: 2.5 Overall GPA  
Cost: $5,650 

Course Highlight:

Intercultural Communication and Leadership 
Location Fun Fact: Amsterdam's Van Gogh Museum is one of the most visited attractions in the city, drawing hundreds of thousands (sometimes even millions) of visitors each year 

Featured CIEE Excursion:

Take a trip to the Eastern Scheldt storm surge barrier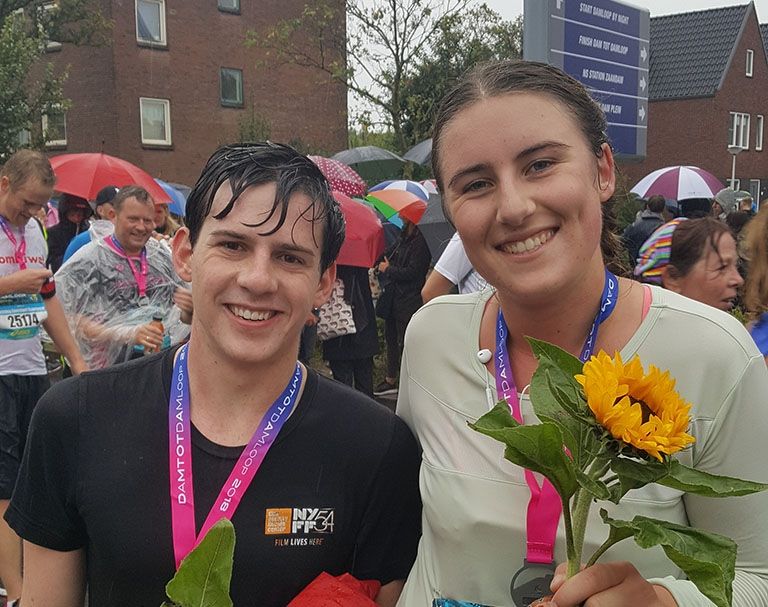 Spend part of your winter in Amsterdam where you'll get to choose from topics on the Dutch public health system and many topics of Dutch culture.   
Program Length: Three weeks 
Eligibility: 2.5 Overall GPA 
Cost: $3,950 
Course Highlight: Gender, Race, Sexuality, and Popular Culture  

Location Fun Fact:

The Netherlands has the most bicyclists per capita of any country in the world 

Featured CIEE Excursion:

Attend an incredible performance at the Royal Concertgebouw  
Closely examine healthcare issues and intercultural perspectives of the British and Dutch in this fun and multi-faceted program taking place in two European cities!  
Program Length: Eight weeks 
Eligibility: 2.5 Overall GPA 
Cost: $8,750 
Course Highlight: Contemporary Challenges in Global Health
Location Fun Fact: There are around 2,500 houseboats in Amsterdam 

Featured CIEE Excursion:

Enjoy an open-air movie screening at a popular Amsterdam city beach 
Offered in the summer, you'll have the chance to dive deep into the similarities and differences between the British and Dutch public health systems and their modern-day challenges.  
Program Length:

Eight weeks 
Eligibility: 2.5 Overall GPA 
Cost: $8,750 

Course Highlight:

Public Health in the Netherlands 

Location Fun Fact:

Amsterdam and London are separated by the English Channel and are about an hour apart by plane and seven hours by boat  
Featured CIEE Excursion: Visit the countryside and explore authentic fisherman towns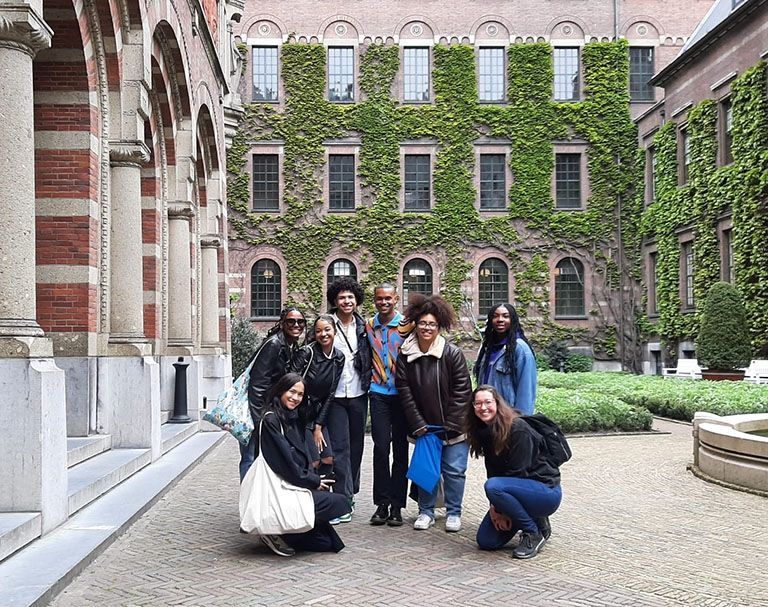 If you're ready to start your study abroad in Amsterdam, take note of a few steps below. 
Step #1: Map out your journey.

 
After reviewing our many Amsterdam study abroad programs, choose one that best speaks to your interests and passions. You'll want to take into consideration the time of year, length of program, and various requirements.  
Step #2: Go over your options with an expert. 

 
Once you've decided on a program, speak with your school's study abroad office and academic advisor to make sure your credit and course requirements match your chosen program. Your study abroad office will also provide direct support as you plan your adventure.  
Step #3: Gather the necessary items for travel.

 
Make sure you have all the necessary items ahead of your travel to Amsterdam. This includes visa, passport, your CIEE application, and financial documents.  
The easiest step is applying! Make sure to complete the scholarships and grants section of the application too. While the cost of your Amsterdam study abroad program varies depending on your choice, it's important to remember that we offer millions in scholarships each year to make a study abroad dream a reality for as many students as we can. Don't miss out on an opportunity to receive financial assistance yourself.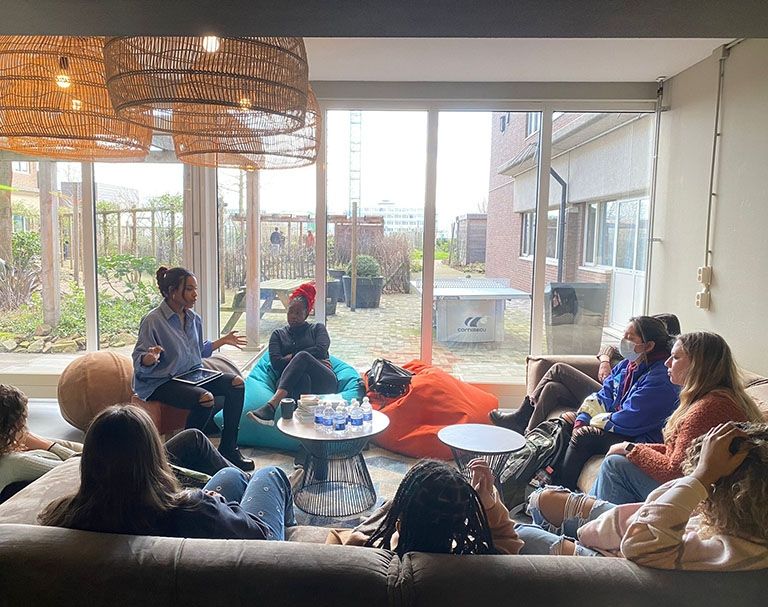 Studying abroad in Amsterdam promises a world-class education, allowing you to dive deep into a variety of different disciplines and gain a valuable global perspective. You'll learn a ton. Plus, you'll get to explore a one-of-a-kind city while doing it.  
Get started on applying for your dream Amsterdam study abroad program today!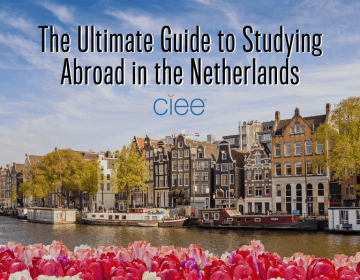 Have you ever wondered what it would be like to study abroad in the Netherlands ? Renowned for its world-class museums, art galleries, music, opera, theater, and more, it's easy... keep reading