Credit
3 semester hours
4.5 quarter hours
Eligibility
Overview
EXPLORE ANOTHER DUTCH CITY
because there is more to the Netherlands than its capital, and we will show you a slice of small(er) town Dutch life!
VISIT THE AMSTERDAM ZOO
just steps away from CIEE Amsterdam located on the Roetersstraat on the eastern side of the city center.
SPEND A DAY
at the Rijksmuseum and view the masterpieces of Rembrandt and his pupils.
11
MILLION WOODEN POLES SUPPORTING ALL CONSTRUCTION IN THE CITY
320
MILES OF DEDICATED BICYCLE PATHS
Experience
Your Destination
With world-renowned museums, art galleries, theaters, and the headquarters of international organizations, Amsterdam is a truly multicultural city. It has all the advantages of an international cosmopolitan city and still retains a small-town feel. Its residents come from more than 180 countries. Because it is so compact, bicycles are the most convenient means of transportation. In fact, bicycles outnumber people in Amsterdam! Explore its charm and treasures, from the gabled houses that stand shoulder to shoulder along the canals, to glorious masterpieces by Van Gogh, Rembrandt, Matisse, and more. Not to mention being home to one of the most diverse populations in the world. English is Amsterdam's unofficial second language, so it's easy to communicate with the locals. What's more, CIEE Amsterdam is located in the tranquil Plantage neighborhood, where students can easily drop in to speak to CIEE staff, study, or simply hang out in the student area between classes.
CIEE wants all our students to feel welcomed, supported, and empowered to succeed while studying abroad. Local CIEE staff have provided details about conditions and cultural attitudes that students with specific identities might encounter in Amsterdam.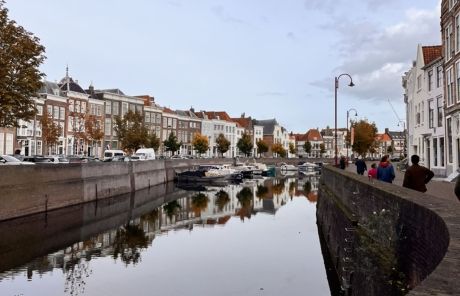 EXCURSIONS & ACTIVITIES
Learn about culturally sensitive issues such as euthanasia, public insurance, and home birth, as well as global issues such as elderly care and children's health. 
Take part in excursions and field trips in and around the city of Amsterdam and get to know this accessible, environmentally conscious, and multicultural European capital city. 
Experience a world-class theater or dance performance at a historic concert hall such as the Royal Concertgebouw, considered by critics to have some of the best acoustics in the world. 
Take part in a Power and Privilege workshop to explore the uneven distribution of power and privilege in the Netherlands along gender, race, and class lines.  
Hear a guest lecture from an expert in Dutch politics who will provide insights on key contemporary public health issues in the Netherlands.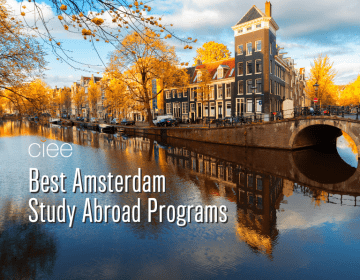 The capital of the Netherlands , Amsterdam is a beautiful European city with lots to do. It's also a really pleasant place. Seriously, it seems everyone who visits Amsterdam notes... keep reading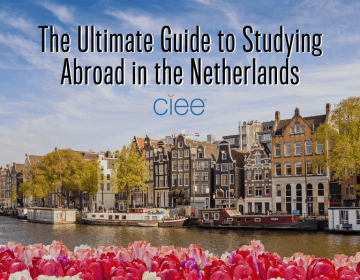 Have you ever wondered what it would be like to study abroad in the Netherlands ? Renowned for its world-class museums, art galleries, music, opera, theater, and more, it's easy... keep reading
"There is a lot of freedom to explore and adventure independently, allows for one to be interested in their own fields and follow those interests. While there are some structured trips and a regular class and classroom, it's nice to have some guidance but also freedom to continue in certain areas of interest."

Jillian M., Wofford College
Housing
Housing is tight in Amsterdam, however CIEE offers a variety of accommodation options within the Amsterdam metropolitan area, including residence halls, shared apartments, and homestay families. All housing is within a 40- to 50-minute commute to CIEE Amsterdam. If we cannot accommodate your first choice of housing, we will let you know before you arrive onsite.  
 
Residence Halls/Shared Apartments: Students live in single or shared rooms with en suite bathrooms and access to kitchen facilities. Common areas are available in each of the housing options.  
 
Transportation: Students are responsible for their own travel costs in and around Amsterdam. The best way to travel around the city is by bike. Whatever the weather, the Dutch will steadfastly cycle to work, school, and back home – and you can too! CIEE staff will fill you in on all your options for getting a bike once you arrive onsite. 
Apartments/Residence Halls: Students staying in apartments and residence halls are responsible for their own meals. 
Academics
CIEE Amsterdam is conveniently located across the street from the University of Amsterdam, embedded in a thriving, student-friendly neighborhood with cafés, restaurants, and picturesque canals.
Courses
Health Professions and Related Programs
Social Sciences
Note: This course listing is for informational purposes only and does not constitute a contract between CIEE and any applicant, student, institution, or other party. The courses, as described, may be subject to change as a result of ongoing curricular revisions, assignment of lecturers and teaching staff, and program development. Courses may be canceled due to insufficient enrollment.
"(GI)" denotes courses that originated at CIEE's Global Institutes and that are offered at multiple CIEE sites.
Dates & Fees
You get more for every dollar when you study abroad with CIEE, because our high-quality programs include everything from excursions to insurance. There are no hidden charges, and no disappointing surprises when you arrive.
Program

Application Due

Start Date

End Date

Fees & Housing

Program

January 2024

3 weeks
Start Date

End Date

Fees & Housing $3,950
To help you budget, keep in mind that students are responsible for the cost of international airfare, local transportation, books and supplies, visas, and personal expenses. In addition, your college or university may charge additional fees for study abroad, or may require you to receive a transcript via CIEE's School of Record, which carries an additional fee of $500.
Program Fees
CIEE offers the most student support of any provider in its program fee, including an airport greeting, full-time leadership and support, orientation, cultural activities, local excursions, pre-departure advising, and CIEE iNext travel protection with benefits.
Participation Confirmation = $300*
Educational Costs = $2,390**
Housing = $1,180
Insurance = $80
Total Fees = $3,950
Estimated Costs
Students are responsible and manage costs related to travel, meals, books, and personal expenses. Below are estimates for consideration.
Meals not included in program fee = $278†
International Airfare = $1,250††
Local Transportation = $150
Books & Supplies = $150
Personal expenses = $140†††
Total Costs = $1,968
Financial Aid
CIEE offers the most grants and scholarships of any study abroad organization, including $8 million/year in travel grants, merit-based scholarships, institutional and MSI grants, and Gilman Go Global Grants.
*non-refundable
**direct cost of education charged uniformly to all students
†For groceries if you plan on making your own meals, budget more money if you plan on eating out regularly.
††r?ound-trip based on U.S. East Coast departure
†††$100 emergency fund + cell phone expense + toiletries
Pre-departure Advising
Advising before you depart to set goals and answer questions
Optional on-site airport meet-and-greet
Orientation
Introduction to your program plus practical information about living in your host city
On-site Staff
Full-time program leadership and support in your city
Cultural and/or Co-curricular Activities
Excursions and/or Study Tours
Travel Protection
CIEE iNext travel protection
24/7 emergency on-site support
Staff
Gildas holds a master's degree in European Law from the University of Rennes (France). He worked in many roles within international higher education before joining CIEE as Center Director.
Cathelijn studied Journalism (BA) and American Studies (MA) at the University of Utrecht.
Merve studied Sociology, Public Administration, and Political Science and obtained a Masters degree in Communication Science. She worked as a lecturer and academic tutor and is currently working as Academic...
Get Started Steps
Get Started
Here's what you need to do to take the next steps:
Start an Application 
You're one step closer to an amazing study abroad experience!
Connect With Your Campus Study Abroad Office 
Share your plans and confirm you're on track to meet all required steps to go abroad. 
Contact Us 
Send us an email if you still have questions or need information about applying to this program.