Explore Singapore
Singapore has become a must-see destination for travelers around the world. With its vibrant culture, exquisite cuisine, world-renowned shopping, and largest collection of Southeast Asian and Singaporean art, it's no wonder students and travelers are flocking there.
When you study abroad in Singapore, you'll experience world-class education in a thriving city. As an international student studying abroad in Singapore, you'll get to explore all that Singapore has to offer, from its cuisine and fashion scene to its blend of cultures and languages.
Study Tours & Cultural Excursions in Singapore
Every CIEE study abroad program has frequent cultural excursions and activities uniquely designed to complement the program's academics and enhance students' cultural immersion. In Singapore, past study tours and excursions have included:
Experience a symphony, arts festival, or open mic night during your stay in Singapore, a center for performing arts and culture
Visit the world famous Singapore Zoo, nestled within the lush Mandai rainforest and home to over 300 species of mammals, birds, and reptiles
Visit Sentosa Island History Museum and learn about WWII battles on this strategic island
Join locals and enjoy water sports, such as sailing, kayaking , water skiing, and scuba diving
If you're a student looking for an authentic study abroad experience in Singapore, our cultural excursions allow you to do just that! Whether you want to intern in Singapore through CIEE's Summer Global Internship or participate in our Singapore Open Campus Block Program, our variety of programs offer something for everyone!
About the Center
Conveniently located in the southwestern part of the city, CIEE Singapore boasts two classrooms, a modest library, complimentary WiFi access, and a meeting room used for studying, academic advising, and student life support. Students will find several restaurants, a supermarket, and a mall near the Center, and are only five minutes from the Newton subway station.
Beyond CIEE Singapore, students will have opportunities to visit the city-state's incredible landmarks via public transportation, like University Studios Singapore, which is only five miles away. The Center is also only 13 miles away from Singapore Changi Airport.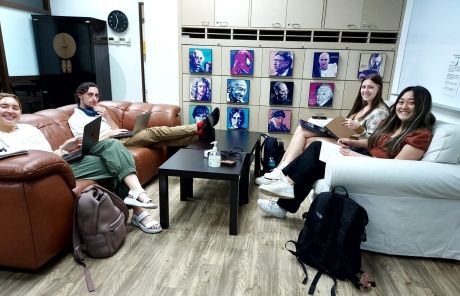 Where Students Study
CIEE Singapore
CIEE Singapore is conveniently located in the southwestern part of the city about 5 miles from Universal Studios Singapore and 13 miles from the Singapore Changi Airport.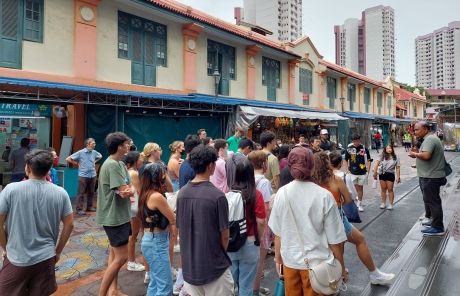 Internships & Volunteering
Depending on their program of study and availability, students may be able to participate in an internship or volunteer in Singapore. Interns in Singapore gain valuable real-world work experience guaranteed to give them a leg-up in today's job market. From high-tech start-ups to financial conglomerates, sustainability to multiculturalism, students enjoy an abundance of opportunities to grow their professional skills in this colorful city-state.
In terms of volunteering in Singapore, students may have the opportunity to teach at local centers for youth rehabilitation or explore service-learning at the Singapore nature and parks boards.
Study Abroad Programs in Singapore
Pocket Guide to Singapore
Currency 
Singapore dollar
Spoken Languages IN  
Malay, Mandarin Chinese, Tamil, English
Available Transportation 
Subway, bus, taxi
Famous Local 
JJ Lin – famous Singaporean singer, songwriter, record producer, and actor
Climate 
Tropical climate with an average annual temperature of 82° F
Places to Explore 
Singapore Botanic Gardens that contains more than 60,000 species of plants and animals
Airport 
Singapore Changi Airport (SIN)
Social Norms 
Take off your shoes before entering someone's house or apartment
What to Pack 
Lightweight clothing, swimsuit, sunglasses, raincoat
Frequently Asked Questions
A major business and tourism hub, Singapore is home to over 6 major universities, Michelin star restaurants, and the world's largest indoor waterfall. With over 277 square miles to explore, this island city-state has much to explore and makes for an excellent place to study abroad.
Singapore has made its mark on the world for its economic development, high-ranked universities, multicultural population, and so much more. If you're a student looking to study overseas in Singapore, this gateway to Asia may be the place for you!
One-degree north of the Equator, Singapore blends Malay, Chinese, Arabic, and Indian cultures and religions to create a diverse, flourishing country. Life in Singapore is comfortable and safe with good infrastructure, an efficient healthcare system, and quality education.
If you're looking to explore the top spots in Singapore, we recommend that students visit the Marina Bay Sands Skypark Observation Deck, Cloud Forest Dome, Orchard Road, and Sentosa Island, just to name a few!
In order to ensure our students feel welcomed, supported, and empowered while studying abroad, CIEE staff completes comprehensive diversity equity and inclusion (DEI) training. Staff provide students with advice, resources, and ongoing support both before and during their study abroad program in Singapore.

For more detailed information on diversity in Singapore, visit our Diversity in Singapore page.
Study Abroad Scholarships & Grants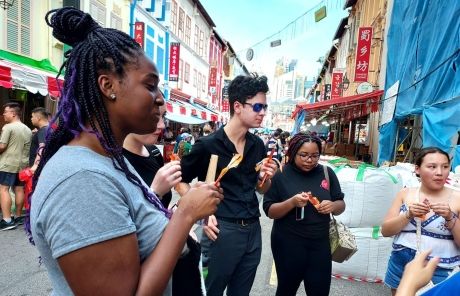 Apply in 1,2,3!
You may be wondering if there are any scholarships to study in Singapore. CIEE offers scholarships and grants for study abroad programs in Singapore to students with demonstrated financial need, proven academic merit, and for specific CIEE programs. Students can apply for scholarships through 3 simple steps:
Search for and apply to your dream program
Review all available funding opportunities
Complete the Scholarship & Grants portion of your application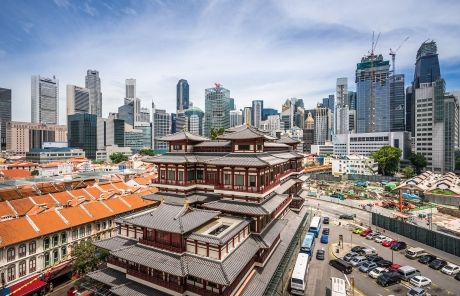 Study Abroad Scholarships
NEED-BASED SCHOLARSHIPS
Based on students' Estimated Family Contribution (EFC) from their Free Application for Federal Student Aid (FAFSA) and enrolled institution. Complete the Scholarships & Grants portion of your program application to be considered for all awards to which you are eligible.
MERIT SCHOLARSHIPS
Based on academic achievement. Complete the Scholarships & Grants portion of your program application, along with an essay, to be considered for all awards to which you are eligible.
OTHER SCHOLARSHIPS
Other scholarship awards are based on program or alumni status.