Study Abroad Singapore: The Ultimate Guide
If you're looking for an adventure in a lively, busy city packed with incredible natural landscapes, a unique modern culture, and amazing food, consider Singapore.  
Read on as we provide the ultimate guide to a Singapore study abroad program.  
Why Study Abroad in Singapore

 
We could provide hundreds of reasons why studying abroad in Singapore is a great idea, but we'll try to convince you with just four!  
Reason #1:

You'll

e

xperience Singapore's bustling environment. 

 
Located south of China, Vietnam, and Malaysia, Singapore, officially the Republic of Singapore, is considered an island city-state. And although it's a relatively small country geographically (no, really, try finding it on a map), it's considered one of the most densely populated places in the world.  
Singapore is also made up of many different ethnicities, including Chinese, Malay, Indian, and more. The country's citizens pride themselves on their cultural heritage and distinct ways of life; it's really something special. Read more about this fascinating multicultural place in National Geographic's Singapore: Where cultures come together.  
During your Singapore study abroad adventure, you'll get to meet all kinds of people from different backgrounds, with unique perspectives that will help shape your own insights. This will be the trip of a lifetime!  
Reason #2: Singapore's natural beauty is unmatched. 

 
Although Singapore is a lively and busy country, that doesn't mean its natural landscapes go unnoticed. In fact, it's quite the opposite – the country is known as the Garden City for its efforts in including green spaces throughout its cities.  
There are also a ton of cool natural sites to check out. We consider these attractions must-sees during a Singapore study abroad trip:  
Singapore Botanic Gardens:

A beautiful

UNESCO World Heritage

s

ite

 
The Southern Ridges:

Incredible trails through the jungles of the country

 
MacRitchie Reservoir:

The oldest reservoir in Singapore, this stunning natural site has wildlife, hiking trails, and more 

 

Cloud Forest

:

Th

is indoor museum features waterfalls, tropical highlights, and a contemporary greenhouse 
And tons more! We're just scratching the surface here, but with a Singapore study abroad trip, you'll get to explore the country's sublime landscapes.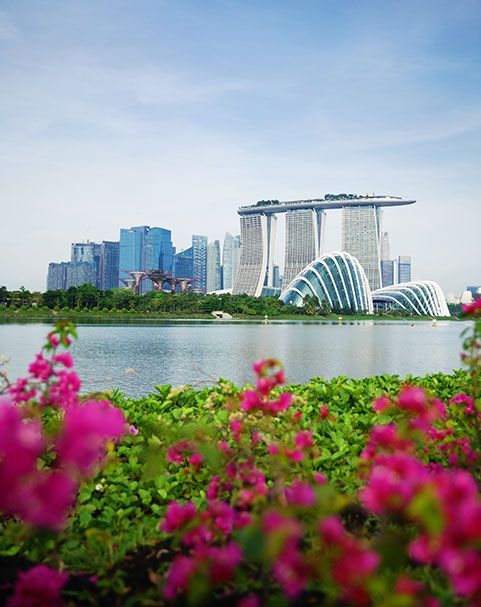 Reason #3

:

You'll

g

ain a better understanding of

Singapore's modern culture

.

 
Singapore's modern culture and systems are quite interesting. For example, with a large cleaning workforce and strict laws on littering and vandalism, Singapore is one of the cleanest countries in the world.  
Note a few other cool things happening in Singapore:  
High

ly-regarded education systems – Singaporeans prioritize education  

Innovative housing that allows for shared spaces and community

– the country's modern architecture is also astonishing 

Shopping culture

– you'll find shoppers all over the country  

24-hour nightlife

 

The country has o

ne of the fastest-growing economies in the world 
You'll get to dive deep into Singapore's many modern systems and values during your study abroad trip – we can't wait for you to get started!   
Reason #

4

: Food in Singapore is out

of

this

world. 

 
Singapore's street food is not only inexpensive but also delicious! Known for its cleanliness and high-quality foods, the country's "hawker centers," or public spaces with a variety of food booths, are incredible!  
Here are some Singaporean dishes we consider must-tries during your study abroad trip: 
Hainanese chicken rice

:

Just as it sounds, a delicious chicken and rice dish

 

Chili

crab:

Hard-shell crab in a tomato chili sauce 

 
Laksa: Spicy, coconut curry soup with tons of protein like shrimp, fish, egg, and chicken 

Char k

way teow: Noodles with bean sprouts, fish cake, clams, and sausage  
And those are just some of our favorite dishes – your tastebuds are in for a treat during a Singapore study abroad program.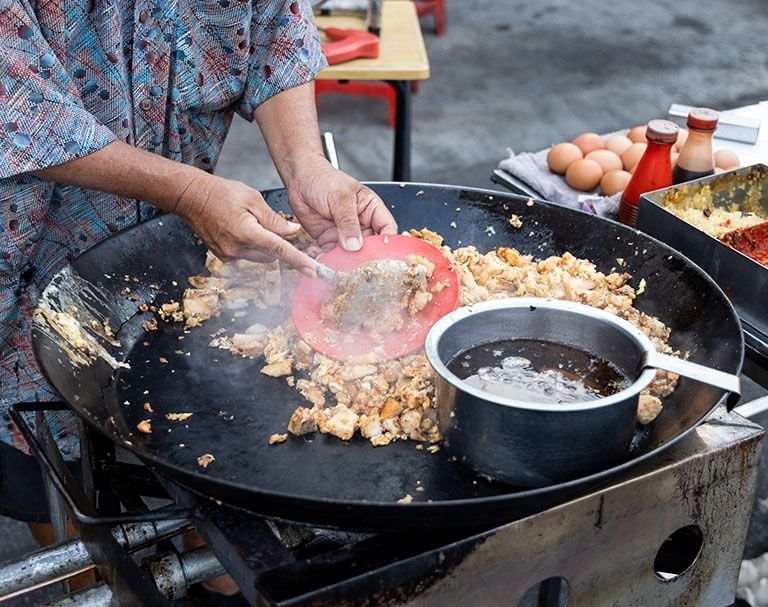 Top
Study Abroad Programs in Singapore
Now that we've convinced you to study abroad in Singapore with its incredible people, natural beauty, innovative systems, and food, explore some of CIEE's top study abroad programs in the country!  
Including courses on almost all subjects, ranging from business and social sciences to STEM, you'll have the chance to study at one of Asia's top-ranked universities, Singapore Management University, while exploring this fascinating country with our Arts + Sciences program.  
Length:

16 weeks 
Credit: 15-16 semester hours/22.5-24 quarter hours  
Eligibility: 3.0 Overall GPA 

Featured Course:

Intercultural Communication and Leadership 

 
Excursion Highlight: Visit the night safari, regarded as one of the world's best nighttime zoos 
Design your own study abroad adventure with our Open Campus Block program, where you can spend one, two, or up to three consecutive six-week blocks in Singapore. This program will have you diving deep into the country's culture while taking interesting courses to gain some extra credit toward your degree!  
Length:

Starting at six weeks

 
Credit:

6-7 per Block semester hours/9-10.5 per Block quarter hours

 

Eligibility:

2.5 Overall GPA

 
Featured Course: The Making of Modern Singapore  
Excursion Highlight: Explore the Pulau Ubin island on a bike 
Different from a traditional study abroad program, our international internships allow you to work alongside professionals in an industry you're passionate about. And with Singapore's growing economy and innovative practices, this will be an experience like no other! Talk about a resume stand-out.  
Length:

14 weeks

 

Credit:

12-18 semester hours / 18-27 quarter hours

 

Eligibility:

2.5 Overall GPA 

 
Excursion Highlight:

Attend an arts festival and learn more about Singapore's performing arts and culture 

 
How Much Does It Cost to
Study Abroad in Singapore
Singapore is considered one of the most expensive places to live in the world, but our Singapore study abroad programs are comparable to many of our other programs in cities considered less expensive!   
The cost of your Singapore study abroad trip depends on the program you choose. Currently, our programs in Singapore range from $4,250 to about $26,000 based on factors like program length, number of courses, and more.  
It's also important to remember that your CIEE one-time fee covers most expenses including:  
Tuition

 

Housing

 

Pre-departure advising 

 

Orientation 

 

On-site staff and 24

/7 emergency support 

Culture and co-curricular activities

 

Travel protection 

 
We also offer millions in scholarships and grants each year to make study abroad dreams a reality, so make sure to see what type of financial aid you may be eligible for when you apply to your study abroad program!  
How to
Study Abroad in Singapore
The steps to study abroad in Singapore are simple!  
Step 1:

Choose a Singapore study abroad program that sounds most interesting to you and one that aligns with your personal and academic goals 

 
Step 2:

Explore our many

scholarship and grant

options

 
Step 3:

Start and complete your

application

  
We're available if you have any extra questions, too!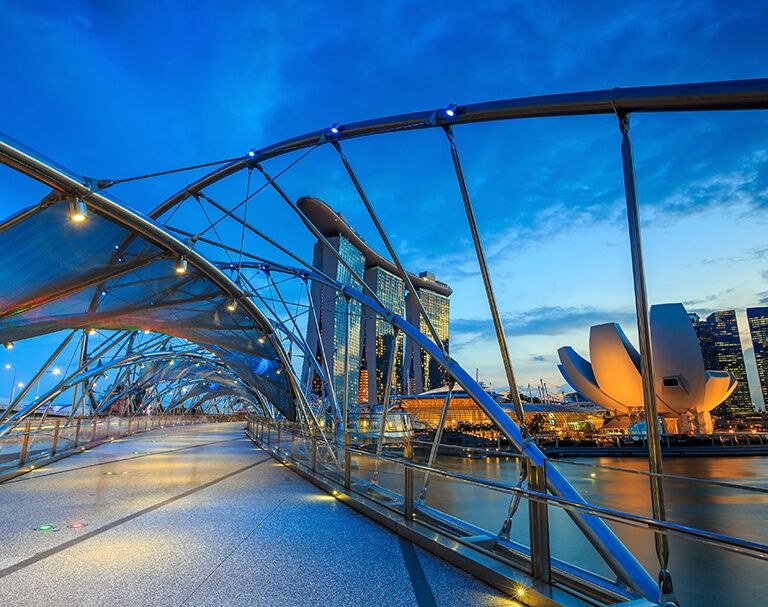 Ready for the journey of a lifetime? Your Singapore study abroad adventure awaits!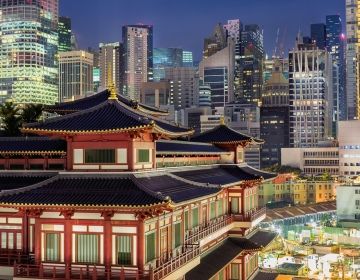 When you are a Global Intern in Singapore, the possibilities are endless. From beautiful landscapes and lush green spaces by the water, historic landmarks, and fresh seafood galore, there is... keep reading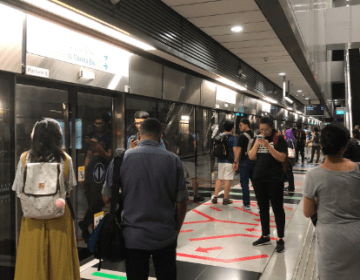 GETTING SETTLED: SINGAPORE GLOBAL INTERNSHIP I decided to participate in a program under AIC 's Global Internships program with UC Berkeley and the National University of Singapore where I get... keep reading