Explore the allure and mystery of the Middle East in Jordan.
Few regions are more complicated, globally significant, and less understood than the Middle East. Home to chapters of humanity's most ancient history, this region is as beautiful, mysterious, and culturally-rich as parts of it are troubled, something you'll experience first-hand when you study abroad in the Middle East.
Visit Roman and Ottoman monuments or see the breathtaking historical site of Petra; barter for goods at the local marketplace; volunteer with local NGOs; learn Arabic abroad by living with a host family; and enjoy cuisine of the Mediterranean coastline. Whether you study the Middle East or Arabic language in Amman, CIEE study abroad gives you access to a range of diverse courses and perspectives.
How to Study Abroad in the Middle East
With multiple study abroad programs offered in the Middle East, CIEE provides you with a broad range of Arabic language courses, summer programs in Jordan, cultural excursions to key historic sites, and much more! All of this can be yours if you start a study abroad application today! 
Best Middle Eastern Country to Study Abroad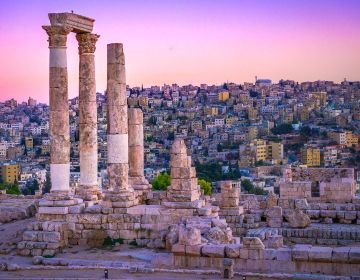 Jordan
There's nowhere more welcoming to immerse yourself in the language and culture of the Middle East than Jordan.
Questions about Studying Abroad in the Middle East
Put simply, yes! You can study abroad in the Middle East with CIEE by completing the following steps:
Search our study abroad programs in the Middle East and pick your favorite
Connect with your campus study abroad office
While the best place to study abroad in the Middle East is subjective, CIEE recommends that you check out Amman, Jordan. Amman is well-suited for students looking to be in a city that blends ancient history with modernity, all while advancing their Arabic studies. With excursions to historic sites like Petra, Amman boasts a unique landscape rich in historical and global significance. 
There are several reasons to study abroad in the Middle East, such as: