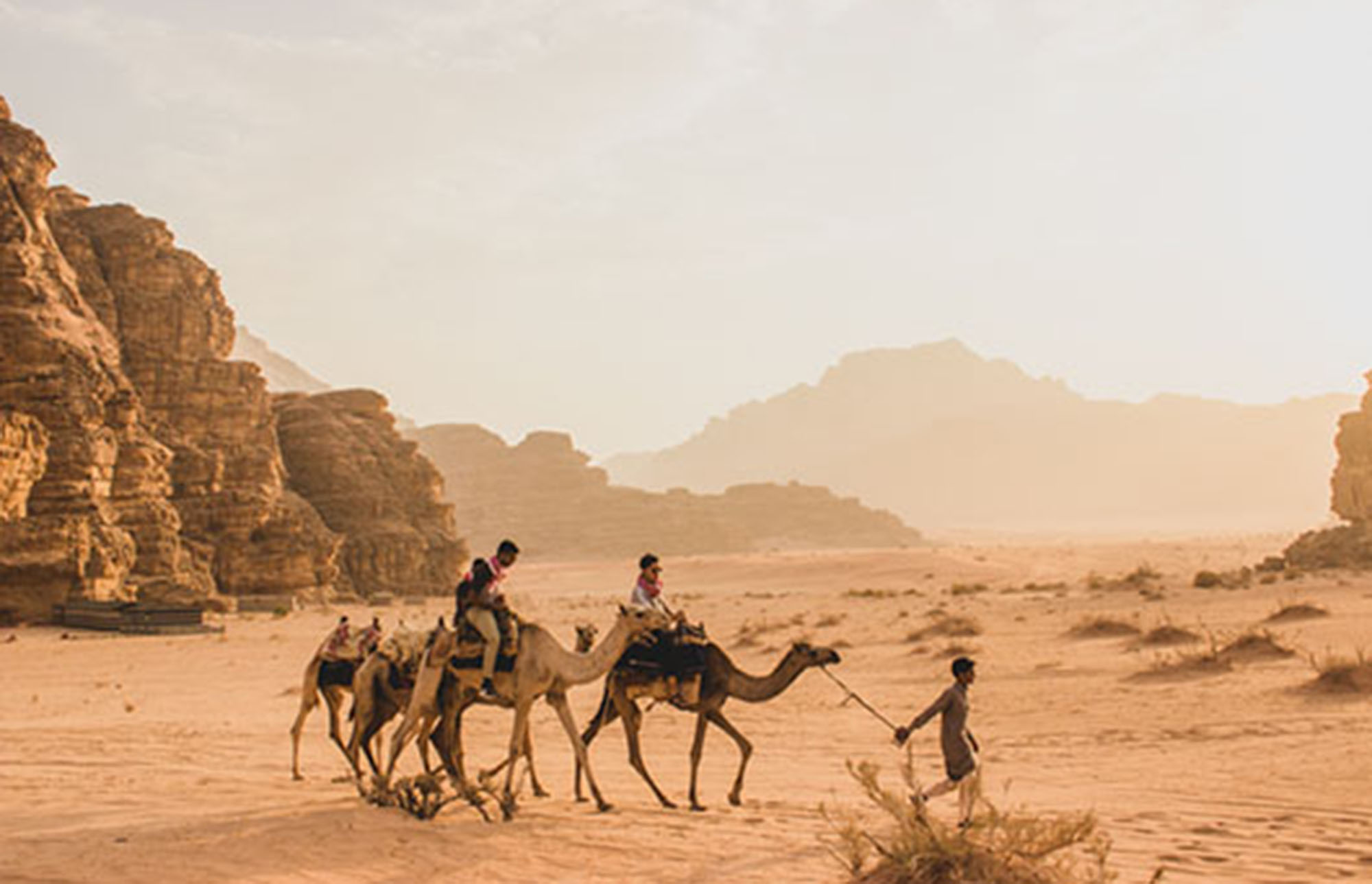 Explore Amman, Jordan
In addition to its famous ruins, the capital of Jordan has plenty of cosmopolitan character and modern charm. One minute you're atop Amman's seven foremost hills taking a fascinating look back to the Bronze Age, and the next minute you're window shopping on trendy Rainbow Street after  the most delicious Falafel sandwich you've ever eaten!
When you study abroad in Amman, you'll experience Jordan's most populous city that blends ancient history with diverse modernity. Whether you're looking to practice your Arabic, explore Jordanian culture, or study the Middle East, Amman offers something that every student can enjoy!
Study Tours & Cultural Excursions in Amman
Every CIEE semester program has frequent cultural excursions and an overnight tour uniquely designed to complement the program's academics and enhance students' cultural immersion. In Amman, past study tours and excursions have included:
Overnight trip to Petra, Jordan's famous archaeological site in the desert
Camping in the middle of the desert during an excursion to Wadi Rum
Day-trips to biblical Jordan, including Madaba Plains, Mt. Nebo, and the city of Madaba
Excursion to the Dead Sea
Tour of iconic mosques, museums, archeological treasures, and cultural sites
If you're a student looking to study abroad in Amman, CIEE's tours and excursions allow you to explore Jordanian culture and traditions, all while improving your Arabic skills. Coupled with your completion of Middle Eastern studies courses, studying abroad in Amman offers something for everyone! 
About the Center
Situated in a student-friendly neighborhood, CIEE Amman is based in a traditional area of the city, giving students the unique and special opportunity to interact with local residents. The Center boasts three main classrooms, a library, a study space, a reception area, and public computers students can use as needed. There is also complimentary WiFi and printer access on campus.
From CIEE Amman, students can easily access public transportation to reach the many affordable nearby restaurants, cafés, gyms, hair salons, and more. Across the street from the Center, students may also visit the University of Jordan, one of the biggest campuses in Amman, where they can socialize with Jordanian students!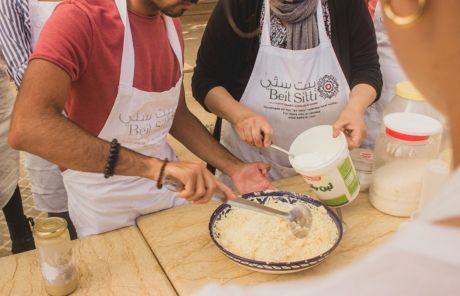 Where Students Study
CIEE Amman 
CIEE Amman is based in a traditional neighborhood, which allows students plenty of opportunities to interact with local residents and get to know key academic institutions and sites with ease.
Princess Sumaya University for Technology (PSUT) 
Founded in 1991, PSUT is the only private and nonprofit university in Jordan. It is owned by the Royal Scientific Society (RSS), the foremost applied research center in Jordan.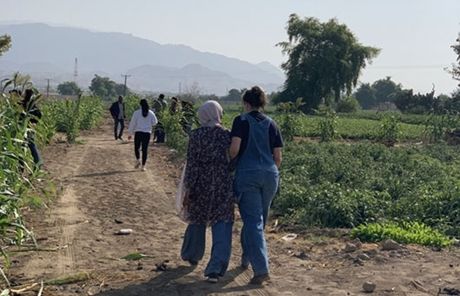 Internships & Volunteering
Depending on their program of study and availability, students may be able to participate in an internship or volunteer. Students interested in completing an internship in Amman can gain experience by working at local organizations, nonprofits, and NGOs.
Students looking to volunteer in Amman may be able to volunteer at an elementary school in a rural community, help Jordanians with their English language skills, and engage with Amman-based organizations that work with underserved communities.
Study Abroad Programs in Amman
Currency 
Jordanian Dinar
Spoken Languages 
Arabic
Available Transportation 
Bus, taxi
Local Sports Stars 
Dima and Lama Hattab – first female ultramarathon runners in the Middle East
Climate 
Intensely hot summers, cool rainy/snowy winters, moderate spring and fall
Places to Explore 
Amman has no east or west side; instead, directions are given based on jabals (the 19 hills across the city) and landmarks. It's also the safest city in the Middle East
Airport 
Queen Alia International Airport (AMM)
Social Cues 
Amman is considered as a formal city and formal attire is the most common.
What to Pack 
Sunscreen, scarf, comfortable shoes, Arabic dictionary, water bottle, sunglasses
Frequently Asked Questions
A unique blend of ancient and modern, Amman, Jordan is a good place to study abroad for students interested in Middle Eastern culture, politics, and language. As the capital of Jordan, students have the opportunity to explore Amman's famous sites, from Mount Nebo and Rainbow Street to the Roman Theater and Citadel Hill.
Amman is a fairly safe city in the region, but petty theft and crime still exists. As with any city, we advise students to travel in groups when possible, stay aware of their surroundings, and keep their belongings secure.
With thousands of years of fascinating history, the Middle East provides students with a rich landscape for studying unfamiliar cultures, diverse people, and new languages, ultimately promoting more understanding of the world. Middle Eastern studies allows students to gain an understanding of the politics, history, and culture that make Amman what it is today.
In order to ensure our students feel welcomed, supported, and empowered while studying abroad, CIEE staff completes comprehensive diversity equity and inclusion (DEI) training. Staff provide students with advice, resources, and ongoing support both before and during their study abroad program in Amman.
For more detailed information on diversity in Amman, visit our Diversity in Amman page.
Study Abroad Scholarships & Grants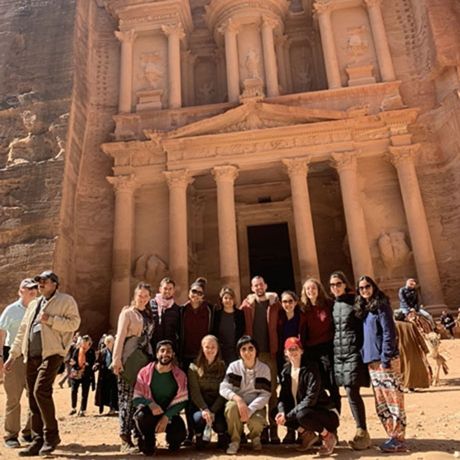 Apply in 1,2,3!
You may be wondering if there are any scholarships to study in Amman. CIEE offers scholarships and grants for study abroad programs in Amman to students with demonstrated financial need, proven academic merit, and for specific CIEE programs. Students can apply for scholarships through 3 simple steps:
Search for and apply to your dream program
Review all available funding opportunities
Complete the Scholarship & Grants portion of your application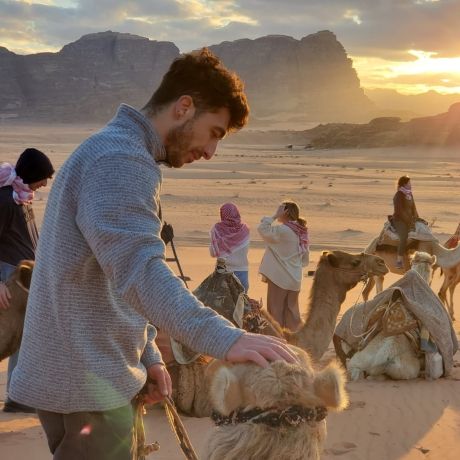 Study Abroad Scholarships
NEED-BASED SCHOLARSHIPS
Based on students' Estimated Family Contribution (EFC) from their Free Application for Federal Student Aid (FAFSA) and enrolled institution. Complete the Scholarships & Grants portion of your program application to be considered for all awards to which you are eligible.
MERIT SCHOLARSHIPS
Based on academic achievement. Complete the Scholarships & Grants portion of your program application, along with an essay, to be considered for all awards to which you are eligible.
OTHER SCHOLARSHIPS
Other scholarship awards are based on program or alumni status.
Talk to a Student Who's Lived it...
Reach out to one of our Student Ambassadors to learn what CIEE Study Abroad is really like from alums who've lived it! Address any questions you may have about Amman, from your academic interests and travel planning to housing and cultural differences. 
By: Dorra Guermazi Jordan's landscape is a tapestry of awe-inspiring beauty and cultural heritage, where ancient wonders and natural marvels converge in harmony. While Petra and the Dead Sea are... keep reading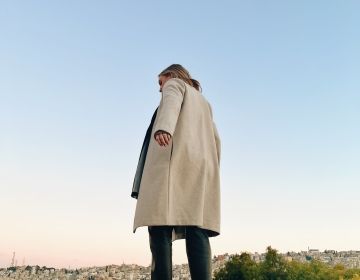 Studying abroad can be a life-changing experience, but it can also be overwhelming to pack for an extended stay in a foreign country. Here's a packing list for studying abroad... keep reading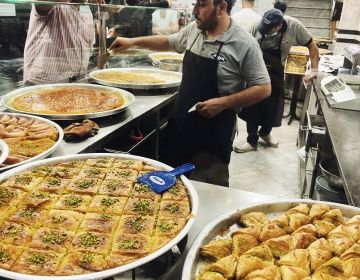 Jordanian cuisine is rich and diverse, and the country's desserts are no exception. From sweet and sticky pastries to delicate floral-infused cakes, Jordanian desserts are a must-try for any foodie... keep reading
Amman Study Abroad Reviews
"CIEE Amman is an extremely organized and well-run program. The staff on-site in Amman are friendly and are more than willing to work with students one-on-one. CIEE also works with students from the moment they're accepted into a program until they depart from their abroad experience to return home."

Matthew S., Elizabethtown College

"It is an amazing experience. You learn so much more about the world, life, and things you would have never thought about or expected going in."

Zaarin M., University of California-EAP

"The course work was intensive but very useful. It was truly amazing to watch my language skills develop so quickly. I would recommend CIEE to anyone looking to solidify and expand their language comprehension and have a rare global educational experience."

Hannah S., James Madison University

"I loved everything about the CIEE program. The staff was absolutely amazing and I keep in touch with them still!"

Madison H., Pennsylvania State University