Explore Barcelona, Spain
When you study abroad in Barcelona, you can expect to see 2,000 years of history, from Roman ruins and 19th-century architecture to Gothic buildings and world-famous museums. As the capital city of Spain's Catalonia region, Barcelona is rich in cultural heritage with a magnificent coastline, making your Barcelona study abroad experience one to remember.
Barcelona's art, architecture, and gastronomic reputation alone are enough to command global attention. Add its political, economic, and cultural influence on its respected higher education system and you get an irresistible study abroad destination for students from around the world.
Study Tours & Cultural Excursions in Barcelona
With CIEE's Barcelona advisors, local experts, and your fellow classmates, your study abroad courses will be complemented with our co-curricular activities and excursions beyond the city.
Every CIEE study abroad program has frequent cultural excursions and activities uniquely designed to complement the program's academics and enhance students' cultural immersion. In Barcelona, past study tours and excursions have included:
Guided tours of the Picasso Museum and Gaudí's Sagrada Família
Day trips to the Dalí Theatre Museum in Figueres
Hikes in the Collserola Natural Park 
Visits to the Roman ruins in the coastal city Tarragona and the medieval town of Girona
If you're a student looking for an authentic study abroad experience in Barcelona, our cultural excursions allow you to do just that! Whether you want to study Spanish, participate in different cultural activities, or immerse yourself in Catalan culture, studying abroad in Barcelona offers something for everyone.

About the Center
Situated on a beautiful pedestrian passageway near Barcelona's main square, Plaça Catalunya, CIEE Barcelona occupies two adjacent houses that have been connected and fondly named "La Casa." The street was built in the 1860s, and today, the whole passageway preserves the stunning appearance of that era. The Center features 10 classrooms, a student lounge, a library and study space, a student life office, an academic advising office, and complimentary WiFi and printer access. CIEE Barcelona also boasts several 19th-century terraces where students can relax, enjoy the outdoors, and bask in Barcelona's lovely weather.  
Beyond the Center, students will find they're only minutes from cafés, restaurants, and important cultural attractions. Students who love to shop will particularly appreciate being only a block from Passeig de Gràcia Avenue, the equivalent of New York's Fifth Avenue. Here, there's a lot to see including gorgeous architecture, high-class stores, and more
Experience CIEE Barcelona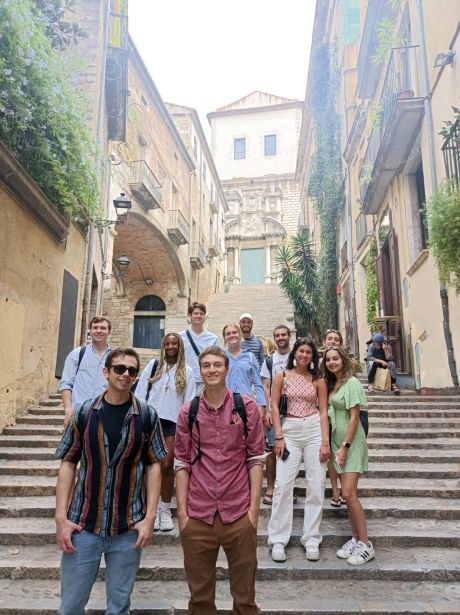 Where To Study in Barcelona
CIEE Barcelona
CIEE Barcelona is conveniently located near Barcelona's main square, Plaza Catalunya.
ESCI-UPF School of International Studies 
ESCI was created in 1993 by the Catalan government and the Universitat Pompeu Fabra and offers bachelor's degrees in business and marketing.
Universitat de Vic – Central University of Catalonia (UVic) 
UVic is an independent state-supported institution, committed to the economic and social development of the region. The university offers a Business, Design, and Innovation program for international students on their Barcelona campus (at BAU Design College), just 20 minutes from CIEE by bus or metro.
Universitat Pompeu Fabra (UPF)
UPF is one of Spain's leading universities, with 27 degree programs offered in English.

Universitat de Barcelona (UB)
UB was founded in 1450 and is the oldest and largest university in Barcelona. It has 105 departments, 98 degree programs, and 20 research centers.

Institute for Advanced Architecture of Catalonia (IAAC)
This international center applies research and development to architecture and urbanism, welcoming students and investigators from more than 60 countries.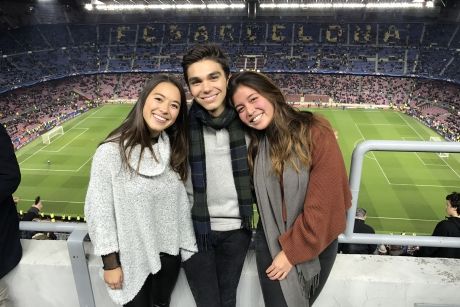 Internships & Volunteering
Depending on their program of study and availability, students may be able to participate in an internship or volunteer. With offerings in English or Spanish, students have the opportunity to intern in Barcelona in any of the following ways:
Help a company like Naru Sport market their international products
Work in real estate and investment options
Assist a firm like Audioconsultores with finance and accounting
Students can volunteer in Barcelona by helping children with homework after school, assisting kids with special needs during school breaks, and participating in food -drives to help feed people in need.
Barcelona Study Abroad Programs
Pocket Guide to Barcelona
Currency   
Euro 
Spoken Languages in Barcelona   
Catalan, Spanish, English 
Available Transportation   
Metro, tram, train, bus 
Famous Local   
Gerard Piqué, famous professional soccer (football) player
Climate   
Warm and temperate with an average annual temperature of 62°F
Places to Explore   
La Rambla – a 656-foot tree-line boulevard filled with Catalan culture, theaters, shops, restaurants, and interesting architecture.
Airport   
Barcelona-El Prat Josep Tarradellas Airport (BCN)
Social Norms   
Don't wear your fraternity/sorority letters around the city – you'll stand out as a tourist.
What to Pack   
Comfortable shoes, Spanish dictionary, water bottle, sunglasses
Frequently Asked Questions
With 8 UNESCO World Heritage Sites (e.g. La Sagrada Familia, Casa Vicens Gaudí, Palau Güell), 7 beaches, and 8 universities, Barcelona has much to explore, all while putting your Spanish language skills to the test.
Read More: The 6 Best Places to Learn Spanish Abroad
While a student's packing list for Barcelona is heavily influenced by the season and weather they will experience, we generally recommend that for spring and summer programs in Barcelona, students pack lightweight clothing like shorts and t-shirts, as well as sunglasses, umbrellas, and comfortable shoes. For fall and winter programs in Barcelona, we recommend that students pack for cooler weather, including jeans, scarves, jackets, and clothing that can be layered.
Read More: Your Go-To Spain Study Abroad Packing List for Every Season
As mentioned in our Pocket Guide to Barcelona, students should know several things before studying abroad in Barcelona, including information regarding currency, languages, transportation, climate, and social norms.
As a culturally and historically-rich city, there are several benefits of studying abroad in Barcelona, Spain, including great public transportation, exciting nightlife, historic destinations to see, local art, and more.
Read More: Why Study Abroad? Top 7 Benefits of Studying Abroad
In order to ensure our students feel welcomed, supported, and empowered while studying abroad, CIEE staff completes comprehensive diversity equity and inclusion (DEI) training. Staff provide students with advice, resources, and ongoing support both before and during their study abroad program in Barcelona.
For more detailed information on diversity in Barcelona, visit our Diversity in Barcelona page.
Study Abroad Scholarships & Grants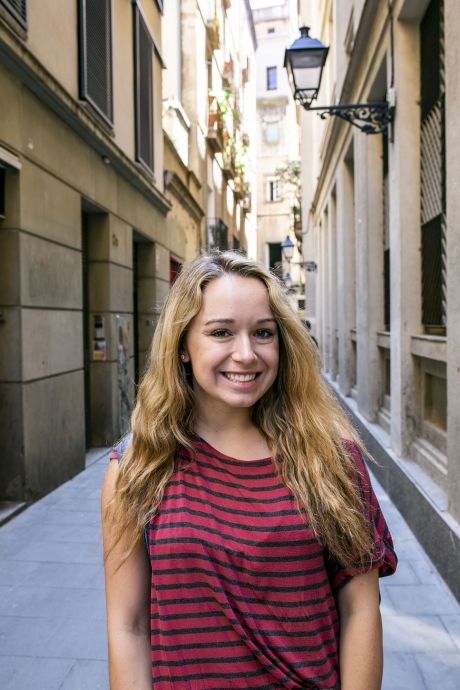 Apply in 1,2,3!
CIEE offers scholarships and grants for study abroad programs in Barcelona to students with demonstrated financial need, proven academic merit, and for specific CIEE programs. Students can apply for scholarships through 3 simple steps:
Search for and apply to your dream program
Review all available funding opportunities
Complete the Scholarship & Grants portion of your application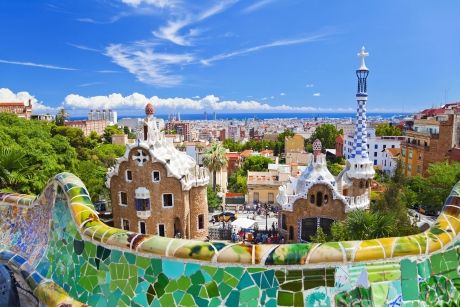 Study Abroad Scholarships
Need-Based Scholarships
Based on students' Estimated Family Contribution (EFC) from their Free Application for Federal Student Aid (FAFSA) and enrolled institution. Complete the Scholarships & Grants portion of your program application to be considered for all awards to which you are eligible.
Merit Scholarships
Based on academic achievement. Complete the Scholarships & Grants portion of your program application, along with an essay, to be considered for all awards to which you are eligible.
Other Scholarships
Other scholarship awards are based on program or alumni status. 
Talk To A Student Who's Lived It...
Reach out to one of our Student Ambassadors to learn what CIEE Study Abroad is really like from alums who've lived it! Address any questions you may have about Barcelona, from your academic interests and travel planning to housing and cultural differences. 
Barcelona Study Abroad Blog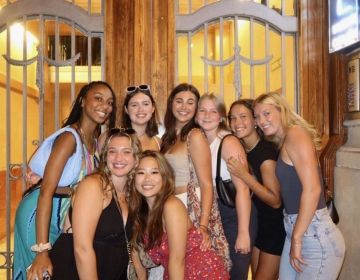 By: Alexis Lane Today marks the first week back to America after studying abroad for a month in Barcelona . When I first arrived home, I thought to myself "Now... keep reading
By: Alexa Levy As a junior in college studying abroad with CIEE Barcelona , I've had the incredible opportunity to explore an exceptionally energetic city and its stunning surrounding areas... keep reading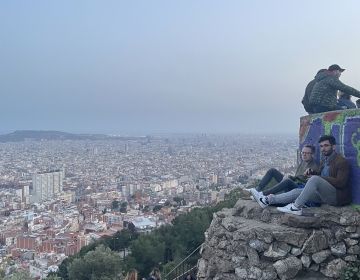 Break out of your comfort zone Try things you wouldn't normally or hadn't tried at all before going abroad! Whether it's food, opportunities to be independent, to travel, meet new... keep reading
Barcelona Study Abroad Experiences
"CIEE Barcelona offers excellent courses and is in one of the best cities in the world."

David G., Williams College

"CIEE is very accommodating and goes out of their way to make sure you are doing well in the program. They are highly invested in your success."

Angela C., The University of Tennessee-Knoxville

"I had a really amazing experience at CIEE. The classes, outside activities, teachers, and faculty all made me feel at home and made my experience a lot better."

Gabriel J., University of Wisconsin-Madison

"It is such an immersive experience. It's the perfect way to travel if you havent gone abroad before."

Kyndal A., University of Washington

"This was an incredible experience. I felt like I learned a lot and I really enjoyed how everything was organized with CIEE, as well as how there were an abundance of CIEE-sponsored trips and activities we could participate in. "

Keya S., Indiana University-Bloomington

"I think that everything about the program, from orientation to sitting in classes, was very well-organized and every staff member was kind and helpful. Also, the excursions every week were amazing!"

Carly A., Indiana University-Bloomington