The Ultimate Guide to Studying Abroad in Spain
If you're considering studying abroad in Spain, you're in for a treat. Home to mouthwatering tapas, captivating Flamenco dancing, entertaining bullfights, and rich art, literature, and architecture, this warm and welcoming country is the ideal location to pursue your study abroad dreams.  
To help you discover the best Spain program, we've compiled a CIEE-approved guide to studying abroad in Spain. This is an excellent resource for those thinking about Spain, as well as for those who are about to head that way. 
Why Study Abroad in Spain

 
According to the Institute of International Education's Open Doors report, Spain is one of the top study abroad destinations for U.S. students – and it has been for well over two decades. 
And, it's no surprise. This laid-back country is made for adventurous students – like you – who want to dive deeper into: 
The language

.

There is no better way to learn a language than by immersing yourself in it. Studying abroad in Spain gives you the opportunity to hear, speak, write, and read Spanish

, morning 'til night. There's no way you won't improve your Spanish language skills – one of the most popular languages spoken on Earth. 
 

The culture.

Spain is a famously inviting country rich in culture, history, cuisine, and a whole lot more.

And, of course, it boasts an incredible art scene with some of the greatest collections and masterpieces in the world.   
 

The food.

You could choose Spain solely for its food. We won't judge you

– it's

that

good. While it's of course known for

paella

, our

alums

favor

the country's

c

alçots

,

escalivada

, g

azpacho

andaluz

, and many more delicious dishes.

 
 
The climate. Yes, the weather varies between cities. Southern cities, like Seville or Malaga, tend to be milder than northern cities like, Madrid or Barcelona. But overall, Spain offers a lovely Mediterranean climate with hot summers perfect for spending time at the beach. 
 

The affordab

ility

.

Depending on your program, your housing, excursions, study tours, and tuition will all be included in your CIEE fee. But honestly, the cost of living in Spain is quite affordable. Cheap eats are readily available. And, you can travel about using Spain's low-cost, highly efficient public transit system.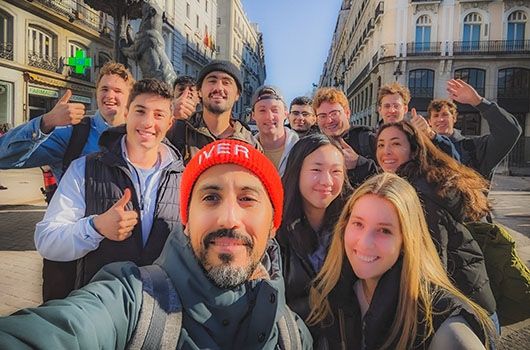 How to Study Abroad in Spain

  
As we noted earlier, CIEE offers close to 30 different ways you can study abroad in Spain. How you do it is entirely up to you. To get you on the right track, we recommend you ask yourself the following five questions: 
Why do I want to

study abroad

in Spain

?

Maybe to experience the culture, or further your Spanish language skills. Maybe it's to boost your resume or develop practical skills as an international intern.

Determine your "why" first and foremost. After that, the rest will start falling into place. 
 
How long do I want to go abroad? You may have a lot of flexibility in your schedule, or maybe you don't. Fortunately, we offer programs that are as short as 20 days, as long as 18 weeks, and a lot of others in between.  
 

What program makes

the most sense for my goals and degree? Below we go into our amazing program options in Spain.
 
Am I eligible? Different programs have different requirements, such as GPA, language skills, etc. Don't get your heart set on the program until you check these requirements.  
 
Can I afford it? Our fees go a long way and typically cover tuition, tours, excursions, orientation, on-site support, airport meet-and-greet, and more. We also offer millions of dollars in scholarships and grants each yea

r, based on financial need and merit.

Your college's study abroad advisor may also know of other avenues of financial support. Be sure to reach out to them for more information and guidance.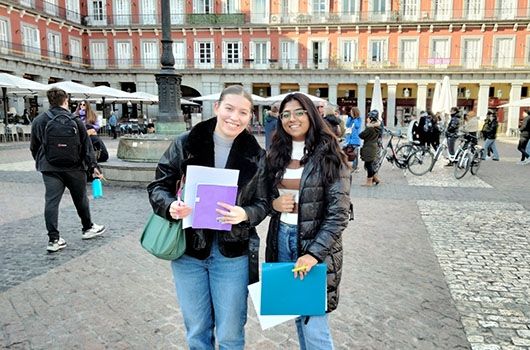 Study Abroad in Spain

Tips

 
You'll make the most of your study abroad experience in Spain if you go into it well-prepared. To help, we offer the following tips from students who've already been there and done that. 
Many of our students are proficient in the language, but not all. If you are in the latter group, don't worry. But we do recommend learning some basic Spanish before you arrive. This will help make your Spanish immersion experience more fun and more authentic from the very start. 
If your Spanish is newly acquired, use it. If your Spanish is rusty, use it. Don't be afraid, just do your best. You'll be surprised at how proficient your Spanish language skills will be by the end of your stay. 
This may be your once-in-a-lifetime chance to see the Picasso Museum, Basilica de la Sagrada Familia, or Mediterranean Sea. Don't miss out! 
Handwritten. Vlog. Blog. However you want to capture your daily experiences, do it. It's the best way to keep track of the memories you won't want to forget. 
You are going to walk a lot. We offer more tips on packing below, but this one is worth mentioning twice! Trust us on this.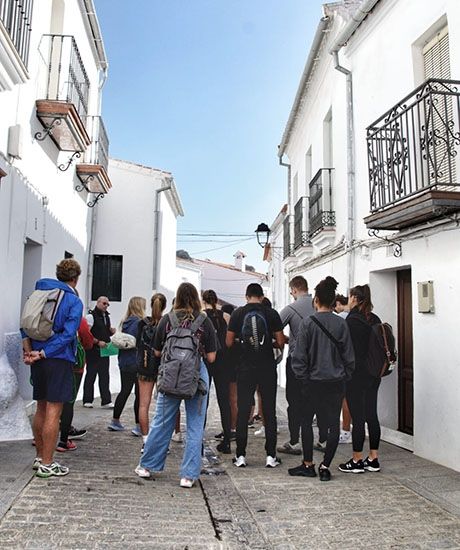 Do you know that former participants have returned to Spain to work in a company where they previously interned in? True story. So, think long-term. Make connections. Build your network. And be open to whatever this life-changing opportunity brings. 
Whether through a co-curricular club, local volunteer opportunity, becoming a regular at a nearby café, or all of it, immerse yourself in the community.  
If you wanted to stick to life at home, then you'd stay there. Instead, you're choosing to study abroad to experience the way other cultures do life. So let yourself live like a local and embrace the new! 
What to Pack for

Study Abroad in Spain

  
Packing for your study abroad trip shouldn't be stressful, but it's important to cover your bases. Here are the must-haves when you study abroad in Spain. 
Passport + a photocopy (just in case)

 

Visa + a photocopy 

 

A second form of valid ID (e.g., driver's license or government-issued ID)

 

Plane tickets 

 

Proof of health insurance

 

Proof of CIEE enrollment

 

Cash (Spain uses the Euro) and a credit card accepted in Spain

 
Comfortable walking shoes

(ideally closed-toe and waterproof) 

Camera to capture Spain in high-def

 

One nice outfit for special occasions

 

Prescription medications

(enough for the stay if possible) 

Preferred over-the-counter medications

 

Prescription eyewear

 

A reusable water bottle that you can fill up at the airport and use when o

n-the-go in Spain 

Adapters to

compatibly charge your tech in Spain's electrical outlets 

Sunglasses + sunbloc

k 
Best Study Abroad Programs in Spain

 
Now, let's get to the heart of your Spanish experience: your program.  
We offer the most amazing programs for studying abroad in Spain – and in five epic cities around the country, including: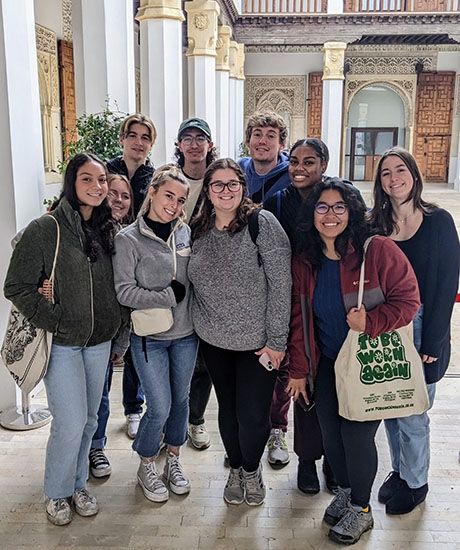 Our study abroad and global internship programs offered across each Spanish city vary by location. Generally, our Spanish study abroad programs include: 
J-term

: Th

ese three-week winter programs are convenient for students who want to go on short-term study abroad adventures during their winter breaks between classes back home. 
 

Engineering + Society

: Designed for students interested in aerospace, energy, or biomedical engineering courses

. 
 

International Business + Culture

:

The perfect program for students who want to earn credits in business, economics, marketing, communication, history, psychology, literature, chemistry, biology, and more. 
 

Language + Culture

:

Ideal for students eager to learn more about Spanish history, religion, literature, linguistics, marketing, journalism, and more. 
 

Liberal Arts

:

Designed for students majoring in humanities, social sciences, journalism, economics, business, or communications. 
 
Open Campus Block: The most customizable program available! Students can spend one, two, or up to three consecutive six-week blocks living and learning in one of Spain's

Open Campus Block

locations – or another qualifying city around the world!

 
 
Summer Business + Culture: Perfect for students who want to spend their summers appreciating stunning architecture, world-class cuisine, and Spain's vibrant cultural heritage. 
 
Summer Global Internship: The ideal program for students who want to gain real-world work experience while living and learning in Spain. Internships can be part-time or full-time, depending on your preference. 
 
Summer Global Internship Language Immersion: This program offers all the perks of a summer internship with an expanded focus on strengthening your business vocabulary, immersing yourself linguistically, and gaining relevant work experience in a new culture.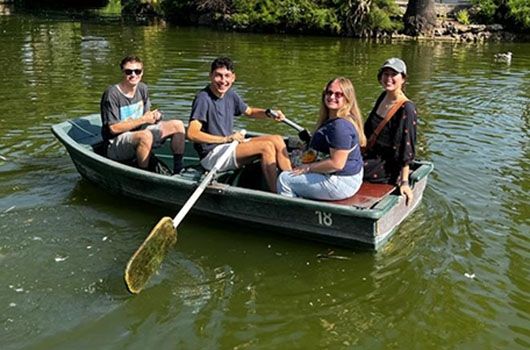 Looking to compare programs? Check out all of our study abroad programs in Spain! There you can even do a quick program comparison to weigh your favorite programs side-by-side! 
So much to do, so little time! Don't waste another second. Visit our study abroad in Spain program page, and get started today!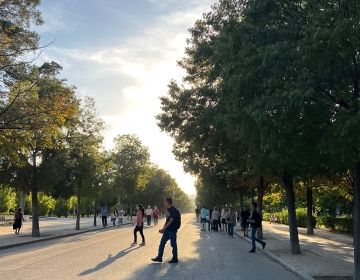 By: Sophie Lakin It feels like most of the time I try to talk to anyone in Spanish, they respond to me in English! I began to think if it... keep reading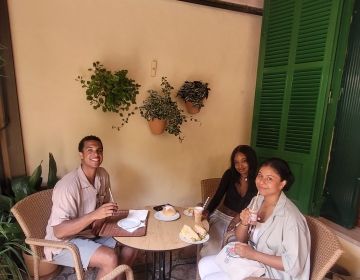 Nestled in the beautiful Serra de Tramuntana (UNESCO World Heritage Site), Valldemossa is a town that combines history, culture, and natural beauty. From its famous Coca de Patata to its... keep reading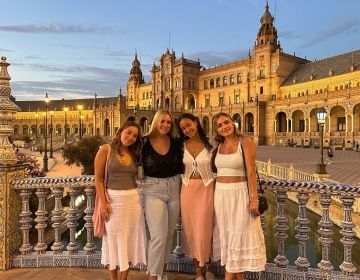 By: Amelia Asfaw To be completely honest, I had a lot of trouble deciding where I wanted to study abroad. I knew I wanted somewhere in Spain to practice my... keep reading