About
About the Fellowship
Twelve exceptional student leaders of color will be selected to conduct a comparative study of social justice leadership in America, South Africa, and Ireland.  
During the four-week summer program, Fellows will travel to Washington, DC, Cape Town, Dublin, Derry, and Belfast to explore the legacies of Frederick Douglass, Abraham Lincoln, John Lewis, Nelson Mandela, Bishop Desmond Tutu, Daniel O'Connell, John Hume, and other giants of social change.  
The program pays tribute to Frederick Douglass' transformative experience visiting Ireland more than 175 years ago. Douglass was embraced by the Irish people and met the famous Irish reformer Daniel O'Connell who expanded Douglass' view of social injustice and influenced his style of agitating for positive social change through non-violent social and political efforts. The Government of Ireland is again sponsoring the 2023 Fellows in celebration of this historic meeting and Ireland's commitment to social justice and peace building.
The program runs July 6 – August 5, 2023. Fellows will study how changemakers shaped pathways to peace, including the Emancipation Proclamation in America, the end of Apartheid in South Africa, and the Good Friday Agreement in Northern Ireland.
They will return home inspired to use their leadership skills to create a more just and peaceful world. 
The Journey
Just as Frederick Douglass was transformed by his time in Ireland, Frederick Douglass Global Fellows return home from abroad transformed, inspired, and prepared to change our world for the better. 
How to Apply
Application deadline has passed
Become a Frederick Douglass Global Fellow
Summer 2024 applications will open this November.
How To Apply
The 2023 application deadline has passed
Keep in touch as we announce the opening of applications for next summer's Fellowship. We'll send you an email when it's time to get going!
Frederick Douglass Global Fellow Applicants Must:
Be a current undergraduate freshman, sophomore or junior
Have a minimum GPA of 3.3
Be a U.S. citizen, U.S. national or permanent resident
Identify as an ethnicity typically underrepresented on study abroad programs (e.g. American Indian/Alaska Native, Asian, Black/African American, Hispanic/Latino or Native Hawaiian/Other Pacific Islander).
Submit a complete application no later than February 14
The Frederick Douglass Global Fellowship is a four-week study abroad program that includes a 3-credit course where students trace the footsteps of historic leaders in three countries who significantly advanced social justice, sought conflict resolution, and advanced peace. 
The Fellowship award covers the full program cost and airfare sponsored by CIEE.
Twelve (12) students will be selected. 
Fellows will be selected based on their demonstrated commitment to nurturing positive change in our world, their ability to rise above adversity and advance good, and their commitment to building bridges to those with different viewpoints. 
During the program, Fellows commit to completing all pre-readings, attending all activities, actively engaging with Instructors and Fellows in class, and share daily reflections with their peers in the U.S. through social media. Fellows are ambassadors for peers to embrace international education and will share both during and after the course their personal reflections on leadership, social justice movements, and the value of a global perspective. 
After the program, Fellows commit to sharing their study abroad experience with their campus community to promote the power of international education and encourage peers to study abroad. 
What is the background of the Frederick Douglass Global Fellowship? 
CIEE began the Frederick Douglass Global Fellowship in 2017 to empower students of color with a curated study abroad experience focused on leadership, intercultural communication, and the tools needed to create positive change. Fellows are selected based on their academic achievement, communication skills, and commitment to social justice. 
 
What will the Fellows study? 
The 2023 Frederick Douglass Global Fellows will undertake a comparative study of peacemakers from around the world, with a special focus on Frederick Douglass, Daniel O'Connell, and Nelson Mandela. The objective of the program is to help emerging student leaders of color become stronger agents for positive change and for them to promote the transformative experience of study abroad to peers.  
Where will the Fellows study? 
The Fellows will spend time in Washington D.C., Cape Town, and Dublin.  Full program details will be shared in January 2023.  
What are the dates of the program? 
This summer's cohort will study from July 7 to August 4. (Please note these dates are subject to change.)  
 
Is the Frederick Douglass Global Fellowship a full scholarship? 
The award covers the cost of travel, housing, field trips, and a study abroad course taught by CIEE. Meals and recreational activities are not covered.  
 
Who is eligible for the Fellowship? 
We invite applications from first-, second- and third-year students who have a GPA of 3.3 or higher and are from ethnic backgrounds typically underrepresented on study abroad programs. 
 
How do I apply? 
Applications open December 1, 2022, and are due February 14, 2023 at 8pm EST. (February 14 is Frederick Douglass's birthday!) 
What should I know about the application? 
You must complete the application by February 14, 2023.  We suggest that you request your letter of recommendation well in advance of the deadline. You must secure this recommendation from a college/university president,  faculty or administrator who is familiar with you and your leadership skills.  We suggest you complete you video early as it is a critical component to the selection process.  
How many students will be selected for the Fellowship? 
12 students will be selected. 

Is the Fellowship competitive? 
Yes, the Fellowship is competitive, but it is a one-of-a-kind transformative experience for exceptional students.  
Also, if you're not selected for the Fellowship, all eligible applicants receive a $1,500 grant that may be used for another CIEE program for one year.  
 
When is the application due? 
Completed applications must be submitted by 8:00 p.m. ET on February 14. Late applications will not be considered for any reason and all application tasks must be finished in their entirety. 
 
When will the selection of the Fellows be announced? 
March 17, 2023 
 
Where can I find more information? 
Scholars Grant
Frederick Douglass Scholars Grant
This grant is awarded to all qualified applicants of the Frederick Douglass Global Fellowship who are not selected for a fellowship. Qualified applicants get $1,500 toward a CIEE program.
Past Fellows
See and Hear from Our Previous Fellows
"Frederick Douglass passed you a baton, during your part of the race, what will you do with it?"

Vice President Kamala Harris

"We are excited to participate in the development of leaders that are taught the value of intercultural awareness and molded to be change agents in their communities like our great ancestor, Frederick Douglass."

Nettie Washington Douglass, chairwoman and co-founder of Frederick Douglass Family Initiatives, and the great granddaughter of Frederick Douglass

 "Through study abroad, I began to identify and refine skills that will empower me to network anywhere in the world. My quest to expand beyond the lessons of the classroom were encouraged by my wonderful professors at CIEE, who purposefully created an atmosphere of curiosity and empathy during our time abroad."

Meghan Sowersby, FDGF 2017

"Céad míle fáilte to the Fellows in Ireland exploring the legacies of abolitionist Frederick Douglass and Daniel O'Connell on leadership and social justice. "

Ireland's Taoiseach Micheál Martin

"As I questioned preexisting beliefs and learned about lived experiences different from those in my country, my world became bigger. This gave me the insight to see myself in the context of a larger and beautifully complicated global picture. Travel and exposure to newness has now become a central priority to me, and I know that my CIEE experience abroad is a gift that will continue to give throughout my lifetime."

Sophia Jackson, FDGF 2021

"Because of this fellowship, I grew confident in my communications skills and learned how to be a strong communicator, just as Frederick Douglass was. I returned home with a heightened consciousness regarding effective interpersonal communication practices— an essential tool that every aspiring global leader should have. The culture of this program has brilliantly fostered all the necessary aspects I need to become a global leader."

Brielle Smith, FDGF 2021
Check out Frederick Douglass Posts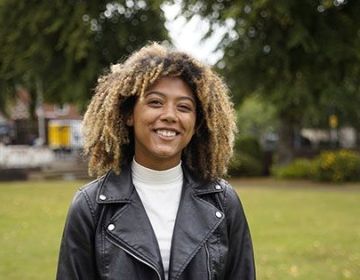 Leeah Derenoncourt, Emerson College "At 13, Frederick Douglass taught me that words have power," shared Leeah during a presentation to her classmates. "Today I am here to tell you the... keep reading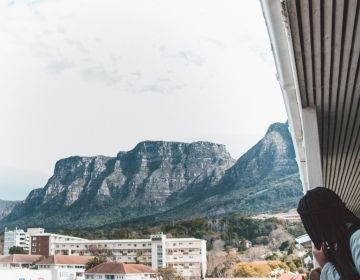 I heard a quote somewhere that resonated with me so much. I can't seem to find who said it, unfortunately, but it goes like, "The best time to experience new... keep reading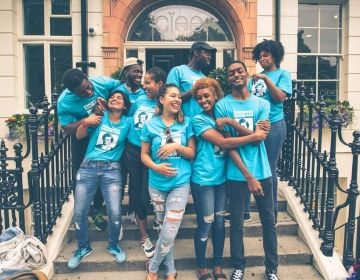 In 2017, I joined the 5.9% of black students from the United States who chose to explore new interests across the world. As a Frederick Douglass Global Fellow , I... keep reading