Explore Cape Town, South Africa
With stunning mountains and seascapes, Cape Town is a developing nation striving for innovative solutions to solve vast economic, political, and social challenges. As one of South Africa's most popular destinations, Cape Town is a diverse city with endless opportunities for students to reach their personal and professional goals. 
When you study abroad in Cape Town, you'll experience the multicultural atmosphere that this dynamic city has to offer. From a vast coastline and exciting cultural activities, to the legacy of the colonial and apartheid past, Cape Town is a unique study abroad destination students are sure to remember.
Study Tours & Cultural Excursions in Cape Town
Every CIEE study abroad program has frequent cultural excursions and activities uniquely designed to complement the program's academics and enhance students' cultural immersion. In Cape Town, past tours and excursions have included:
Visits to Victoria & Alfred Waterfront, built on top of the docks at the Port of Cape Town
Cooking lessons for traditional foods from the Cape Malay, isiXhosa, and Afrikaans traditions
Dance lessons drawn from local groups such as isiXhosa and amaZulu
Tours of iconic sites like Cape Peninsula, the Cape Flats, Robben Island, Table Mountain, and cultural hubs like Bo Kaap, Grabouw and District Six
If you're a student looking to learn the history, culture, and traditions of Cape Town, CIEE's tours and excursions allow you to do just that! Whether you want to explore the culture of Cape Town or study at one of the top universities in Africa, our Cape Town study abroad programs offer something for everyone.
About the Center
Situated in the vibrant student-friendly suburb of Rondebosch near central Cape Town, CIEE Cape Town boasts two main classrooms, a small meeting room, a student lounge, a student life office, an academic advising office, and complimentary WiFi. The Center is conveniently close to the University of Cape Town, giving CIEE students the chance to socialize with local South African students.
Students will find many exciting conveniences surrounding the CIEE Center. From close access to Table Mountain National Park (hikers, take note!) to plenty of restaurants, coffee shops, beaches (Camps Bay, Clifton, and Muizenberg), and nightlife a short Uber ride away, students will enjoy all the exciting amenities the area has to offer.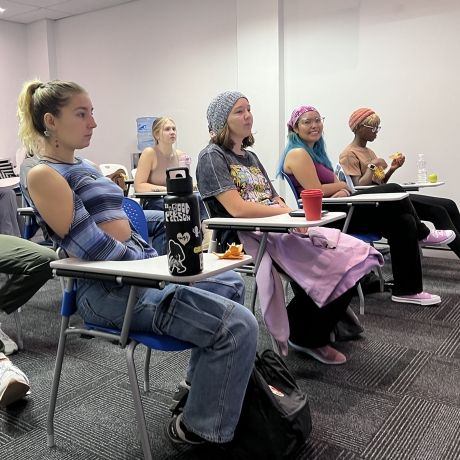 Where Students Study
CIEE Cape Town
Our location in Cape Town is part of the CIEE Open Campus Block Network and is located in the Rondebosch district.
University of Cape Town (UCT)
Established as South African College in 1829, UCT is internationally recognized as Africa's leading research university with beautiful grounds and attractive buildings. The UCT campus includes a range of commercial, medical, recreational, and sporting facilities.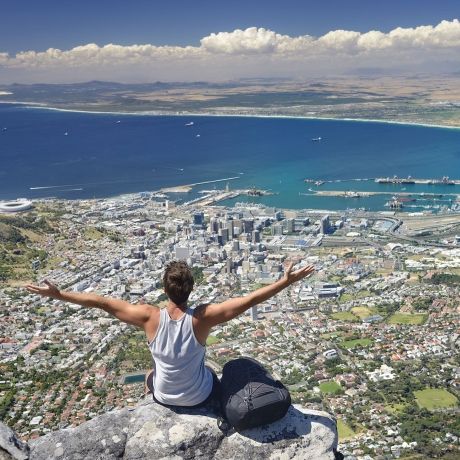 Internships & Volunteering
Depending on their program of study and availability, students may be able to participate in an internship or volunteer. For students looking to intern in Cape Town, they may be able to work in a non-paying position across a number of fields, including business, marketing, the restaurant industry, and more.
Students looking to volunteer in Cape Town may tutor students in English and math, work on AIDS/HIV projects, and mentor troubled teens.
Study Abroad Programs in Cape Town
Pocket Guide to Cape Town
Currency 
South African Rand
Spoken Languages 
English, Afrikaans, Xhosa
Available Transportation 
Metrorail, Golden Arrow Bus, Combi, feet
Famous Local 
Lauren Beukes, author of Zoo City, which won the Arthur C. Clarke prize for Science Fiction in 2011
Climate 
Warm, dry summers; cool wet winters
Places to Explore 
Table Mountain – dramatic plateau that forms a backdrop to Cape Town
Airport 
Cape Town International Airport (CPT)
Social Norms 
When greeting someone, it is considered impolite not to ask how they are – and you need to wait for an answer!
What to Pack 
Backpack, comfortable shoes, sunscreen, mosquito repellent
Frequently Asked Questions
Cape Town is a good place to study abroad because it's one of the most diverse cities with 11 official languages, a warm Mediterranean climate, and mountainous landscapes. With thriving creative industries, a rich history, and endless natural attractions, Cape Town is a one-of-a-kind study abroad destination for adventurous students.
Cape Town is generally regarded as a laid back city with a low cost of living compared to other cities. Living in Cape Town will give students the opportunity to experience a diverse city with a variety of natural landscapes and exciting nightlife.
Yes, Cape Town is safe for students to study abroad, but with any major city, students should take certain precautions to keep themselves and others safe. We advise students to travel in safe areas of the city, keep their personal belongings secure, and stay on trails when hiking.
In order to ensure our students feel welcomed, supported, and empowered while studying abroad, CIEE staff completes comprehensive diversity equity and inclusion (DEI) training. Staff provide students with advice, resources, and ongoing support both before and during their study abroad program in Cape Town.
For more detailed information on diversity in Cape Town, visit our Diversity in Cape Town page.
Study Abroad Scholarships & Grants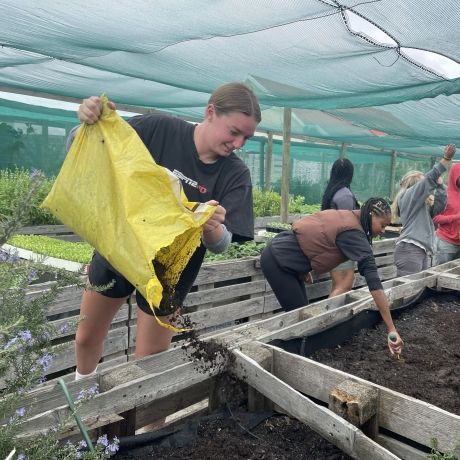 Apply in 1,2,3!
You may be wondering if there are any South African scholarships to study abroad in Cape Town. CIEE offers scholarships and grants for study abroad programs in Cape Town to students with demonstrated financial need, proven academic merit, and for specific CIEE programs. Students can apply for scholarships through 3 simple steps:
Search for and apply to your dream program
Review all available funding opportunities
Complete the Scholarship & Grants portion of your application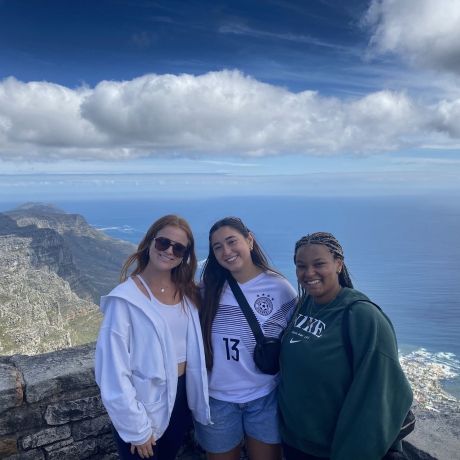 Study Abroad Scholarships
NEED-BASED SCHOLARSHIPS
Based on students' Estimated Family Contribution (EFC) from their Free Application for Federal Student Aid (FAFSA) and enrolled institution. Complete the Scholarships & Grants portion of your program application to be considered for all awards to which you are eligible.
MERIT SCHOLARSHIPS
Based on academic achievement. Complete the Scholarships & Grants portion of your program application, along with an essay, to be considered for all awards to which you are eligible.
OTHER SCHOLARSHIPS
Other scholarship awards are based on program or alumni status.
Talk to a Student Who's Lived it...
Reach out to one of our Student Ambassadors to learn what CIEE Study Abroad is really like from alums who've lived it! Address any questions you may have about Cape Town, from your academic interests and travel planning to housing and cultural differences. 
Cape Town Study Abroad Blog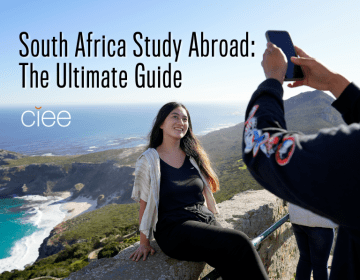 South Africa is simply astonishing. From its varied topography and rich culture to its complex history and diverse wildlife, a South Africa study abroad program promises the adventure of a... keep reading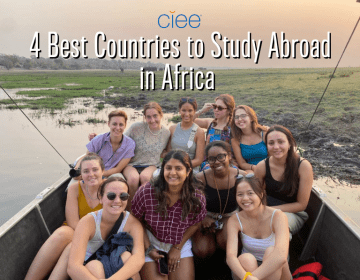 Africa is the world's second-largest and second-most-populous continent on the planet. The people, the landscapes, the animals, and more that make up this magnificent region are diverse and profound. If... keep reading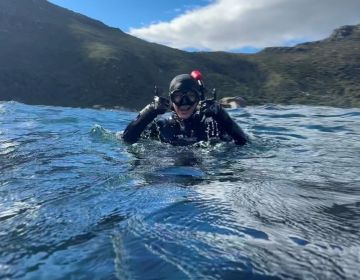 Authored by Kai Edem (she/her) (Kai is a second-year undergraduate student at Agnes Scott College, majoring in Neuroscience. She is excited to discover more about research opportunities available during her... keep reading
Cape Town Study Abroad Reviews
"The program exceeded my expectations and provided us with not only fun trips and great information, but an amazing group of faculty that I became close with."

Jaleesa P., Eckerd College

"Really rich programming around cultural immersion and very considerate staff who care about the well-being of students."

Emily M., Brown University

"The people, places, food, and landscape are absolutely amazing!"

Logan F., Susquehanna University

"It is such a great experience and you learn so much in a short period of time."

Robert L., Wofford College

"The overwhelming support I got from staff was amazing! Very genuine good-hearted people."

Pauline S., Marymount University