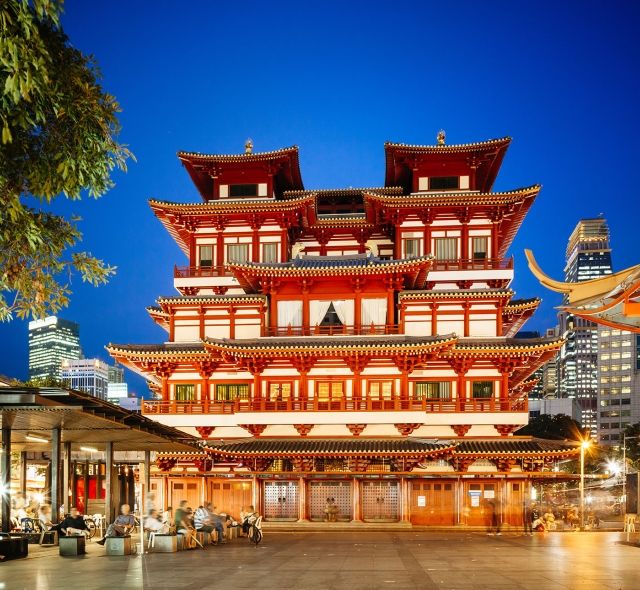 Open Campus Block
Study Program
Multi-Location Offering
Overview
Take a bumboat
to the rustic Pulau Ubin Island and bike around. Encounter wild boars, macaques, and other local species.
Eat
to your heart's content at Singapore's hawker stands – a few of which have Michelin Star awards!
Run or Walk
past Dragonfly Lake in the futuristic Gardens by the Bay. Stop to visit its world-renowned indoor cloud forest and the world's largest indoor waterfall (114ft).
4
official languages: English, Mandarin, Malay, and Tamil
10
length in hours of flight from New York to Singapore, one of the world's longest commercially operated routes
700 M
population of the Association of Southeast Asian Nations (ASEAN)
Experience
Your Destination
The island-state of Singapore lies one degree north of the equator in Southeast Asia. It blends Malay, Chinese, Arabic, and Indian cultures and religions. Since gaining independence in 1965, Singapore has become a flourishing city-state that excels in trade and education and is considered a model for developing nations. Singapore is one of the most competitive economies in the world and a founding member of the Association of Southeast Asian Nations (ASEAN).
CIEE wants all our students to feel welcomed, supported, and empowered to succeed while studying abroad. Local CIEE staff have provided details about conditions and cultural attitudes that students with specific identities might encounter in Singapore.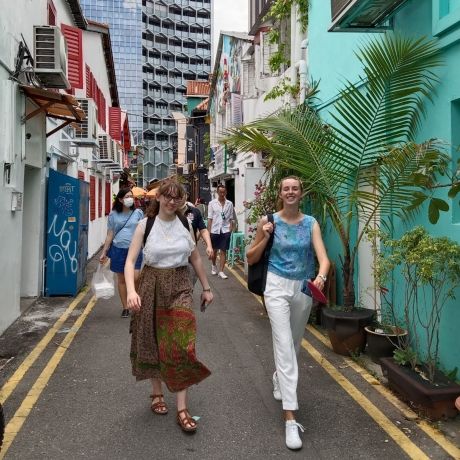 Overseas and Local Excursions & Activities
Ample activities and day trips will be offered to immerse yourself in Singaporean culture and historical heritage. You might:
Explore the Borobudur Temples at Yogyakarta, Indonesia.  
Experience the cultural richness of the port of Malacca in Malaysia.  
Learn about different hawker cuisines and the history behind street food in Singapore. 
Visit Sentosa Island  and learn about WWII battles on this strategic island.  
Explore the Bukit Timah Nature Reserve trail, the only primary forest in Singapore.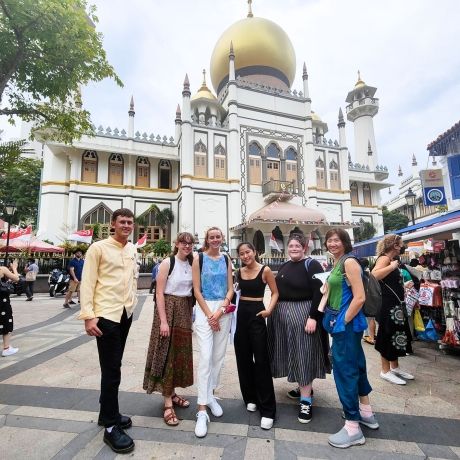 Projects and Volunteer Opportunities
Teach at local centers for youth rehabilitation. 
Explore service-learning at the Singapore nature and parks boards. 
Working with the elderly and disabled through food distribution programs 
In-depth study about climate change in Singapore through service learning at beaches 
Research and work on food security in Singapore with NGOs 
Internship opportunities at NGOs that promote religious and social harmony in Singapore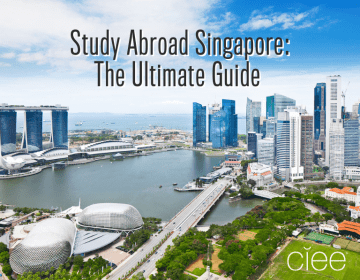 If you're looking for an adventure in a lively, busy city packed with incredible natural landscapes, a unique modern culture, and amazing food, consider Singapore . Read on as we... keep reading
Housing
Singapore is a small city, and its major attractions are within easy reach via public transit, such as the subway. Commuting around the island, even between its furthest points, takes less than two hours. Students live in a 3-star hotel room in a location accessible to public transportation. Each hotel room consists of a private bathroom with shower facilities and two single beds. The hotel also has a 24-hour concierge to assist students. 
Standard Housing: Includes a twin room in a shared apartment inside the hotel. The hotel conveniently features a swimming pool and fitness room. Students may also use the hotel's common area to study. The commute time to CIEE Singapore or Singapore Management University by subway or bus will be less than 40 minutes. While the use of kitchen facilities is not available, students are able to have different meals near the hotel for as low as USD $6 per meal.   
Single Select Housing: Includes a single room in the hotel located under 40 minutes from CIEE Singapore or Singapore Management University via public transportation. Select housing requires an additional fee. 
Note: Housing is on a first-come, first-served basis. If we cannot accommodate your first housing choice, we'll let you know before you arrive.   
Meals are not included in the program housing, but housing is within close walking distance to food courts as well as many affordable eateries and 24-hour coffee shops.
Academics
Students enroll in one, two, or three six-week blocks, taking two courses during each block. This program gives students the flexibility to stay in Singapore the entire time or spend other blocks at our Open Campus Block locations in Berlin, Buenos Aires, Cape Town, Copenhagen, Dublin, Kyoto, London, Madrid, Monteverde, Paris, Rome, Santiago, Shanghai, Sydney, and Yucatan.
Students choose from a variety of disciplines within seven different tracks: Art and Architecture;  Business; Communications, Journalism, and New Media; Global and Community Health; International Relations and Political Science; Language, Literature, and Culture; or STEM and Society.  The CIEE Singapore Center is centrally located and convenient to public transportation for exploring the city.
Content courses are taught in English by CIEE faculty drawn from a variety of higher education institutions in Singapore and worldwide. 
Courses
Course Notes
Courses are listed below by block and track; the course list is subject to change. Courses are in English unless otherwise noted. "GI" denotes courses that are offered at multiple CIEE locations. 
Use the Course Comparison Tools to compare classes offered across all Open Campus Block programs for each block: 
Students studying for three blocks who wish to complete a lab course will be required to opt out of one course to remain within the program credit range. 
Many CIEE courses are available in multiple CIEE locations. To help ensure you are able to enroll in the courses you need, some courses may be facilitated as a Hybrid course by an instructor from a location that is separate from your own. In a Hybrid course, you will learn either face-to-face or online, depending on your location. However, regardless of your location, you will apply what you learn from the instructor and course materials in your location. Hybrid courses can be identified in the course list as those whose course codes end in "CIEE" – open the syllabus to see the instruction location, if known. 
Hybrid Courses
Some CIEE courses are offered in hybrid format to make them available at multiple program locations and increase your course choices. A hybrid class is taught synchronously in a classroom in one location, and students in the program at other CIEE locations join live online. All students have the same instructor and meet as one class. Co-curricular activities are tailored to each student's location to promote local, experiential and intercultural learning for all. The Course Comparison Tool shows the location of instruction for all classes and from what program locations the course can be taken. Hybrid courses can be identified in the course list as those whose course codes end in "CIEE". Otherwise, the courses are offered at the one indicated location only.
Academic Projects
Each Academic Project (Internship, Service-Learning, Directed Independent Research) placement will be based on the student's project learning goals, qualifications, resume, and availability of placements. The process is highly individualized and goal oriented. Students enrolled in an Academic Project will receive additional academic support that informs and enhances the placement experience. 
Students applying for an Academic Project are required to submit additional materials during the course selection process 
Fall Block I 2023
Business Track
Communications, Journalism, and New Media Track
Global and Community Health Track
Language, Literature, and Culture Track
STEM and Society Track
Fall Block II 2023
Business Track
International Relations and Political Science Track
Language, Literature, and Culture Track
STEM and Society Track
Fall Block III 2023
Business Track
Global and Community Health Track
International Relations and Political Science Track
Language, Literature, and Culture Track
STEM and Society Track
Spring Block I 2024
Business Track
Communications, Journalism, and New Media Track
International Relations and Political Science Track
Language, Literature, and Culture Track
Spring Block II 2024
Business Track
Language, Literature, and Culture Track
STEM and Society Track
Spring Block III 2024
Business Track
Language, Literature, and Culture Track
Note: This course listing is for informational purposes only and does not constitute a contract between CIEE and any applicant, student, institution, or other party. The courses, as described, may be subject to change as a result of ongoing curricular revisions, assignment of lecturers and teaching staff, and program development. Courses may be canceled due to insufficient enrollment.
"(GI)" denotes courses that originated at CIEE's Global Institutes and that are offered at multiple CIEE sites.
Scholarships
Scholarships & Grants
CIEE offers scholarships and grants annually to help students like you make your study abroad dream a reality.
Students who apply to this program are eligible for the following scholarships and grants:
Wollitzer Merit Scholarships in Area or Comparative Studies
Ping Scholarships for Academic Excellence
Global Access Initiative (GAIN) Grants
McDermott Health Sciences, Nursing, and Public Health Merit Scholarships
Stohl International Undergraduate Research Scholarships
CIEE Gilman Go Global Grant
MSI Grant
To be considered, submit the CIEE Scholarships & Grants application within your CIEE program application.
Dates & Fees
Pre-departure Advising
Advising before you depart to set goals and answer questions
Optional on-site airport meet-and-greet
Orientation
Introduction to your program plus practical information about living in your host city
On-site Staff
Full-time program leadership and support in your city
Cultural and/or Co-curricular Activities
Excursions and/or Study Tours
Travel Protection
CIEE iNext travel protection
24/7 emergency on-site support
Staff
Marc has over 15 years of experience in the education and travel sectors. He holds an MBA and a postgraduate diploma in education.
Biona joined CIEE in 2022 after seven years of managing operations in the education travel industry. She holds a diploma in hospitality.
Get Started Steps
Get Started
Here's what you need to do to take the next steps:
Start an Application
You're one step closer to an amazing study abroad experience!
Connect With Your Campus Study Abroad Office 
Share your plans and confirm you're on track to meet all required steps to go abroad.
Contact an Advisor
Contact Us 
Send us an email if you still have questions or need information about applying to this program.