Credit
3 semester hours
4.5 quarter hours
Eligibility
Application Deadline
The application deadline has passed.
Apply Now
Overview
LIVE IN PRAGUE
like a local college student and partake in the city's vibrant cultural and social scene as you learn more about the local customs.
MARVEL
at one of the world's most pristine and varied collections of architecture. The city boasts architecture representing the Romanesque, Gothic, Renaissance, Baroque, Cubist, Neo-Classical, and Modern design styles.
DISCOVER
the picturesque setting of many Hollywood movies such as Mission Impossible, Alien vs. Predator, Van Helsing, Chronicles of Narnia, and Hellboy.
65
KILOMETERS OF TRACK IN PRAGUE'S METRO (UNDERGROUND) TRANSPORTATION NETWORK
993 CE
FIRST YEAR BEER WAS BREWED AT THE BENEDICTINE BREVNOV MONASTERY
Experience
Your Destination
Cobblestone streets, medieval bridges, and a castle overlooking dozens of churches, squares, and green spaces all contribute to the "City of a Hundred Spires" being recognized as one of the world's most beautiful cities. Having shed its communist past and brimming with carefully preserved monuments from every period and style in its millennial history, Prague is a truly unique European city. Easy to explore on foot and on a student budget, the city abounds with festivals, live music, galleries, food markets, cafés, and much more. 
CIEE Prague is located in the central neighborhood of Vyšehrad in a beautiful park-like setting atop one of Prague's highest hills about 15 minutes from the Old Town area. 
CIEE wants all our students to feel welcomed, supported, and empowered to succeed while studying abroad. Local CIEE staff have provided details about conditions and cultural attitudes that students with specific identities might encounter in Prague.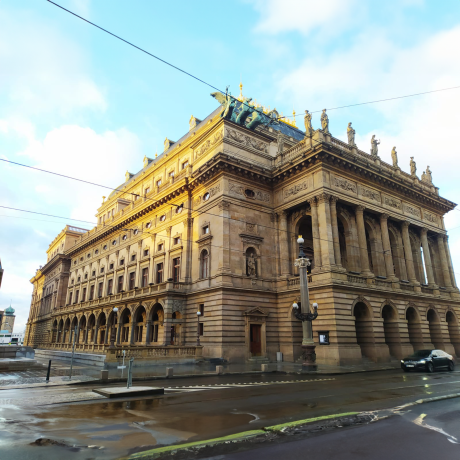 Excursions & Activities
Spend the day at Prague Zoo, listed by Forbes Traveler and TripAdvisor as one of the world's best zoos. 
Take a day trip to Terezín (Theresienstadt), a former Jewish ghetto and Nazi labor camp. 
Visit Sychrov, a beautiful Neo-Gothic castle. 
Stop by Karlštejn, the famous gothic fortress built by Holy Roman Emperor Charles IV.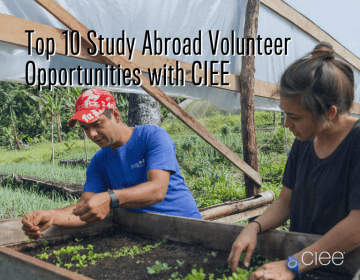 If you're itching to study abroad and truly make a difference during your trip, save this blog post as we dive into our Top 10 study abroad volunteer opportunities! Can... keep reading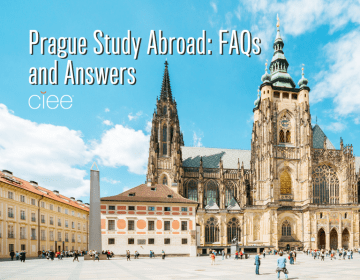 Know n as the "City of a Hundred Spires," Prague is a colorful and magnificent study abroad location. If you've been dreaming of studying abroad in the Czech Republic's incredible... keep reading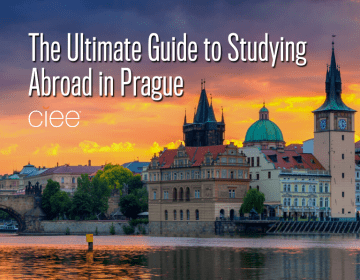 Considering study abroad in Prague ? We definitely think you should. And by "we," we mean the 97 % of international students who studied in the Czech Republic who now... keep reading
Housing
All housing is within a 45-minute commute to CIEE.
Homestays: Live with a Czech family, with or without another CIEE student, and immerse yourself in the city's culture. Each student has an individual room. 
Apartments: Students can live in apartments shared with other CIEE students. If local health and safety regulations permit, most students live in double or triple rooms. Each apartment will have shared common spaces, including a kitchen and a bathroom.
Residence Halls: Students usually live with a mix of CIEE students and local and international students in dormitory-like buildings. If local health and safety regulations permit, most students live in double or triple rooms. Students usually share kitchens and common areas.
Housing is tight in Prague. If we can't accommodate your first housing choice, we'll let you know before you arrive.
Homestay: Breakfast and dinner, on the family's schedule, are included. 
Residence Halls and Apartments: Meals are not included.
Academics
During the January in Prague program, students spend three weeks taking a full credit course complemented with co-curricular activities to immerse students in the culture and facilitate intercultural learning. 
CIEE Prague is located within the Vyšehrad national monument complex and features classrooms, a library, a student lounge, staff offices, a café, and a large garden and patio area.
Courses
Psychology
Visual and Performing Arts
Note: This course listing is for informational purposes only and does not constitute a contract between CIEE and any applicant, student, institution, or other party. The courses, as described, may be subject to change as a result of ongoing curricular revisions, assignment of lecturers and teaching staff, and program development. Courses may be canceled due to insufficient enrollment.
"(GI)" denotes courses that originated at CIEE's Global Institutes and that are offered at multiple CIEE sites.
Dates & Fees
You get more for every dollar when you study abroad with CIEE, because our high-quality programs include everything from excursions to insurance. There are no hidden charges, and no disappointing surprises when you arrive.
Program

Application Due

Start Date

End Date

Fees & Housing

Program

January 2024

3 weeks
Application Due

Deadline Passed

Start Date

End Date

Fees & Housing $3,950
To help you budget, keep in mind that students are responsible for the cost of international airfare, local transportation, books and supplies, visas, and personal expenses. In addition, your college or university may charge additional fees for study abroad or may require you to receive a transcript via CIEE's School of Record, which carries an additional fee of $500.
Program Fees
CIEE offers the most student support of any provider in its program fee, including an airport greeting, full-time leadership and support, orientation, cultural activities, local excursions, pre-departure advising, and CIEE iNext travel protection with benefits.
Participation Confirmation = $300*
Educational Costs = $2,690**
Housing = $880
Insurance = $80
Total Fees = $3,950
Estimated Costs
Students are responsible and manage costs related to travel, meals, books, and personal expenses. Below are estimates for consideration.
Meals not included in program fee = $89†
International Airfare = $1,000††
Books & Supplies = $25
Personal expenses = $140†††
Total Costs = $1,254
Financial Aid
CIEE offers the most grants and scholarships of any study abroad organization, including $8 million/year in travel grants, merit-based scholarships, institutional and MSI grants, and Gilman Go Global Grants.
*non-refundable
**direct cost of education charged uniformly to all students
†For students in homestays, families provide 2 meals a day. For students in residence halls/apartments, you should budget approx. $307 per month for groceries if you plan on making your own meals, and more if you plan on eating out regularly.
††r?ound-trip based on U.S. East Coast departure
†††$100 emergency fund + cell phone expense + toiletries
Pre-departure Advising
Advising before you depart to set goals and answer questions
Optional on-site airport meet-and-greet
Orientation
Introduction to your program plus practical information about living in your host city
On-site Staff
Full-time program leadership and support in your city
Cultural and/or Co-curricular Activities
Excursions and/or Study Tours
Travel Protection
CIEE iNext travel protection
24/7 emergency on-site support
Staff
Will Barnard heads CIEE Prague. Originally from the U.S., Will has lived and worked in the Czech Republic for over twenty years. He has a Bachelor's degree from Princeton University...
Petra Key is in charge of CIEE Prague course portfolio. She manages the CIEE Prague faculty and courses, and is responsible for the cooperation with academic partner institutions. Petra Key...
Michaela has been a Program Coordinator with CIEE since 2016. She earned her degree at the University of Sheffield (UK) and studied abroad in St. Petersburg, Russia and Rennes, France.
Get Started Steps
Get Started
Here's what you need to do to take the next steps:
Start an Application 
You're one step closer to an amazing study abroad experience!
Connect With Your Campus Study Abroad Office 
Share your plans and confirm you're on track to meet all required steps to go abroad. 
Contact Us 
Send us an email if you still have questions or need information about applying to this program.