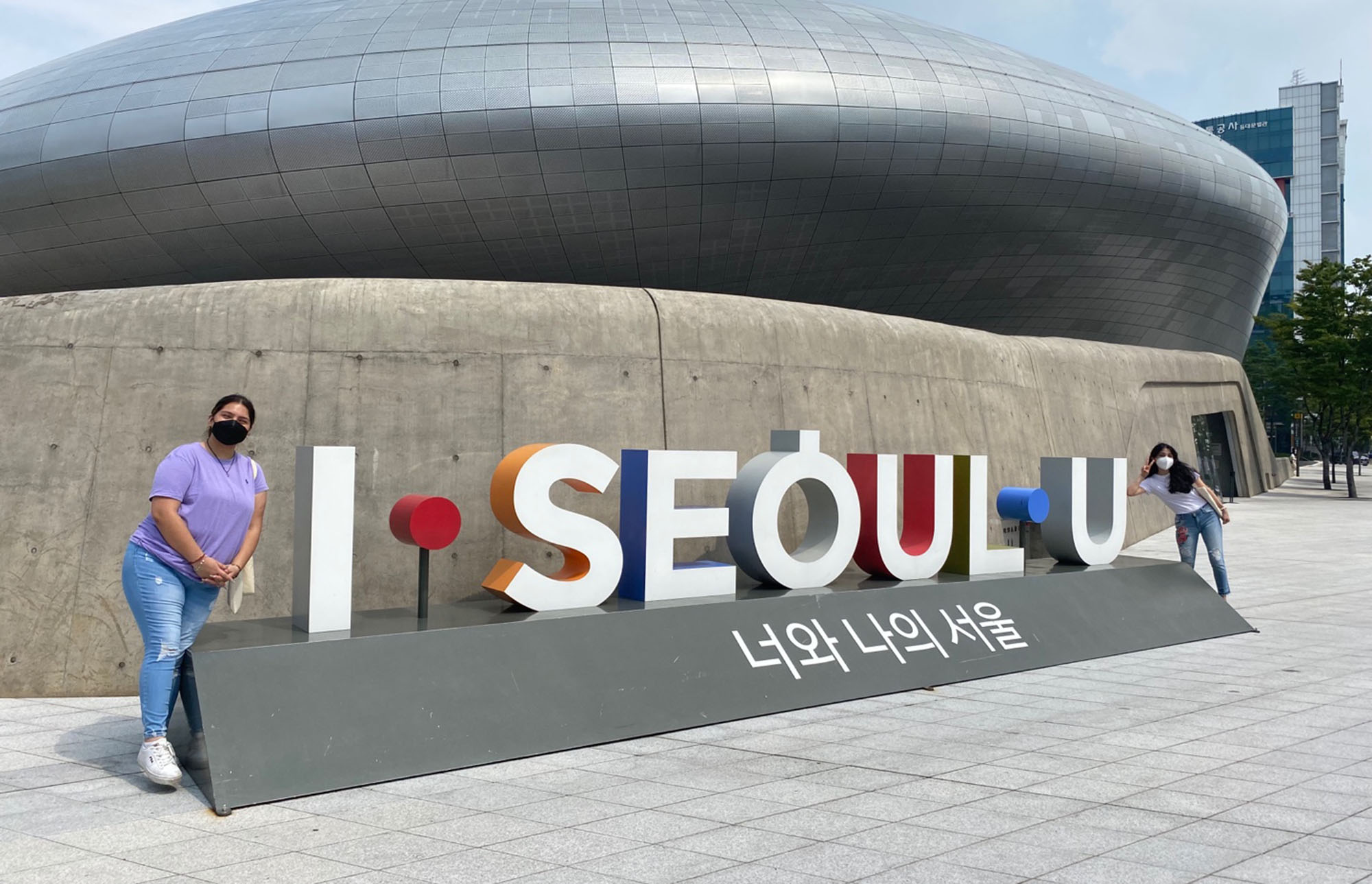 Explore Seoul, South Korea
As the capital and largest city in South Korea, Seoul is a vibrant cultural center filled with museums, religious monuments, parks, markets, festivals, sports teams, and tourist attractions, including the Gyeongbok and Changdeok palaces. 
When you study abroad in Seoul, South Korea, you can expect to live in a fast-paced, vibrant city built on thousands of years of history. Perhaps you'd like to experience everyday life in Seoul or maybe you're interested in the exuberant culture of South Korea.
Study Tours & Cultural Excursions in Seoul
Every CIEE study abroad program has frequent cultural excursions and a study tours uniquely designed to complement the program's academics and enhance students' cultural immersion. In Seoul, past study tours and excursions have included:
Discovering the meaning of lions in Buddhism at Hwaeomsa Temple
Exploring tea fields at Jirisan Mountain
Watching the drama of mask-dance unfold at Hahoe Village in Andong
Visits to the notorious Korean Demilitarized Zone (DMZ)
Lessons to learn taekwondo or K-Pop dance or a Korean cooking class and street food tour
If you're a student looking for an exciting study abroad experience in Seoul, our cultural excursions allow you to do just that! Whether you want to put your Korean language skills to the test, immerse yourself in Korean culture, or explore historic sites across the country, studying abroad in Seoul offers something for everyone.
About the Center
Situated on the campus of Yonsei University, CIEE's esteemed partner university, CIEE Seoul boasts a student lounge, a modest library, and complimentary WiFi access. Students are encouraged to enjoy all the facilities and amenities Yonsei offers, including numerous cafés, cafeterias, coffee shops, printing facilities, classrooms, and a conference room for academic advising and student life support. Near campus, students can easily access convenience stores, nail salons, hair salons, shops, travel agents, banks, a post office, and more. Students may also rent bikes and electric swing boards on campus.
CIEE Seoul's location in the Seodaemun district means students study only 20 minutes from downtown Seoul. Students can easily use the city's excellent public transportation options to visit Seoul's most iconic landmarks and cultural attractions, like ancient palaces, museums, and galleries.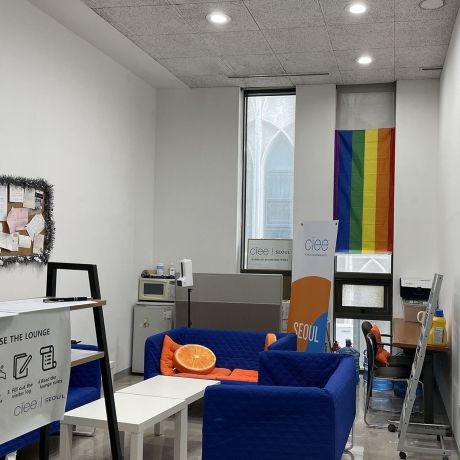 Where Students Study
CIEE Seoul
CIEE Seoul is located on the campus of Yonsei University, less than 20 minutes from downtown Seoul. 
Yonsei University
Yonsei University is the most prestigious private institution of higher education in Korea with 18 graduate schools, 21 colleges, and a student population of more than 30,000, including more than 14,000 students from 35 countries. With Yonsei University summer programs, Korean language programs, and more, Yonsei University provides students with opportunities to expand their knowledge and language skills.
See for yourself, check out a Yonsei University Campus Tour!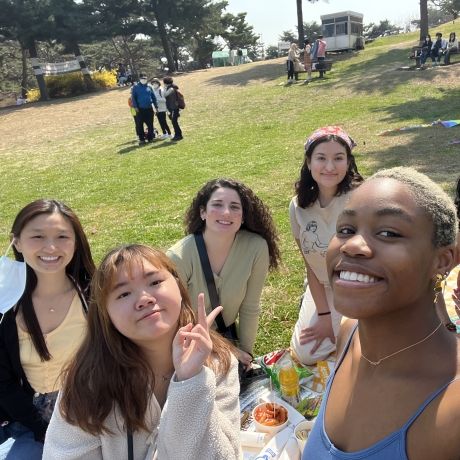 CIEE Seoul Mates
Connect with local Korean students through our Seoul Mates program. Get to know the city, language, culture, and customs with the help of students trained by CIEE. CIEE Seoul Mates help study abroad students in Seoul with orientation, organize social events, host workshops, and more.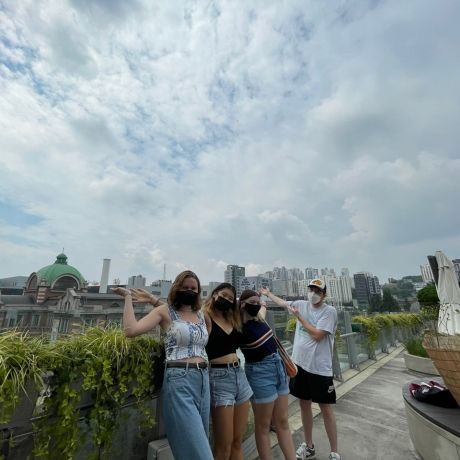 Internships & Volunteering
Depending on their program of study and availability, students may be able to participate in an internship in Seoul or volunteer. In Seoul, students can connect with members of local communities by teaching English to refugees or seniors, helping at schools for students with disabilities, or caring for orphaned infants.
Study Abroad Programs in Seoul
Currency 
Won
Spoken Languages IN Seoul 
Korean
Available Transportation 
Subway, taxi, bus
Famous Local 
Jung HoYeon, famous fashion model and actress from Netflix's "Squid Game"
Climate 
Cold, relatively dry winters and hot, humid summers with an average temperature of 55°F
Places to Explore 
N Seoul Tower – a 500 meter high communications and observation tower perched on the side of Mount Namsan.
Airport 
Incheon International Airport (ICN)
Social Norms 
Support your right forearm with your left hand to show respect when shaking hands
What to Pack 
Portable charger, Korean dictionary, stylish clothes, a small day bag
Frequently Asked Questions
With 14 UNESCO World Heritage Sites (e.g. Jeju Volcanic Island, Hwaseong Fortress, Changdeokgung Palace) and 3 million international residents, Seoul, South Korea, is a vibrant city with a unique blend of culture, history, and people.
If you're looking to study in Seoul, CIEE offers two programs: Arts + Sciences and Summer Korean Studies. Both programs allow students to choose from a variety of courses, learn Korean, and connect with local Korean students through our Seoul Mates program.
While a student's packing list for Seoul is heavily influenced by the season and weather they will experience, we generally recommend that students on spring and summer programs pack light weight clothing like shorts, t-shirts, and dresses. For fall and winter programs, students will experience cooler weather, so we recommend that students pack heavier clothes, including winter jackets, sweaters, scarves, and gloves.
Through CIEE's program offerings, students can select courses taught in English or Korean at our partner school, Yonsei University, as well as CIEE Seoul. Whether it's a Yonsei University summer or semester program, students are able to complete their studies at a top-ranked Korean university.
In order to ensure our students feel welcomed, supported, and empowered while studying abroad, CIEE staff completes comprehensive diversity equity and inclusion (DEI) training. Staff provide students with advice, resources, and ongoing support both before and during their study abroad program in Seoul.
For more detailed information on diversity in Seoul, visit our Diversity in Seoul page.
Study Abroad Scholarships & Grants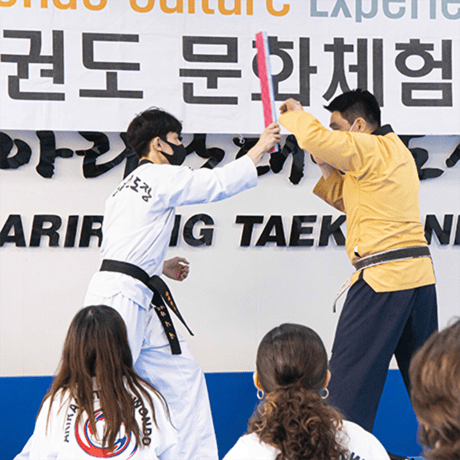 Apply in 1,2,3!
You may be wondering if there are any scholarships to study in Seoul. CIEE offers scholarships and grants for study abroad programs in Seoul to students with demonstrated financial need, proven academic merit, and for specific CIEE programs. Students can apply for scholarships through 3 simple steps:
Search for and apply to your dream program
Review all available funding opportunities
Complete the Scholarship & Grants portion of your application
Study abroad scholarships fall under 3 categories: Need-Based Scholarships, Merit Scholarships, and Other Scholarships.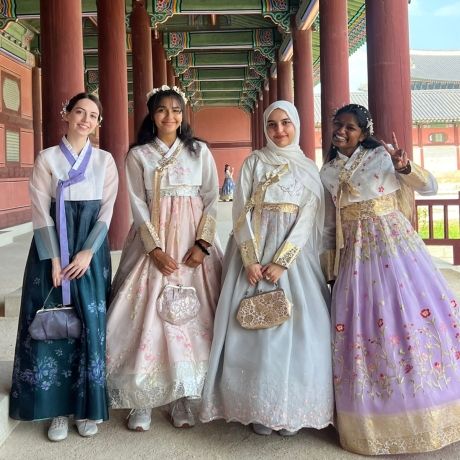 Study Abroad Scholarships
NEED-BASED SCHOLARSHIPS
Based on students' Estimated Family Contribution (EFC) from their Free Application for Federal Student Aid (FAFSA) and enrolled institution. Complete the Scholarships & Grants portion of your program application to be considered for all awards to which you are eligible.
MERIT SCHOLARSHIPS
Based on academic achievement. Complete the Scholarships & Grants portion of your program application, along with an essay, to be considered for all awards to which you are eligible.
OTHER SCHOLARSHIPS
Other scholarship awards are based on program or alumni status.
Talk to a Student Who's Lived it...
Reach out to one of our Student Ambassadors to learn what CIEE Study Abroad is really like from alums who've lived it! Address any questions you may have about Seoul, from your academic interests and travel planning to housing and cultural differences.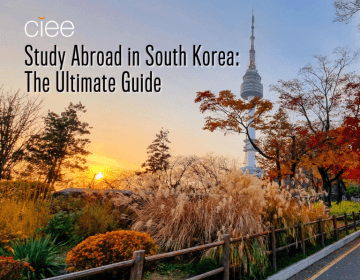 Known officially as the Republic of Korea, South Korea is brimming with exciting excursions and educational opportunities – not to mention an incredible food and culture scene! It's no wonder... keep reading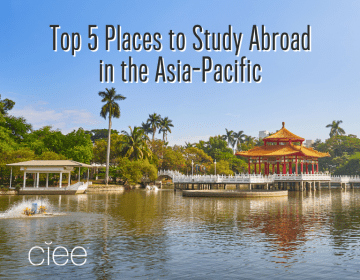 If you're someone who's craving a study abroad adventure in a unique and fun location, you're likely looking at programs in the Asia-Pacific region ! Each of our Asia-Pacific study... keep reading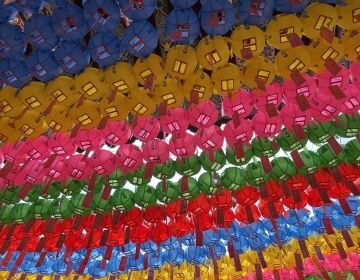 These days I'm reminded by the paper lanterns strung along the streets that Buddha's Birthday will soon be here. Although I'm not Buddhist, I always enjoy the holiday, which this... keep reading
Seoul Study Abroad Experiences
"I had a fantastic time and the CIEE Seoul in staff were so attentive and helpful at all times. They were like my family here while on study abroad. I absolutely love this program and I think it's worth every cent."

Aaliyah A., Howard University

"The experience has been life-changing especially with the help of CIEE in making this so much smoother!"

Danielle H., Howard University

"CIEE Study Abroad made the process easy to handle when studying abroad or planning to study abroad. All members of CIEE have been welcoming, friendly, helpful, and take care of their participants."

Marciela S., Washington State University

"I'd recommend CIEE because of the structure it provides students when studying abroad, especially knowing you have a staff advocating for you in the host country. I'd also recommend CIEE for the program and itinerary it includes when studying abroad. The experiences and activities are very educational and fun."

Elizabeth M., New College of Florida