Why Study Abroad in Portugal: 4 Key Reasons
We could list a hundred reasons why a Portugal study abroad program may be the best choice for you, but we'll try to convince you in just four.  
F

our

Reasons to Study Abroad in Portugal 

 
Portugal is a charming coastal country boasting a rich history of seafaring and discovery. Located west of Spain on the Atlantic coast, this colorful country seemingly has it all – stunning beaches, beautiful landscapes, delicious world-class cuisine, incredible museums, a rich culture, and more – and there's no better way to discover it than through a Portugal study abroad program.  
Let's unpack the top four reasons studying abroad in Portugal should be on your radar. 
Reason

#1:

You'll

make

Portugal's

incredible

c

apital

your

home

away

from

home

. 

 
The second-oldest city in Western Europe, the lively city of Lisbon is today the perfect combination of old and new. Offering a vibrant nightlife and multicultural scene, Lisbon boasts many museums and significant historical attractions. And, in case you didn't know, Lisbon is one of Europe's most historic cities, older than London, Paris, and even Rome! 
Study abroad with CIEE in Lisbon and you'll get to dive into Portuguese history and tradition while experiencing the city's modern culture all at the same time – you won't want to miss it.  
A few must-dos while you're exploring Lisbon:  
Visit the

Jerónimos Monastery:

A

stunning 16

th

century landmark

 

Explore the

Lisbon Oceanarium:

One of the world's largest oceanariums,

where you can feast your eyes on hundreds of ocean species 

Visit

Belém Tower:

Another historical attraction –

you'll be blown away by this architecture 

Go to the

Immersivus Gallery:

A modern, immersive art experience right in

Lisbon 
And, tons more. Plus, with CIEE Portugal, you'll have the opportunity to go on many guided cultural excursions like:  
Visiting

Évora, a gorgeous historical city located in the Alentejo region 
Painting a tile at the National Tile Museum  

Exploring

Sintra, a romantic town north of Lisbon 

Discovering

Óbidos, a medieval community right out of a fairy tale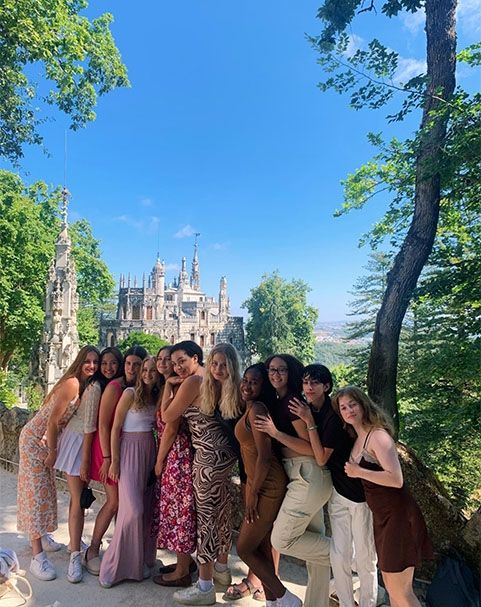 Reason #2:

You'll

t

ake in Portugal's magnificent scenery. 

 
Portugal is a beautiful country with diverse topography. From incredible beaches and forests to valleys and high-peaked mountains, there are so many sights to see during a Portugal study abroad program.  
There are several natural wonders we consider must-sees during your stay:  
Parque Nacional da

Peneda-Gerês:

A beautiful national park filled with rivers, waterfalls, hiking trails,

cobblestone lanes, and mountains  

Benagil

Cave:

A huge seaside cave that people and boats

travel through   

Ilha

de Tavira:

A

Portuguese island boasting a stunning beach, surrounded by incredible blue and green sea and miles and miles of golden sands  
Reason #3:

You'll

g

o on a gastronomical adventure

in Portugal

. 

  
Portugal is known for its delicious foods and is of course globally famous for its Porto wines. You'll have plenty of food and drinks to try during your study abroad trip here.  
If you're not yet familiar with Portuguese Porto wines, then that may be reason enough to say yes to studying abroad in Portugal! These wines have been produced in the beautiful Douro Valley for centuries and are known for their fruit, nut, and caramel flavors. With CIEE, we promise you'll get the chance to explore these vineyards, learn more about the cultural impact of winemaking on Portugal, and receive lessons on what foods pair with which wines.  
A few staple Portuguese dishes to try: 
Pastel de nata

(

custard tart) 

Polvo

à lagareiro

(octopus with olive oil and potatoes) 

 

P

orco preto

(delicious pork) 

 

Arroz de

pato

(duck rice) 

 

Sardinhas

assadas

(grilled sardines) 

 

Arroz de

marisco

(seafood rice) 

 
Reason

#4:

You'll

d

iscover

Portugal's

multicultural

scene

.

 
Dive into Portugal's modern culture and learn more about fado music, futebol (aka soccer, and heads up, Portugal is the birthplace of futebol great Cristiano Ronaldo), and the country's contemporary stance on world issues. Some of these modern approaches include policies like:  
The decriminalization of all drugs

 

The anti-fascist movement

 

Peace policies (Portugal is

considered one of the most peaceful countries in the world)  

Prison sentences

that last no longer than 25 years 

Sustainable energy – Portugal generates most of its energy with hydro, wind, and solar power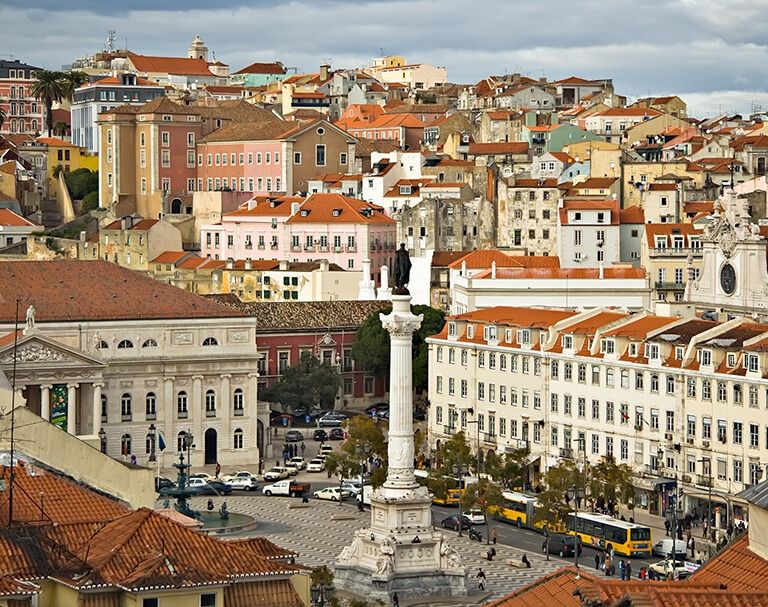 CIEE's

Top

Portugal

S

tudy

A

broad

P

rograms

 
With our various CIEE Portugal study abroad programs, you can choose an adventure that's just right for you! Take note of our Portugal study abroad programs below – all taking place in Lisbon.  
If you're looking for an authentic study abroad experience, look to our Language + Culture program. You can learn all about Portugal's ancient history, customs, cultural entertainment, technology, and more! You won't run out of things to do during this program.  
Program Length:

15 weeks 

Credit:

15-18 semester hours /22.5-27 quarter hours

 
Eligibility: 2.5 Overall GPA  
Featured Course: The Portuguese Colonial Experience (16

th

-19

th

centuries) 

 
There's no better place to spend your summer than in beautiful Lisbon. Choose from a wide array of courses including history, gastronomy, Portuguese culture, and politics. You will get to study alongside students from all over the world at the Universidade Nova de Lisboa.  
Program Length:

Four weeks

 
Credit: 3-4 per session semester hours /4.5-6 per session quarter hours 
Eligibility: 2.5 Overall GPA 
Featured Course: Portuguese Gastronomy and Culture  
Different from a traditional study abroad program, our Summer Global Internship experience in Lisbon will help you gain real-world professional experience in an industry you're passionate about and learn more about daily life in Portugal. Plus, you'll be spending your summer in a country that's home to some of the world's most beautiful beaches. It's a no-brainer!  
Program Length:

Eight weeks 

Credit:

6 semester hours

 

Eligibility:

2.5 Overall GPA 
If you're curious about local culture, startup businesses, entrepreneurship, and more, our Business + Culture program is perfect for you. Bonus: You will even have the chance to take some Portuguese language classes (a top 10 most-spoken language in the world!)  
Program Length:

15 weeks

 

Credit:

15-18 semester hours /22.5-27 quarter hours 

Eligibility:

2.5 Overall GPA 

Featured Course:

I

n

tercultural Communication and Leadership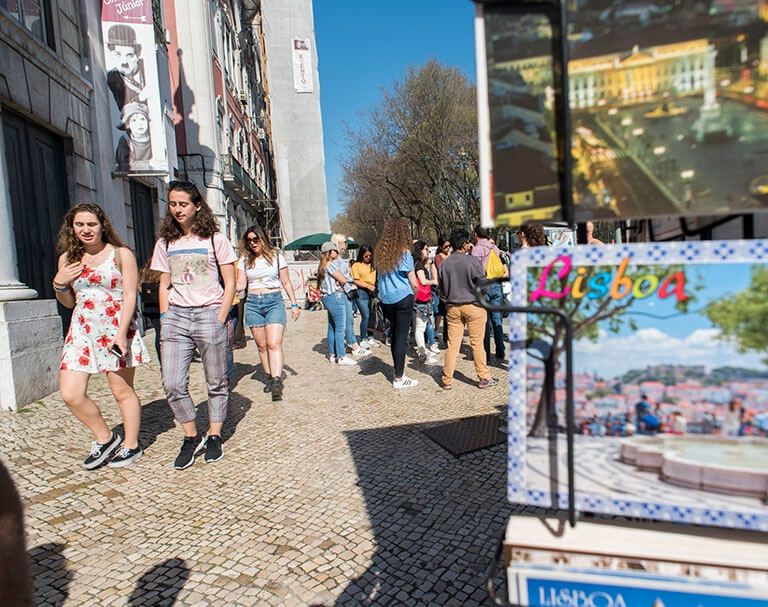 Once you've chosen your program, remember to thoroughly complete the Scholarships & Grants portion of your CIEE Study Abroad application. We award millions in scholarships and grants each year to study abroad students just like YOU. As part of our application, we'll automatically consider you for all financial aid you may be eligible for to help make your Portugal study abroad dream a reality!  
Ready to get on your way?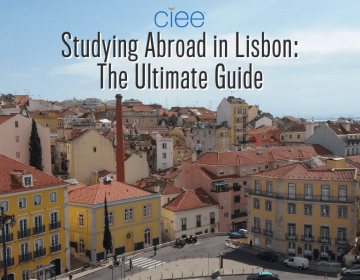 As the capital of Portugal , Lisbon is an incredible city. Known for its history, stunning natural landscapes, and unique, modern culture, visiting Lisbon is an experience like no other... keep reading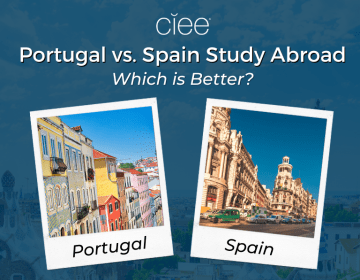 Portugal and Spain are both incredible European destinations that offer an immersive study abroad experience. From their histories, cuisine s, architecture, cultural events, and more, exploring Portugal or Spain will... keep reading
February is the month when everyone starts to work in full mode, maybe worried about the extra food one might have during the holidays. It is the month when people... keep reading