Why Study Abroad in Ireland
There is no doubt about it: The small country of Ireland has a huge amount of opportunity for those looking for an exciting adventure. Especially for students looking to take their studies abroad!  
Let's unpack why studying abroad in Ireland is a great idea.  
5

Reasons to

Study Abroad in Ireland

 
We can offer many reasons why studying abroad in Ireland is a great choice, but we'll probably convince you in just five.  
Reason

#

1

: Explore Ireland's beautiful natural landscapes. 

 
Ireland isn't called the Emerald Isle for nothing. This beautiful country is covered in luscious greenery and is home to some of the world's most fascinating natural wonders.  
During your study abroad in Ireland adventure you'll want to check out the following landmarks:  
Gap of

Dunloe:

A narrow mountain pass created

more than 25,000 years ago during the last Ice Age in the region  

Torc Waterfall

:

Located

at the base of Torc Mountain, this 60-foot waterfall could be the image on your next Irish postcard  

Clew Bay

: An expanse of majestic ocean, this bay features sunken drumlins and hundreds of small islands  

Cathedral Rocks

:

These imposing rock formations guard Eastern Ireland 

 

Coumshingaun

Corrie Lake:

Surrounded by a natural amphitheater of the

Comeragh Mountains, this is a peaceful site to see  

Macgillycuddy

Reeks:

One of Ireland's highest mountain ranges 

 
Skellig Islands: Two small and jagged islands that are symbols of Ireland's religious history    
Another cool fact about Ireland's landscape: Much of the hit-series Game of Thrones was filmed here!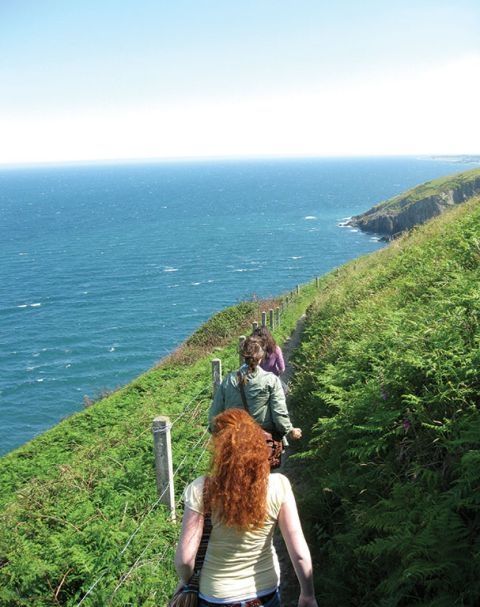 Reason

#

2: Discover Dublin, Ireland's capital. 

 
When you study abroad with CIEE, you'll be in the heart of Dublin, a city with both old-time charm and a modern and lively multicultural scene.  
In fact, half of Dublin's population is younger than 26 and the city boasts more than 32,000 international students. So, not only will you get to explore this unique city, but you'll also get to meet people from all over the world and study alongside a diverse group of students who'll help you enhance your global perspective.  
There are a few other activities you should definitely indulge in while in Dublin:  
Listen to traditional music and storytellers in local

pubs  

Enjoy the city's contemporary art scene

 

Explore the city'

s many unique museums and attractions like the Guinness Storehouse, The Little Museum of Dublin, or EPIC The Irish Emigration Museum 
It's important to note that Dublin is also quite cosmopolitan. The city features a lively night life, contemporary film and theater scene, and a bustling economy including advances in the finance and tech spaces. This city is the perfect mixture of old and new; when you're studying abroad in Dublin, you'll have plenty to explore.  
Reason

#

3:

Get a feel for Ireland's culture.

 
Irish culture is rich in stories, songs, dance, and literature – all part of its warm and welcoming atmosphere. During a study abroad in Ireland experience, make sure to embrace all the country offers and partake in activities such as: 
Reading works from George Bernard Shaw

(or works from any of the many other renowned authors from Ireland!)  

Listening to

oral retellings of Irish myths and folklore at a local festival 

Visiting cozy, centuries-old pub

s and enjoying traditional Irish music 

Playing a game of golf

 

Attending a traditional Irish dance performance, featuring

step dancing, Irish tap dancing, and more  
Trust us when we say you'll fall in love with Irish culture and the Irish people.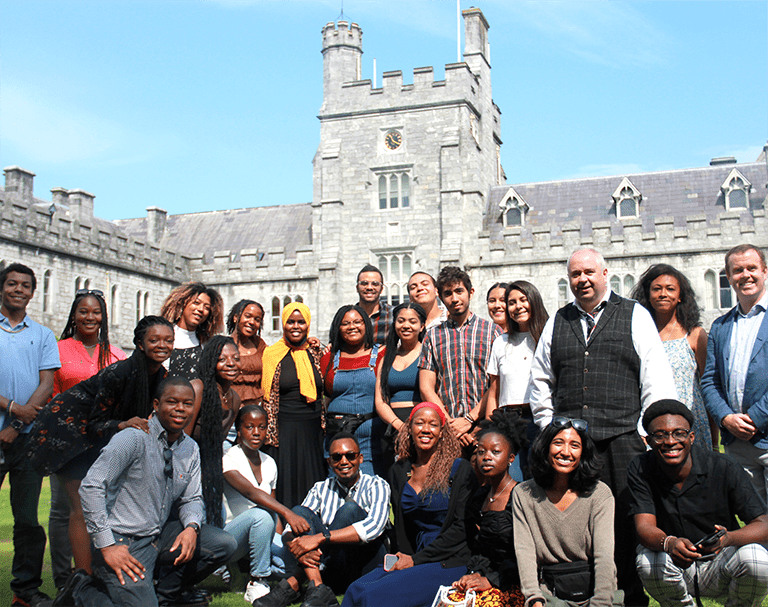 Reason

#

4:

Learn about Ireland's longstanding history. 

 
During your Ireland study abroad trip, you'll walk cobblestone streets from the 18th century, visit buildings constructed in the 16th century, and appreciate natural landscapes from the Ice Age. An adventure in Ireland is essentially a trip back in time.  
You should also check out some quintessential sites that speak to Ireland's long and complex history, including CIEE excursions to:  
Trinity College: Founded in 1592

 

The medieval town of Kilkenny

 

The ancient midlands

, including Cahir Castle and the Rock of Cashel 

1000-year-old

cathedrals 

Sixth-century Glendalough, an ancient monastic settlement

 

The ancient tombs in the Boyne Valle

y 
Grafton Quarter: A street dating back to the 18

th

century 
And these are just some of our planned outings! You'll have plenty of time to do your own exploring and trust us, there's more to see during your time abroad.  
Reason

#

5:

Indulge in some Irish cuisine. 

 
While Ireland is mainly known for its beverages, like Guinness and Irish whiskey, the country also boasts some delicious cuisine. As you'll be visiting Dublin's pubs, make sure to try a few Irish staples:  
Irish Stew:

A delicious mix of meat and potatoes 

 

Irish Soda Bread:

Scrumptious homemade bread

 

Shepherd's Pie:

Another

tasty mixture of meat, potatoes, and vegetables – c'mon, you must have potatoes in Ireland 
Boiled Cabbage: An Irish staple  
Full Irish Breakfast: Complete with rashers, black and white pudding, pork sausages, baked beans, mushrooms, grilled tomatoes, fried eggs, and of course, potatoes 
Another cool part about our Ireland study abroad programs? We offer a ton of different Dublin study abroad programs, including: 
Make sure to explore all our Ireland programs and find one that speaks to you!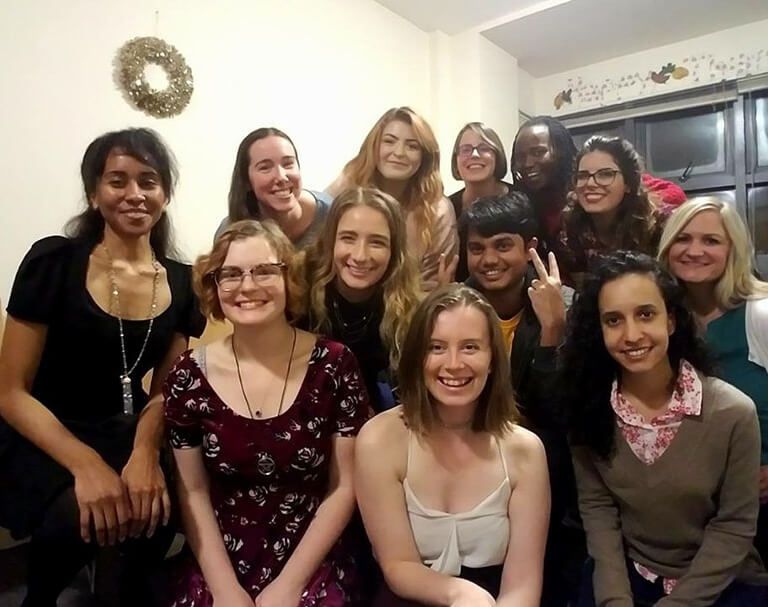 What are you waiting for? Discover this wonderful country today!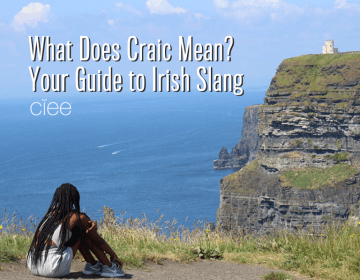 For those not from Ireland , the frequent use of "craic" by the Irish can be a little confusing. We get it. The concept can be a mix of a... keep reading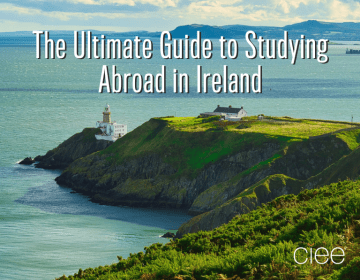 If you dream of living and learning in one of Europe's most youthful cities, consider taking your studies to Ireland , a small country that promises larger-than-life memories. Here, a... keep reading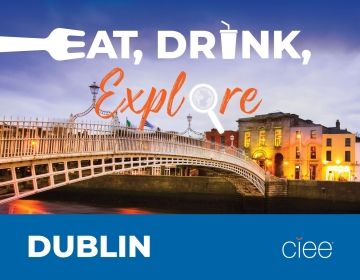 EAT A Full Irish is no joke. When you've got a long day ahead of you, start the day with a Full Irish and you'll be good and satiated until... keep reading