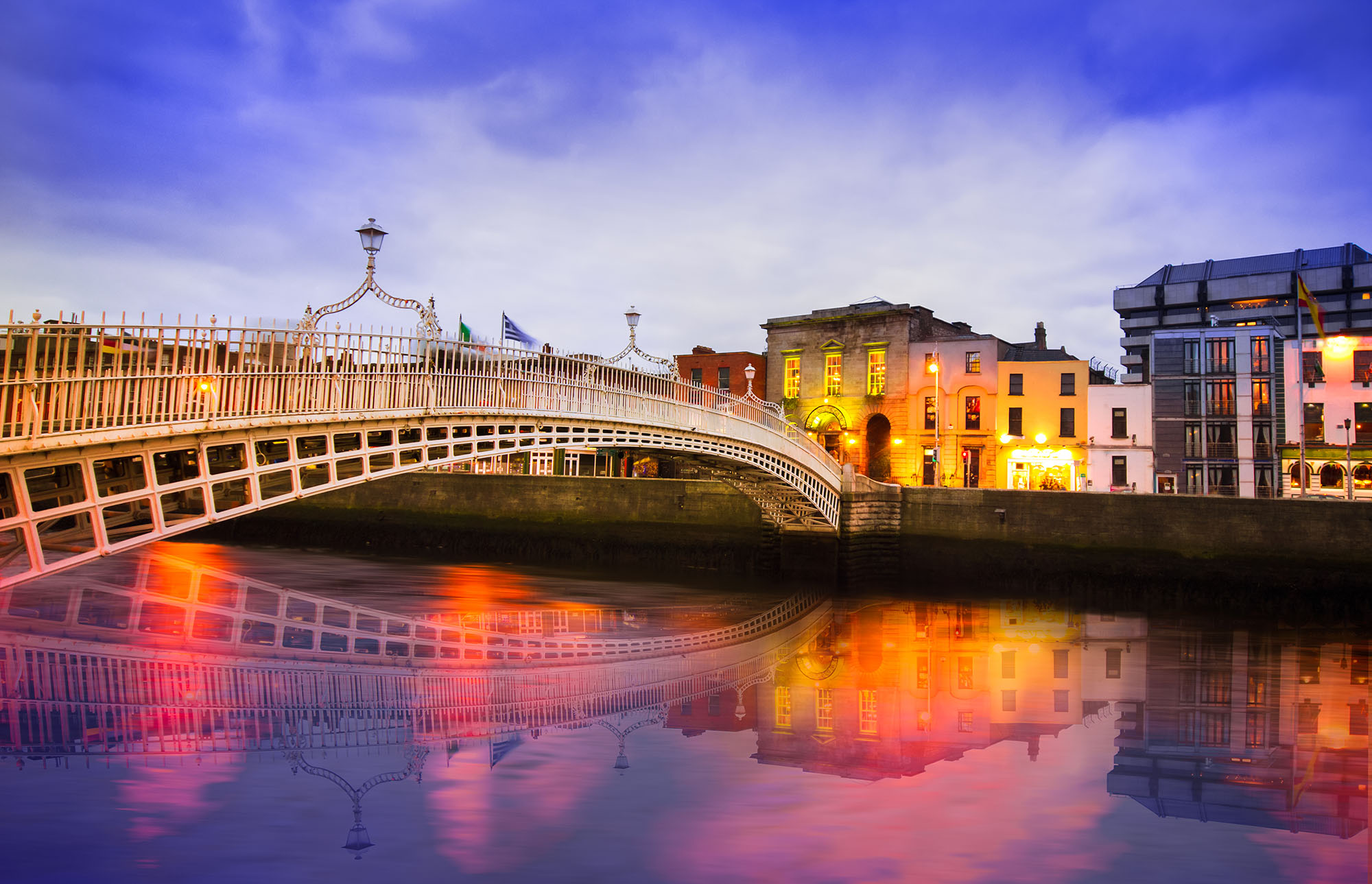 Explore Dublin, Ireland
Study abroad in Dublin and gain a true taste of Irish culture. One of Europe's most youthful cities, the charm and ancient heritage of Old Dublin still shines through amongst today's emerging European tech hub and growing multi-cultural population. 
When you study abroad in Dublin, you'll be in the dynamic capital of Ireland, one of Europe's fastest growing economies. Whether you're looking to experience Irish life and culture, complete an internship, or experience a summer in Dublin, this city offers something for everyone.
Study Tours & Cultural Excursions in Dublin
Every CIEE semester program has frequent cultural excursions uniquely designed to complement the program's academics and enhance students' cultural immersion. Past study tours and excursions in Dublin have included:
Walking in the footsteps of 6th century monks at Glendalough, an ancient monastic settlement nestled in a spectacular valley in the Wicklow Mountains
Exploring Ireland's pre-Christian past at the ancient tombs in the World Heritage listed Boyne Valley
Touring the cathedrals, castles, and breweries of Kilkenny, the most complete medieval city in Ireland
Complete a walking tour of the cobblestone alleys of Trinity College, one of seven ancient colleges in the UK
If you're a student looking to answer, "What is living in Dublin like?", CIEE's tours and excursions help you answer just that! Experience living in Dublin as a student on one of CIEE's study abroad programs in Ireland.
About the Center
Set on the 19th-century All Hallows campus of Dublin City University, CIEE's esteemed partner institution, CIEE Dublin is located in the suburb of Drumcondra, roughly one mile north of the city center. On campus, students will find a café, complimentary WiFi, an academic advising office, and verdant spaces around university buildings.
Outside of campus, students will discover they have easy and convenient access to plenty of restaurants, shops, cafés, and nightlife.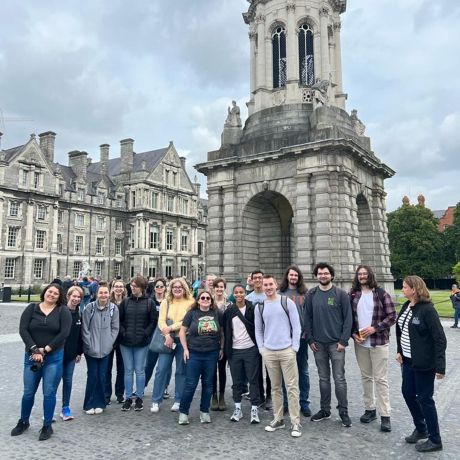 Where Students Study
CIEE Dublin
Our Center in Dublin is part of the CIEE Open Campus Block Network and offers students easy access to restaurants and cafés, nightlife, and a variety of shops. 
Dublin City University (DCU)
DCU was established in the early 1980s and hosts 16,000 students. Its multidisciplinary programs stimulate entrepreneurial awareness and activity through strong links with Dublin-based and international businesses.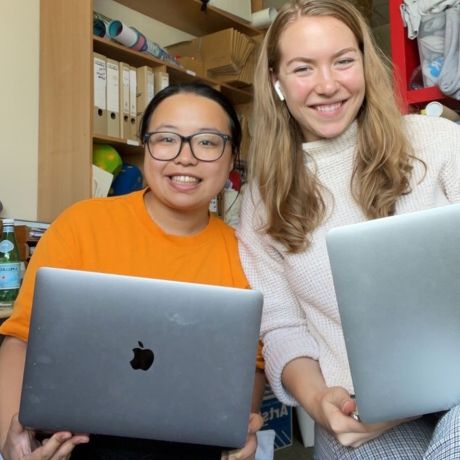 Internships & Volunteering
Depending on their program of study and availability, students may be able to participate in an internship or volunteer. Students can build new skills and intercultural competencies with an internship and become an active member of Dublin's business and professional community.
In addition, CIEE Dublin works with a number of charities and NGO's and will assist students who are interested in volunteer opportunities.
Study Abroad Programs in Dublin
Currency 
Euro
Spoken Languages 
English
Available Transportation 
Dublin Light Rail System (LUAS), Dublin Area Rapid Transit (DART), bus, feet
Famous Local 
Oscar Wilde – eccentric Irish poet and playwright
Climate 
Comfortable summers, wet cold winters, mild spring and fall
Did you know? 
Dublin has the youngest population of Europe – roughly half of its population is under 25 years old
Airport 
Dublin Airport (DUB)
Social Norms 
Don't attempt to imitate the Irish accent of locals – it's considered annoying and rude
What to Pack 
Backpack, comfortable shoes, umbrella, layers, raincoat
Frequently Asked Questions
Dublin is a good place to study abroad for students looking to explore the charm and culture of Ireland through an authentic study abroad experience. A multicultural hub of younger professionals, Dublin offers a dynamic, lively city for students to study Irish food, history, culture, and more.
Ireland has frequently been rated one of the safest countries in the world, making its capital of Dublin a relatively safe place to visit for students. Although there's a strong sense of comradery in Dublin, we encourage students to travel as safely as possible with others, keeping a good sense of their surroundings, belongings, and others.
Dublin is an interesting, lively city that exposes study abroad students to a new culture, while completing relevant coursework, from Business and Architecture classes to Agricultural Sciences and Law classes.
There are countless reasons to study abroad in Dublin, from the beautiful landscape and kind people to the culture and history of the country. Not only does Ireland have a diverse student population, it also has a unique heritage worth exploring. 
For a more detailed explanation of why you should study abroad in Dublin, check out our Ultimate Guide to Studying Abroad in Ireland.
With a diverse student population, Dublin is extremely fun for college students looking to meet others from all around the world. With fun nightlife, prestigious universities, cultural activities, and more, Dublin is a great location for college students looking to study abroad in Europe.
In order to ensure our students feel welcomed, supported, and empowered while studying abroad, CIEE staff completes comprehensive diversity equity and inclusion (DEI) training. Staff provide students with advice, resources, and ongoing support both before and during their study abroad program in Dublin.
For more detailed information on diversity in Dublin, visit our Diversity in Dublin page.
Study Abroad Scholarships & Grants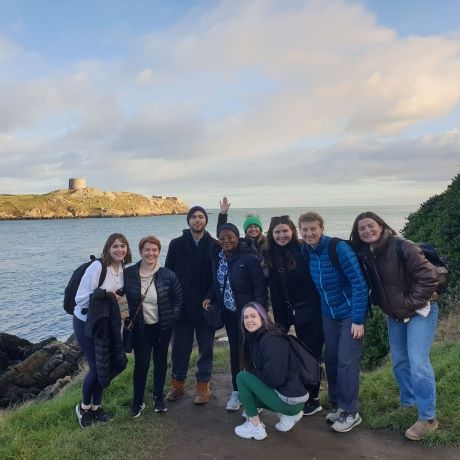 Apply in 1,2,3!
You may be wondering if there are any scholarships to study in Dublin. CIEE offers scholarships and grants for study abroad programs in Dublin to students with demonstrated financial need, proven academic merit, and for specific CIEE programs. Students can apply for scholarships through 3 simple steps:
Search for and apply to your dream program
Review all available funding opportunities
Complete the Scholarship & Grants portion of your application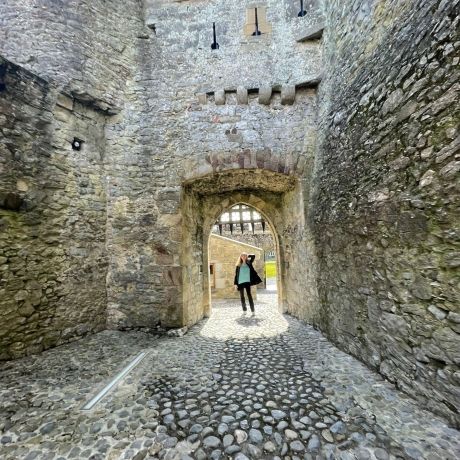 Study Abroad Scholarships
NEED-BASED SCHOLARSHIPS
Based on students' Estimated Family Contribution (EFC) from their Free Application for Federal Student Aid (FAFSA) and enrolled institution. Complete the Scholarships & Grants portion of your program application to be considered for all awards to which you are eligible.
MERIT SCHOLARSHIPS
Based on academic achievement. Complete the Scholarships & Grants portion of your program application, along with an essay, to be considered for all awards to which you are eligible.
OTHER SCHOLARSHIPS
Other scholarship awards are based on program or alumni status.
Talk to a Student Who's Lived It...
Reach out to one of our Student Ambassadors to learn what CIEE Study Abroad is really like from alums who've lived it! Address any questions you may have about Dublin, from your academic interests and travel planning to housing and cultural differences.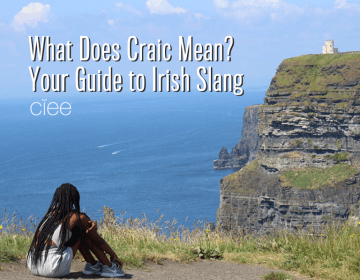 For those not from Ireland , the frequent use of "craic" by the Irish can be a little confusing. We get it. The concept can be a mix of a... keep reading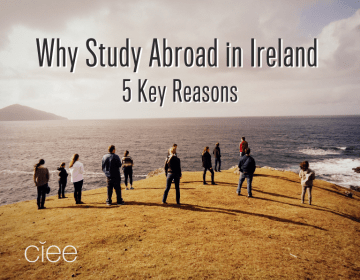 There is no doubt about it : The small country of Ireland has a huge amount of opportunity for those looking for an exciting adventure. Especially for students looking to... keep reading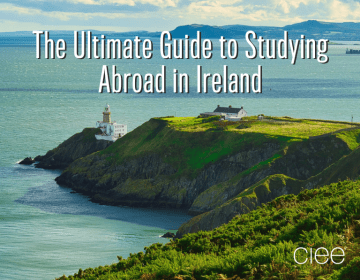 If you dream of living and learning in one of Europe's most youthful cities, consider taking your studies to Ireland , a small country that promises larger-than-life memories. Here, a... keep reading
Study Abroad in Dublin Reviews
"The city and staff are great."

William S., Elon University