Study Abroad in Japan: FAQs
If you're about to embark on a study abroad adventure to Japan or considering this fascinating country a study abroad option, read on as we dive into some of our most frequently asked questions about our Japan study abroad programs!  
Why Study Abroad in Japan? Top 3 Reasons  
There are tons of reasons why studying abroad in Japan is your best bet, but we've narrowed it down to our top three!  
Reason #1: You'll explore Japan's well-preserved ancient history.  
Japan is an ancient country, with scholars noting its first historical periods as early as 13,000 BC. This incredible place is packed with history. Notably, Kyoto is considered Japan's cultural capital, with thousands of historic monuments, gardens, temples, and shrines, many of which are UNESCO World Heritage sites.  
A few historical landmarks we consider must-sees during your Japan study abroad program: 
Nijo Castle: Built in the 1600s, this UNESCO World Heritage site was initially used as an imperial palace  
Fushimi Inari Taisha Shrine: One of Kyoto's most important religious landmarks  
Meiji Jingu: A sacred shrine to Japan's first emperor, Emperor Meiji  
Sensoji Temple: A Buddhist temple in Japan's capital, Tokyo, built originally in 628 AD  
Todai-ji: The largest wooden building in the world, constructed between 745 and 752 BC  
And tons more! As you learn more about Japan's ancient history during your study abroad trip, note how these complexities might've shaped modern-day Japan. You'll be sure to gain a unique perspective during this once-in-a-lifetime trip.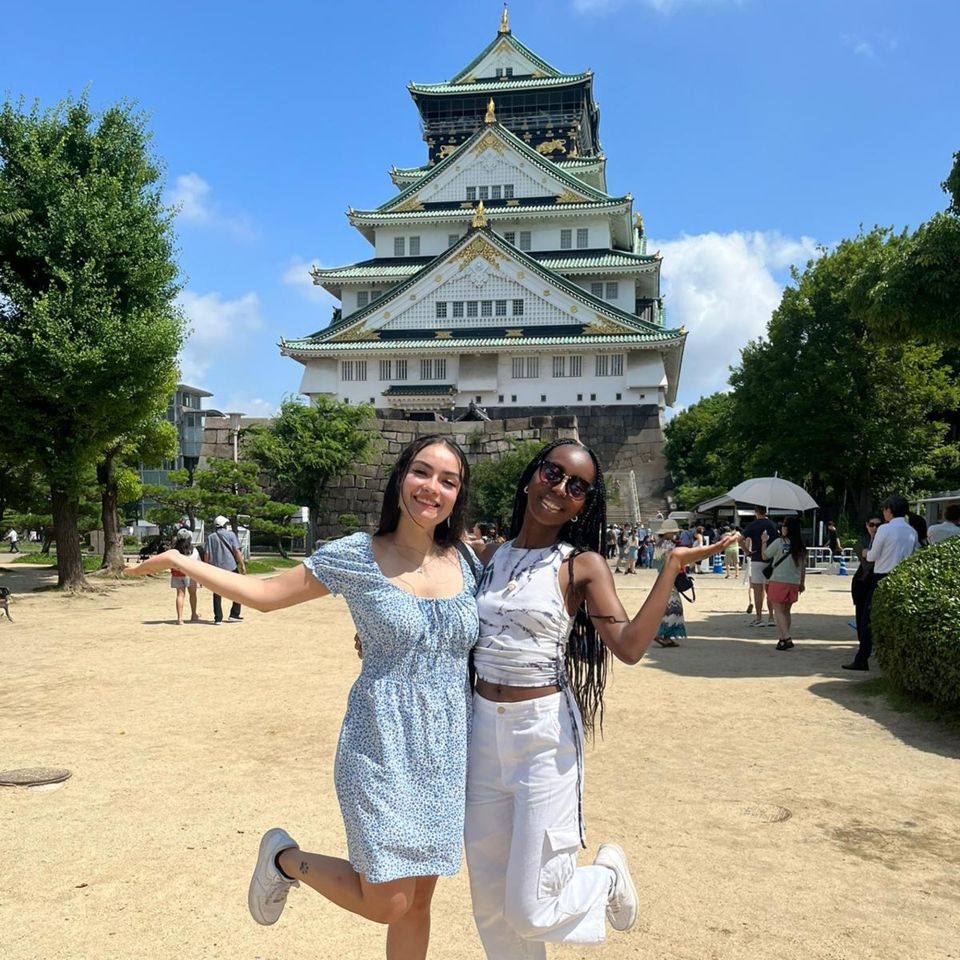 Reason #2: You'll discover incredible natural sites in Japan.  
While most people think about Japan's ancient constructs, like temples and teahouses, Japan's natural beauty and lands are often overlooked. There are many breathtaking natural sites throughout Japan that will deepen your exploration of this fascinating country.   
Some natural sites to check out during your Japan study abroad program include:  
Mt. Fuji: While you might not have time to hike this incredible wonder, also an active volcano, simply observing the mountain or getting close to its base will be a one-of-a-kind experience  
Katsura Imperial Villa: A beautiful and historic walking garden right in Kyoto; most visitors note the peaceful and relaxing vibe here  
Arashiyama: A stunning site where you can walk through bamboo forests and see the Ayashiyama Mountains  
Shinjuku Gyoen National Garden: A charming, tranquil garden located right in the country's capital, Tokyo  
Abukumado Cave: Located in Fukushima, this limestone cave looks like something out of a movie  
You'll stay plenty busy exploring Japan's incredible natural wonders.  
Reason #3: You'll indulge in Japanese food while better understanding the country's culture.  
While authentic Japanese food is absolutely delicious, it's also a large part of the country's long-standing history and modern-day culture.  
Japan has many cuisine customs, both in restaurants and at home. Japanese food preparation is intentional and detail-oriented; individuals even carefully choose colors and patterns for their meals. Nature and the seasons – spring, summer, fall, and winter – also influence traditional Japanese cuisine, with preparers using locally sourced ingredients and specializing in cooking techniques depending on the season. 
Food is also well celebrated in Japan, with local festivals, traditions around planting seasons, and even recognized in some religions.  
There are several authentic Japanese dishes we recommend trying during your Japan study abroad program:  
Sushi: An essential Japanese food 
Miso Soup: A staple in the country 
Udon: A type of noodle dating back several centuries in the region  
Tofu: This soybean ingredient is popular in Japan, with its history traced to ancient times as well  
Yakitori: This grilled chicken dish is simple yet delectable  
Read More: Eat, Drink, Explore: Tokyo 
As your tastebuds go on an incredible adventure while you study abroad in Japan, you'll also better understand Japanese customs and traditions.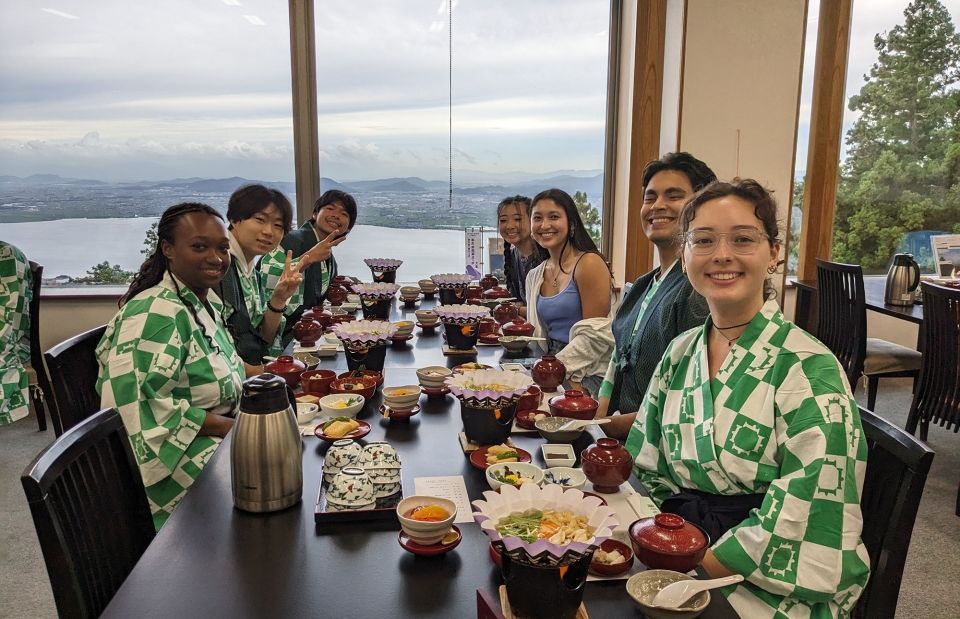 Read More: Eat, Drink, Explore: Kyoto  
Where Should I Study Abroad in Japan?  
No matter where you go in Japan, you're guaranteed an insightful adventure. But two of our favorite cities to explore are Tokyo and Kyoto.  
Beautiful Kyoto is where you'll get a deep understanding of Japanese history and tradition, with various religious sites, gardens, and more to visit. As you journey through this exciting cultural capital, you'll get the best of both worlds, diving into the city's modern-day establishment of globally recognized products like manga, Nintendo, and Q-Games.  
Tokyo, one of the busiest cities in the world, offers students a unique look at its bustling business culture, incredible nightlife, shopping, architecture, and technology. And while this is all exciting, this capital city is famous for its historic landmarks and clean public spaces. Tokyo really is the perfect mix of old and new. You'll be busy at every turn!  
Read More: 2 Best Places to Study Abroad in Japan  
What's it Like Studying Abroad in Japan?  
Studying abroad in Japan is simply amazing. But don't just take our word for it – hear directly from students who embarked on a Japan study abroad program themselves:  
"The Kyoto CIEE program was one of the most culturally enriching programs I've ever done. Even though it was only for 3 weeks, I met some of the most amazing people and was able to experience Kyoto in a way I didn't think possible. I would highly recommend such an experience to any peer. CIEE facilitates this experience tremendously with support from staff and instructors." – Jesus C., Massachusetts Institute of Technology  
"There are a lot of perks to CIEE, such as the Hiroshima excursion, the Independent Study Tour, and cultural reimbursement that encourage further and deeper interaction with Japan." – Erick C., University of Southern California (Dornsife) 
"It was fun. I learned a lot of Japanese, and I made a lot of friends in the program and outside of the program at the university." – Izaak D., Iowa State University  
There are a ton of Japan study abroad insights from students – reach out to a CIEE staff member to learn more!  
Now that you've learned more about how totally cool Japan is, read more details about some of our top Japan study abroad programs!  
Kyoto is the cultural hub of Japan. If you're interested in learning new languages and developing a better understanding of Japan's ancient history, tradition, and religion compared to its present-day culture, this program is perfect for you.  
Program details:  
Length: 15 weeks  
Credit: 15 semester hours/22.5 quarter hours 
Eligibility: 2.5 Overall GPA  
Cost: $20,850 
Featured Course: Japanese Feudal History  
Excursion Highlight: Visit the Zen Rock Garden at Ryoanji Temple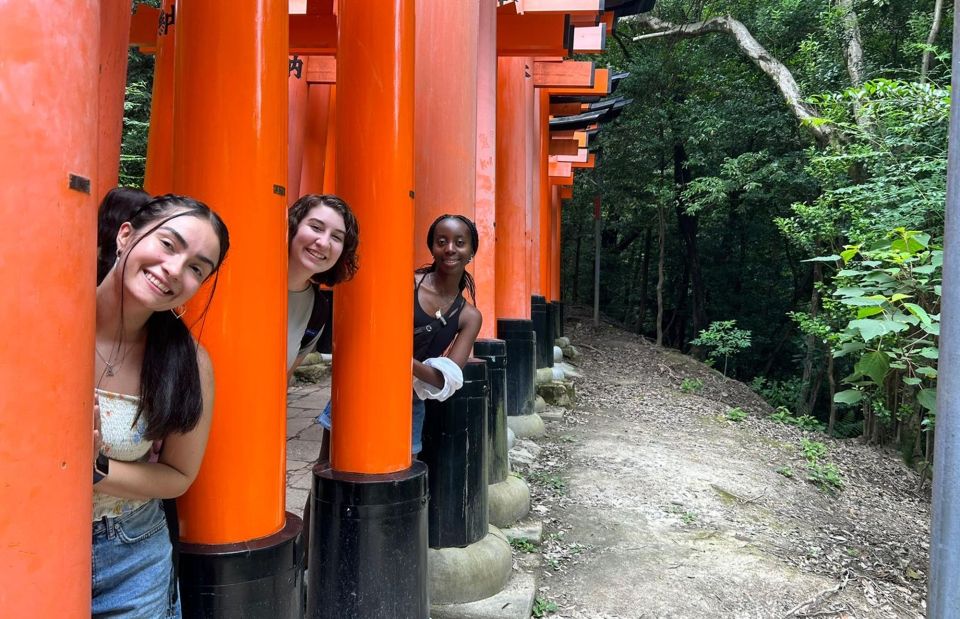 Our Arts + Sciences Japan study abroad program in Tokyo offers a wide range of courses from art and philosophy to business and STEM-related disciplines at the prestigious Sophia University. Taking on these exciting courses while in one of the world's liveliest cities will be an unforgettable experience.  
Program details:  
Length: 18 weeks 
Credit: 15-16 semester hours/22.5-24 quarter hours 
Eligibility: 2.8 Overall GPA  
Cost: $26,950 
Featured Course: Intercultural Communication and Leadership  
Excursion Highlight: Visit the Ghibli Museum, where Totoro'll greet you  
Open Campus Block is an excellent opportunity to build your own study abroad program. And with our Kyoto program, you can learn more about one of the most well-preserved historical cities in the world.  
Choose one, two, or up to three consecutive six-week block sessions and take courses that sound interesting to you and align with your academic path!  
Read More: The Ultimate Guide to CIEE Open Campus Block  
Program details:  
Length: Up to 18 weeks  
Credit: 6-7 per Block semester hours/9-10.5 per Block quarter hours 
Eligibility: 2.5 Overall GPA  
Cost: $20,850  
Featured Course: Analysis of Japanese Popular Culture  
Excursion Highlight: Travel to the nearby Ohara village, home to two beautiful temples  
Read More: 7 Best Japan Study Abroad Programs 
How to Study Abroad in Japan  
The steps to a Japan study abroad program are simple! We've outlined them here:  
Step 1: Choose where you want to go – Kyoto or Tokyo  
Step 2: Pick your dream study abroad program – and we offer many in Japan!  
Step 3: Explore scholarship and grant options  
Step 4: Start and complete your application – the easiest one! Check out our how to apply page for more details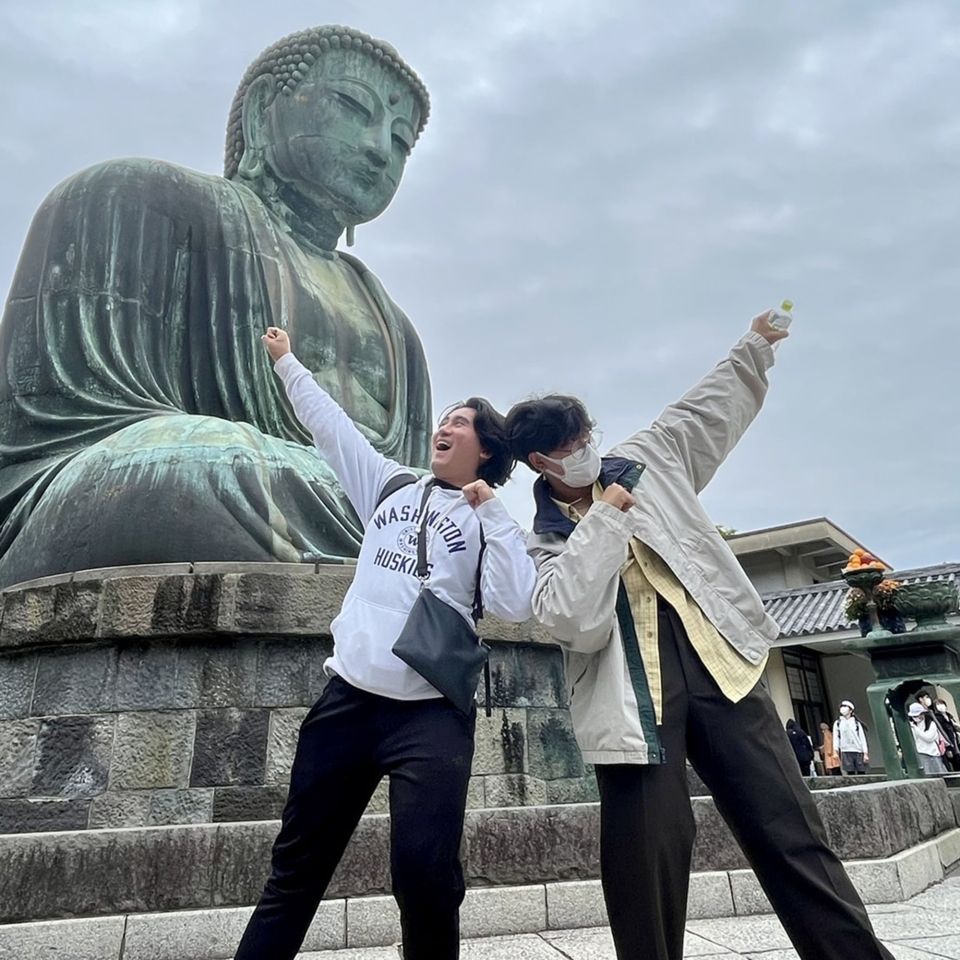 Read More: How to Study Abroad in Japan: 4 Simple Steps 
What to Pack for Study Abroad in Japan  
The weather varies in Kyoto and Tokyo, so pack the appropriate clothing based on when you're studying abroad in Japan.  
Average temperatures in Kyoto are around 60 degrees Fahrenheit, with winters getting much colder, averaging about 38 degrees. The city also has a rainy season in the summer, making them hot and muggy. The weather in Tokyo averages around 60 degrees Fahrenheit in the summer months, where the winters dip down to about 35 degrees. It is relatively rainy year-round.  
You'll also need to pack some essential items as you organize your clothing (and it's a smart idea to pack a rain jacket no matter when your travels are planned).  
Your essential documents: 
Passport + a photocopy (just in case) 
Visa + a photocopy  
A second form of valid ID (e.g., driver's license or government-issued ID) 
Plane tickets  
Proof of health insurance 
Proof of CIEE enrollment 
Cash (Japan uses the Japanese Yen) and a credit card accepted in Japan 
Other essential items: 
Comfortable walking shoes, ideally closed-toe and waterproof 
Camera to capture all of Japan's beauty  
One nice outfit for special occasions 
Prescription medications, enough for the stay if possible 
Preferred over-the-counter medications 
Prescription eyewear 
A reusable water bottle that you can fill up at the airport and use when on the go  
Adapters to charge your current tech in Japan's electrical outlets 
Take Your Studies to Japan 
Don't delay a Japan study abroad trip any longer; it's time to get going!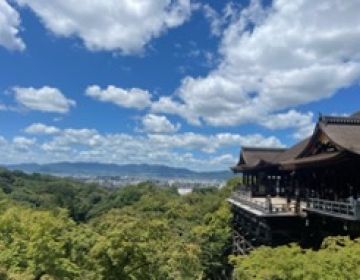 Hi, I'm Daniella (or Dani), and I participated in the CIEE Kyoto Summer Ancient + Modern Japan 2023 program! Living right outside of Los Angeles, my knowledge of Japanese culture... keep reading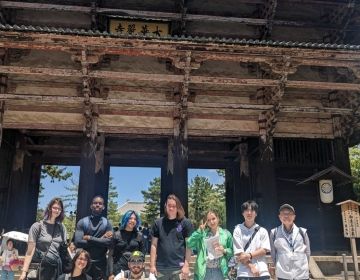 NARA AMJ summer block 1 students visited Nara prefecture on Jun 2nd -3rd for their overnight excursion. Nara served as the capital of Japan from 710 to 784 AD during... keep reading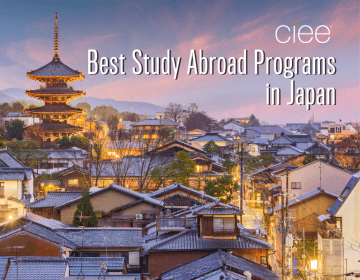 P assionate about ancient history, a diverse culture, modern advancements, and incredible natural landscapes? Then a study abroad adventure in Japan is the perfect opportunity for you. Read on as... keep reading