Local Dishes You Have to Try While in Barcelona!
One of the most exciting parts of traveling abroad is getting to try some of the local cuisine! I had so much fun exploring the food culture in Barcelona, and wanted to share some of my favorite traditional dishes that I got to try, and that you can't miss out on when you visit!
Spanish tortilla
The Spanish omelette, or Spanish tortilla, is a traditional national dish from Spain. It is an omelette made with eggs, potatoes, and onion.
Tuna limes
This was a very unique dish that I tried in Madrid. It consists of slices of limes, with tuna, and aioli on top. You scrape the tuna off of the limes with your teeth to get some of the lime juice as part of the taste. I was skeptical at first, but it was incredible! I'll include a picture in this blog!
Croquettes (Croquetas)
Croquettes can be made with any cooked meat or vegetable, cheese, and rice. They are breaded and fried on the outside.
Patatas bravas
Patatas bravas is a dish native to Spain. It typically consists of cubed potatoes that have been fried, and are served warm with an aioli and a spicy sauce.
Iberian Ham (Jamon iberico)
Iberian ham is a variety of jamón that comes specifically from acorn-fed pigs, and it is deliciously sweet.
Paella
Paella is a rice dish originally from Valencia, that includes rice cooked with meats, seafood, and vegetables
Gazpacho
Gazpacho is a delicious, cold soup/drink made of blended vegetables. 
Tomato bread (Pan con tomate)
This is kind of like the Spanish version of Bruschetta, but sometimes it comes unprepared, so that you have a choice in what ingredients are included. The bread is toasted first. Typically, you will rub half of a garlic clove, then, you'll rub half of a tomato over the bread. Lastly, add olive oil and salt.
Bonus: Here is a list of some of the best restaurants I visited in Barcelona, as well!
La Boqueria (marketplace, endless opportunities)
Rosa Negra
Cera 23
Tapas 2254
Casa Lolea
El Nacional (3-4 restaurants inside)
Eat my Trip
Brunch and Cake
Honest Greens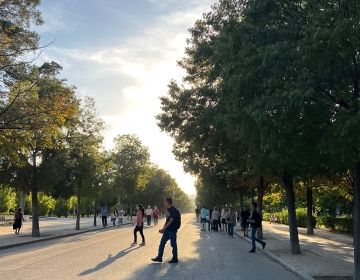 By: Sophie Lakin It feels like most of the time I try to talk to anyone in Spanish, they respond to me in English! I began to think if it... keep reading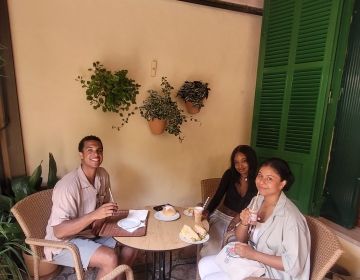 Nestled in the beautiful Serra de Tramuntana (UNESCO World Heritage Site), Valldemossa is a town that combines history, culture, and natural beauty. From its famous Coca de Patata to its... keep reading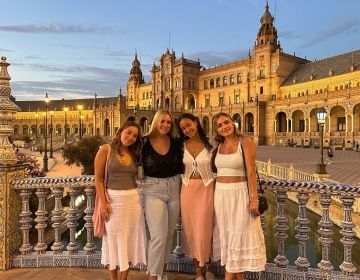 By: Amelia Asfaw To be completely honest, I had a lot of trouble deciding where I wanted to study abroad. I knew I wanted somewhere in Spain to practice my... keep reading