Berlin: The Ragged City with a Heart of Gold
Hear from Mikhail Lavrentyev as he describes his life-changing experience living in Berlin and interning with Book A Street Artist.

PRELUDE
On a sweltering July night, sitting on the U1 street-train, heading home after recording performers at a Berlin nightclub, I contemplated my present situation. I was a foreigner, a filmmaker, and a student, living in Berlin since the beginning of January. My original intent was to spend a semester studying German language and culture in Berlin, but I had extended through the summer to intern as a videographer and editor for the startup company, Book A Street Artist.
INTRODUCTION
My name is Mikhail Lavrentyev. I'm a naturalized U.S. citizen, hailing from Moscow, Russia, and a senior currently attending Keene State College, a small school in New Hampshire. I'm a film production major and German minor looking to make his footprint on the sand dunes of time.
Initially, I had no intention of studying in Berlin. I was wholly focused on developing my craft in film production through my studies at Keene State. However, in taking a German course my sophomore year, I grew ambitious to learn the German language, which ultimately led me to study abroad with CIEE at the Global Institute in Berlin, Germany.
ACT 1: BERLIN: THE OPENING PAGE
January 10th, 2016, was a cold, dreary winter day. The sky, gray and cloudy, complemented the feeling. I had just arrived at Tegel airport in the morning, tired and stressed, nervous about what awaited in Berlin. Meandering through the airport, I found my way to the entrance where I met a group of fellow CIEE study abroad students and together, we rented a taxi to our new home.
As we drove, silently staring out at the city before us, I was taken aback at the Berlin I saw. The city, gray and dirty, looked more like what you would expect New York to look like in the 80's: graffiti canopied walls, trash strewn streets, and soot-covered sidewalks. To be honest, my idea of Germany was that of the lavish, seemingly utopian, cities of Munich or Dusseldorf.
ACT 2: BERLIN: THE LAYERED CITY
Berlin, similar to the harsh shell of a pearl-yielding oyster, holds wisdom within its seemingly grotesque exterior. The city, unlike the majority of Germany, is an island of diversity, hosting various identities, cultures, and experiences for foreigners and natives alike. Coming from a small town in New Hampshire, Berlin was like nothing I'd ever seen. It provided countless opportunities – not only in film, but in all things creative. For every activity, every individual, the city offered a community for which one could call home. As I spent more time in Berlin, I found a new sense of individuality, it opened me up to letting go of judgements and helped me to become my authentic self.
When the program started dwindling down to its final days, I needed to find a way to hold on a little longer. Luckily, I didn't have to go far in my search as I applied to the CIEE Berlin Summer Global Internship Program which placed me with the start-up company, Book A Street Artist.
ACT 3: THE INTERNSHIP
Let me first tell you about Book A Street Artist.
Book A Street Artist (BASA) is a social booking platform designed to assist the often overlooked, yet highly-skilled, street artist. BASA achieves this by matching prospective clients and businesses with talented artists, giving them the opportunity to network and make a livelihood from their craft. As BASA's videographer, my objective was to scout, shoot, and edit live performances. From these live-shoots, I would later create mini-profiles to promote the artists' talents.
The start of my internship began in late May. My first live-shoot was of a graffiti artist at an Adidas-sponsored indoor soccer arena. The artist, known as Nasca Uno, was to do a live mural for the winners of a soccer tournament. Preparing for the event, I was nervous as to what to expect. I felt the pressure of having to create a great video – but I found myself enjoying the new sense of responsibility.
The process, although tasking, helped me develop a style of quick shooting where I could seek out visually striking imagery. From there, I took to editing and began creating rough cuts of the artists. I quickly learned that creating a professional video, music and all, was no light endeavor. The music, which videos so often rely upon, needed to be licensed for commercial use and fit with the style requested. Although this seems quite insignificant, finding quality copyright-free music is no easy task. Despite this challenge, I learned to work methodically, finding and even using stylized music created by personal connections made during the internship. In retrospect, the opportunity to work with BASA, although challenging at times, helped me develop the professional side of my craft more than I could ever imagine.

FINALE: THE DEPARTURE
As I sit writing this blog post, reminiscing about my time spent in Berlin, I wholeheartedly can't come up with any drawbacks to the internship or my overall experience with CIEE. I feel that my participation in the CIEE Berlin Summer Global Internship program not only improved me professionally, but also personally. I have come back to my studies in Keene confident in my skills and with a yearning to continue my professional and academic career.
To the individuals who seek to better themselves, the experience of living and working abroad is like no other. It is, in itself, an adventure you'll forever hold dear to your heart.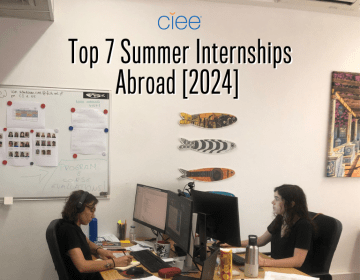 A summer internship abroad is an incredible way to boost your resume, gain international real-world experience, grow a professional global network, and develop skills that will last a lifetime. Bookmark... keep reading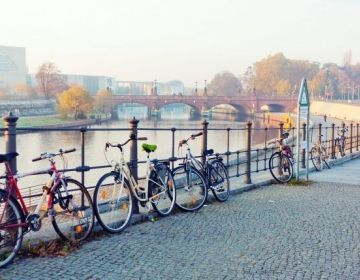 February 6, 2017 Trévon Davenport, a BA graduate from East Tennessee State University participated in the 2016 CIEE Berlin Summer Global Internship program. He interned at the German-American Fulbright Commission... keep reading