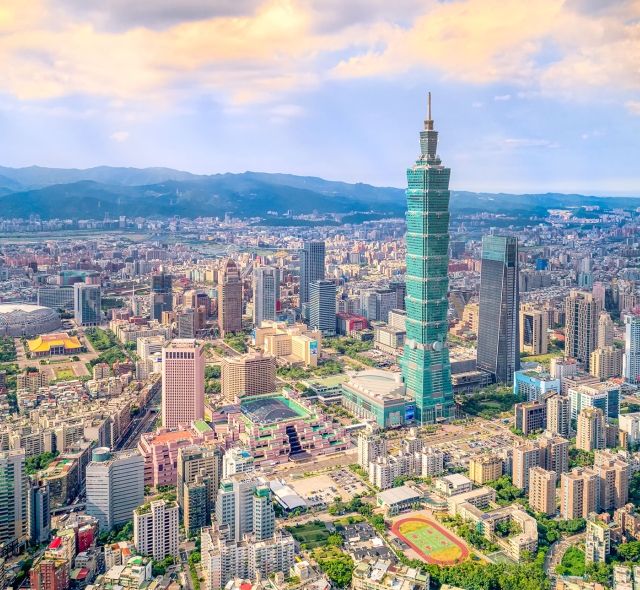 Summer Accelerated Chinese Language
Credit
10 semester hours
15 quarter hours
Eligibility
Overview
Explore the streets of Taiwan
and experience the rich culture that's been preserved through generations
Taste-test the unique Taiwanese Cuisine
while walking through the famous Night Market, known for the variety of street food it offers
Take trips to different cities
within the island and get to know the different facets and nuances of Taiwan
Experience
Your Destination
An island at the crossroads of Northeast and Southeast Asia, Taiwan is a unique fusion of cultures. Known for its delicious street food, beautiful scenery, and friendly people, Taiwan offers a variety of experiences that will make your stay unforgettable.
Study Mandarin to get to know the deep roots of this language and experience the rich culture. During your time in Taipei, you'll have every opportunity to learn about the history and heritage of the island while visiting temples and historic sites, tasting unique Taiwanese cuisine at a world-famous night market, and enjoying nature while hiking the beautiful mountains.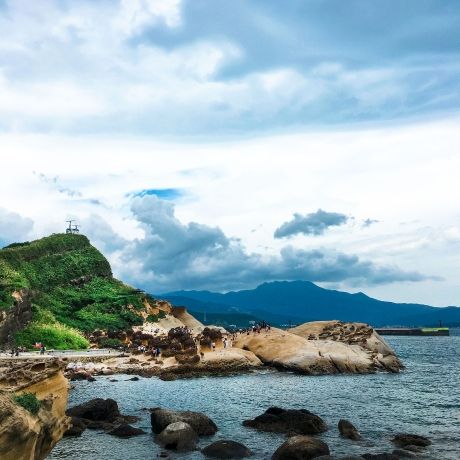 Excursions & Activities
Take a trip back in time with a visit to Jiufen Old Street in Taipei, a former gold mining center of Taiwan that has been turned into a shopping district that preserves the olden days architecture and overall traditional atmosphere.
Choose a weekend away to learn more about cultures in different regions of Taiwan. Destinations may include:
Tainan: Explore the ancient capital and the oldest city in Taiwan, famous for its temples, historic buildings, and traditional snacks.
Taitung: Relax and enjoy the views and natural charms of eastern Taiwan, from the beautiful mountains to the coastline. Take in the scenery while cycling the area's various bike routes.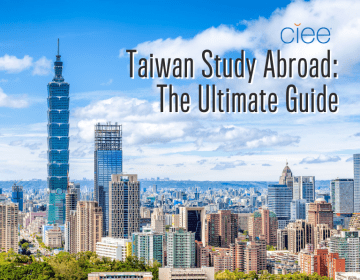 A study abroad adventure awaits in the small but lively country of Taiwan, located off the east coast of China . Known officially as the Republic of China, Taiwan promises... keep reading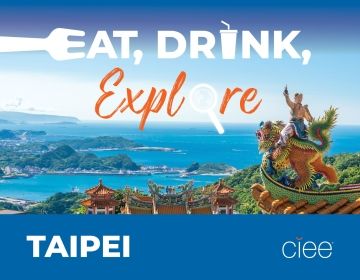 EAT Beef noodles ( niúròu miàn ) are so popular in Taipei that the city holds an annual Beef Noodle Festival where chefs compete to earn the title of "the... keep reading
Housing
Students stay in twin rooms at a hotel located within walking distance or a quick public transportation ride away from campus. Rooms are equipped with beds, a desk, air conditioner, and other basic hotel amenities that will provide a comfortable stay.
Students are expected to budget for all their meals during their stay. The area surrounding the hotel and campus is full of restaurants and eateries that offer a wide variety of options for students to choose from. Taiwan has a diverse culinary culture that can cater to all kinds of palettes and preferences. Students with specific food restrictions or diets are welcome to approach our staff or instructors for recommendations.
Academics
This program gives students a strong foundation in Mandarin through an intensive and Chinese language-only environment. Designed for beginners to advanced Mandarin Chinese students, the program includes five course levels to develop your listening comprehension, speaking, reading, and writing skills, or to elevate your language skills to a superior level, communicating with accuracy, fluency, and sophistication. In-class work is augmented with co-curricular visits to the city's rich variety of cultural institutions and organizations relevant to the course offering.
Courses
Course Notes
Students will take an on-site placement exam and be registered in the appropriate language levels based on their results.
Note: This course listing is for informational purposes only and does not constitute a contract between CIEE and any applicant, student, institution, or other party. The courses, as described, may be subject to change as a result of ongoing curricular revisions, assignment of lecturers and teaching staff, and program development. Courses may be canceled due to insufficient enrollment.
"(GI)" denotes courses that originated at CIEE's Global Institutes and that are offered at multiple CIEE sites.
Scholarships
Scholarships & Grants
CIEE offers scholarships and grants annually to help students like you make your study abroad dream a reality.
Students who apply to this program are eligible for the following scholarships and grants:
Wollitzer Merit Scholarships in Area or Comparative Studies
Ping Scholarships for Academic Excellence
Global Access Initiative (GAIN) Grants
CIEE Gilman Go Global Grant
MSI Grant
CIEE Stem Scholarship
To be considered, submit the CIEE Scholarships & Grants application within your CIEE program application.
Dates & Fees
You get more for every dollar when you study abroad with CIEE, because our high-quality programs include everything from excursions to insurance. There are no hidden charges, and no disappointing surprises when you arrive.
Program

Application Due

Start Date

End Date

Fees & Housing

Program

Summer 2024

8 weeks
Start Date

End Date

Fees & Housing $8,450
To help you budget, keep in mind that students are responsible for the cost of international airfare, local transportation, books and supplies, visas, and personal expenses. In addition, your college or university may charge additional fees for study abroad, or may require you to receive a transcript via CIEE's School of Record, which carries an additional fee of $500.
Program Fees
CIEE offers the most student support of any provider in its program fee, including an airport greeting, full-time leadership and support, orientation, cultural activities, local excursions, pre-departure advising, and CIEE iNext travel protection with benefits.
Participation Confirmation = $300*
Educational Costs = $6,003
Housing = $1,950
Insurance = $197
Total Fees = $8,450
Estimated Costs
Students are responsible and manage costs related to travel, meals, books, and personal expenses. Below are estimates for consideration.
Meals not included in program fee = $784
International Airfare = $1,800†
Local Transportation = $80
Books & Supplies = $50
Personal expenses = $170††
Other = $150†††
Total Costs = $3,034
Financial Aid
CIEE offers the most grants and scholarships of any study abroad organization, including $8 million/year in travel grants, merit-based scholarships, institutional and MSI grants, and Gilman Go Global Grants.
*non-refundable
†Round-trip based on U.S. East Coast departure
††for toiletries, cell phone plan, and emergency fund. Personal travel(s) not included.
†††Covid test to enter the US, if required. NTD 3,500- NTD 6,000.
Pre-departure Advising
Advising before you depart to set goals and answer questions
Optional on-site airport meet-and-greet
Orientation
Introduction to your program plus practical information about living in your host city
On-site Staff
Full-time program leadership and support in your city
Cultural and/or Co-curricular Activities
Excursions and/or Study Tours
Travel Protection
CIEE iNext travel protection
24/7 emergency on-site support
Staff
Executive Director of Regional Management – Africa, Middle East, Latin America, and Pacific Rim
Erik Pérez earned his B.S. in Economics from the Instituto Tecnológico de Santo Domingo (INTEC) and his M.A. in Economics as a Fulbright Scholar in the U.S.
Interim Regional Director of Operations for the Pacific-Rim
Atsuko joined CIEE Tokyo in 2013 with her extensive professional experience as a study abroad advisor for students in Japan for over 11 years.
Get Started Steps
Get Started
Here's what you need to do to take the next steps:
Start an Application
You're one step closer to an amazing study abroad experience!
Connect With Your Campus Study Abroad Office 
Share your plans and confirm you're on track to meet all required steps to go abroad.
Contact an Advisor
Contact Us 
Send us an email if you still have questions or need information about applying to this program.