Credit
3 semester hours
4.5 quarter hours
Eligibility
Overview
EXPLORE THE MANY VILLAGES OF PARIS
Extra-curricular activities take you beyond the postcard views of the city and introduce you to a multi-dimensional capital.
VISIT THE CITY'S MANY SCENIC PARKS
such as the Tuileries Gardens, Jardin de Luxembourg, and Buttes Chaumont Park.
TAKE A DAY TRIP
to the historic castle of Fontainebleau, where you may enjoy a delicious meal.
38K
WORKS OF ART IN THE LOUVRE 
Experience
Your Destination
If you're looking to spend time in one of the world's most prominent cultural, finance, and commerce centers, look no further than Paris. Paris, a center for culture, art, fashion, gastronomy, and intellectual life, is also a major global metropolis. The Seine River traverses the city and its waterways and quays and bridges serve as major thoroughfares. Explore the city's most famous monuments such as the Eiffel Tower, the Louvre, and Notre Dame Cathedral. Enjoy the delicacies at Paris' numerous cafés - one for every 200 inhabitants!
CIEE wants all our students to feel welcomed, supported, and empowered to succeed while studying abroad. Local CIEE staff have provided details about conditions and cultural attitudes that students with specific identities might encounter in Paris.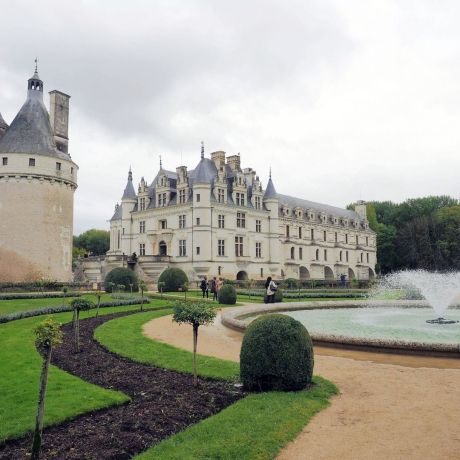 Featured Excursion
Participate in excursions to fascinating French locations - previous destinations have included Amboise, Reims, Rouen, Giverny, Chantilly, and Vaux-le-Vicomte, to name a few.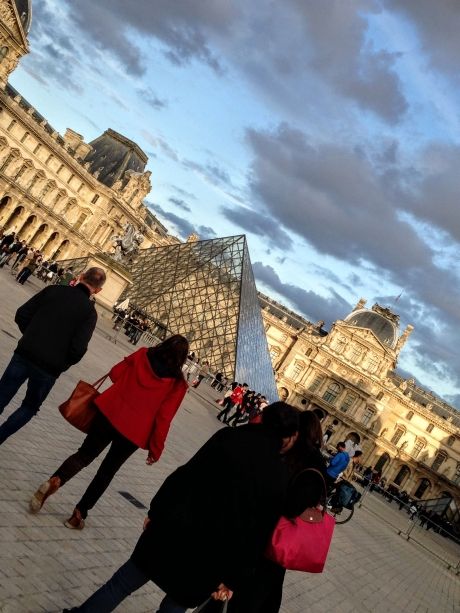 Other Excursions & Activities
Learn the nuances of the City of Lights through guided walks of Paris.   
Marvel at the city's architectural history, from the Middle Ages till the 21st century. 
Indulge in Paris' haute cuisine, food meticulously prepared and artfully presented. 
Experience breathtaking works of art at the Chantilly, the most visited art museum in the world. 
Treat yourself to a uniquely Parisian performance at the famous Moulin Rouge theater, the birthplace of the French Cancan.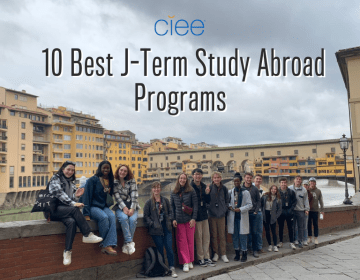 If you're looking for a study abroad adventure this winter, check out our ten best J-term study abroad programs. And be forewarned: This shorter study abroad trip will be one... keep reading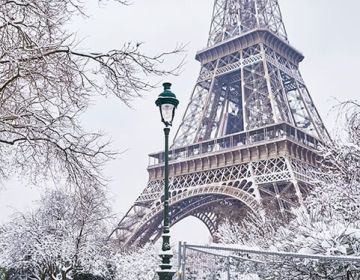 Celebrating New Year's Eve in the City of Lights - what could be better than that? How about a three-week study abroad program in Paris during your winter break? You're... keep reading
"The course was engaging, informative, and eye-opening. Everything was extremely well-organized, and the class was well-taught. CIEE has made the process as smooth, painless, and enjoyable as possible."

Morgan W., University of Mississippi Main Campus

"It has been a great experience for me. The staff at the CIEE campus in Paris are so great and helpful especially during the strike."

Mikayla B., University of Oklahoma Norman Campus
Housing
All housing is within a 45-minute commute to CIEE.
Residence Halls/Hotels/Aparthotels: Students usually live with a mix of CIEE students, local students, and international students. If local health and safety regulations permit, most students live in double or triple rooms.
Apartments: Students live in apartments shared with other CIEE students. If local health and safety regulations permit, most students live in double or triple rooms. Each apartment will have shared common spaces, including a kitchen and bathroom.
Housing is tight in Paris. If we can't accommodate your first housing choice, we'll let you know before you arrive.
Residence Halls/Hotels/Aparthotels and Apartments: Meals are not included.
Academics
Students spend three weeks in January taking coursework complemented with co-curricular activities to immerse you in the culture and facilitate intercultural learning. Classes take place at CIEE Paris.
Courses
Agriculture
Business, Economics, Management, and Marketing
Languages and Cultural Studies
Note: This course listing is for informational purposes only and does not constitute a contract between CIEE and any applicant, student, institution, or other party. The courses, as described, may be subject to change as a result of ongoing curricular revisions, assignment of lecturers and teaching staff, and program development. Courses may be canceled due to insufficient enrollment.
"(GI)" denotes courses that originated at CIEE's Global Institutes and that are offered at multiple CIEE sites.
Dates & Fees
You get more for every dollar when you study abroad with CIEE, because our high-quality programs include everything from excursions to insurance. There are no hidden charges, and no disappointing surprises when you arrive.
Program

Application Due

Start Date

End Date

Fees & Housing

Program

January 2024

3 weeks
Start Date

End Date

Fees & Housing $4,250
To help you budget, keep in mind that students are responsible for the cost of international airfare, local transportation, books and supplies, visas, and personal expenses. In addition, your college or university may charge additional fees for study abroad, or may require you to receive a transcript via CIEE's School of Record, which carries an additional fee of $500.
Program Fees
CIEE offers the most student support of any provider in its program fee, including an airport greeting, full-time leadership and support, orientation, cultural activities, local excursions, pre-departure advising, and CIEE iNext travel protection with benefits.
Participation Confirmation = $300*
Educational Costs = $2,610**
Housing = $1,260***
Insurance = $80
Total Fees = $4,250
Estimated Costs
Students are responsible and manage costs related to travel, meals, books, and personal expenses. Below are estimates for consideration.
Meals not included in program fee = $291†
International Airfare = $1,450††
Local Transportation = $90
Books & Supplies = $75
Personal expenses = $150†††
Total Costs = $2,056
Financial Aid
CIEE offers the most grants and scholarships of any study abroad organization, including $8 million/year in travel grants, merit-based scholarships, institutional and MSI grants, and Gilman Go Global Grants.
*non-refundable
**direct cost of education charged uniformly to all students
***includes two meals daily
†For groceries if you plan on making your own meals, budget more money if you plan on eating out regularly.
††round-trip based on U.S. East Coast departure
†††$100 emergency fund + cell phone expense + toiletries
Pre-departure Advising
Advising before you depart to set goals and answer questions
Optional on-site airport meet-and-greet
Orientation
Introduction to your program plus practical information about living in your host city
On-site Staff
Full-time program leadership and support in your city
Cultural and/or Co-curricular Activities
Excursions and/or Study Tours
Travel Protection
CIEE iNext travel protection
24/7 emergency on-site support
Staff
A born-and-bred Parisian, Delphine has extensive experience in international education, having worked with American high school students, college students, and adults traveling to France.
Franck oversees the coordination, quality, and planning of all courses and educational programing in Paris. He is responsible for faculty staffing, finalization of syllabi, the course evaluation process, and program...
With a background in intercultural communication, Linda is a key contact for students and helps participants discover and understand the French culture.
Get Started Steps
Get Started
Here's what you need to do to take the next steps:
Start an Application
You're one step closer to an amazing study abroad experience!
Connect With Your Campus Study Abroad Office 
Share your plans and confirm you're on track to meet all required steps to go abroad. 
Contact Us 
Send us an email if you still have questions or need information about applying to this program.