Traveling in France: A Visit to Plounerin and the Côte de Granit Rose
When I first arrived in Rennes, I didn't necessarily have any specific plans to travel within the country. I'd assumed that something would eventually come up, and I'd get the chance to visit other areas once I knew the region and its surroundings better. 
That opportunity presented itself far sooner than I was expecting. Upon my arrival, my host family informed me that they owned a small cabin on the northern coast of Bretagne, and they would be delighted if I would accompany them on a visit for the weekend.
Jet-lagged though I was, I readily agreed. 
The next Monday was Pentecost, a national holiday in France, so we had a wonderful long weekend ahead of us. We left Friday afternoon and planned to return Monday evening, in hopes of doing and seeing as much as possible on our trip.
After a two-hour car ride – I slept through most of it – we arrived in Plounérin, a small commune in the Côtes-d'Armor department of Bretagne. The cabin was situated about twenty minutes from the ocean, and the peaceful countryside surroundings provided a welcome respite from the relative hustle and bustle of life in downtown Rennes.
On the morning after our arrival, we took a beautiful walk on some of the trails surrounding the cabin. Our neighbor was a farmer who specialized in raising Camargue horses, renowned for their snowy white coats. The horses were pastured directly alongside the trails, adding to the natural beauty of the environment.
Not only did the trip to the cabin provide opportunities for me to travel outside of Rennes, but it also gave me the chance to bond with my host parents. I helped my host father tend the garden and prepare our meals, and we spent every afternoon and evening chatting. Since I had arrived in Rennes just a few days prior, I really appreciated this time spent getting to know the family that I would be staying with for the next eight weeks!
My host mother had told me to come prepared with my warmest clothes, and I was grateful for her warning. We had beautiful sunny weather all weekend, but it was also incredibly windy. I ended up layering sweatshirts and jackets and wishing that I'd brought jeans instead of jean shorts! And, although I brought my bathing suit, it ended up being too cold to go for a swim. 
Instead, we spent our days hiking along coastal trails, visiting tucked-away beaches and parks. My host mother grew up visiting this area of the coast, and she was incredibly familiar with all its nooks, crannies, and hidden gems. This was one of the major benefits of visiting the area with two locals – we avoided all the tourist traps and spent our time in peaceful, secluded spots that I doubt I would have been able to find on my own. 
On our last day, we visited Ploumanac'h, a town right on the famed Côte de Granit Rose. As my host mother informed me, the Côte de Granit Rose is one of the "must-see" sights in Bretagne, and Ploumanac'h itself has been voted one of the most beautiful towns in France.
As the name implies, the Côte de Granit Rose is famous for its unique pink-tinged rock formations. Truthfully, this picture doesn't do the sight justice! The rocks aren't exactly bright pink, but they have a much warmer, rosier hue than the cliffsides elsewhere in the region.
Overall, this trip to the coast allowed me to start my sojourn in Rennes on a wonderful note. Although it hadn't been something I'd been expecting, this trip ended up being one of my best memories from my time in France. I had the chance to bond with my host family and see an area of Bretagne that was absolutely stunning that I perhaps never would have visited otherwise.
My top tips to future participants would be to take advantage of whatever travel opportunities come your way, venture off the beaten path to explore, and, of course, always pack warm clothes when you're going to the coast! 
Elizabeth Rollison
Reed College
Summer Intensive French Language - IFL 2023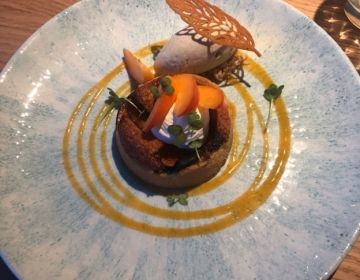 Coucou! I'm Tomi, a rising sophomore at the Claremont Colleges in Los Angeles, California. I'm originally from Seattle, Washington, like many of the other students at my school. We all... keep reading
The blissfully ignorant (by "the ignorant", I am of course referring to all who took Spanish in high school) often describe French as the language one learns when one wants... keep reading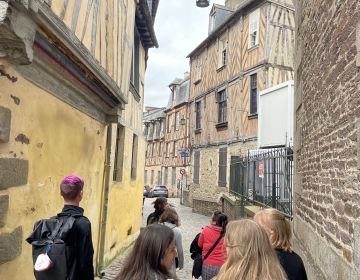 Arriving in France and knowing that you will not have to leave for over a month is one of the best feelings in the world. I arrived in Paris and... keep reading