Little, Charming Family Shops from the Past in Madrid
All kinds of traditional, small family businesses have preserved their status in Madrid, existing shops that have been around over a hundred years. Time goes by and they continue in the streets of Madrid, they are establishments that take us to another time. Taverns, restaurants, stores of all kinds of delicacies, apothecaries or bookstores that are part of the living history of Spain´s capital city center, with a mixture of tradition and modernity that has allowed them to adapt to the passage of time.
As part of the weekly cultural agenda, on one of recent CIEE staff-led walking tour in Madrid, we passed through some of the central streets such as calle Arenal, Carretas, Mayor, Carmen and Preciados, where many of these small, hundred-year-old family shops are still standing, surrounded by large national and international companies.
One of the most charming shops is the clothing shops that sells timeless capes, Capas Seseña which has been family run since 1855. The Spanish Royal family, Hilary Clinton, Pablo Picasso, Buñuel, the Hollywood Silent Cinema film actor Rodolfo Valentino, the Opera star Plácido Domingo, Ernest Hemingway, American film star Gary Cooper and many more have been clients. One of our students really enjoyed trying one of the fashionable capes (see photo).
Other students enjoyed Casa Mira, where some of the best Spanish 'Turron' nougat" food delicacies, is being traditionally crafted since 1842.  Students particularly like the swirling showcase in the shop window where you can see the colorful varieties of turron. We learned that old shops do not go out of fashion and are a different way to experience the more "personal" shopping from today´s online way of purchasing goods.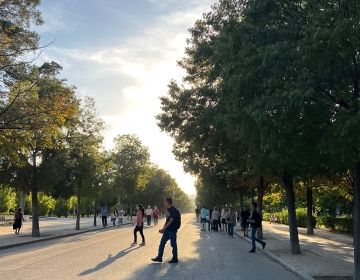 By: Sophie Lakin It feels like most of the time I try to talk to anyone in Spanish, they respond to me in English! I began to think if it... keep reading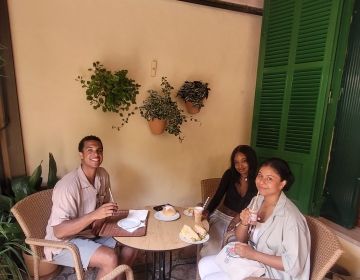 Nestled in the beautiful Serra de Tramuntana (UNESCO World Heritage Site), Valldemossa is a town that combines history, culture, and natural beauty. From its famous Coca de Patata to its... keep reading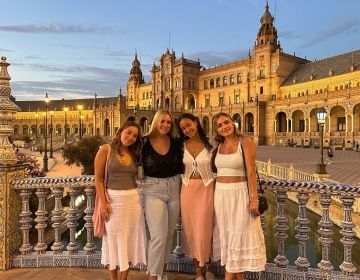 By: Amelia Asfaw To be completely honest, I had a lot of trouble deciding where I wanted to study abroad. I knew I wanted somewhere in Spain to practice my... keep reading