Credit
6 - 9 semester hours
9 - 13.5 quarter hours
Eligibility
Overview
Choose from a vast range of courses
at top-rated Yonsei University in arts, humanities, East Asian and Korean studies, economics, sciences, technology, and more.
Visit museums,
temples, historic sites, the Korean Demilitarized Zone, and other significant places.
Fast-forward your Korean
language skills with courses at all levels.
9
UNESCO World Heritage sites
3 M
international residents
123
floors in Lotte World Tower, Seoul's tallest building
Experience
Your Destination
Packed with people, it's no wonder Seoul is the capital and largest city in South Korea. A vibrant business and financial hub, Seoul also brims with culture, with more than 100 museums, numerous religious monuments, parks, markets, festivals, sports teams, and the Gyeongbok and Changdeok palaces. The mighty Han River runs through the city, and rugged mountains loom in the distance.
CIEE wants all our students to feel welcomed, supported, and empowered to succeed while studying abroad. Local CIEE staff have provided details about conditions and cultural attitudes that students with specific identities might encounter in Seoul.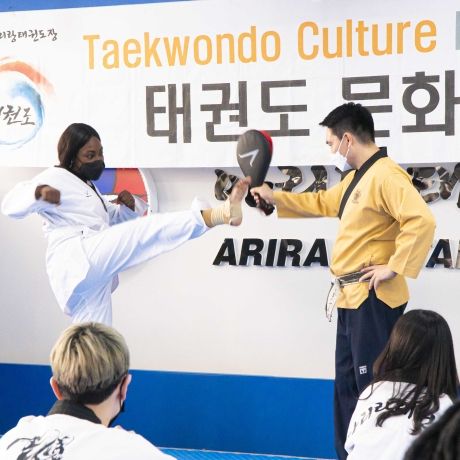 Excursions & Activities
Start with an excursion beyond Seoul to get to know the country, its people, and its natural beauty.
Learn taekwondo during Friday morning sessions at the University.
Take a Korean cooking class along with a street food tour.
Learn about the Korean Wave, a.k.a. Hallyu, at the source, and see what's behind the spread of South Korean culture kicked off by K-Pop.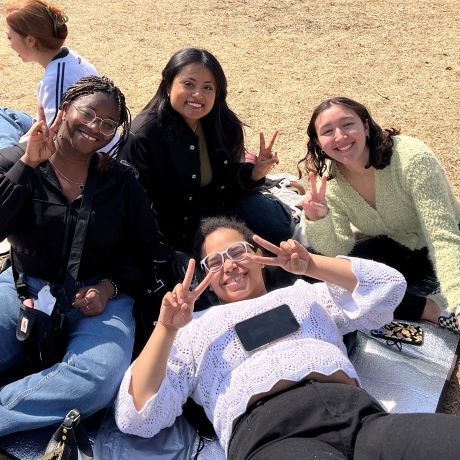 CIEE Seoul Mates
Connect with local Korean students through our Seoul Mates program. Get to know the city, language, culture, and customs with the help of students trained by CIEE to help with orientation, organize social events, host workshops, and more.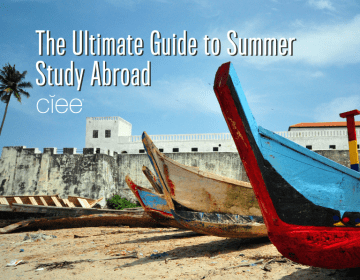 A summer study abroad experience is the best. With good weather, unbelievable global destinations, and the chance to earn extra credits toward your degree, you just can't beat a summer... keep reading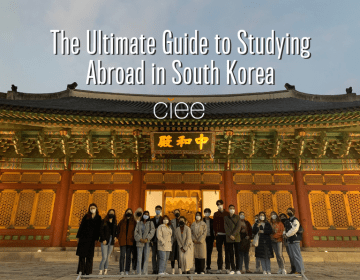 If you're looking to discover a multi-faceted country with a rich culture, beautiful cityscapes and countryside, an incredible ancient history, and unique modern development, then consider studying abroad in South... keep reading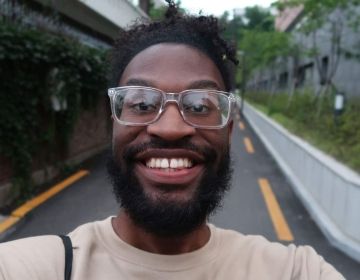 This journey has been interesting to say the least. From getting in a car accident my first week of being in Korea to meeting some really cool international friends, I... keep reading
"CIEE has really changed my life! I can really tell that the South Korea Seoul team really put in a lot of thought and effort into making this trip full of fun cultural memories and experiences that will benefit our growth."

Tyra B., Indiana University-Purdue University-Indianapolis

"I have already recommended CIEE to friends because I believe CIEE does a very, very good job of getting everyone acclimated to their whereabouts and giving us good resources to use for any occasion. They also cover a large amount of fees, making it more enjoyable for the student. CIEE is very welcoming, and it is something I will never forget."

Mariam L., Pennsylvania State University

"CIEE Study Abroad made the process easy to handle when studying abroad or planning to study abroad. All members of CIEE have been welcoming, friendly and helpful and take care of their participants."

Marciela S., Washington State University

"The program offers a lot of amazing extracurricular opportunities, and also makes the initial application and course approval process much easier!"

Claire K., University of Colorado-Boulder

"I'd recommend CIEE because of the structure it provides students when studying abroad, especially knowing you have a staff advocating for you in the host country. I'd also recommend CIEE for the program/itinerary it includes when studying abroad -- the experiences/activities can be very educational and fun."

Elizabeth M., New College of Florida
Housing
CIEE Seoul offers diverse housing options to ensure you're comfortable in your home away from home. From twin rooms on campus to single rooms off campus, your accommodation preferences will be met. All housing options are located in neighborhoods with convenient access to public transportation, shops,  cafés, and eateries. 
Standard Housing: Includes a twin room in a dorm on campus. With separate floors for men and women, rooms house two students and have private baths. There are lounges, a seminar room, and study rooms as well as a fitness center, shared kitchen, and laundry facilities. A convenience store, food court, and other services are on the premises. Internet access is provided.  
Select Plus Housing: Includes a single room in a residence hall off campus under 30 minutes from CIEE Seoul. Residence halls boast kitchens, common areas, and laundry facilities shared with other students. Select Plus housing requires an additional fee. 
A note: Housing is on a first-come, first-served basis. If we cannot accommodate your first housing choice, we'll let you know before you arrive.   
Meals are not included. Students can eat at the dorm food court, campus cafeterias, and at restaurants throughout Seoul, or prepare meals in the dorm kitchen.
Academics
This rigorous summer program is designed for students to immerse themselves in the rich Korean culture while taking two or three language or area study courses with local and international students at the prestigious Yonsei University. The program starts with a one-week orientation that covers various facets of Korean society. Professors are visiting scholars and professors from Korean, U.S., and other international universities. Many courses are taught by faculty from the University of California system, with which Yonsei has a longstanding partnership. In-class work is augmented with co-curricular visits to the city's rich variety of cultural institutions and organizations relevant to the course offering.
Yonsei University is one of the most prestigious private institutions of higher education in Korea with 18 graduate schools, 22 colleges, and a student population of more than 23,000, including more than 4,000 students from 25 countries. The large, beautiful campus offers superior athletic facilities, including a fitness center, pool, gym, and basketball and tennis courts. 
Courses
Students may only choose Yonsei University courses available to the 6-week program.
YONSEI UNIVERSITY SUMMER SCHOOL COURSES 
Students enroll directly in Yonsei University summer school courses. View course listings and syllabi. The following is a sampling of courses available. Course offerings change from year to year. They are typically listed, along with syllabi, on the Yonsei University website under the Yonsei International Summer School section at the beginning of the application period and are available in CIEE enrollment materials. Students are advised to remain flexible in their course selection as some classes may be canceled due to low enrollment. Students are encouraged to have course alternatives in the event their first choice is unavailable.
Note: CIEE participants can only enroll in 6-week courses, not 4-week courses.
Korean Language 
Introductory Philosophy 
World Literature: English & American Literature 
Marketing 
Contemporary Korean Culture & the Korean Culture Wave 
International Economics 
Media Psychology 
Korean Cinema 
East Asian Art History 
Korean Political Economy 
General Chemistry 
Asian American Literature 
East Asian Cinema 
Social Psychology 
Organic Chemistry 
Innovation and Technology Management 
Topics in Korean Culture: Globalization and Multiculturalism 
Introduction to Corporate Finance 
Principles of Microeconomics 
East Asian Fiction 
Genetics 
Principles of Managerial Accounting 
Note: This course listing is for informational purposes only and does not constitute a contract between CIEE and any applicant, student, institution, or other party. The courses, as described, may be subject to change as a result of ongoing curricular revisions, assignment of lecturers and teaching staff, and program development. Courses may be canceled due to insufficient enrollment.
"(GI)" denotes courses that originated at CIEE's Global Institutes and that are offered at multiple CIEE sites.
Scholarships
Scholarships & Grants
CIEE offers scholarships and grants annually to help students like you make your study abroad dream a reality.
Students who apply to this program are eligible for the following scholarships and grants:
Wollitzer Merit Scholarships in Area or Comparative Studies
Ping Scholarships for Academic Excellence
Global Access Initiative (GAIN) Grants
CIEE Gilman Go Global Grant
MSI Grant
The Stephen M. Lew Lifetime Friendship Award
CIEE Stem Scholarship
To be considered, submit the CIEE Scholarships & Grants application within your CIEE program application.
Dates & Fees
You get more for every dollar when you study abroad with CIEE, because our high-quality programs include everything from excursions to insurance. There are no hidden charges, and no disappointing surprises when you arrive.
Program

Application Due

Start Date

End Date

Fees & Housing

Program

Summer 2024

6 weeks
Start Date

End Date

Fees & Housing $8,750
To help you budget, keep in mind that students are responsible for the cost of international airfare, local transportation, books and supplies, visas, and personal expenses. In addition, your college or university may charge additional fees for study abroad, or may require you to receive a transcript via CIEE's School of Record, which carries an additional fee of $500.
Program Fees
CIEE offers the most student support of any provider in its program fee, including an airport greeting, full-time leadership and support, orientation, cultural activities, local excursions, pre-departure advising, and CIEE iNext travel protection with benefits.
Participation Confirmation = $300*
Educational Costs = $7,153**
Housing = $1,100
Insurance = $197
Total Fees = $8,750
Estimated Costs
Students are responsible and manage costs related to travel, meals, books, and personal expenses. Below are estimates for consideration.
Meals not included in program fee = $795†
International Airfare = $1,600
Local Transportation = $150
Books & Supplies = $150
Personal expenses = $210
Other = $200
Total Costs = $3,105
Financial Aid
CIEE offers the most grants and scholarships of any study abroad organization, including $8 million/year in travel grants, merit-based scholarships, institutional and MSI grants, and Gilman Go Global Grants.
*non-refundable
**direct cost of education charged uniformly to all students
†For groceries if you plan on making your own meals, budget more money if you plan on eating out regularly.
Pre-departure Advising
Advising before you depart to set goals and answer questions
Optional on-site airport meet-and-greet
Orientation
Introduction to your program plus practical information about living in your host city
On-site Staff
Full-time program leadership and support in your city
Cultural and/or Co-curricular Activities
Excursions and/or Study Tours
Travel Protection
CIEE iNext travel protection
24/7 emergency on-site support
Staff
Suzanne's love of Korea began more than 30 years ago as a U.S. Peace Corps volunteer. She is a graduate of the University of South Carolina and has an M.B.A. from Yonsei University.
Tina has extensive experience in student support and academic mentoring and loves to share Korean traditional and contemporary culture.
Teddy's passion and love of international education was driven by his life-changing study abroad experience in the US. He tries to go the extra mile for every single student to...
Get Started Steps
Get Started
Here's what you need to do to take the next steps:
Start an Application
You're one step closer to an amazing study abroad experience!
Connect With Your Campus Study Abroad Office 
Share your plans and confirm you're on track to meet all required steps to go abroad.
Contact an Advisor
Contact Us 
Send us an email if you still have questions or need information about applying to this program.