Credit
3 semester hours
4.5 quarter hours
Eligibility
Application Deadline
The application deadline has passed.
Apply Now
Overview
BE ENTRANCED BY THE ZEN ROCK GARDEN OF RYOANJI TEMPLE
Contrast the dazzling Golden Temple and more serene Silver Temple; stroll the Philosopher's Walk.
IMMERSE YOURSELF IN THE "CULTURAL CAPITAL" OF JAPAN
With its rich cultural, religious, and artistic traditions dating back 1,200+ years, soak in Kyoto's depth.
INDULGE IN KYOTO'S FAMOUS "UJI" GREEN TEA
Either as a drink or green tea flavored pastries, ice cream, and other desserts.
17
UNESCO WORLD HERITAGE SITES WITHIN KYOTO
1,200+
NUMBER OF YEARS KYOTO WAS JAPAN'S CAPITAL
30
NUMBER OF MINUTES BY TRAIN TO REACH NEARBY OSAKA, KOBE, AND NARA
Experience
Your Destination
Kyoto is located in the Kansai region in the western part of Honshu island. The cities of Osaka, Kobe, and Nara – which are also must-visit destinations in Japan – are nearby and easily accessible by train. Kyoto was the capital of Japan from 794 to 1868 and was formally called "Heian-kyo," which literally means, "The Capital of Peace." While today Tokyo is the official capital of Japan, Kyoto is often called the country's "cultural capital," for its preservation of numerous cultural, religious, and artistic sites and traditions. Kyoto provides an ideal environment for students to immerse themselves in the Japanese language and culture.

CIEE wants all our students to feel welcomed, supported, and empowered to succeed while studying abroad. Local CIEE staff have provided details about conditions and cultural attitudes that students with specific identities might encounter in Kyoto.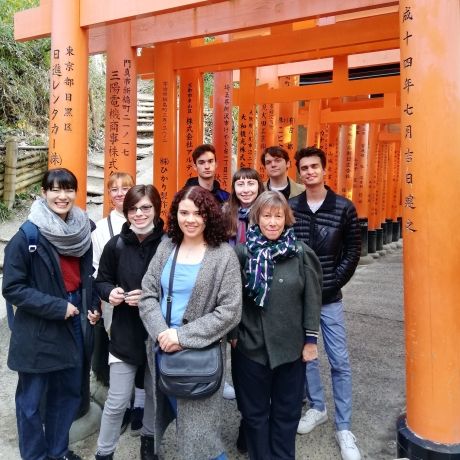 EXCURSIONS & ACTIVITIES
Every CIEE program is complemented with co-curricular activities and excursions designed to enhance academic and intercultural learning. In Kyoto students may:
Tour the Kyoto Imperial Palace grounds where emperors of old resided, and two of the Imperial Villas at Katsura and Shugaku-in
Take a walking tour of the Higashiyama District to experience traditional Kyoto
Visit the Kyoto National Museum, first opened in 1897, one of Japan's oldest and most distinguished
Explore the amazing collection held by the Kyoto International Manga Museum
Travel to the nearby former capital city of Nara, home of Nara deer park, the Great Buddha Hall at Todaiji Temple, and the Kasuga Grand Shrine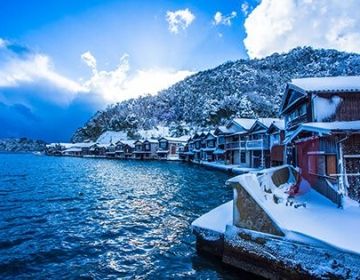 Have you ever woken up in a 1,200-year-old city and found yourself only three minutes from the world's first International Manga Museum? Well, buckle your seatbelt because CIEE Kyoto has... keep reading
"The Kyoto CIEE program was one of the most culturally enriching programs I've ever done. Even though it was for only 3 weeks I met some of the most amazing people and was able to experience Kyoto in a way I did not think possible. I would highly recommend such an experience to any peer. CIEE facilitates this experience tremendously with support from staff and instructors."

Jesus C., Massachusetts Institute of Technology
Housing
Academics
During January in Kyoto, students will have the opportunity to dive deeper into traditional Japanese culture and history and to learn more about Japan's ancient capital Kyoto. Students will also be able to participate in a range of complementary co-curricular, personal, and professional development activities to help facilitate integration into the host community as active global learners. 
CIEE Kyoto is conveniently located in the city of Kyoto with easy access to the city's comprehensive train and bus networks. CIEE Kyoto is the home base for students and a safe zone for them to learn, grow, communicate, and collaborate.
Courses
Visual and Performing Arts
History, Philosophy, Religion
Note: This course listing is for informational purposes only and does not constitute a contract between CIEE and any applicant, student, institution, or other party. The courses, as described, may be subject to change as a result of ongoing curricular revisions, assignment of lecturers and teaching staff, and program development. Courses may be canceled due to insufficient enrollment.
"(GI)" denotes courses that originated at CIEE's Global Institutes and that are offered at multiple CIEE sites.
Dates & Fees
You get more for every dollar when you study abroad with CIEE, because our high-quality programs include everything from excursions to insurance. There are no hidden charges, and no disappointing surprises when you arrive.
Program

Application Due

Start Date

End Date

Fees & Housing

Program

January 2024

3 weeks
Application Due

Deadline Passed

Start Date

End Date

Fees & Housing $3,950
To help you budget, keep in mind that students are responsible for the cost of international airfare, local transportation, books and supplies, visas, and personal expenses. In addition, your college or university may charge additional fees for study abroad, or may require you to receive a transcript via CIEE's School of Record, which carries an additional fee of $500.
Program Fees
CIEE offers the most student support of any provider in its program fee, including an airport greeting, full-time leadership and support, orientation, cultural activities, local excursions, pre-departure advising, and CIEE iNext travel protection with benefits.
Participation Confirmation = $300*
Educational Costs = $2,310**
Housing = $1,260
Insurance = $80
Total Fees = $3,950
Estimated Costs
Students are responsible and manage costs related to travel, meals, books, and personal expenses. Below are estimates for consideration.
Meals not included in program fee = $315†
International Airfare = $1,600††
Local Transportation = $100
Books & Supplies = $100
Personal expenses = $145†††
Total Costs = $2,260
Financial Aid
CIEE offers the most grants and scholarships of any study abroad organization, including $8 million/year in travel grants, merit-based scholarships, institutional and MSI grants, and Gilman Go Global Grants.
*non-refundable
**direct cost of education charged uniformly to all students
†For groceries if you plan on making your own meals, budget more money if you plan on eating out regularly.
††round-trip based on U.S. East Coast departure
†††$100 emergency fund + cell phone expense + toiletries (Sim requires one-time fee of $25)
Pre-departure Advising
Advising before you depart to set goals and answer questions
Optional on-site airport meet-and-greet
Orientation
Introduction to your program plus practical information about living in your host city
On-site Staff
Full-time program leadership and support in your city
Cultural and/or Co-curricular Activities
Excursions and/or Study Tours
Travel Protection
CIEE iNext travel protection
24/7 emergency on-site support
Staff
Conor's passion for Japan began 12 years ago when he studied abroad in Tokyo. He holds an MA in Japanese & Asian History from Saitama University and is a specialist in Kyoto history.
Izumi was born in Kyoto and studied abroad in the US when she was in high school. She is passionate about helping students make their study abroad experience meaningful and fruitful (and baking bread on the weekend!).
Natsuki previously managed in retail, has a loving family of two sons and, in her spare time, she likes to work out and watch Netflix. She looks forward to welcoming you all to Kyoto!
Get Started Steps
Get Started
Here's what you need to do to take the next steps:
Start an Application 
You're one step closer to an amazing study abroad experience!
Connect With Your Campus Study Abroad Office 
Share your plans and confirm you're on track to meet all required steps to go abroad. 
Contact Us 
Send us an email if you still have questions or need information about applying to this program.