Credit
3 semester hours
4.5 quarter hours
Eligibility
Overview
Visit
the Roman Forum and the Colosseum and walk in the steps of the ancient Romans
Climb to the top
of St. Peter's Dome and experience a stunning view of the Eternal City
Stroll through the piazzas
eat pizza al taglio (pizza by the slice), gelato, and enjoy a cappuccino in the busy cafes
753 B.C.
Rome was founded by Romulus
19
Public Parks and Villas
Experience
Your Destination
Rome is simply a one-of-a-kind destination. Once the center of Western civilization, and with a history spanning almost 3,000 years, Rome houses some of the world's most-visited attractions. It also includes Vatican City, an independent country within Rome's boundaries and the seat of the Pope, not to mention the home to the Vatican Museums, including the Sistine Chapel. Thanks to its unparalleled beauty, Rome repeatedly hosts international movie productions – more recently for "The House of Gucci," the upcoming "Mission Impossible – Dead Reckoning," and Angelina Jolie's "Without Blood."  
CIEE Rome occupies the main floor of the prestigious Palazzo Capizucchi and it is a short walk from some of the main landmarks of the city, such as the Colosseum, the Trevi Fountain, and the Spanish Steps.
CIEE wants all our students to feel welcomed, supported, and empowered to succeed while studying abroad. Local CIEE staff have provided details about conditions and cultural attitudes that students with specific identities might encounter in Rome.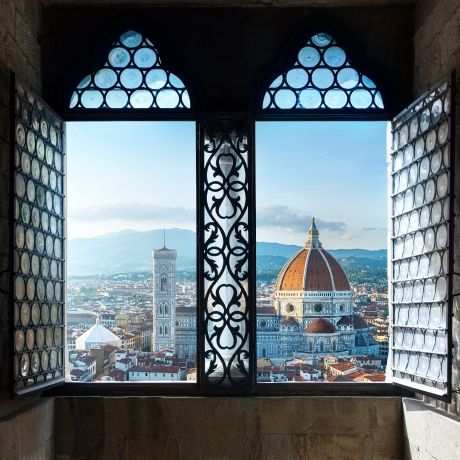 Featured Excursion
Immerse yourself in the open-air museum of Florence: enjoy the wonderful sights and find your way in the narrow alleys while window-shopping, exploring some of the most famous monuments in the world, such as Michelangelo's David sculpture. 
Explore the breathtaking gardens in the Renaissance Villa D'Este.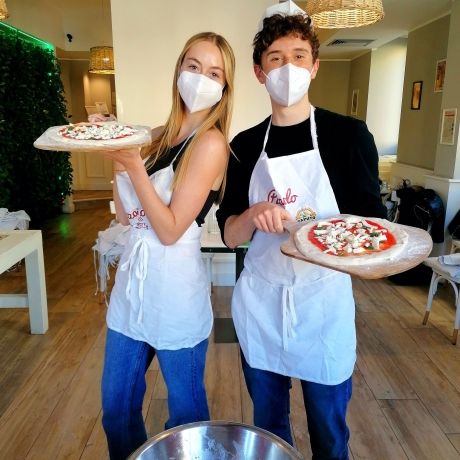 Other Excursions & Activities
Learn the history of wine and winemaking! 
Tour the Colosseum 
Bike around the famous Villa Borghese park  
Explore the hidden treasures of the ancient city, with a tour of the Capitoline Museums 
Visit the world-renowned Cinecittà Studios where the Rome HBO series was filmed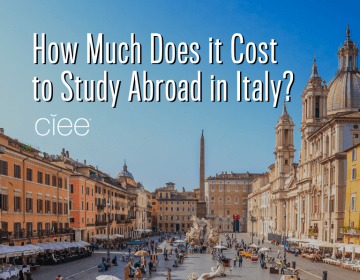 The cost of study ing abroad in Italy is a real concern for many of our students. We get it. It's not inexpensive. But it may not be out of... keep reading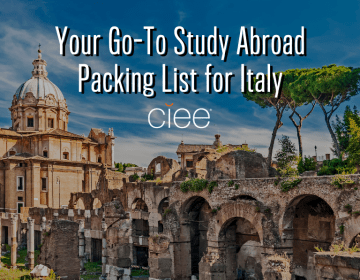 I nterested in studying abroad in Italy ? Great choice! Spending time living and learning in Rome , Italy's historic capital, is guaranteed to offer an exciting adventure filled with... keep reading
By Teresa Spinucci – Student Life Helper You know when you've had something right under your nose your whole life, and you only realize its beauty when provided with a... keep reading
"This course was absolutely amazing"

Drake D., North Carolina Central University
Housing
All housing is within a 45-minute commute to CIEE.
Apartments: Most students live in apartments shared with other CIEE students. If local health and safety regulations permit, most students live in double or triple rooms. Each apartment will have shared common spaces, including a kitchen and bathroom.
Residence Halls /Hotels: Students usually live with a mix of CIEE students. If local health and safety regulations permit, students live in double, or triple rooms.  
Housing is tight in Rome. If we can't accommodate your first housing choice, we'll let you know before you arrive.
Academics
During the January in Rome program, all students take one 3-credit course. In-class work is augmented with co-curricular visits to the city's rich variety of cultural institutions and organizations relevant to the course offering. Classes are held at CIEE Rome. 
CIEE Rome is located in Rome's historic center, within walking distance from the Colosseum, Trevi Fountain, Navona Square, and Campo de' Fiori neighborhood, right in the heart of Rome. 
Courses
Visual and Performing Arts
Health Professions and Related Programs
Social Sciences
Note: This course listing is for informational purposes only and does not constitute a contract between CIEE and any applicant, student, institution, or other party. The courses, as described, may be subject to change as a result of ongoing curricular revisions, assignment of lecturers and teaching staff, and program development. Courses may be canceled due to insufficient enrollment.
"(GI)" denotes courses that originated at CIEE's Global Institutes and that are offered at multiple CIEE sites.
Dates & Fees
You get more for every dollar when you study abroad with CIEE, because our high-quality programs include everything from excursions to insurance. There are no hidden charges, and no disappointing surprises when you arrive.
Program

Application Due

Start Date

End Date

Fees & Housing

Program

January 2024

3 weeks
Start Date

End Date

Fees & Housing $4,150
To help you budget, keep in mind that students are responsible for the cost of international airfare, local transportation, books and supplies, visas, and personal expenses. In addition, your college or university may charge additional fees for study abroad, or may require you to receive a transcript via CIEE's School of Record, which carries an additional fee of $500.
Program Fees
CIEE offers the most student support of any provider in its program fee, including an airport greeting, full-time leadership and support, orientation, cultural activities, local excursions, pre-departure advising, and CIEE iNext travel protection with benefits.
Participation Confirmation = $300*
Educational Costs = $2,950**
Housing = $820
Insurance = $80
Total Fees = $4,150
Estimated Costs
Students are responsible and manage costs related to travel, meals, books, and personal expenses. Below are estimates for consideration.
Meals not included in program fee = $357†
International Airfare = $1,250††
Local Transportation = $40
Books & Supplies = $25
Personal expenses = $150†††
Total Costs = $1,822
Financial Aid
CIEE offers the most grants and scholarships of any study abroad organization, including $8 million/year in travel grants, merit-based scholarships, institutional and MSI grants, and Gilman Go Global Grants.
*non-refundable
**direct cost of education charged uniformly to all students
†For students in homestays, families provide 2 meals (breakfast and dinner). For students in apartments, you should budget approx. $278 per month for groceries if you plan on making your own meals, and more if you plan on eating out regularly.
††round-trip based on U.S. East Coast departure
†††$100 emergency fund + cell phone expense + toiletries
Pre-departure Advising
Advising before you depart to set goals and answer questions
Optional on-site airport meet-and-greet
Orientation
Introduction to your program plus practical information about living in your host city
On-site Staff
Full-time program leadership and support in your city
Cultural and/or Co-curricular Activities
Excursions and/or Study Tours
Travel Protection
CIEE iNext travel protection
24/7 emergency on-site support
Staff
Giulia Bottero is the Academic Director and an Italian language instructor for CIEE Rome.
Get Started Steps
Get Started
Here's what you need to do to take the next steps:
Start an Application 
You're one step closer to an amazing study abroad experience!
Connect With Your Campus Study Abroad Office 
Share your plans and confirm you're on track to meet all required steps to go abroad. 
Contact Us 
Send us an email if you still have questions or need information about applying to this program.