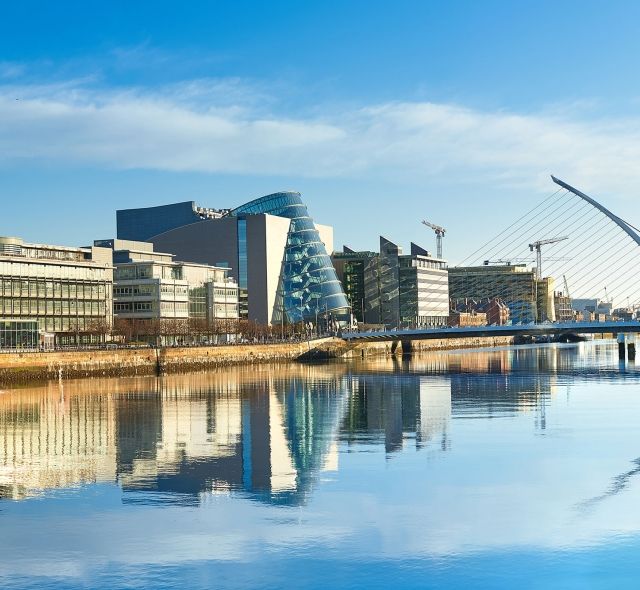 Douglass O'Connell Summer Global Internship
Overview
Fully-sponsored
by CIEE, the Government of Ireland, and the African American Irish Diaspora Network.
All applicants
all eligible applicants receive a Douglass-O'Connell Scholars Grant that they may use for a 2024 or 2025 CIEE Summer Global Internship program.
Submit by February 1, 2024
Late applications will not be considered for any reason and all application tasks must be finished in their entirety.
8
Week summer internship in Dublin
10
Students will be selected
Experience
The Destination
A small capital with a big reputation, Dublin is the capital with Europe's youngest population. Live amongst the famously friendly and outgoing citizens and experience the vibrant business, social, and cultural scene. 
The most cosmopolitan, international, and progressive city in an increasingly diverse and global Ireland, Dublin retains the rich literary and social heritage, humor, and attitude for which it is famed. With a young, educated population transforming and regenerating some of Dublin's older districts, it is an exciting time to live in the city. 
CIEE Dublin is located on Dublin City University's All Hallows Campus in the leafy suburb of Drumcondra, one mile North of the city center.
CIEE wants all our students to feel welcomed, supported, and empowered to succeed while studying abroad. Local CIEE staff have provided details about conditions and cultural attitudes that students with specific identities might encounter in Dublin.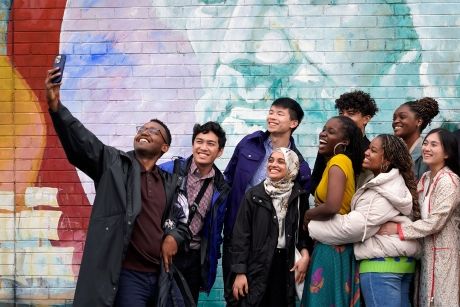 Excursions & Activities
Explore Central Dublin following the footsteps of Frederick Douglass & Daniel O'Connell 
Visit Glasnevin Cemetery and Museum including a visit to Daniel O'Connell Monument and final resting place. 
Journey to Northern Ireland and visit the Peace Wall, Frederick Douglass Mural, and Frederick Douglass statue in Belfast.
Get to know Dublin with cultural activities such as guided walking tours, visits to museums, cathedrals, galleries, and outdoor excursions
Walk in the footsteps of 6th-century monks at Glendalough, an ancient monastic settlement nestled in a spectacular valley in the Wicklow Mountains.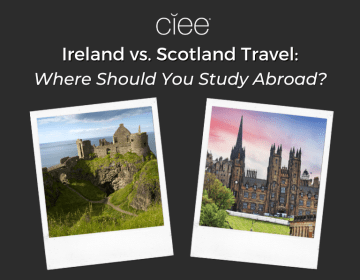 When you think of Ireland and Scotland , you might be imagining two very similar countries – lots of greenery, the U.K., cafés, and packed, early histories. And although there... keep reading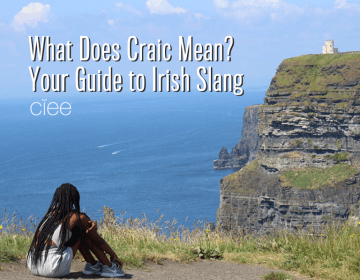 For those not from Ireland , the frequent use of "craic" by the Irish can be a little confusing. We get it. The concept can be a mix of a... keep reading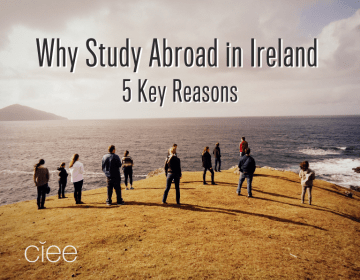 There is no doubt about it : The small country of Ireland has a huge amount of opportunity for those looking for an exciting adventure. Especially for students looking to... keep reading
Housing
Apartments are in purpose-built student residence communities within 30 minutes walking distance of Dublin City's center. Students have a private bedroom and en suite bathroom with shower facilities. Student rooms have study space and ample storage in an apartment suite shared with up to seven other students. This includes communal living, dining, and kitchen spaces.
Lounges and kitchens allow students to meet over meals, cultural activities, and special events. Larger common areas are on the ground floor and inner courtyards offer comfortable spaces to work and relax.  Laundry facilities and internet access are provided.
Meals are not included in the program housing, but a wide range of restaurants and a market are located nearby.
Students can prepare their own meals in the full kitchen . CIEE provides basic cooking utensils and cleaning supplies. Students can also explore the myriad of restaurants in our multicultural neighborhood or throughout the city.
Academics
As a Douglass-O'Connell Global Intern in Dublin, you will spend June 14 to August 10, 2024 participating in a work placement in an Irish organization and receiving academic credit in Irish history and culture with a special exploration of the influence Daniel O'Connell had on Frederick Douglass and their lifetime legacies as successful businessmen and leaders of social change.  
The program pays tribute to Frederick Douglass' transformative experience visiting Ireland more than 175 years ago, when Douglass was embraced by the Irish people and met the famous Irish reformer, Daniel O'Connell. This immersive opportunity celebrates their exceptional contributions to society and their notable business acumen, inspiring young professionals to emulate their success and apply their principles in the modern world. Co-sponsored by CIEE, the Government of Ireland, and the African American Irish Diaspora Network, the program pays homage to these distinguished figures by integrating the values of equality, entrepreneurship, and advocacy into a dynamic and educational internship experience. 
Courses
The 2024 Douglass-O'Connell Global Interns will take a three-credit academic course in Irish History and Culture with a special exploration of the influence Daniel O'Connell had on Frederick Douglass and their lifetime legacies as successful businessmen and leaders of social change. In addition to this course, Douglass-O'Connell Global Interns will participate in a fully immersive internship at an Irish organization. 
Note: This course listing is for informational purposes only and does not constitute a contract between CIEE and any applicant, student, institution, or other party. The courses, as described, may be subject to change as a result of ongoing curricular revisions, assignment of lecturers and teaching staff, and program development. Courses may be canceled due to insufficient enrollment.
"(GI)" denotes courses that originated at CIEE's Global Institutes and that are offered at multiple CIEE sites.
Dates & Fees
Co-sponsored by CIEE, the Government of Ireland, and the African American Irish Diaspora Network, the award covers the cost of travel, housing, field trips, and a three-credit course taught by CIEE. Meals and recreational activities are not covered.
Program

Application Due

Start Date

End Date

Fees & Housing

Program

Summer 2024

8 weeks
Start Date

End Date
Program Fees
CIEE offers the most student support of any provider in its program fee, including an airport greeting, full-time leadership and support, orientation, cultural activities, local excursions, pre-departure advising, and CIEE iNext travel protection with benefits.
Estimated Costs
Students are responsible and manage costs related to travel, meals, books, and personal expenses. Below are estimates for consideration.
Financial Aid
CIEE offers the most grants and scholarships of any study abroad organization, including $8 million/year in travel grants, merit-based scholarships, institutional and MSI grants, and Gilman Go Global Grants.
Pre-departure Advising
Advising before you depart to set goals and answer questions
Optional on-site airport meet-and-greet
Orientation
Introduction to your program plus practical information about living in your host city
On-site Staff
Full-time program leadership and support in your city
Cultural and/or Co-curricular Activities
Excursions and/or Study Tours
Travel Protection
CIEE iNext travel protection
24/7 emergency on-site support
Get Started Steps
Get Started
Here's what you need to do to take the next steps:
START AN APPLICATION
You're one step closer to an amazing study abroad experience!
CONNECT WITH YOUR CAMPUS STUDY ABROAD OFFICE 
Share your plans and confirm you're on track to meet all required steps to go abroad.
CONTACT
Send us an email if you still have questions or need information about applying to this program.