Credit
3 semester hours
4.5 quarter hours
Eligibility
Application Deadline
The application deadline has passed.
Apply Now
Overview
THROUGH HISTORICAL EXCURSIONS
you'll gain a deep understanding of a country once torn apart by war that is now united and prospering.
WALK ONE OF THE LAST REMAINING STRETCHES OF THE BERLIN WALL
still in place at the East Side Gallery – the longest open-air art gallery in the world.
SPEND A DAY AT ZOOLOGISCHER GARTEN
Founded in 1844, it is the most visited zoo in Europe.
118
ARTISTS PAINTED THE EAST SIDE GALLERY
385
MILES OF BICYCLE PATHS
Experience
Your Destination
Berlin is the dynamic and fascinating capital city of a country with a complex history. As a center of German cultural and intellectual life, the influence of Berlin reverberates around the world. It offers an incredibly wide range of cultural offerings and has a moderate cost of living, making it an attractive place for artists and young people. Berlin is a fast-paced city in which to work, live, or study. 
Berlin's 24-hour public transportation system is extensive and connects the areas of the city accessibly and quickly. CIEE Berlin is steps from a neighborhood subway station with easy access to the rest of the city. Located in the heart of the Kreuzberg district, CIEE Berlin offers students easy access to a large public market hall, restaurants and cafés, and a variety of shops. 
Students may commute to classes or live on campus, where the classrooms, center staff, and social spaces are waiting to welcome you. Regardless of where you live, an introduction to the public transportation system is provided during orientation and students are responsible for securing their own public transportation pass. Program housing is convenient to public transportation.   
CIEE wants all our students to feel welcomed, supported, and empowered to succeed while studying abroad. Local CIEE staff have provided details about conditions and cultural attitudes that students with specific identities might encounter in Berlin.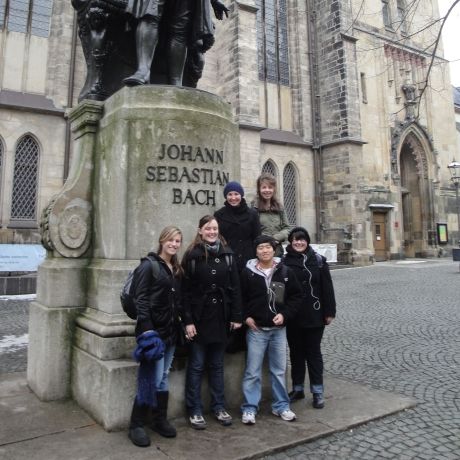 FEATURED EXCURSION
Join us on an exciting overnight excursion to Leipzig where you'll be able to literally walk in the footsteps of history – from Johann Sebastian Bach to the famous Monday Demonstrations that brought about the fall of the Berlin Wall and the end of the Cold War. Leipzig is a charming German city with a picturesque pedestrian zone Old Town that is sure to impress.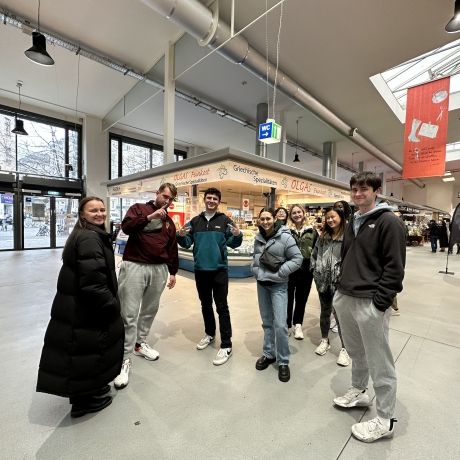 OTHER EXCURSIONS & ACTIVITIES
Enjoy Berlin's numerous cafés, street musicians, flea markets, pop up-stores, and galleries. 
Take in a performance at one of Berlin's three major opera houses: the Deutsche Oper, the Berlin State Opera, and the Komische Oper. 
Immerse yourself in the local customs by living with a host family. It's the ideal environment for meaningful cultural exchange. 
Interpret the contrasting history of a divided Berlin through works of art. Take a guided tour along the East Side Gallery, the largest and longest-lasting open-air gallery in the world.  
Sample your way through Berlin's legendary street food - Döner Kebap, Currywurst, Market Hall IX, and much more!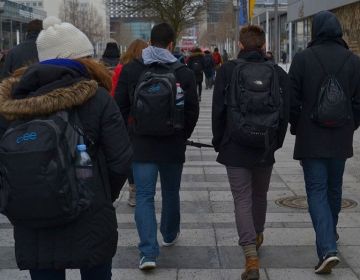 Did you know a new start-up is founded in Berlin every 14 hours? That means 500 new companies join Berlin's thriving business landscape every year! You could make yours one... keep reading
"I enjoyed every part of the experience and will surely be back"

Devon V., University of Wisconsin - Stout

"Expert teaching and awesome touring."

Cecil A., Wofford College
Housing
Residence Hall: Most students live in an on-campus residence hall with a mix of CIEE students, local university students, and resident assistants. Students live in double, triple, or quad rooms with en suite bathrooms and shower facilities. Lounges and kitchens allow students to meet over meals, cultural activities, study groups, and special events. There are shared spaces, with students enjoying the benefits but also the responsibility of taking care of them. Larger common areas are on the ground floor and inner courtyards offer comfortable spaces to work and relax. 
 
Homestay: A limited number of homestays are available, with preference given to those whose universities require living with a local family. Students can indicate their preferences in the pre-departure housing survey. Homestays can be located up to 45 minutes away from campus.  
 
Apartments: In the event that there is not enough space in the Residence Hall, students may also be housed in shared apartments. Each apartment will have shared common spaces, including a kitchen and bathroom. The apartments are easily reachable by public transportation (approximately 30 minutes away from CIEE Berlin). 
 
Accepted students can indicate a housing preference, but final housing assignments are solely at the discretion of CIEE.
Residence Hall or Apartments: Meals are not included in the program cost. In both housing styles, students can prepare their own meals within the kitchen facilities. CIEE provides basic cooking utensils and cleaning supplies. Students can also explore the myriad restaurants in our multicultural Kreuzberg neighborhood or throughout the city. 
 
Homestay: Students who live with homestay families receive breakfast and dinner daily.
Academics
During the January in Berlin program, students spend three weeks focused on coursework complemented with co-curricular activities to immerse you in the culture and facilitate intercultural learning.
Courses
Business, Economics, Management, and Marketing
Literature, Linguistics, and Writing
Note: This course listing is for informational purposes only and does not constitute a contract between CIEE and any applicant, student, institution, or other party. The courses, as described, may be subject to change as a result of ongoing curricular revisions, assignment of lecturers and teaching staff, and program development. Courses may be canceled due to insufficient enrollment.
"(GI)" denotes courses that originated at CIEE's Global Institutes and that are offered at multiple CIEE sites.
Dates & Fees
You get more for every dollar when you study abroad with CIEE, because our high-quality programs include everything from excursions to insurance. There are no hidden charges, and no disappointing surprises when you arrive.
Program

Application Due

Start Date

End Date

Fees & Housing

Program

January 2024

3 weeks
Application Due

Deadline Passed

Start Date

End Date

Fees & Housing $3,950
To help you budget, keep in mind that students are responsible for the cost of international airfare, local transportation, books and supplies, visas, and personal expenses. In addition, your college or university may charge additional fees for study abroad, or may require you to receive a transcript via CIEE's School of Record, which carries an additional fee of $500.
Program Fees
CIEE offers the most student support of any provider in its program fee, including an airport greeting, full-time leadership and support, orientation, cultural activities, local excursions, pre-departure advising, and CIEE iNext travel protection with benefits.
Participation Confirmation = $300*
Educational Costs = $2,690**
Housing = $880
Insurance = $80
Total Fees = $3,950
Estimated Costs
Students are responsible and manage costs related to travel, meals, books, and personal expenses. Below are estimates for consideration.
Meals not included in program fee = $63†
International Airfare = $1,250††
Local Transportation = $100
Books & Supplies = $100
Personal expenses = $130†††
Total Costs = $1,643
Financial Aid
CIEE offers the most grants and scholarships of any study abroad organization, including $8 million/year in travel grants, merit-based scholarships, institutional and MSI grants, and Gilman Go Global Grants.
*non-refundable
**direct cost of education charged uniformly to all students
†For students in homestays, families provide 2 meals a day. For students in residence halls/apartments, you should budget approx. $268 per month for groceries if you plan on making your own meals, and more if you plan on eating out regularly.
††round-trip based on U.S. East Coast departure
†††Includes 3 GB data/month. 6 GB data would cost an extra $9/month
Pre-departure Advising
Advising before you depart to set goals and answer questions
Orientation
Introduction to your program plus practical information about living in your host city
On-site Staff
Full-time program leadership and support in your city
Cultural and/or Co-curricular Activities
Excursions and/or Study Tours
Travel Protection
CIEE iNext travel protection
24/7 emergency on-site support
Staff
Andrea Adam Moore holds a Master in Business Administration. Andrea was previously the Director of the Indiana University Europe Gateway in Berlin. Earlier in her career she directed German University...
Greta Krumbholz has a Master's degree in German and Slavic Studies and a Ph.D. in linguistics at the University of Hamburg. She has taught at the University of Hamburg, the...
Get Started Steps
Get Started
Here's what you need to do to take the next steps:
Start an Application 
You're one step closer to an amazing study abroad experience!
Connect With Your Campus Study Abroad Office 
Share your plans and confirm you're on track to meet all required steps to go abroad. 
Contact Us 
Send us an email if you still have questions or need information about applying to this program.