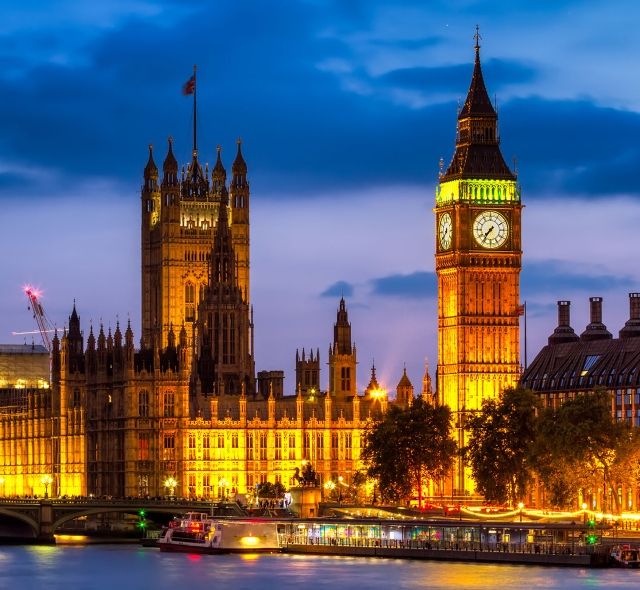 London, England
Amsterdam, Netherlands
Summer Comparative Public Health Systems II + III ( London + Amsterdam)
Credit
6 total semester hours
9 total quarter hours
Eligibility
Overview
EXPLORE DISTINCTIVELY DIFFERENT
approaches to Western public health, illuminated by site visits and expert guest lectures.
EVALUATE
the political discourse surrounding "free" healthcare.
GET AN INSIDER'S LOOK
at iconic sites in London and Amsterdam, and beyond.
180
NATIONALITIES IN AMSTERDAM
250+
LANGUAGES SPOKEN IN LONDON
7M
ARTIFACTS IN THE BRITISH MUSEUM
Experience
Your Destination
LONDON
Home of the 2012 Olympic Games, London is a vibrant and cosmopolitan city. London is at the cutting edge of the arts scene and provides access to music, fashion, free museums, comedy, and theatre. There are abundant opportunities for enjoying summer in London – with eight Royal Parks right in the heart of the city and more green space than any comparable city in the world. 
London is the perfect place to analyze Global Health. Our multicultural city and broad socioeconomic variety allow students to study pathologies that other more homogeneous cultures lack. You also have access to the resources of the British Medical Association, the Royal Society of Medicine, and the Wellcome Trust. 
CIEE London is within walking distance of all the city's tourist highlights, but it is also tucked away in the University district. Located in a beautiful Georgian square just moments from the British Museum and 10 minutes from Trafalgar Square and its art galleries, CIEE London has a lounge, cafe, and study areas - perfect for discussing your program with your fellow students.

CIEE wants all our students to feel welcomed, supported, and empowered to succeed while studying abroad. Local CIEE staff have provided details about conditions and cultural attitudes that students with specific identities might encounter in London.
AMSTERDAM
Wondering why it's so easy to feel at home in Amsterdam? Chalk it up to "gezellig." Roughly translated, that's Dutch for cozy – a sensibility commonly associated with this city. Compact and easy to navigate by bike or on foot, Amsterdam houses more than 6,000 buildings from the 16th century forward, protected for historic importance. It's loaded with charm and treasures, from gabled houses standing shoulder-to-shoulder along the canals, to masterpieces by Van Gogh, Rembrandt, and Matisse.  What's more, CIEE Amsterdam is located in the tranquil Plantage neighborhood, where students can easily drop in to speak to CIEE staff, study, or simply hang out in the student area between classes. An exceptionally walkable and bike-friendly city, Amsterdam also has easily accessible public trams, buses, and metros.

CIEE wants all our students to feel welcomed, supported, and empowered to succeed while studying abroad. Local CIEE staff have provided details about conditions and cultural attitudes that students with specific identities might encounter in Amsterdam.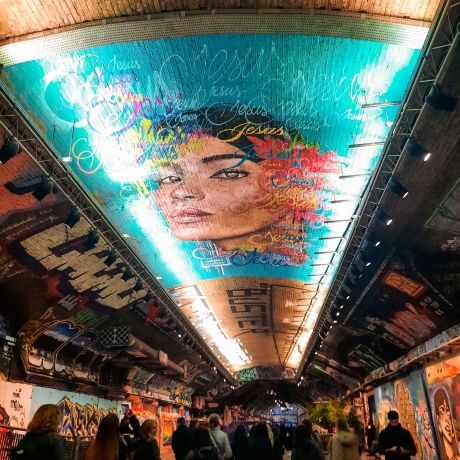 EXCURSIONS - LONDON
Explore a historic location outside London on a day trip. Previous trips have included Oxford, Cambridge, Bath, and Canterbury. 
See the famous Tower of London, home of the crown jewels recently valued at around $5.8 billion. 
Explore central sites in the City of Westminster, home of Buckingham Palace, Whitehall, St. James' Park, Westminster Abbey, Big Ben, and the Palace of Westminster. 
Browse the urban markets on Sundays in Shoreditch and Brick Lane or enjoy fabulous food on Fridays in Borough Market, and hunt for souvenirs in Camden. 
Experience Shakespeare at the Globe Theatre on the banks of the River Thames.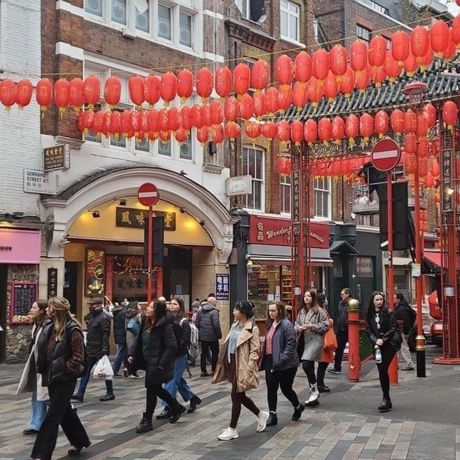 EXCURSIONS - AMSTERDAM
During orientation, venture out into the countryside to visit an old medieval castle, a small authentic fisherman's town, or a small Dutch town bearing immense historical significance.
Take a day trip that highlights Dutch innovation outside the city rings of Amsterdam, such as a trip to the Eastern Scheldt storm surge barrier, or an architecture and design-focused visit to Rotterdam. 
Explore Amsterdam's world-famous canal belt on a private canal cruise, or leave the city behind and paddle a canoe through the Amsterdamse Bos (Amsterdam Forest) .
Relax during an open-air movie screening at a popular Amsterdam city beach. 
Go to a concert, play, flea market, or a special exhibition in one of Amsterdam's museums.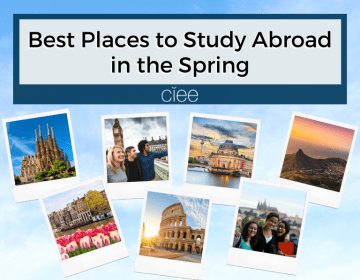 Considering a spring study abroad program? You're in the right place. Earmark this piece as we tackle the 10 best places to study abroad in the spring. These locations include... keep reading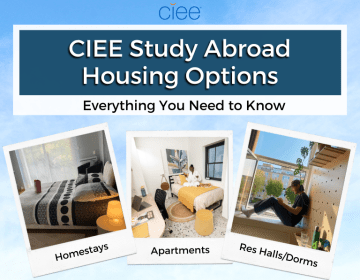 If you're considering a study abroad program, it's likely that you're also thinking about your housing options! While you're anticipating exciting courses and foreign country exploration, having a better understanding... keep reading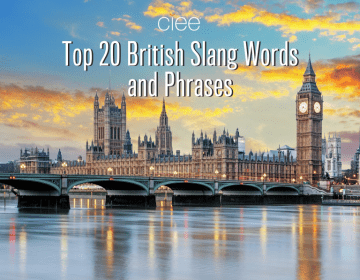 Ahead of any international travel, it's always smart to brush up on common phrases in your destination's official language to ensure you can communicate well enough to know what you're... keep reading
Housing
LONDON
London is home to 18 universities and competition for housing is fierce. Students live in shared apartments, dorms, or hotels that, sharieng twin rooms, and a bathroom, and basic kitchen facilities. We are regularly impressed with the meals our students manage to achieve in their kitchen areas. CIEE supplies bedding and a kitchen pack. 
All our housing is within a 45-minute commute of CIEE London by public transportation. We will get you started with a travel card when you arrive, but you should budget for travel expenses while you are in London. Don't worry - you will feel like a local in no time! 
Space in London is limited and living spaces are compact!  
AMSTERDAM
Housing is tight in Amsterdam, however CIEE offers a variety of accommodation options within the Amsterdam metropolitan area, including residence halls and shared apartments. All housing is within a 40 to 50-minute commute to CIEE Amsterdam. If we cannot accommodate your first choice of housing, we will let you know before you arrive onsite.
Residence Halls/Shared Apartments: Students live in single or shared rooms with ensuite bathrooms and access to kitchen facilities. Common areas are available in each of the housing options.
Transportation: Students are responsible for their own travel costs in and around Amsterdam. The best way to travel around the city is by bike. Whatever the weather, the Dutch will steadfastly cycle to work, school, and back home – and you can too! CIEE staff will fill you in on all your options for getting a bike once you arrive onsite.
LONDON
Meals are not provided - students will have the facilities to prepare basic meals. This may not be a full kitchen, but students can make their own food.
Students can also take advantage of a rich variety of cafes and restaurants in their housing area. Comparative Public Health students are especially encouraged to sample as wide a range of local and multicultural food as possible from the array of choices available to them within walking distance of their housing and the CIEE London Study Center. We will be talking about this in class as part of our course.
AMSTERDAM
Apartments and Residence Halls: Meals are not included.
Students can take advantage of a rich variety of cafes and restaurants within walking distance.
Academics
This eight-week program allows students to study two of the world's leading healthcare systems and build a foundation in public health. All students in this program are required to take the following courses: Contemporary Challenges in Global Health and Public Health in the Netherlands. In London, students connect with healthcare professionals and researchers, visit sites that demonstrate the impact of cultural dynamics on the delivery of public healthcare, and evaluate global trends and agendas in public health. In Amsterdam, students discuss the health effects of drugs and alcohol, euthanasia, and home birth.
In-class work is augmented with co-curricular visits to the city's rich variety of cultural institutions and organizations relevant to the course offerings.
CIEE Global Institute – London is located in the heart of Bloomsbury. It sits in one of the most vibrant and student-populated neighborhoods of central London and features Georgian-style architecture, classrooms, a café, garden terrace, and tech zone.
CIEE Amsterdam is conveniently located across the street from the University of Amsterdam, embedded in a thriving, student-friendly neighborhood with cafés, restaurants, and picturesque canals.
Courses
Note: This course listing is for informational purposes only and does not constitute a contract between CIEE and any applicant, student, institution, or other party. The courses, as described, may be subject to change as a result of ongoing curricular revisions, assignment of lecturers and teaching staff, and program development. Courses may be canceled due to insufficient enrollment.
"(GI)" denotes courses that originated at CIEE's Global Institutes and that are offered at multiple CIEE sites.
Scholarships
Scholarships & Grants
CIEE offers scholarships and grants annually to help students like you make your study abroad dream a reality.
Students who apply to this program are eligible for the following scholarships and grants:
Ping Scholarships for Academic Excellence
Global Access Initiative (GAIN) Grants
McDermott Health Sciences, Nursing, and Public Health Merit Scholarships
Stohl International Undergraduate Research Scholarships
CIEE Gilman Go Global Grant
MSI Grant
CIEE Stem Scholarship
To be considered, submit the CIEE Scholarships & Grants application within your CIEE program application.
Dates & Fees
You get more for every dollar when you study abroad with CIEE, because our high-quality programs include everything from excursions to insurance. There are no hidden charges, and no disappointing surprises when you arrive.
Program

Application Due

Start Date

End Date

Fees & Housing

Program

Summer Session II and III 2024

8 weeks
Start Date

End Date

Fees & Housing $9,250
To help you budget, keep in mind that students are responsible for the cost of international airfare, local transportation, books and supplies, visas, and personal expenses. In addition, your college or university may charge additional fees for study abroad, or may require you to receive a transcript via CIEE's School of Record, which carries an additional fee of $500.
Program Fees
CIEE offers the most student support of any provider in its program fee, including an airport greeting, full-time leadership and support, orientation, cultural activities, local excursions, pre-departure advising, and CIEE iNext travel protection with benefits.
Participation Confirmation = $300*
Educational Costs = $5,553**
Housing = $3,200
Insurance = $197
Total Fees = $9,250
Estimated Costs
Students are responsible and manage costs related to travel, meals, books, and personal expenses. Below are estimates for consideration.
Meals not included in program fee = $371†
International Airfare = $1,250
Local Transportation = $140
Books & Supplies = $50
Personal expenses = $130
Other = $161
Total Costs = $2,102
Financial Aid
CIEE offers the most grants and scholarships of any study abroad organization, including $8 million/year in travel grants, merit-based scholarships, institutional and MSI grants, and Gilman Go Global Grants.
*non-refundable
**direct cost of education charged uniformly to all students
†For groceries if you plan on making your own meals, budget more money if you plan on eating out regularly.
Pre-departure Advising
Advising before you depart to set goals and answer questions
Optional on-site airport meet-and-greet
Orientation
Introduction to your program plus practical information about living in your host city
On-site Staff
Full-time program leadership and support in your city
Cultural and/or Co-curricular Activities
Excursions and/or Study Tours
Travel Protection
CIEE iNext travel protection
24/7 emergency on-site support
Staff
Get Started Steps
Get Started
Here's what you need to do to take the next steps:
START AN APPLICATION
You're one step closer to an amazing study abroad experience!
CONNECT WITH YOUR CAMPUS STUDY ABROAD OFFICE 
Share your plans and confirm you're on track to meet all required steps to go abroad.
CONTACT US
Send us an email if you still have questions or need information about applying to this program.