Credit
3 semester hours
4.5 quarter hours
Eligibility
Application Deadline
The application deadline has passed.
Apply Now
Overview
Find out why
Denmark is rated one of the happiest countries in the world
Explore
Copenhagen's unique architectural mix of old and new
Live in a city
designated the world's first "Bike City;" even in winter
2
Position in the World Happiness Report
9
Out of 10, How Many Danes Own a Bike
29
Number of Islands in Denmark
Experience
The Destination
Copenhagen has transformed in the past decade, emerging as a "must-stop" destination in Europe. Fine dining, natural wines, and its reputation as an environmentally friendly city have earned Copenhagen top billing from foodies, oenophiles, students, and those seeking refuge in one of "the happiest countries in the world." Despite playing host to more than 600,000 residents, Copenhagen retains an old-world, small-village feel, with more bicycles than cars traveling its streets. In what's widely considered Europe's safest capital city, students discover an endless array of cultural activities, history, architecture, and more.  
CIEE Copenhagen is located in the center of the city, roughly a 5-minute walk will take you to Nørreport station and get you to everywhere you want to go in the city. Being in the heart of the city, an array of shops and restaurants are also within walking distance of the Study Center. CIEE Copenhagen offers a beautiful and very comfortable lounge where students love to work, hang out, people-watch, and take naps!
CIEE wants all our students to feel welcomed, supported, and empowered to succeed while studying abroad. Local CIEE staff have provided details about conditions and cultural attitudes that students with specific identities might encounter in Copenhagen.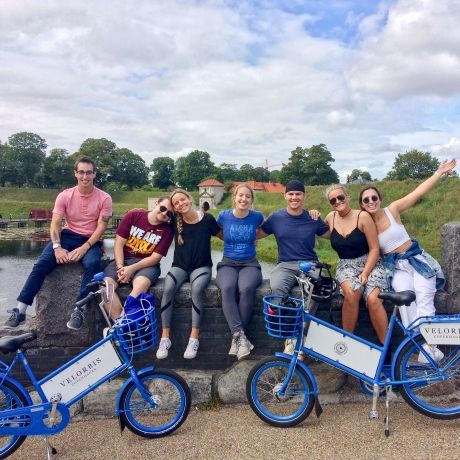 Excursions & Activities
Ample activities and excursions will be offered to immerse you in Danish culture and historical heritage. Past activities have included:
Visiting the Happiness Museum- the first of its kind worldwide!   
Touring Nordhavn, which has been named the "sustainable city of the future." 
Taking a trip to explore Hamlet's Castle in Helsingør - just one of many castles harboring the stories of Scandinavia's past.  
Experiencing Danish hygge – a lifestyle trend described as a quality of coziness and comfortable conviviality that engenders a feeling of contentment or well-being.  
Taking a day trip to Sweden!  After a short train trip across the bridge, you will tour and explore the young city of Malmø (where half the population is under 35), where its cobblestone streets, cafes, and shops will delight you.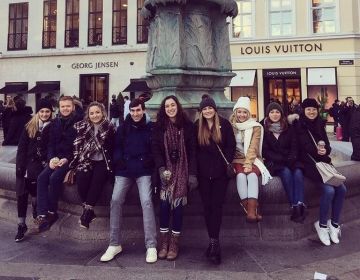 Maybe you're already familiar with terms like the heterosexual matrix , queer gaze , and Gaga feminism . But have you considered how language, representation, and power shape your experience... keep reading
"It was an amazing experience both academically and socially. The CIEE not only provides us with an enlightening education but, also educates us on the world around us. I learned so much about Denmark, which played a huge role in my adjustment period."

Jordan M., Colby College
Housing
Residence Halls: Most students will stay in a dorm room at a residence hall. The residence hall houses international students, local students, and young professionals. Each dorm room is equipped with a kitchenette and an attached bathroom, with single and double bedrooms. There are also shared common spaces; each floor has a large communal kitchen, multiple study and hangout areas, and gym facilities available.   
Apartments: Some students may be housed in shared apartments with other CIEE students. Each apartment will have double bedrooms and shared common spaces, such as a kitchen and bathroom.   
Accepted students can indicate a housing preference, but final housing assignments are solely at the discretion of CIEE. 
The commute to CIEE Copenhagen will take no longer than 30 minutes from residence halls or apartments, either by biking or using public transportation. The distance from housing to CIEE Copenhagen can vary depending on where the student resides. 
Meals are not included. Students may prepare their own meals in a kitchenette, or the residence hall's shared kitchen facilities. CIEE provides basic cooking utensils and cleaning supplies. There is also a wide range of restaurants and cafes located nearby. 
Academics
January students in Copenhagen will learn about the concept of "hygge" and find out why the Scandinavians are among the happiest people in the world. Students engage in 45 hours of course work taught by local experts in the subject field. Class time will consist of a mix of lectures, discussion, and experiential learning in and around the city.
Courses
Note: This course listing is for informational purposes only and does not constitute a contract between CIEE and any applicant, student, institution, or other party. The courses, as described, may be subject to change as a result of ongoing curricular revisions, assignment of lecturers and teaching staff, and program development. Courses may be canceled due to insufficient enrollment.
"(GI)" denotes courses that originated at CIEE's Global Institutes and that are offered at multiple CIEE sites.
Dates & Fees
You get more for every dollar when you study abroad with CIEE, because our high-quality programs include everything from excursions to insurance. There are no hidden charges and no disappointing surprises when you arrive.
Program

Application Due

Start Date

End Date

Fees & Housing

Program

January 2024

3 weeks
Application Due

Deadline Passed

Start Date

End Date

Fees & Housing $3,950
To help you budget, keep in mind that students are responsible for the cost of international airfare, local transportation, books and supplies, visas, meals and personal expenses. In addition, your college or university may charge additional fees for study abroad, or may require you to receive a transcript via CIEE's School of Record, which carries an additional fee of $500.
Program Fees
CIEE offers the most student support of any provider in its program fee, including an airport greeting, full-time leadership and support, orientation, cultural activities, local excursions, pre-departure advising, and CIEE iNext travel protection with benefits.
Participation Confirmation = $300*
Educational Costs = $2,250**
Housing = $1,320
Insurance = $80
Total Fees = $3,950
Estimated Costs
Students are responsible and manage costs related to travel, meals, books, and personal expenses. Below are estimates for consideration.
Meals not included in program fee = $266†
International Airfare = $1,250††
Local Transportation = $100
Books & Supplies = $25
Personal expenses = $135†††
Total Costs = $1,776
Financial Aid
CIEE offers the most grants and scholarships of any study abroad organization, including $8 million/year in travel grants, merit-based scholarships, institutional and MSI grants, and Gilman Go Global Grants.
*non-refundable
**direct cost of education charged uniformly to all students
†For groceries if you plan on making your own meals, budget more money if you plan on eating out regularly.
††round-trip based on U.S. East Coast departure
†††$100 emergency fund + cell phone expense + toiletries
Pre-departure Advising
Advising before you depart to set goals and answer questions
Optional on-site airport meet-and-greet
Orientation
Introduction to your program plus practical information about living in your host city
On-site Staff
Full-time program leadership and support in your city
Cultural and/or Co-curricular Activities
Excursions and/or Study Tours
Travel Protection
CIEE iNext travel protection
24/7 emergency on-site support
Staff
Brittany Perry has been the academic director for CIEE in Copenhagen since December 2021, and brings extensive teaching experience with her from several US institutions of Higher Education.
Student Life and Program Manager
Rebecca Siert has been with CIEE in Copenhagen since May 2019, and has studied abroad in the US and worked as an event planner and on projects for different organizations before joining CIEE Copenhagen.
Get Started Steps
Get Started
Here's what you need to do to take the next steps:
Start an Application 
You're one step closer to an amazing study abroad experience!
Connect With Your Campus Study Abroad Office 
Share your plans and confirm you're on track to meet all required steps to go abroad. 
Contact Us 
Send us an email if you still have questions or need information about applying to this program.