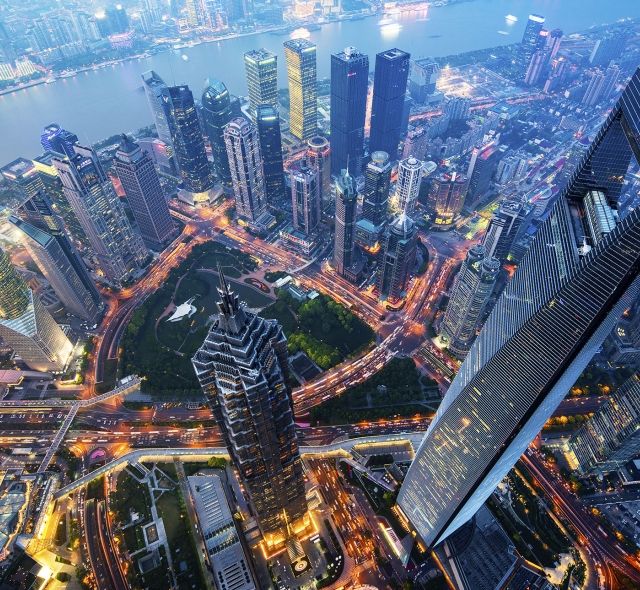 Open Campus Block
Study Program
Multi-Location Offering
Part-Time Internship
Overview
Get hands-on cultural experience
By learning Chinese cooking, calligraphy, martial arts, music, or mahjong.
Stroll the pedestrian mall on Nanjing Road
Shanghai's most famous street and the epicenter of busy commercial life in the city – admire the quintessential Shanghai Skyline as you walk through The Bund, former home to many western banks and their striking facades.
Step back in time
With visits to traditional water towns like Wuzhen and Zhujiajiao.
24.3 M
population of Shanghai
396
subway stations on 19 subway lines
1,614 FT
height of Shanghai World Financial Center
Experience
The Destination
Home to over 24 million people and known as a hub of commerce and finance, Shanghai is a city that has massively redeveloped over the last two decades. The new financial district of Pudong is home to some of the tallest skyscrapers in the world. Boasting the fastest-growing rapid transit system in the world, Shanghai's urban centers are conveniently connected by the world's first commercial high-speed Maglev train, 19 subway lines, and two of the world's busiest airports. 21st century businesses are increasingly interconnected through complex technological, political, social, and financial systems.  
The CIEE Shanghai Center is located in the Zhongbei Campus of East China Normal University in the downtown Putuo area, with convenient transportation connecting to all of Shanghai's major streets and landmarks.
CIEE wants all our students to feel welcomed, supported, and empowered to succeed while studying abroad. Local CIEE staff have provided details about conditions and cultural attitudes that students with specific identities might encounter in Shanghai.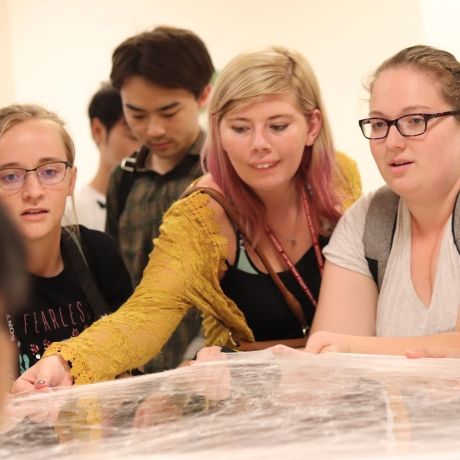 Excursions & Activities
Ample activities and day trips will be offered to immerse yourself in Chinese culture and learn about the city's historical heritage.  
Excursions can include:  
Shanghai Urban Planning Exhibition Center, Jade Buddha Temple, Shanghai Jewish Refugees Museum, Preserved Water Town in Shanghai 
Excursions to other cities like Hangzhou or Nanjing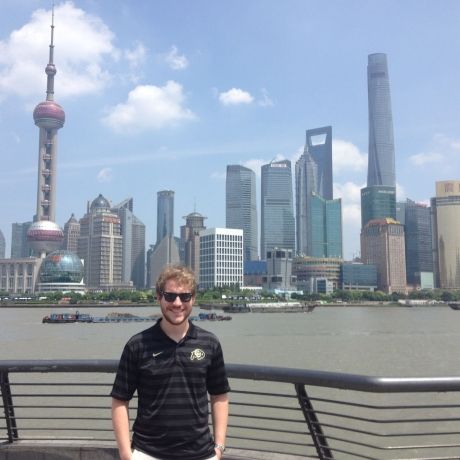 Projects, Volunteer Opportunities, or Internships
Volunteer Opportunities: Teach at schools for children of migrant workers, mainly on the outskirts of the city. Get involved in volunteer programs in hospitals, parks, schools, after-school programs, and homes for the elderly. Work with local environmental groups to help maintain public parks and learn about cultural nuances in the process. Volunteer to coach sports and games to local youths.

Students interested in one of the following Academic Projects must submit additional materials as part of their course selection:

Internships: Internship opportunities are available as part of the study program in a variety of businesses and NGOs in both private and public organizations. 
Research: Pursue a research project of your own design incorporating independent and local fieldwork. 
Service-Learning: Combine course-based learning with practical, relevant project experience to meet a community-defined need. 
In the Fall of 2019 I made the decision to study abroad in Shanghai, China with CIEE's Business, Language + Culture program. This experience would become one of the best... keep reading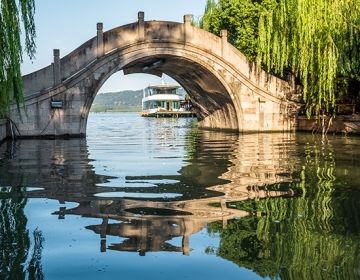 SPRING BLOCK I - Hangzhou Marco Polo described the city of Hangzhou as "the most splendid city in the world." This is likely due to the city's stunning natural environment... keep reading
Wow, I can't believe how fast my time studying abroad has gone. In the last two weeks of my study abroad experience I made it my mission to check all... keep reading
Housing
CIEE Shanghai offers students housing in campus residence halls with a CIEE roommate. Campus residence halls are located in neighborhoods with convenient access to CIEE Shanghai (a 10-minute walk).​  
Standard Housing: Includes a double room at the residence hall on campus, which boasts a kitchen, common areas, and laundry facilities shared with other students.
Meals are not included in Residence Hall housing. There are moderately priced cafeterias available on campus and various other options in the area surrounding the campus. 
Academics
Students enroll in one, two, or three six-week blocks, taking two courses during each block. This program gives students the flexibility to stay in Shanghai the entire time or spend other blocks at CIEE Center locations in Berlin, Buenos Aires, Cape Town, Copenhagen, Dublin, Kyoto, London, Madrid, Monteverde, Paris, Rome, Santiago, Singapore, Sydney, and Yucatán.
Students can choose from a variety of disciplines within seven different tracks: Art and Architecture; Business; Communications, Journalism, and New Media; Global and Community Health; International Relations and Political Science; Language, Literature, and Culture; or STEM and Society.
CIEE Shanghai is centrally located and convenient to public transportation for exploring the city.  Content courses are taught in English by CIEE faculty drawn from a variety of higher education institutions in China and worldwide.
Courses
Course Notes
Courses are listed below by block and track; course list subject to change. Courses are in English unless otherwise noted. "GI" denotes courses that are offered at multiple CIEE locations.
Use the Course Comparison Tools to compare classes offered across all Open Campus Block programs for each block:
Students studying for three blocks who wish to complete a lab course will be required to opt out of one course to remain within the program credit range.
Many CIEE courses are available in multiple CIEE locations. To help ensure you are able to enroll in the courses you need, some courses may be facilitated as a Hybrid course by an instructor from a location that is separate from your own. In a Hybrid course, you will learn either face-to-face or online, depending on your location. However, regardless of your location, you will apply what you learn from the instructor and course materials in your location. Hybrid courses can be identified in the course list as those whose course codes end in "CIEE" – open the syllabus to see the instruction location, if known.
Hybrid Courses
Some CIEE courses are offered in hybrid format to make them available at multiple program locations and increase your course choices. A hybrid class is taught synchronously in a classroom in one location, and students in the program at other CIEE locations join live online. All students have the same instructor and meet as one class. Co-curricular activities are tailored to each student's location to promote local, experiential and intercultural learning for all. The Course Comparison Tool shows the location of instruction for all classes and from what program locations the course can be taken. Hybrid courses can be identified in the course list as those whose course codes end in "CIEE". Otherwise the courses are offered at the one indicated location only.
Academic Projects
Each Academic Project (Internship, Service-Learning, and Directed Independent Research) placement will be designed based on the student's project learning goals, qualifications, resume, and availability of placements. The process is highly individualized and goal oriented. Students enrolled in an Academic Project will receive additional academic support that informs and enhances the placement experience.
Students applying for an Academic Project are required to submit additional materials during the course selection process.
To qualify for participation, students must be in the location for at least one block in advance of the Academic Project to prepare for and secure placement. As a result, students participate in an Academic Project in either Block II or III.
Language Classes
During course selection, students interested in a non-introductory Chinese language course will take a Chinese language assessment to determine their proficiency level. Enrollment will be finalized on site and is based on assessment outcomes.
Students may add the non-credit "Survival Chinese" course to their course load during the on-site orientation.
Spring Block I 2024
Business Track
Communications, Journalism, and New Media Track
International Relations and Political Science Track
Language, Literature, and Culture Track
STEM and Society Track
Spring Block II 2024
Business Track
Global and Community Health Track
Language, Literature, and Culture Track
STEM and Society Track
Spring Block III 2024
Language, Literature, and Culture Track
STEM and Society Track
Note: This course listing is for informational purposes only and does not constitute a contract between CIEE and any applicant, student, institution, or other party. The courses, as described, may be subject to change as a result of ongoing curricular revisions, assignment of lecturers and teaching staff, and program development. Courses may be canceled due to insufficient enrollment.
"(GI)" denotes courses that originated at CIEE's Global Institutes and that are offered at multiple CIEE sites.
Scholarships
Scholarships & Grants
CIEE offers scholarships and grants annually to help students like you make your study abroad dream a reality.
Students who apply to this program are eligible for the following scholarships and grants:
Wollitzer Merit Scholarships in Area or Comparative Studies
Ping Scholarships for Academic Excellence
Global Access Initiative (GAIN) Grants
McDermott Health Sciences, Nursing, and Public Health Merit Scholarships
Stohl International Undergraduate Research Scholarships
CIEE Gilman Go Global Grant
MSI Grant
To be considered, submit the CIEE Scholarships & Grants application within your CIEE program application.
Dates & Fees
Pre-departure Advising
Advising before you depart to set goals and answer questions
Optional on-site airport meet-and-greet
Orientation
Introduction to your program plus practical information about living in your host city
On-site Staff
Full-time program leadership and support in your city
Cultural and/or Co-curricular Activities
Excursions and/or Study Tours
Travel Protection
CIEE iNext travel protection
24/7 emergency on-site support
Staff
With over a decade of service at CIEE Shanghai, Jia Ma oversees the operations of the Shanghai center, providing a strong foundation for your experiences.
Juan Zhang is responsible for all aspects of student service, student activity administration, internship programs.
Get Started Steps
Get Started
Here's what you need to do to take the next steps:
Start an Application
You're one step closer to an amazing study abroad experience!
Connect With Your Campus Study Abroad Office 
Share your plans and confirm you're on track to meet all required steps to go abroad.
Contact an Advisor
Contact Us 
Send us an email if you still have questions or need information about applying to this program.