Open Doors for Your International Business Career
Are you a business major looking to study abroad? Perhaps you're just interested in learning more about business in our increasingly globalized world. Study international business abroad firsthand and set your resumé apart from the rest. When you participate in one of CIEE's business study abroad programs, you'll:
Network with mentors and peers from around the world 
Study at some of the world's leading accredited business schools in China, England, Spain, and more 
Complete a variety of business courses, from business law and finance to international marketing and startup culture 
From exploring Amsterdam's business innovation hub to learning about Chinese business affairs in Shanghai, you'll gain valuable insight into international business, ethics, economics, and management. Manufacturing facilities, local corporations, Fortune 500 companies, and small startups are only some of the settings where you can gain a real-world perspective on business.  
AACSB and EQUIS Accreditation
View a list of institutions below that offer enrollment in business classes at AACSB- and/or EQUIS-accredited institutions. These institutions issue transcripts that are included as part of your complete CIEE Academic Record. You will also find additional information on business courses in English or the host language, and program and eligibility requirements. For complete program descriptions, eligibility requirements, and curricular information for each specific program, please visit our Program Search.
AACSB AND EQUIS ACCREDITED INSTITUTIONS
Amman, Jordan (View Programs)   
Princess Sumaya University for Technology, King Talal School for Business Technology   
 
Amsterdam, Netherlands (View Programs)   
Universiteit van Amsterdam, Business School (UvA)   
Vrije Universiteit Amsterdam (VU)   
 
Cape Town, South Africa (View Programs)   
University of Cape Town (UCT), Faculty of Commerce 
 
Dublin, Ireland (View Programs)   
Dublin City University (DCU)   
University College Dublin (UCD)   
 
Glasgow, Scotland (View Programs)   
University of Strathclyde   
 
Lisbon, Portugal (View Programs)   
Faculdade de Ciências Sociais e Humanas - Universidade Nova de Lisboa   
Instituto Superior de Ciências do Trabalho e de Empresas – University Institute of Lisbon (ISCTE-IUL) School of Business   
Nova School of Business-Universidade Nova de Lisboa   
 
London, England (View Programs)   
Queen Mary University of London   
 
Madrid, Spain (View Programs)   
Universidad Carlos II de Madrid (UC3M)   
 
Paris, France (View Programs)   
ISC Paris Business School   
 
Santiago, Chile (View Programs)   
Universidad de Chile, Facultad Economía y Negocios    
Pontificia Universidad Católica de Chile   
 
Seoul, Korea (View Programs)   
Yonsei University, School of Business (Yonsei)   
 
Singapore, Singapore (View Programs)   
Singapore Management University (SMU), Lee Kong Chiang School of Business   
 
Sydney, Australia (View Programs)   
University of New South Wales (UNSW)   
 
Taipei, Taiwan (View Programs)   
National Taiwan Normal University (NTNU) College of Management   
 
Toulouse, France (View Programs)   
Toulouse Business School (TBS)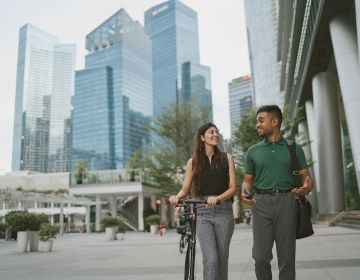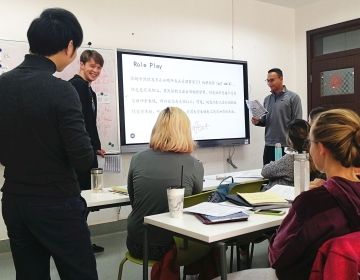 280+ Business Courses
to help you stay on track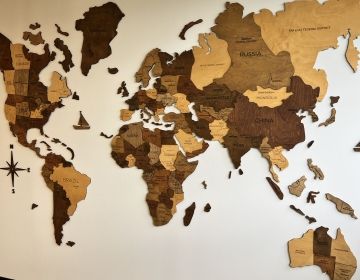 75+ International Internships
to gain real-world business experience
Business Study Abroad Programs
Sample Business & Management Courses
With the unparalleled flexibility of our business study abroad programs, you can fulfill your academic requirements all while gaining a global perspective. Sample business courses include: 
Business Administration, Management & Operations
Finance & Accounting
Marketing
Economics
Entrepreneurial & Small Business Operations

Strategic Management
International Management
International Business
Business Ethics & Corporate Responsibility
International Business Law

International Finance
Introduction to Management Accounting
Introduction to Financial Accounting

International Marketing
Principles of Marketing

International Economics
Economics of Wine
Principles of Micro-Economics

Entrepreneurship & Startup Cultures
Technopreneurship
Startup Cultures in Business
Frequently Asked Questions About Business Study Abroad
While the best place to study abroad for business is up to you,we can offer some suggestions to inspire your decision. Some of the best places to study abroad for business include:
Amsterdam

 

Lisbon

 

Madrid

 

Santiago

 

Seoul

 

Toulouse

 
If you're wondering how to study business abroad, follow these three simple steps: 
While the specific program and courses you choose to complete are up to you, we recommend following the three steps listed above to ensure you select the program that provides you with the most relevant business courses for your goals. For more detailed resources on planning and applying, check out our Get Started page. 
Studying business abroad not only helps you gain a more global perspective on the world, but also helps boost your resume with real-world international work experience. When you study business abroad, you can expect to:
Create a global network of peers and professionals

 

Boost your resume to stand out from the competition

Expand your worldview by leaning about

a new culture, language, history, etc. 

Gain a better understanding of business on a global scale

 

Complete coursework you

couldn't access at your home university 
Yes, you can absolutely study abroad for international business. At CIEE, we offer a variety of courses across multiple business areas: business administration, finance, marketing, economics, and more.  
It is a great idea to study business abroad because it develops your understanding of business in a global context. When you study business abroad, you gain real-world international work experience in economics, business management, finances, and more on the global stage, which helps shape your overall understanding of the business world.