Transformational Leadership Across Cultures
The core element of the Frederick Douglass Global Fellowship program is a CIEE-designed academic course examining leadership of groups and communities through a cross-cultural lens. 

Starting with the example of Frederick Douglass, the course focuses on how effective leadership can positively transform societies as they move towards balanced and equitable models of sustainable social justice.
WEEK ONE LEARNING OBJECTIVES
The significance of Frederick Douglass and Daniel O'Connell to U.S. and Irish histories.
How layers of authenticity and experience can impact how transformational leaders are perceived and supported by others in their group.
A self-evaluation by students about their own leadership styles and how certain aspects of their leadership may influence and/or be influenced by their experience with other cultures.
WEEK TWO LEARNING OBJECTIVES
Foundational and contemporary approaches to leadership, including group leadership concepts in organizations (e.g., transformational, transactional, and charismatic leadership, and followership), political leadership, and community leadership.
Personal leadership and leading against stereotypes
Collaborative, action-oriented leadership through the lens of the collaborative encounter between Douglass and O'Connell
WEEK THREE LEARNING OBJECTIVEs
Cultural norms and intercultural communication opportunities and challenges
Culture shock and theories of intercultural adjustment through an organizational leadership lens on a global scale 
Students' own style of leadership and how to navigate across cultures and communities in an inclusive manner
Social movements in the United States and Ireland
WEEK FOUR LEARNING OBJECTIVES
Learn how effective inclusive leadership across community and cultural boundaries can be valuable in building sustainable peace.
Learn how the skills identified and refined by the models for change can be applied to contemporary contexts, divisions, and challenges.
Examine leadership methods that motivate allyship.
Reflect on experiences in Ireland vs their home country.
Above, the Frederick Douglass Global Fellows at the farewell event held at the U.S. Ambassador's Residence.
CLASSROOM HIGHLIGHT: COLLABORATIVE ACTION-ORIENTED LEADERSHIP
During a course session exploring leadership styles, the Fellows learned more about the historic collaboration between Frederick Douglass and Daniel O'Connell. Guest lecturer Kenneth B. Morris, Jr., shared his personal connection to Ireland through his great-great-great grandfather Frederick Douglass, recounting to the Fellows:
"He lands here in Ireland and he writes back to William Lloyd Garrison, white abolitionist, that 'It was the first time that I felt like a man and not being judged by the color of my skin and I don't have the dog catchers on my heel.' So, for me this place, this land, was special because of the way he was treated."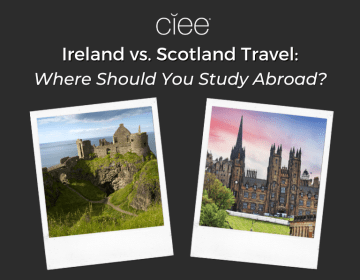 When you think of Ireland and Scotland , you might be imagining two very similar countries – lots of greenery, the U.K., cafés, and packed, early histories. And although there... keep reading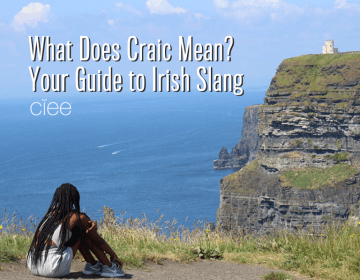 For those not from Ireland , the frequent use of "craic" by the Irish can be a little confusing. We get it. The concept can be a mix of a... keep reading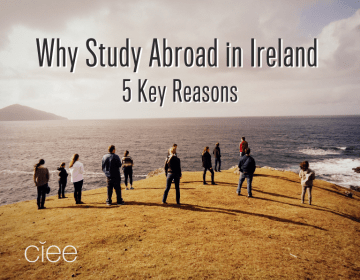 There is no doubt about it : The small country of Ireland has a huge amount of opportunity for those looking for an exciting adventure. Especially for students looking to... keep reading