Summery of July -Gion Festival-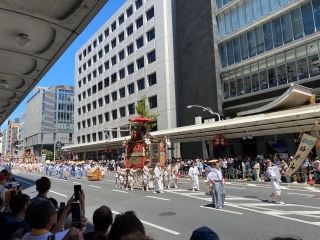 Here in Kyoto, we had one of Japan's most famous and traditional annual events Gion Festival (Gion Matsuri) It takes place in Kyoto, the former imperial capital of Japan, during the month of July. The festival has a history spanning over a millennium and is deeply rooted in Japanese culture and traditions.
The origins of Gion Matsuri can be traced back to the year 869 when the city experienced a series of devastating plagues. The people believed that the plagues were caused by vengeful spirits, so they organized a religious procession to appease these spirits and pray for protection and good health. Over time, this event evolved into the Gion Matsuri we know today.
The festival is held in two parts: the Yamahoko Junko (float procession) and the Yoiyama (pre-festival events). 
YOIYAMA
Yoiyama evenings on July 14-16 and 21-23, where Kyoto's downtown area is closed to traffic and filled with food stalls, drink vendors, and festive displays (6 pm–11 pm). During these yoiyama nights, visitors can also observe festival floats up close, which are stationed along the streets. You will see lots of festival goers dressed in yukata to get into the festive spirit.
YAMABOKO
Yamaboko Junko, the grand parade of floats, is on July 17 and 24 (9 am–11:30 am). The human-pulled and carried floats will go through the city during the period. Within and alongside the floats, people clad in festival attire play music with traditional Japanese instruments and present mesmerizing performances. The parade is meant to purify the streets before the Mikoshi Togyo.
MIKOSHI TOGYO
At around 6 pm on July 17, volunteers carry three portable shrines (mikoshi) from Yasaka Shrine to a facility that serves as a temporary resting point for the gods (otabisho) in downtown Kyoto. Then, on the evening of July 24 at 6 pm, they return the mikoshi to Yasaka Shrine.
Gion Matsuri is not only a celebration of Japanese traditions but also a time for people to come together, enjoy the festivities, and cherish the history and beauty of Kyoto. Our students who stayed this season had a special and very traditional experience during their stay.  
If you ever get the chance to visit Kyoto or thinking about which season should choose, Summer could be a great opportunity to see traditional events.  Experiencing Gion Matsuri should be at the top of your list.