Authored by Anum Bajwa
Excuse me- can you please take a picture of me?
When you look at Japan on Google Maps, you might not see Kyoto as a major city like Osaka or Tokyo. However, if your curious mind keeps zooming in to a more mid-southern end of the country, you will find there is a city that is the perfect combination of historical and modern, suburban and city, tourism and shopping. You will also find it is the perfect distance from some beautiful places you should see during your time in Japan. I found CIEE structures classes with its students in mind so you will find ample time to explore Japan while keeping up with your assignments (after all, you are here to put the study in study abroad!).
In regards to exploring, everyone has to start somewhere. Luckily, there are almost too many marvelous places to visit during your time in Kyoto (which I may be biased, but it could be the best city in Japan...). The first place I went to was Gion District, a neighborhood known for its geiko (geisha), numerous temples, preserved streets, and historical buildings. Armed with only Google Maps, I navigated myself to the bus stop to use the city bus for the first time. I should preface that I know little Japanese so it was a challenge because I could not easily ask someone for confirmation; I had to rely solely on recognition of the Japanese letters (hiragana) on the signs to the ones on my phone. It took me 2 tries to find the bus that was going the correct direction but not before I was on said bus- oops!
Regardless, when I made it there I walked up a beautiful but very busy shopping street to a place where I could rent a kimono for the day. I picked out a stunning pink kimono with lime green obi (the sash that goes across the midsection). The wonderful ladies and I communicated in broken Japanese and English but in the end I was ready to explore the district donned in a traditional outfit I was lucky to wear with tabi socks and sandals to accompany it. The main challenge would be to muster enough courage and fight my own embarrassment to be by myself and ask strangers to take my pictures. I tried to be self-sufficient initially. My first few photos of the day are awkwardly tilted self-timer pictures where I am out of frame or not ready yet. With disappointment I figured I would have to be brave and ask someone else eventually. One of the main goals I had for the day was to visit the three main temples: Hokan-ji, Kiyomizu-dera, and Kodai-ji, the main shopping street, and the tatami mat Starbucks I picked an unfortunately hot day to walk up and down the streets, but I would say the buckets of sweat were well worth the experience. 
That day, not only did I explore the wondrous temples and surrounding areas but I also explored deeper into myself. Because I was by myself I found it was a bit lonely to not have anyone to share marvel at the sites with or anyone to share street food with. However, it made me more fond of the people I love when I would see something that reminded me of them. I learned I could be more confident and nothing bad would come out of going up to someone random- in fact, it could be an opportunity. In asking bystanders to take my pictures, I met an American solo traveler, a German lady, some Osaka University students, a high schooler with her mother, and a pair of friends spending the day together. I learned how to be more prepared for larger solo trips to other cities. I had almost run out of battery on my phone which would leave me without directions to a way back, but luckily I had my laptop from studying that morning to charge it. Most importantly, I came to the realization that perhaps platform shoes were not suitable for the 17,000 steps I walked that day after limping the last couple meters home with aching calves. 
For now, I am happy to have this opportunity to even be in Japan as a study abroad student. My days are filled with enriching classes, silly night chats with my roommate, and some surprisingly awesome convenience store food. There is always much to learn and much to see but taking it one step at a time (and one trip at a time) helps keep me in a state of gratitude that the lovely people of Japan are happy to share a slice of their country with me- I hope to explore it in the weeks to come.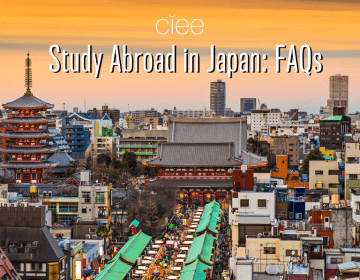 If you're about to embark on a study abroad adventure to Japan or considering this fascinating country a study abroad option, read on as we dive into some of our... keep reading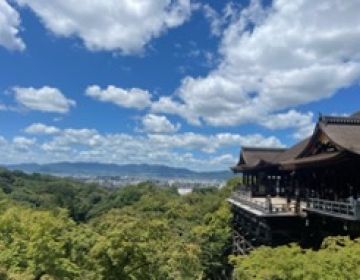 Hi, I'm Daniella (or Dani), and I participated in the CIEE Kyoto Summer Ancient + Modern Japan 2023 program! Living right outside of Los Angeles, my knowledge of Japanese culture... keep reading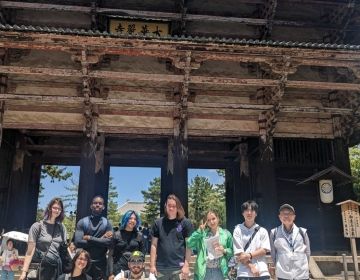 NARA AMJ summer block 1 students visited Nara prefecture on Jun 2nd -3rd for their overnight excursion. Nara served as the capital of Japan from 710 to 784 AD during... keep reading