Recommendations for Springtime in Copenhagen!
The days have started to get longer, the random sleet showers have become less frequent and was that… was that a ray of sun? During the spring months, Denmark and Copenhagen gradually become a different place to be as the weather grows better and us Danes come out of hibernation after a winter of "hygge" inside in our warm houses. That also means that the must-dos-and-sees also shift from some of our world-famous museums, restaurants and bakeries to our beautiful parks, canals, and amusement parks.
Here are a couple of recommendations to add to your to-do list while you are here.
Reffen and Broens Gadekøkken – Street Food You Never Tire Of
If you are in Copenhagen any time from the end of March to October, our lively street food scene is hard to miss (and for good reason).
At the street food market Reffen on Refshaleøen you can sample food from both famous and slightly more off the beaten track cuisines like Afghan, Nepalese, Argentinian or even New Orleans soul food – or you can get a delicious gourmet Danish hot dog with pickled cucumber, remoulade and deep-fried onions.
Broens Gadekøkken, located right across the water from iconic Nyhavn, boasts a number of "bigger name" stalls and chains, like the famous Copenhagen burger chain Gasoline Grill (home of the butterburger), Hooked (fish & chips, Denmark style) and Strangas Greek Food.
There's a lot to explore, and the many options ensure that you will always have something new to try out no matter how many times you go either place.  
GoBoats and Canal Tours – Exploring the Copenhagen Canals from the Water
Spring weather also means that it's a lot nice to go see Copenhagen from a different perspective – our canals!
Due to an extensive water rinsing system the Copenhagen harbor and canals are among some of the cleanest in the world, and this means that they lend themselves perfectly to a swim or a nice boat trip with friends.
When it comes to boat trips, there are several different options – you can opt for the "public" experience on one of Copenhagen canal boat tours, where you can sit back and enjoy being sailed around the canal by an experienced sailor whilst a guide calls out different fun fact about the buildings you encounter along the way. If you would rather go it on your own, you can rent your own boat through one of our many different boat rental companies (like GoBoat, Hey Sailor, Friendships, and more). Here you have to steer the boat yourself (don't worry, it's pretty intuitive), but you can also bring your own food and drinks aboard and explore the canals at your own pace.
Tivoli and Bakken – The Grande Dames of Amusement Parks
The arrival of springtime also means that one of the biggest attractions in Copenhagen, the amusement park Tivoli Gardens (that supposedly inspired Walt Disney to create Disneyland) finally opens for the season. Over the next couple of months you are then free to try all the fun rides like the wooden rollercoaster from 1914, one of the oldest of its kind, go to one of their Friday Rock concerts during the season, or explore the many blooming flowers, beautifully crafted décor and general ambience of the park.
If you feel like getting out of the city for a little bit, you could also plan to spend a couple of hours north of the city center in the suburb of Klampenborg, which is home to another famous Danish amusement park – Bakken, which is located inside a public park. Bakken is also famous for its many great rides, snacks and shows, but what makes it extra special is that it is the world's oldest amusement park. People have been coming to the area Bakken is located for over 400 years due to a nearby wellspring that was said to have healing effects.
And while you are at Bakken anyway, you can explore the vast park Dyrehaven, or the Deer Park and its long, meandering footpaths that take you past the Eremitage Castle and the many deer that lends the park its name.
Superkilen, Kongens Have and the Botanical Gardens – Unmissable Parks with Unmissable Perks
Speaking of parks, here are another two you can check out with a picnic basket on a sunny day. 
Superkilen is located in the hip and culturally diverse neighborhood of Nørrebro, and the park itself also reflects all of the cultural diversity of its residents. The park is divided into three parts; The Red Square, The Black Market and The Green Park, and each area has its own unique characteristics – The Red Square for instance boats of also having a more city-esque atmosphere with cafés and such, while the Green Park is more your classic type park for picnics and walking the dog. Superkilen is also famous for being the home of numerous different park elements from around the world, like Moroccan fountains, Iraqi swings, Brazilian benches and a Japanese black octopus slide.
While Superkilen is a more modern take on what a park is and what it can do for its local community, Kongens Have or the Kings Garden located near the study center is a more traditional European park, with long, marked gravel parks cutting across neat lawns lined with shady trees. Kongens Have is also home of the Rosenborg Castle, where king Christian IV. (thereof the name) used to spend a lot of his time back in the 17th century. The park was opened to the public in 1770, and the rest is history – today, many Copenhageners enjoy going to the park to have a picnic, throw around a frisbee or play the yard game Kubb passed down from the Vikings, or have a drink with friends.
Not far from Kongens Have lies the Botanical Gardens, another great park that only gets better once the weather also does. Explore the many different plants, flowers and trees outside for free, or for the reasonable price of 60 DKK (slightly less than 10 dollars) you can head inside the Palm House, one of the most instagramable  photo spots in the city with its winding white metal staircase in an almost Garden-of-Eden-like greenhouse, surrounded by much of the most beautiful greenery this world has to offer. You can also head into the Butterfly house on the same ticket, where you throughout summer can step into an almost fairytale-like setting with these little insects flying about you – sounds like a magical afternoon plan.  
Those were our suggestions for some things you can add to your springtime Copenhagen bucket lists. Make sure to let us know what you think of them and tag us on Instagram @cieecopenhagen so we can see your pictures!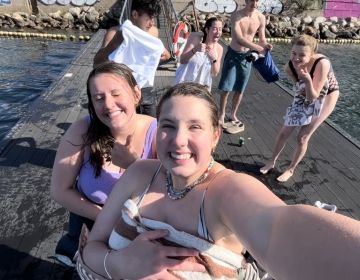 Hi friends! I just wanted to share about one of my favorite memories from my time in Copenhagen. CIEE offers a lot of fun activities throughout the week so students... keep reading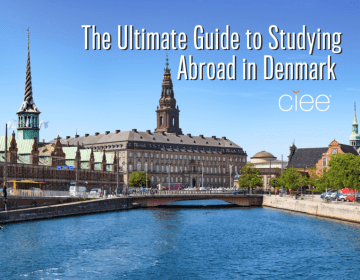 Are you looking to discover a coastline country with a rich history, and unique, modern culture? Then look no further than a Denmark study abroad program ! Why Study Abroad... keep reading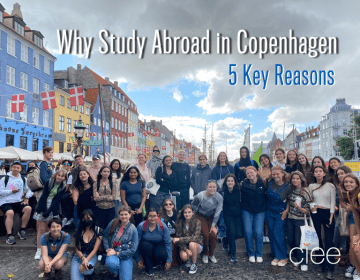 Copenhagen , the capital of Denmark , is a unique urban eco-city with lots of fascinating attractions and activities. A Copenhagen study abroad opportunity will leave you with lasting memories... keep reading