As we left the dock in Tokyo Bay, embarking on an hour-long cruise around the area, I couldn't help but smile. This was the perfect way to end a perfect trip to Japan.
Before I arrived in Tokyo, I was lucky enough to spend a month with my cousins who live in Shizuoka, about an hour west of Tokyo. There, I got a very practical crash course in Japanese language, culture, and daily life. Coming to the CIEE program, I had no idea what to expect – how different would living in Tokyo be? How difficult would the classes be? Would I make friends? I was much more excited than nervous, but both feelings were swirling around my head as I made my way to Tokyo on the shinkansen.
Looking back on it, I'm glad I had an open mind going into it. It helped me meet some great new friends, try things I never would have thought to do before, and make my time in Tokyo as fun as possible. CIEE's program is beautifully structured – the first week is like an educational vacation, with lots of fun activities to help you get acclimated to living in Japan and getting around Tokyo. Once classes start, it feels like a sprint to the finish line, but with every night free (or filled with another great event planned by CIEE or Sophia University), you still have plenty of time to explore and enjoy the largest city in the world.
I met friends that I hope to hang onto for the rest of my life. My group came from all over America (New York, Minnesota, Tennessee, and Seattle), and we instantly bonded after meeting on the first day. We ate lunch together every day, explored Shinjuku, Shibuya, and Harajuku together, and even did karaoke! We all knew a little Japanese and got to practice with each other throughout the program. We also visited the arcades more than a few times – we're all fans of rhythm games, so we spent a lot of time on the upper floors!
This trip and this program have changed me in ways I never even considered. I feel braver and more competent when traveling on my own; I am more curious when going to new places; I am more humble after meeting and speaking with native Japanese people; and, most importantly, I met people whom I never want to forget. In America, we're fortunate to have huge amounts of diversity all around the country, but you never really appreciate how varied the world is until you see more of it. Coming to Japan and getting to meet and see Japanese natives has opened my eyes to how different we are, as well as how much we have in common. I can't wait to come back!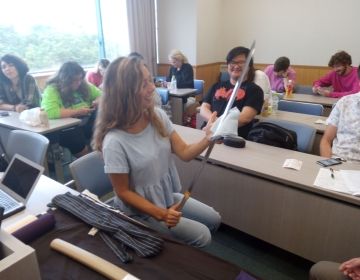 Hi everyone! My name is Kumiko Kato. I was given the opportunity to teach a class called "Introduction to Japanese Art" in 2018, as part of the CIEE College Study... keep reading