Hi Friends!
As I mentioned in my last post, I went to Busan straight from Jeju (go check out my last post to see how my Jeju trip went!). To say I had a great time is an understatement. I LOVED Busan. From the food, the nightlife, and the people -- I enjoyed my 4.5 days thoroughly.
When we first arrived in Busan, it unfortunately was raining so we decided to go to the movie theater and watch Shang-Chi (10/10). Since the movie didn't start for another 40 minutes, I ended up getting ice cream with my friend Angela while the rest of my friends went to a nearby aracde to kill some time. I have realized that I am a sucker for ice cream and Baskin Robbins is always a YES for me :)
The following morning, we headed off the Gamcheon Culture Village, Busan's culture village where all the buildlings are super colorful. It was such a cute little town but maybe 20 minutes into walking around, it started pouring out of nowhere. So, we had to stay in a shop for about 25 minutes to wait out the rain, it was so strange how heavy the rain was all of a sudden. After it cleared up, we continued to explore the village and even stopped at a rooftop cafe to enjoy the views. Near the village was Jagalchi Market, Busan's famous fish market. We bused over in order to eat live octopus. Though it sounds very scary, once you put the octopus in your mouth and start to chew, you can't feel it moving. If you don't chew, you can feel it stick to your mouth so make sure you chew fast and well! I would eat it again if I ever went back to Busan, I enjoyed the taste of it :D
To end the day, my friends and I went to Haeundae Beach and hopped on a private yacht...yes...a private yacht. We booked a private yacht for two hours to just hangout, drink, and play music. I had so much fun and the views were amazing. We went around Haeundae Beach and near the bridge, we even saw fireworks which was super cool. It was only 30,000won per person for 2 hours which honestly isn't that bad and I would do it again in a heartbeat. 
Our last full day in Busan, most of us had class :( I took a few of my classes on the beach which was very relaxing while my friends stayed back in our Airbnb to take theirs. I just wanted to enjoy a different scenery and the beach was very much worth it. We ate some street food later that night and went to karaoke! Ending the night with karaoke is always a great move. On the day of our train back to Seoul, Angela (a fellow BTS fan) and I went to Jimin's dad's cafe, Magnate. The drinks and pastries were very yummy (though expensive) and the interior of the cafe was super cute. We spent about 1.5 hours there doing our school work and wondering if the workers at the cafe were BTS fans (I said they were). The cafe even had a display of a few of Jimin's hats that he has worn -- the closest I'll ever get to BTS haha. 
Everyone I met on this trip was so nice. All the workers were kind and welcoming, the weather was amazing, and the nightlife was lively. I felt calmer in Busan than in Seoul and didn't feel as judged since I was a foreigner. It seemed to me that Busan was more accepting of people than Seoul and things just moved a little bit slower. I will definitely put it on my bucket list to come back, Busan has my heart!!
Talk soon,
Casey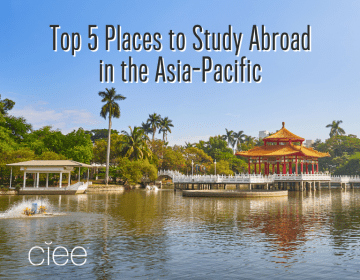 If you're someone who's craving a study abroad adventure in a unique and fun location, you're likely looking at programs in the Asia-Pacific region ! Each of our Asia-Pacific study... keep reading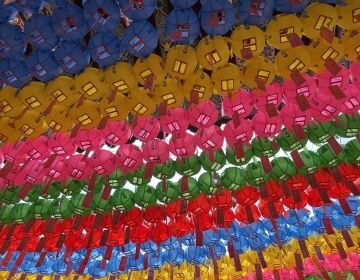 These days I'm reminded by the paper lanterns strung along the streets that Buddha's Birthday will soon be here. Although I'm not Buddhist, I always enjoy the holiday, which this... keep reading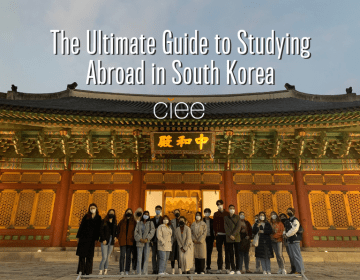 If you're looking to discover a multi-faceted country with a rich culture, beautiful cityscapes and countryside, an incredible ancient history, and unique modern development, then consider studying abroad in South... keep reading