Authored by Anum Bajwa
One of the highlights of studying abroad is that you get to try a whole different set of cuisine that is authentic and unique to that culture. Food is an important part of people's upbringing and livelihood, and it is really special to be able to step into a country with this reminder. Japan has a great variety of really delicious and accessible meals to try during your time! It reflects years of tradition and many of the foods cities are known for are influenced by the geography as well. During my time in Japan, I was able to explore different restaurants in many different cities. I feel really lucky I was able to immerse myself completely in Japanese culture not only through visiting different cities and reading their histories but to taste the food as well. I will admit it was a bit challenging to completely try all the food I wanted due to dietary restrictions. My experience may look very different to yours or anyone else in the country and that is okay! You just have to have an open mind and try your best to communicate your needs. Restaurant staff are extremely friendly and will let you know if there is an ingredient you cannot have if you let them know ahead of time. Without further ado, I will be sharing some of the food I had in my 6 weeks in Japan! Itadakimasu! (いただきます)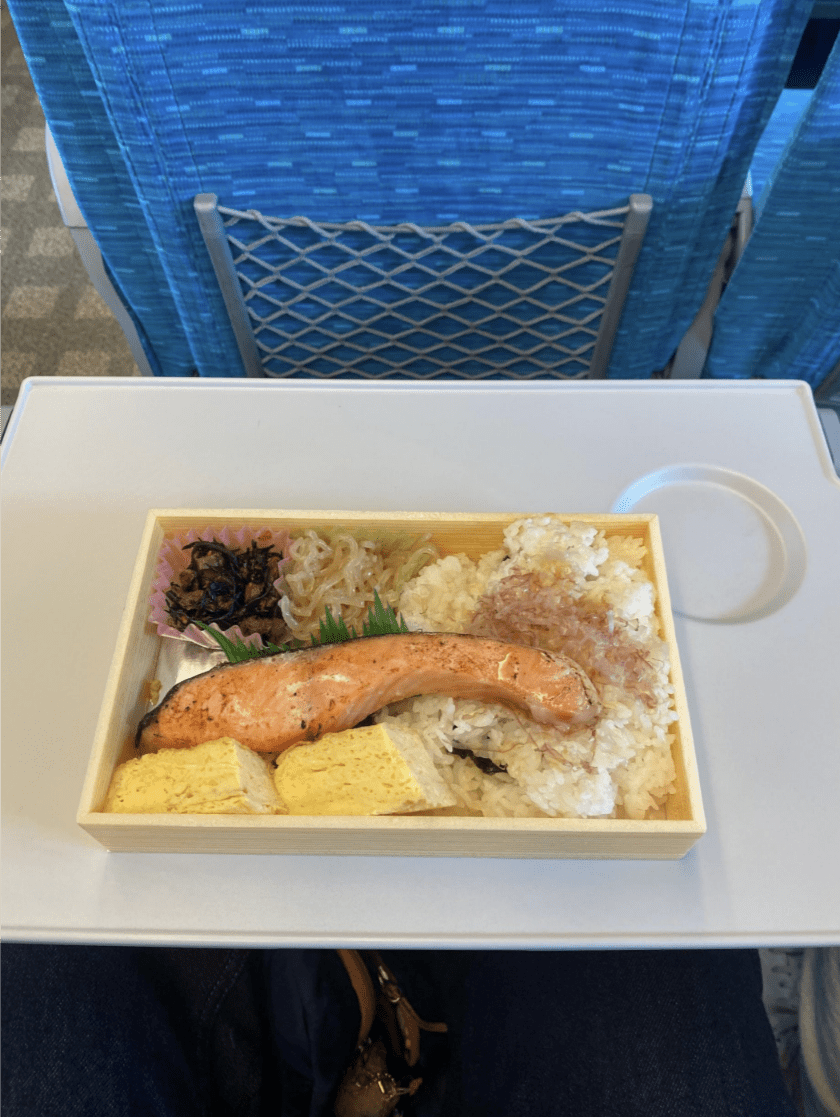 Bento box! I got this for my Shinkansen meal from Kyoto station and it was so good. This one had salmon and rice as well as glass noodles and egg. 9.5/10 only for the bones in the salmon I had to pick out with chopsticks (it really puts your skills to the test).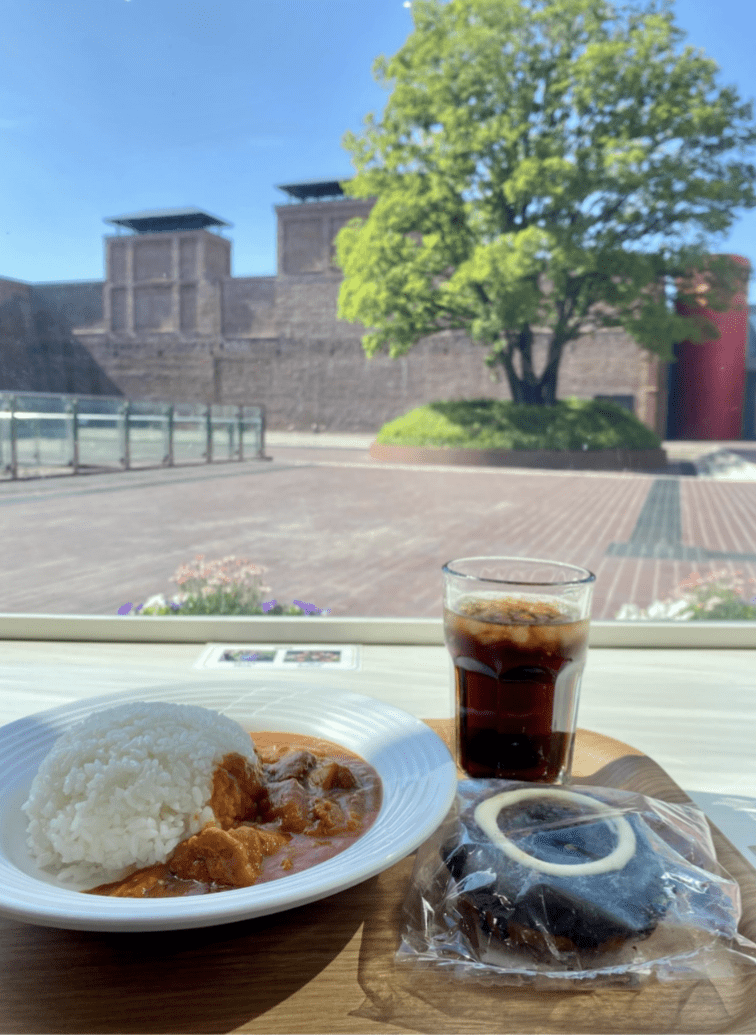 Curry with a view of the Toyota Museum in Nagoya! This was my second time having curry in Japan and it did not disappoint. I was exiting the museum (you should definitely go- it was a great experience) and wasn't really hungry until I saw this. I'm glad I got to eat it! I also got a tire donut which was funny because we were at the Toyota museum. 10/10 especially for the beautiful view!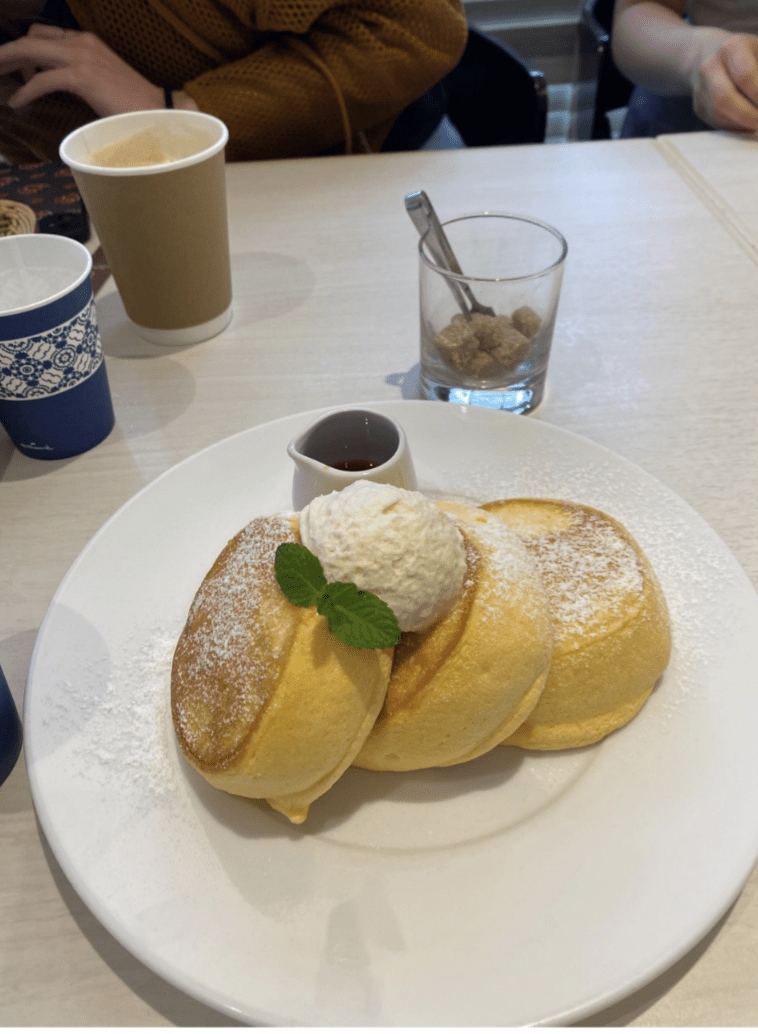 Fluffy pancakes!! A must try in Japan! These were from Happy Pancake and I believe you need to make a reservation because everyone wants to try these. They were super good and true to their name. I was not expecting them to taste very 'eggy' but I suppose that's how you get them to be fluffy. I went with friends and we each tried each other's and I definitely think the matcha one was the best. Solid 8/10.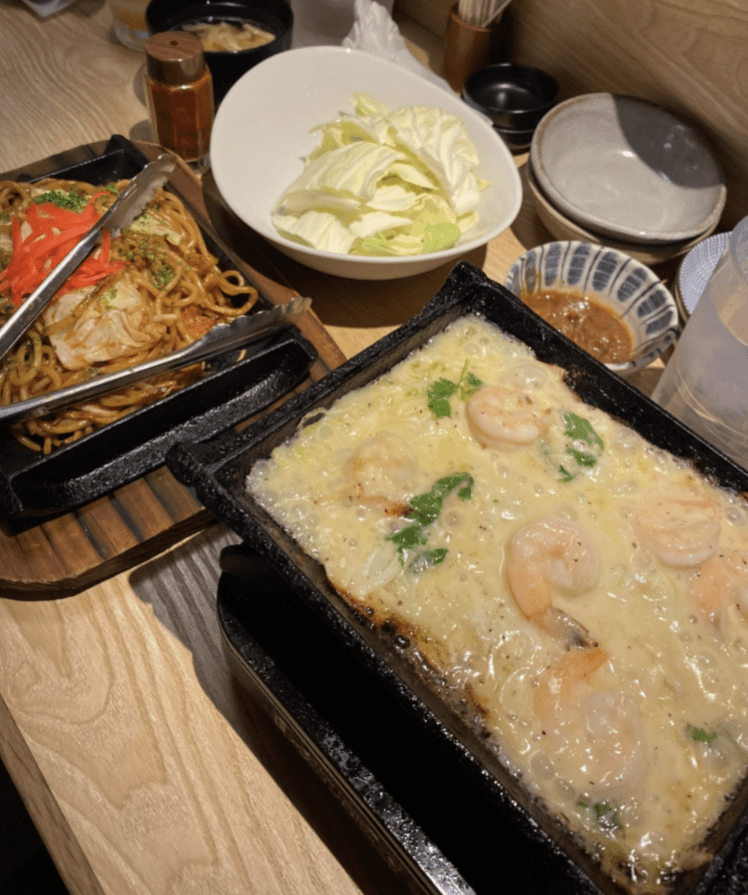 In Tokyo's Ginza neighborhood, my friend and I went to an izakaya restaurant, which is kind of like a bar-style restaurant. It was interesting to see salarymen come after work with their coworkers to eat and drink together. I had this Korean-style cheese shrimp which I had to cook myself on a hot plate and stir-fried noodles. We also had this cabbage with a dipping sauce which was delicious. 8/10 We were really hungry so it was a desperation meal but it was surprisingly good and cheap!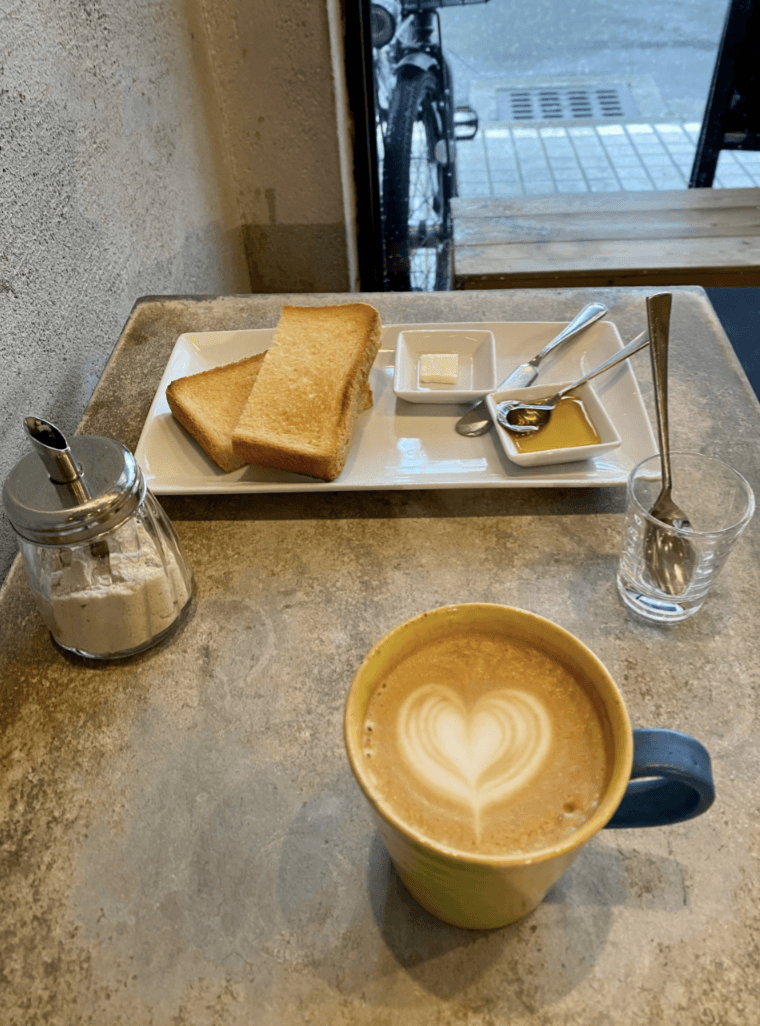 This is more of a breakfast meal, but Sentido is a really cute coffee shop across the street from the CIEE Kyoto classrooms. This was the toast set and I got butter and honey and of course... an oat milk latte with 4 sugars. Overall, a lovely place to grab a coffee but it elevates the experience to sit down and actually have breakfast. 10/10 for Sentido all around.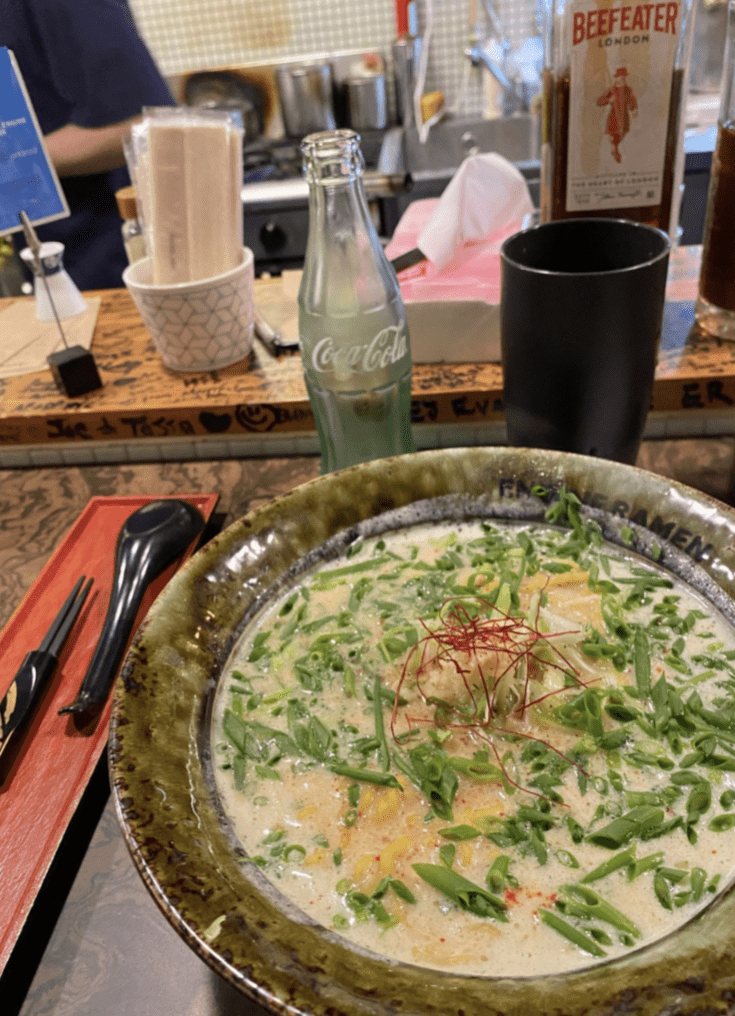 Vegetarian ramen! This was on my last day in Kyoto so it was bittersweet to be saying goodbye but this was so well worth the wait. This is at Engine Ramen and they have options for vegetarians/halal which was so amazing because most, if not all, ramen has pork in it. This was the spicy version which I really liked because the soup was amazing by itself and with the noodles. I wish I knew about this place before but I am still happy I got to have ramen once more before I left. 10/10! We love dietary restriction accommodations!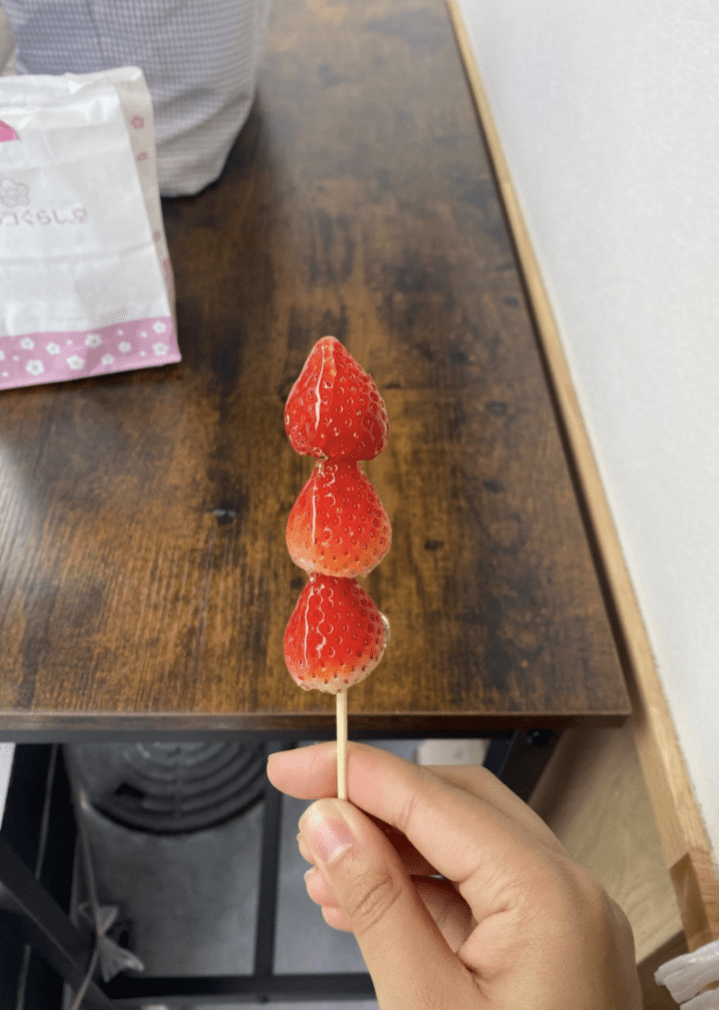 These next few are quick bites I stumbled across on the streets while out and about and they were some of my favorites! I have a bit of a sweet tooth so these strawberry candies on a stick were my absolute favorite and I would buy them every time I saw them. This one was my favorite and it was in the Gion District of Kyoto which is a must-go. The strawberries are super fresh and sweet and contrast with the crunch of the candy on top. 100/10 my hardest goodbye!
This was in the subway station so it was on a whim but I am so happy I got to try it. Taiyaki is a croissant-like bread shaped like a fish and is a popular street food option. This one in particular was filled with delicious chocolate but there are many other options like red bean, custard, cheese, etc. 10/10 for a quick snack!
- continue to the Itadakimasu 2-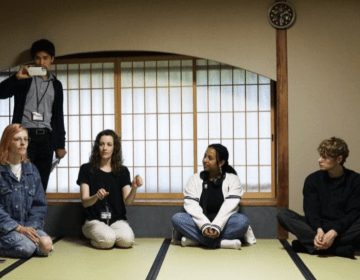 Want to know more about the folks working behind the scenes to make your study abroad experience in Kyoto as enriching and memorable as possible? This post will provide you... keep reading
Authored by Alex Jo I've discovered that in Japan, everyone waits for the crosswalk signals to cross the street. Even at 1 in the morning with zero cars, you would... keep reading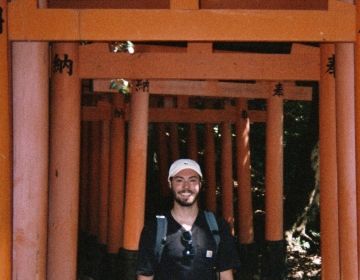 By: Lucas Taliaferro My six-week adventure in Kyoto , Japan, was nothing short of incredible. From exploring ancient temples to savoring delicious cuisine, experiencing efficient train travel all over the... keep reading