6 Tips on How to Immerse Yourself in Danish Culture
You've completed your application, you've booked your flight, it's really happening – you're going to Copenhagen! While some of our students mostly like to do most of the classic "touristy" stuff (and that's completely okay!), some also like to make the most of their stay in Denmark by getting to know the local culture and cuisine – but how do you go about doing that? No worries, we've got you covered. Here are a couple of tips.
1. Learn a couple of basic Danish phrases
Even though English is widely spoken throughout Denmark and especially Copenhagen, Danish is still the mother tongue and therefore also the language that holds the greatest cultural significance here and knowing even just a couple of words will go a long way if you want to integrate into society here.
You (probably?) won't become fluent in Danish in the relatively short amount of time that you are here, but here are a couple of phrases and words that are worth knowing:
Hej – hello
Hej hej / farvel – goodbye
Tak – thank you
Tak for mad – thank you for the food (polite to say after a meal)
Tak for i dag – thank you for today (polite to say after class / a get together with friends or family / etc.)
Skål – cheers
Hygge – A special Danish word for coziness. Read more about it here.
Rødgrød med fløde – The name of a desert and a classic Danish tongue twister. Pronounce at your own peril. ;)
It may not seem like much, but we Danes are quite proud of our language (although less proud of how it sounds sometimes) and giving any of these a go in a conversation will warm any frigid Danish heart. Do check out the pronunciations on Google Translate beforehand though, they can be quite tricky.
2. Get a bike
You're not a true local before you learn to complain about the weather and the traffic and getting a bike will help you kill two birds with one stone there, so to speak.
For many of our students biking can be a jarring experience, and they often have to get used to a whole new way of experiencing traffic that they aren't used to from driving, or even biking in the States. For example, Copenhagen is riddled with bike lanes, 382 kilometers to be exact, and Copenhageners cycle an estimated 1.44 kilometers daily, around 900,000 miles. In Copenhagen, bikes rule the city, and that is reflected in the infrastructure and laws here. But don't let that scare you. Biking is often something our students end up saying was one of their favorite things about Copenhagen, because you get a completely different feel for the city than if you only use public transport (even though the metro IS very nice).
So our recommendation is to get a bike as soon as you can, and use it as much as you can – yes, even in the wintertime!
3. Pick up a Danish book. Or two. Or three…
Literature is also another way you can start exploring a new culture, since you get acquainted with the stories that most of the populace have grown up around and hold very close to their heart.
If this is something you like to do, you should of course start by reading some of Denmark's arguably most famous works of literature – the fairytales of Hans Christian Andersen (1805-1875). His fairytales have been translated to 139 languages, and they are read everywhere from Berlin to Beijing, New York to New Delhi. Some of his more famous tales include The Ugly Duckling ("Den Grimme Ælling"), The Tinder Box ("Fyrtøjet") and The Emperor's New Clothes ("Kejserens nye klæder) – and of course, we must not forget the two tales that eventually made it to international stardom through their Disney adaptations – The Snow Queen ("Snedronningen"), the story that loosely inspired Frozen and of course The Little Mermaid ("Den lille havfrue").
If you would rather read something that takes place in "the real world", I can recommend checking out Tove Ditlevsen's (1917-1976) "The Copenhagen Trilogy (Childhood, Youth, Dependency)", a literary memoir in three parts about about everything from growing up in Vesterbro when it was at its poorest to dealing with addiction, illegal abortions and her in total four husbands. It's quite dark and not always for the faint of heart, but especially the last part, "Dependency" (with its Danish title "Gift" that both means "married" and "poison") has cemented itself as a new classic within Danish literature.
We also have some more "light" literature here at the student center that you're more than welcome to take a look at while you're sitting in the lounge. Browse such titles as "The Little Book of Hygge" authored by Meik Wiking, who sometimes does guest lectures for our Scandinavian Happiness course, "The Little Café in Copenhagen" a British rom-com written by a woman that I'm not entirely sure has ever actually been to Copenhagen, and of course the vaguely titled "How to be Danish" – also written by a Brit. Go figure.
4. Attend a Friday bar
Do you like meeting new people over drinks? Well, you're in luck! Friday Bars are a staple at most Danish universities and sometimes even high schools, where you can go meet some of the local students in your area over a nice, sometimes even cold afternoon beer to an affordable price. Entrance is usually not limited to the students attending those institutions, so it's a great place to meet some actual Danes (whaat? So cool). The University of Copenhagen and CPH Business usually have some good ones, but ask us in Student Life if you want some more specific recommendations.
5. Go somewhere outside of Copenhagen
Yes, we know that you want to get some other European countries under your belt while you're here, but you won't learn much about Danish culture in general if you go somewhere like Berlin or Prague, and neither will you if you only stay in Copenhagen.
We will of course be taking you to different places around Denmark on our overnight trips this fall, so be sure to sign up for them! They are usually a blast and a great opportunity for us all to get to know each other better.
Other places that might be fun for you to go to that are also relatively easily accessible by public transit are Frederiksborg Castle in Hillerød, Kronborg Castle in Elsinore (this is also where Hamlet takes place), Roskilde (home of the Viking Ship Museum), and Dyrehaven Park in Klampenborg just north of Copenhagen, where you can see deer and a cool chateau.
6. Build the ultimate Danish playlist
If music is the way you usually get into a new culture, then Denmark also has a lot to offer. Local hitlists on streaming services like Spotify can definitely help you start building up a nice playlist. Here in Denmark they mostly feature pop singers or rappers like KESI, Gilli, Jada, ArtigeArdit, Tobias Rahim, ICEKIID, Scarlet Pleasure and Andreas Odbjerg. Other Danish pop artists that you might know include Lukas Graham who wrote "7 Years" and also grew up on Christiania, and MØ who has been in international hits such as "Lean On" and "Final Song".
If that isn't your style, Denmark and especially Copenhagen has a pretty good indie/alternative scene with increasingly more artists singing in Danish rather than the more internationally marketable English – here bands and singers like The Minds of 99, Ulige Numre (and their lead singer Carl Emil Petersen after they broke up), Katinka Band, Barselona and Patina are relatively big.
Of course, there are also the classics – Kim Larsen is one of the most beloved Danish singers of all time, a sort of folk-y rock singer, the 70's band Shu-bi-Dua that likes to play with the Danish language, and of course our three grand dames of the eighties - Anne Linnet, Sanne Salomonsen and Lis Sørensen.
Below are six songs that you can start your new playlist with. They are all my very biased choices, but hopefully one or two will fall in your taste, and if not, well, hopefully you'll be able to meet a Dane with a better music taste than I. :)
1. "STOR MAND" by Tobias Rahim and Andreas Odbjerg
If you have been living in Denmark sometime within the last year, this has been a very difficult song to avoid. "STOR MAND" means "big man" and although there are several theories about what this song is about, the most prevalent one is that it's about two men simply ~enjoying each other's company~ (wink wink) in the city of Aarhus.
The music video is also weirdly hilarious even though it's just two guys in matching outfits vibing in a garden.
2. "Barndommens gade" by Anne Linnet
One of the best ladies of the eighties here in Denmark, Anne Linnet definitely knows how to write a song that people of all ages still listen to some thirty or forty years later. This one is especially special to Copenhagen, as the lyrics of the song come from a poem by the Danish poet and author Tove Ditlevsen (more about her under tip no. 3).
The poem is told from the perspective of one's childhood street, and the lyrics of the chorus go something like this: "I am the street of your childhood / I am the root of your soul / I gave you your watchful eyes / on them you shall be recognized again / And if you meet one with the same look / you shall know he is your friend" – slightly melancholy and dark, but nonetheless quite striking.
3. "Skør for dig" by KESI feat. Jada
I don't really have too much to say about this song, other than the fact that my brother says it's a good song, and I'm inclined to agree. KESI is one of the biggest rappers in Denmark as of right now, and Jada just has a *darn* good voice.
4. "Under din sne" by The Minds of 99
Despite the name, The Minds of 99 usually only sing in Danish, and one might be able to argue that they have revitalized the Danish music scene and made it popular to sing in our mother tongue again.
5. "What a Life" by Scarlet Pleasure
Granted, not a song IN Danish, but still one that has become ubiquitous with Danish youth and our long summer nights. The song featured in the soundtrack of the Oscar-winning movie "Another Round" (Danish: "Druk"), a movie about four high school teachers trying to break free from the monotony of the everyday and try to appreciate everything about this wonderful life we've been given – by starting to day drink. Both hilarity and tragedy then ensue.
6. "Frit land" by Ulige Numre
"Frit land" means "free country", and although that phrase has some slightly more unfortunate connotations in English, it sounds sweeter, almost more naïve in Danish. It is a song that criticizes recent Danish immigration policy and ridicules the narrowmindedness of some Danes, while also featuring some stunning phrases that almost echo a type of national anthem: "Rolling hills / meadow, forest, field" and "We shall throw ourselves in the waves / that crash on the shore in".
It is also featured in the Danish "højskolesangbog", a songbook containing some of the most important newer and older songs, psalms and hymns, usually sung in Danish churches at "højskoler" or folk high schools, a type of boarding school for people of all ages to attend in order to make some new friends and learn new skills.
This concludes my six tips on how to immerse yourself in Danish culture while you are here in Copenhagen. Keep in mind that there is a fair chance that none of these tips might work for you, and you would rather explore Copenhagen and Danish culture your own way and that's totally fair too! There is no one way of being Danish, just like there is no one way of being American either. As long as you keep an open mind and are respectful, you will be sure to learn a lot about what it means to be Danish while you are here with us in Copenhagen.
See you in Copenhagen! Vi ses!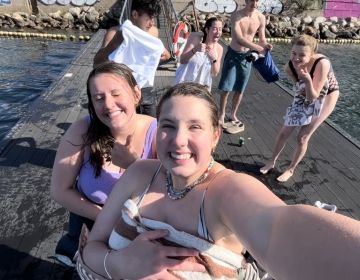 Hi friends! I just wanted to share about one of my favorite memories from my time in Copenhagen. CIEE offers a lot of fun activities throughout the week so students... keep reading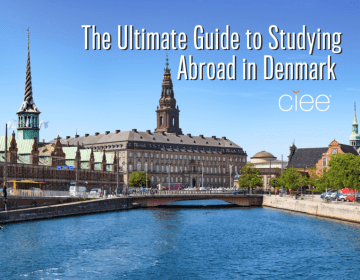 Are you looking to discover a coastline country with a rich history, and unique, modern culture? Then look no further than a Denmark study abroad program ! Why Study Abroad... keep reading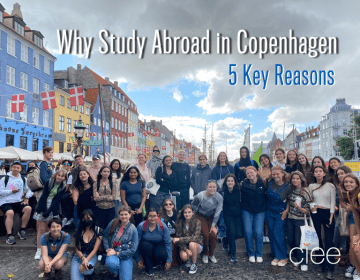 Copenhagen , the capital of Denmark , is a unique urban eco-city with lots of fascinating attractions and activities. A Copenhagen study abroad opportunity will leave you with lasting memories... keep reading