Spain is a beautiful country in southwestern Europe on the Iberian Peninsula. It shares borders with exciting destinations like Portugal and France and offers a fantastic way of life within the European Union. 
The country is known for its laid-back atmosphere where afternoon naps called siestas and easy-going locals make adjusting to life in Spain a breeze. Its locale along the Mediterranean Sea also doesn't hurt, which means miles of sandy coastline and an average of 320 days of sunshine a year.
Snapshot of Teaching English in Spain
Avg. Salary: $800-$1,500/month
Teaching Hours: 12-16 hours
Duration of contract: 8 months
Peak hiring season: February - April
School term: September - June
Visa requirements: Spanish Student Visa for Language and Culture Assistant positions, Work Permit for private schools 
Why Teach English in Spain
Teaching English in Spain is one of the easiest routes for U.S. citizens to move abroad and earn an income in Europe. English in Spain is in high demand, and there are some pretty great programs that bring native English speakers to the country to help students learn the language.
Not to mention, Spain is famous for its overall pleasant climate and incredible food (tapas and wine, anyone?). Teaching jobs in Spain also allow you to learn or improve your Spanish, gain excellent professional experience and explore a new part of the world.
Read More: Is Teaching Abroad Alone Safe for Women?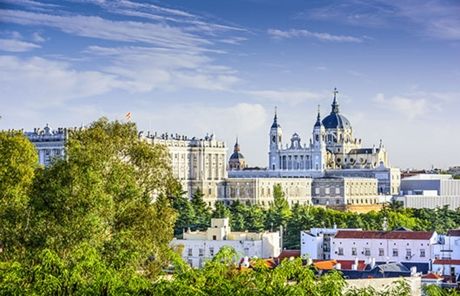 Typical Requirements to Teach English in Spain
Before applying to teaching jobs and programs in Spain, it's essential to consider the general ESL job requirements. To be eligible, you must:
Be a native English speaker 
Hold a Bachelor's Degree or be on your way to finishing it
Have proof of a clean background check
Having a TEFL certificate is not always required to teach in Spain, but it can give your application a leg up on the competition and help prepare you for the classroom. You're also not required to know Spanish, but knowing a little before you arrive can help you better adjust to your new life in Spain.
Types of Teaching Jobs in Spain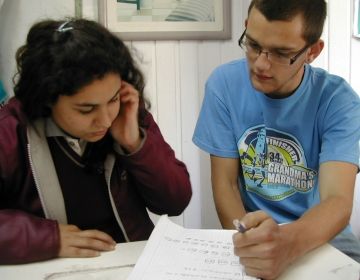 Private Tutoring While Studying Spanish
One way to teach English in Spain is to do so while studying the language on a student visa. A student visa allows non-EU citizens to study in Spain and work up to 20 hours per week. There are both short-term student visas (for a six-month stay) and long-term (12-month stay). Many universities in Spain offer long-term Spanish courses. The only downside is the cost of tuition. Another way to earn money while studying in Spain is by teaching English online.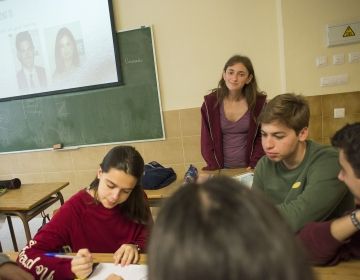 Private Schools and Language Academies
Teachers that possess an accredited TEFL certificate, a teaching license, and can secure a residence permit can find a job teaching at a private school or language academy. These positions are typically very competitive but offer the highest salaries and best benefits. The best way to get a job at a private school or academy is by applying in person in Spain. Spainwise is a fantastic online resource with a school directory and an annual job fair to help qualified teachers find a job. However, Americans without EU citizenship often find it quite challenging to secure a position like this.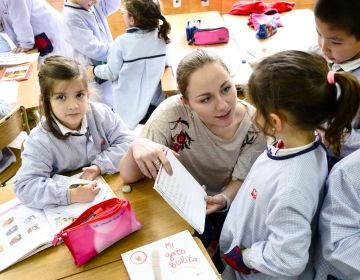 Language and Culture Assistants Program
The Language and Culture Assistants Program, or Auxiliares de Conversación, is a government initiative run by Spain's Ministry of Education. It's one of the most popular and convenient ways to secure a job teaching English in Spain. The program hires native English speakers to assist Spanish teachers in public schools around the country. Teaching assistants are expected to work between 12-16 hours a week and receive a grant of €700-€1,000 per month ($800-$1,150) to cover the cost of living. It also allows teachers to find side tutoring gigs if desired. 
How to Apply to the Language and Culture Assistants Program
There are a few ways you can apply to become an English teaching assistant in Spain's public schools: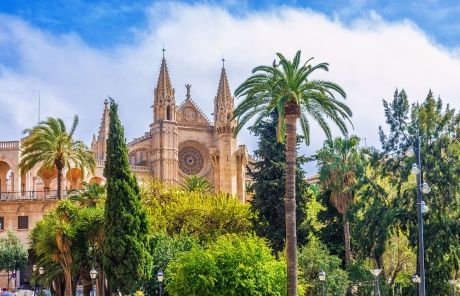 Apply with CIEE Teach Abroad in Madrid
The CIEE Teach Abroad Program in Spain guarantees that successful applicants are placed in the region of Madrid with the Language and Culture Assistant Program. Participants enjoy incredible benefits like a four-day orientation in Madrid, four nights of temporary accommodation, and 24/7 support from CIEE staff during their contract. Teaching assistants receive a €1,000 monthly stipend and one year of insurance. Applications are typically due before March 1.
Learn more about the CIEE Teach Abroad Program in Spain.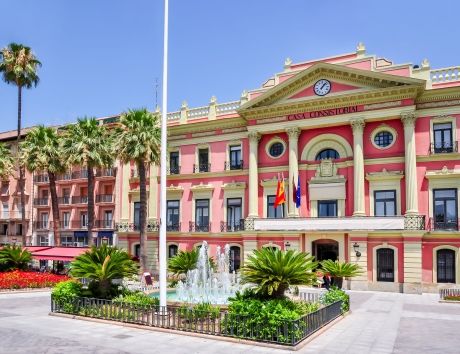 Complete a CIEE TEFL Certificate and Enjoy Free Placement Assistance in Murcia
CIEE TEFL Placement Assistance in Murcia is a free service offered to CIEE TEFL students and alumni of the 150-Hour or the 180-Hour TEFL Certificate course. Participants are placed through the Language and Culture Assistant Program within the region of sunny Murcia. Teaching assistants in Murcia receive between €700-€875 per month in compensation.
Learn more about the CIEE TEFL Placement Assistance in Murcia.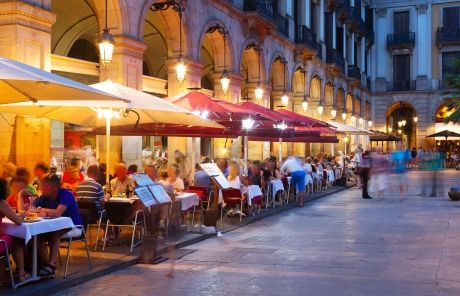 Apply Independently to the Language and Culture Assistant Program for Placement Anywhere in Spain
If you'd like to apply to the Language and Culture Assistant without outside assistance, the application can be completed on the Spanish government's Profex website. The Profex portal is entirely in Spanish and requires applicants to upload all required personal information and documentation correctly. Applying directly to the program means that you could be placed anywhere in Spain, even in the Canary Islands! 
Learn more about applying to the Language and Culture Assistant Program directly.
Frequently Asked Questions
You've got questions. We've got answers.