Is Teaching Abroad Alone Safe for Women?
Teaching English abroad is an incredible way to earn an income while seeing the world. It's equal parts exciting, empowering, and if we're honest, a wee bit scary. Leaving behind everything at home for the unknown isn't for everyone! 
But fear aside, it's a fantastic opportunity that attracts hundreds of thousands of native English teachers every year, of which it's believed more than half are women. But if you're wondering - is teaching abroad alone safe for women? It's only natural.
We're here to dispel the common myths associated with teaching abroad as a woman and share some helpful tips when moving to another country alone! 
6 Common Myths About Women Teaching English Abroad Alone
1. Women shouldn't travel alone.
The belief that women shouldn't travel alone is a belief that's simply untrue. Everything in life comes with some risk, and women can face unwanted attention and harassment anywhere. So to say women shouldn't travel alone is unreasonable, because no country in this world has successfully eradicated gender violence. You can rest assured that teaching abroad as a single woman isn't inherently more dangerous than anything else.
Additionally as a woman abroad alone, you have the power to reduce risks by preparing thoroughly, following essential safety tips, trusting your gut, and remembering that it's not worth living your life in fear as you follow in the footsteps of countless other women!
2. Teaching abroad alone is unsafe.
Contrary to what many believe, teaching abroad is generally safe and likely not all that different from life in your home country. ESL teachers often enjoy similar conveniences and infrastructure not unlike what they're accustomed to in their hometown.
Additionally, many popular teaching abroad destinations are safer than some places in the U.S! For a bit of perspective, the 2021 Global Peace Index has the U.S. ranked the 122nd "most peaceful" country in the world. Countries like South Korea, Japan, the UAE, Taiwan, etc., all have extraordinarily low crime rates and rank safer than the United States. 
3. Going abroad solo is lonely. 
It may surprise you, but teaching abroad alone is actually an excellent way to meet new people! When you move abroad, you're immersed in a new place with new people in the same boat, just waiting to make new friends. 
You're also in a unique position where it's easier to put yourself out there than if you were comfortable at home with your friends. Not to mention, you'll meet colleagues at your new school, and there will be a local expat community to tap into in your new city.  
4. You have to be brave to teach abroad alone as a woman.
It's completely normal to feel scared or have pre-departure jitters when deciding to leave home. But no matter your fears, anxieties, or insecurities, everyone is capable of teaching English in a new country. And sometimes, the scariest things in life are worth pursuing.
When you push through your fear to teach abroad, you gain a greater sense of who you are as a person, a better understanding of the world, and a unique professional experience that'll ensure you stand out from the crowd.
5. The best place for women to teach abroad alone is in Europe.
There is often the misconception that foreign countries outside the United States or Europe are too dangerous for women to teach in. This could not be more false! 
While it's true that some places may require more vigilance, there's no need to fear teaching abroad in places like Asia or the Middle East. As previously mentioned, there are thousands of expats living in these parts of the world who are living happy and healthy lives. Plus, many countries in these regions are statistically safer than cities in the United States.
6. Moving abroad alone is too expensive.
Moving abroad does require start-up money, but that doesn't mean that it's out of reach for those going solo. Some of the ways you can save money when first arriving in a new country is to stay in a hostel while apartment hunting and avoid eating or going out in the beginning. 
Having backup savings as a safety net is also recommended to ensure your move abroad is safe and stress-free while you await your first paycheck. Many teaching positions offer incredible benefits like free housing, reimbursed roundtrip airfare, and health insurance. Consider taking a teaching position with these extra benefits for increased financial security.
Read More: 10 Best Countries to Teach Abroad and Save Money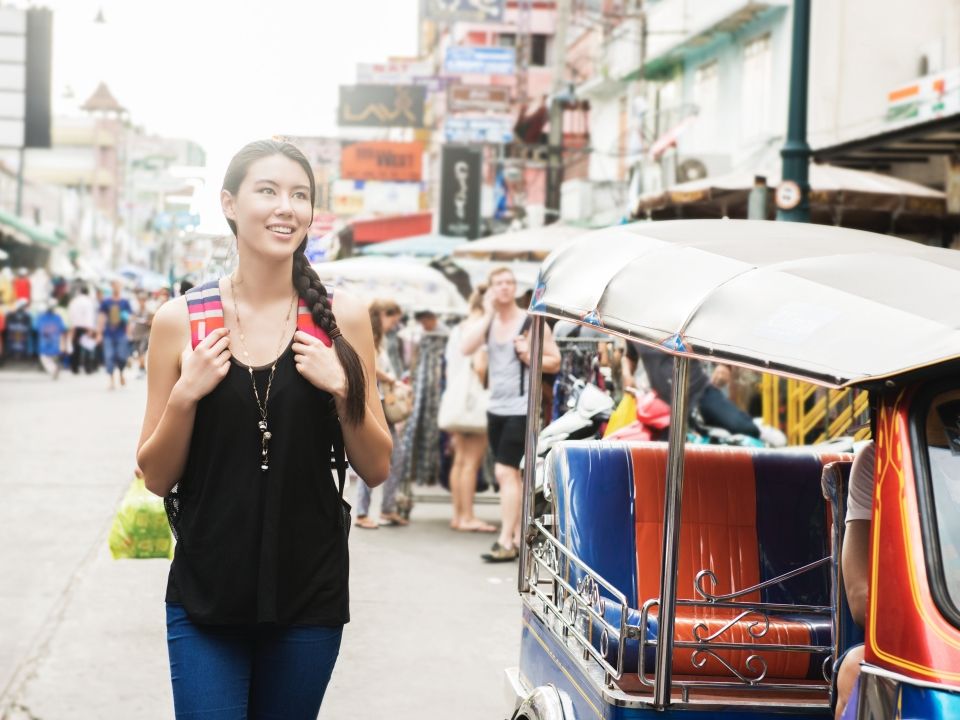 5 Tips for Women Dreaming of Teaching Abroad Solo
It's one thing to tell you that you're capable of teaching English abroad alone as a woman, but it's another thing to show you how to do it. These tips will help you accomplish your goal and make your dream of teaching abroad a reality. 
1. Make a plan and research your destination.
Before moving to a new destination, it's essential to research the local culture, etiquette, and general information for getting around, especially as a woman. It's impossible to learn everything about a new place before arriving but it can help you feel less stressed and anxious. What people fear most is the unknown, and with a good plan under your belt, you can feel in control of the situation and avoid making common cultural mistakes.
2. Apply to teach abroad with a program. 
If you're nervous about teaching abroad alone, consider applying through an organized program. A teach abroad program gives you access to experts that help teachers with nearly every step of the move abroad process. 
These programs are there to help, provide support, and sometimes even offer in-country orientation to ensure you're not entirely alone when you first arrive. CIEE Teach Abroad is one of the most reputable programs that help aspiring ESL teachers work in South Korea, Spain, China, and Thailand, while also providing a safety net of international insurance and 24/7 emergency assistance.
3. Join Facebook groups, clubs, and other local communities.
Teaching English abroad or moving to a new country isn't a new phenomenon, and women have been doing it for decades! So if you're considering doing the same, there are many communities out there to answer your questions and offer tips. These groups are also an excellent way to make friends and feel empowered to move abroad.  
Some of the best Facebook groups for women teaching abroad alone include:
4. Be flexible and keep an open mind. 
Culture shock and homesickness are two of the biggest challenges of living in a new country. However, an open mind and the ability to go with the flow are two traits that can immensely help with the adjustment period. 
With an open mind, you're able to see things from a new perspective, which can make adapting to your new lifestyle easier. And being flexible can help you avoid disappointment or dashed expectations. Teaching abroad in a new country is one big learning experience, after all. 
5. Bring mementos from home and schedule regular video calls with loved ones.
Having an open mind isn't the only way to ease homesickness. When packing your bags, save a little bit of room for personal items. Photos, trinkets, and snacks you can't find abroad are a few of the things that may come in handy when you're missing home.
Planning regular video calls with loved ones is also a great way to cure homesickness. It allows you to stay up to date with your friends and family, and may provide a healthy outlet while adjusting to your new life abroad.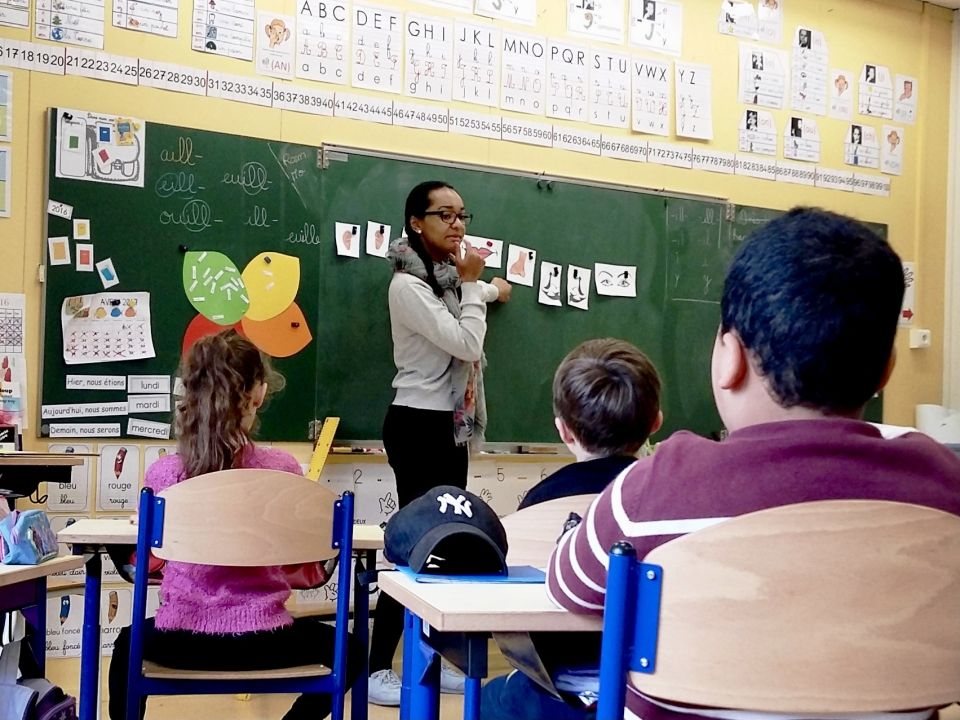 Helpful Resources for Women Teaching Abroad Alone
These practical tips also ensure peace of mind for women traveling abroad. 
Check the

U.S Department of State and the country's local embassy you wish to visit for important travel advisories before you leave.

Enroll in the

U.S. STEP Program, a free program for U.S. citizens abroad. The STEP program sends out important travel information and allows you to stay connected with your nearest U.S. Consulate or Embassy when outside of the country.

Research the need-to-know entry information and relevant travel news from the

Country Profiles page from the U.S. Department of State.

Search for local blogs from women who have taught abroad in the country of your choice for first-hand experiences and tips.

Read reviews of countries, schools, positions, and more on

Dave's ESL, the leading platform for ESL teachers.
CIEE Teach Abroad Programs Can Help You Get Started
If you're considering teaching English abroad but don't want to do so completely alone, CIEE Teach Abroad is a fantastic program. Offering placements in South Korea, Thailand, Spain, and China, CIEE Teach Abroad helps applicants with every step of the process. 
From getting TEFL certified, to applying to jobs, and the move abroad process as well, you're guided by leading TEFL experts from the very beginning.