The United States may be a majority English-speaking country, but there's actually a growing need for English language teachers. That's because the U.S. is home to millions of immigrants, expats, refugees, and first-generation citizens seeking a way to improve their English skills.
As an English teacher in the United States, you'll help others learn English while bridging the divide between cultures. Teaching English in the U.S. is also an excellent opportunity to continue your career in ESL for those coming back from teaching English abroad.
Here's everything you need to know about teaching English in the United States!
Read more: 5 Ways To Use Your TEFL Certification At Home
Snapshot of Teaching English in the U.S.
Avg. Salary: $2,000-$4,000/month
Teaching Hours: 10-25 hours
Peak hiring season: Summer/fall, year-round
School term: September to early/mid-June
Visa requirements: U.S. citizenship or U.S. work authorization
Why Teach English in the United States
Teaching English as a second language is a rewarding career that allows you to work with students of all ages and backgrounds seeking to better their English speaking, writing, reading, and listening skills. And as counter intuitive as it may seem, someone may need English language instruction in the United States for many reasons. For example, teachers may work with immigrants studying for their citizenship tests, refugees needing English for work, or even young students first learning the language while attending school.
When considering teaching English in the U.S, there are many acronyms you'll come across to differentiate teaching English as a second language (TESL) from standard English, or language arts classes. The most common terms are:
ESL (English as a Second Language): Refers to English language instruction in an English-speaking country
EFL (English as a Foreign Language): refers to English language instruction in a non-English-speaking country
ELL (English Language Learners): Any non-native speaker learning English
TESOL (Teachers of English to Speakers of Other Languages): The umbrella term for the field of teaching non-native speakers of English in any context
TEFL (Teaching English as a Foreign Language): A term referring to native-English speakers teaching English abroad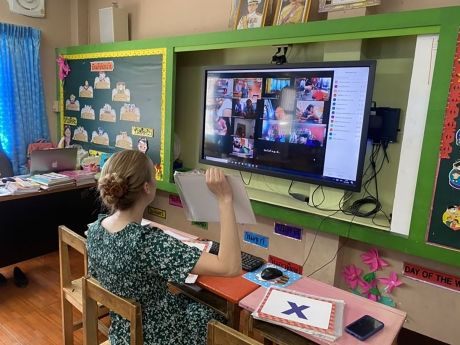 Typical Requirements to Teach English in the U.S.
The qualifications needed to teach English in the U.S. depends largely on the position. But in general, you must:
Be a native English speaker
Hold a university degree, typically in English, TESOL, education, or a related field
Have a valid state teaching license
Have a CELTA or TEFL certificate
If you're not a U.S. citizen and are interested in teaching English in the United States, you must first secure a valid work authorization to do so.
Types of English Teaching Jobs in the United States
Here are a few of the ways you can pursue a career teaching English as a second language in the United States.
Private and Public Schools
Teaching ESL at a private or public school is a standard, full-time teaching position, although you may work at various schools within a district. These roles often require teachers to have a degree in education, a teaching license, and a qualification for teaching English like a CELTA or TEFL certificate.
ESL teachers are needed in elementary, middle, and high schools and work with ELL students who need assistance with English and other subjects in school. ESL teachers in the United States typically earn $40,000-$50,000+ annually. 
Language Schools
Language schools are private establishments that cater to students seeking to learn English or any other foreign language. Students at private language schools are typically young adults or international university students looking to better their English ability. These schools often operate evenings and weekends to accommodate work and school schedules.
These positions are few and far between, as most language schools are located in big cities with more demand. Some of the best-known language centers in the U.S. include Kaplan, Oxford International Education, and EC Language Centers. Typical job requirements to teach at a language school include having a Bachelor's degree and a reputable TEFL certificate.
Community Colleges and Universities
Those aspiring to teach English at the college level should consider teaching English as a teaching assistant or adjunct professor. Teaching positions at colleges or universities typically require a Master's degree. These positions can be competitive, however, they also tend to pay higher salaries, upwards of $50,000-$75,000+ per year.
Private Tutoring and Teaching English Online
Another way to use your ESL teaching skills in the United States is by becoming a private tutor or by teaching English online. As a private tutor, you can find students independently or apply to teach on an online platform that facilitates English language instruction. Private English tutors can earn between $10-$25+ per hour, depending on experience and professional qualifications.
As an independent tutor, you are fully responsible for marketing your services, setting rates, and creating lesson materials. Teaching English online with an established company often means you enjoy their marketing services and network of students, a set curriculum (sometimes), and a set pay rate.
Read more: How to Teach English Online & Earn Money From Home or Abroad
Volunteer
Becoming a volunteer ESL teacher is an excellent way to make a difference in your community, connect with new people, and gain valuable teaching experience or in-class hours for a TEFL certification. Volunteer teaching opportunities are either fully unpaid or provide a small stipend.
Unpaid volunteer positions can often be found at local non-profits or churches that have programs dedicated to assisting refugees and immigrants to get settled into American life. There are also platforms where you can volunteer to teach English online and make a difference at home, such as Paper Airplanes and CC English.
AmeriCorps and other organizations place volunteers in classrooms throughout the country and provide a stipend at the completion of your contract. The amount is not comparable to a salary but a small lump sum to help offset teaching costs.
Frequently Asked Questions
You've got questions. We've got answers. 
As an ESL teacher in the United States, you'll likely work with students from different cultural backgrounds. That means cultural sensitivity is of the utmost importance. Depending on your student's culture, there may be some unique cultural differences to remember when developing lessons and leading activities.
Additionally, ESL teachers are often part of special education departments in public and private schools. ELL students typically require an IEP or Individualized Education Program and may have additional learning needs.
Unlike other countries, many ESL jobs in the United States require teachers to have a degree in a related field, a teaching license, and a TEFL, TESOL, or CELTA certification, especially in public and private schools. However, many language schools are lower entry and hire college-educated teachers with a reputable TEFL certificate of at least 120 hours.
CIEE TEFL'S 150-HOUR TEFL CERTIFICATION
CIEE TEFL is one of the best TEFL providers in the industry. As an internationally recognized and trusted brand, CIEE has a proven track record of helping graduates successfully secure teaching jobs abroad and in the United States in order to lead their ESL classes confidently.CIEE TEFL's 150-hour certification makes it easy to complete your TEFL training online in just three months. This comprehensive course includes:
How much you can earn as an ESL teacher in the U.S. depends entirely on your job. Full-time teachers at a traditional school typically earn a salary between $40,000 and $50,000 yearly. However, this amount depends on your professional qualifications, where you live, and your job title.
Those that teach English at a language school, online, or as a private tutor are often paid hourly. That hourly rate can range between $10-$25+ per hour. One way to increase your earning potential is to strengthen your resume and skills with professional training like CIEE's 150-hour TEFL certification.
Read more: Is a TEFL Certificate Worth It? How TEFL Can Advance Your Career at Home and Abroad
Thankfully finding an ESL job in the U.S. is easy if you know where to look.
Apply Directly to Hiring Schools
Contacting schools directly is one way to find ESL jobs in the U.S. Although more time-consuming, it allows you to narrow your focus to exactly where and what kind of school you'd like to teach. For those interested in teaching at a chain of language schools, this is also the best way to see all current openings in one place. However, not all schools list their open teaching positions on their websites, so you may need to email to inquire more.
Expand Your Professional Network
One effective way of securing a reputable teaching job is through professional networking. Teaching is a very personable career, and many schools have a tight-knit work community. So, knowing someone who can vouch for you can help give your application a competitive edge. Some practical ways to network with fellow teachers are through LinkedIn, by joining online teaching communities, and by staying in contact with educators you've known personally.
Look on Job Boards
One of the most efficient ways to find teaching opportunities is on job boards like Indeed, LinkedIn, and HigherEdJobs. Here schools across the nation list current openings and detailed information like the job's requirements, responsibilities of the position, and whether it's part or full-time. However, always practice caution when applying online before sharing personal information.