A Day in the Life of an English Teaching Assistant in Spain
Truthfully, when I applied to CIEE's Teach Abroad program I had no idea what day-to-day life would really be like. If you are considering applying or already applied and want to get an idea of what life as an English teacher really looks like, you have come to the right place. I am going to lay out what my typical day and week look like as an English Teaching Assistant in Spain.
Daily Schedule
Morning
On Mondays and Wednesdays I leave my apartment around 9:15am to arrive at school by 11:00 am. On Tuesdays and Thursdays, I leave my apartment around 7:15am to arrive at school by 9:00 am. I like to give myself a little over an hour to freshen up, write in my gratitude journal, and eat a quick breakfast before heading out the door. If I am running late, I skip breakfast at home and grab a two-euro coffee and pastry from the bus stop – one of my favorite conveniences. From my apartment, I walk about five minutes to the nearest metro station. I take two trains to Plaza de Castilla, which has a big underground bus station that has routes that reach the outskirts of the Community of Madrid. From there, I take an hour-long bus ride to my school. In total, my commute is about an hour and half from door-to-door. Yes, an hour and a half. I know, I know, it's long, but I have learned to enjoy the extra alone time and used it to read books or listen to podcasts. Get creative with the built-in time you have on your commute and use it to your advantage!
Daytime
Once I arrive at school, I have about 30 minutes to prepare for class before my first period. I use this time to print any materials I need and get myself organized. Assistants are required to work 16 hours a week, so I work about four hours, or four class periods, a day. Schools can be bilingual, meaning most classes are taught in English, or non-bilingual. I teach in a bilingual school, and I studied science, so I teach English in biology & geology, physics & chemistry, history & geography, arts, and English. While I teach English and non-English classes, assistants placed in non-bilingual schools will exclusively teach in English classes. The number of assistants at each school also varies. Your coordinator will work with you to create a schedule that works best with your education background and preference. Halfway into the school day there is the "recreo", or recess, when the students have a break outside. During this time there are snacks for the teachers in the "cantina", or lunchroom, which has fruit, tapas, tea, coffee, and juice. This is a great time to get to know the teachers at your school and maybe even practice your Spanish. All the teachers at my school are very friendly!
Evening
After school, I take the bus back to Madrid. I have Thursday afternoons free, so my friend and I usually find a tapas or coffee place together then walk around the city. On Mondays and Wednesdays, I tutor a seven-year-old girl and on Tuesdays I tutor a five-year-old girl and her mom, both located about halfway between my school and my apartment. Tutoring has been a great way to make extra cash for weekend trips, eating out, or doing fun things in Madrid. If you are interested in a side hustle, there are many ways to find one. You can post on tutoring websites, ask your coordinator to send a message out to parents, or post in English Language Assistant group chats or Facebook pages. There is always a family looking for a native English speaker like you to tutor their son or daughter, or an adult looking to practice his or her English-speaking skills. Many adults looking for a tutor are preparing to take the Cambridge English Exam, so it may be helpful to research this test. I also know assistants who make extra money through babysitting or working online for a company at home.
Here are some helpful links for tutoring opportunities and the Cambridge English Exam:
Tutoring: www.tusclasesparticulares.com
Cambridge English Exam: www.cambridgeenglish.org/exams-and-tests/
Nighttime
Once I get home from tutoring, I am tired. In addition to tutoring after school, the commute alone can be exhausting! My roommates and I make dinner for each other once a week which has been a great way to take the work off each person. Plus, I only have to cook once a week. Spaniards eat dinner much later than we do in the US, so we typically eat around 8:30pm. After dinner we usually relax by watching a show together (on Wednesdays it's always The Bachelorette). Some nights we go to an event or grab a drink, but because our teaching days are long it is important that we get enough sleep during the week. We have plenty of time to explore the city and have fun on the weekends!
Weekly Schedule
Every assistant has one day off, either Monday or Friday. I have Fridays off, so my work week is Monday to Thursday with a long weekend Friday to Sunday. The coordinator at your school will work with you to give you your preferred day off. While my workdays are long, I have plenty of time to experience Madrid on the weekend. I feel like the schedule offers a reasonable balance between teaching and getting the most out of living abroad. And if you can, find some time during the week to journal. This is a once-in-a-lifetime experience, and you will want to look back on the stories you have from teaching and life in Spain one day!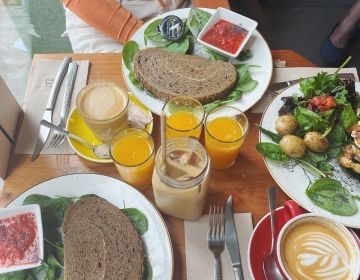 Hola! My name is Shelby. Welcome to my first ever blog post. I have always been dreaming of a life where I could see and explore the world. Up until... keep reading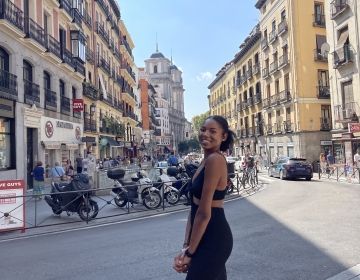 Hey everyone! My name is Kaitlyn, I'm 22 years old, and from Cleveland, Ohio. I've also lived in Charlotte, North Carolina, and New Orleans, Louisiana. I received my undergraduate degree... keep reading
Hello everyone! My name is Sophia Cox. I am from Chicago, Illinois. During my time at the University of Wisconsin, Madison, I studied Psychology and Digital Studies. Up until December... keep reading