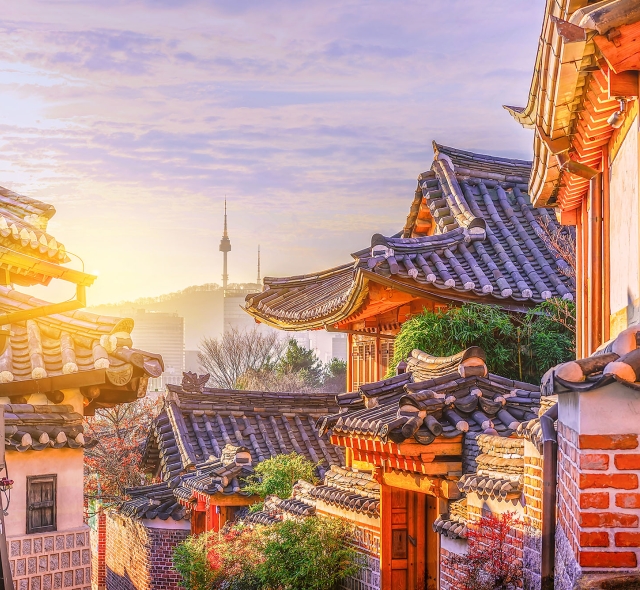 Teach In South Korea Program
TEFL Included - $1,195 value
Compensation
2,100,000-3,000,000 won/month plus housing
Application Deadline
The application deadline has passed.
Apply Now
Compensation
2,100,000-3,000,000 won/month plus housing
Application Deadline
The application deadline has passed.
Apply Now
Overview
What's Included
Private School candidates: interview opportunities with reputable schools
Public School candidates: guidance with EPIK's application, including lesson plan tips
Instructions for preparing documents and visa
Access extensive pre-departure advice from CIEE staff and alumni
Enrollment in a CIEE 150-hour TEFL certification course
One year of iNext international insurance with 24-hour emergency assistance services
Support and advice from CIEE representatives in Korea
Mid-year networking weekend in Seoul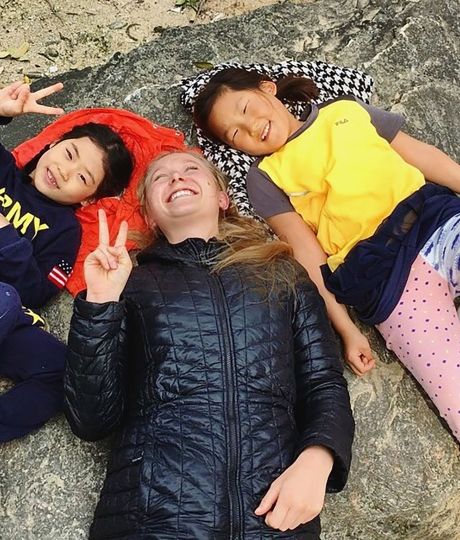 The Destination
The Destination
Participants are placed in cities and suburban areas throughout South Korea. Teaching assignments are available in the Seoul metropolitan area, but they are often more competitive and are not always available to inexperienced teachers.
Many teachers are placed in the following cities:
Busan, the country's second-largest city, draws many international conventions and foreign visitors.
Ulsan, on the south-eastern coast, is an industrial powerhouse with the energy of a robust economy.
Daegu enjoys a subtropical climate ideal for producing high-quality apples, thus its nickname, "Apple City." It is also a notable center for Korean fashion.
Daejeon, in the center of the country, has 18 universities and is a center of advanced technology.
Gwangju is another large, culturally rich city in the south of the country.
The greater Seoul area is one of the largest metropolitan disctricts in the world and includes the nearby cities of Bucheon, Incheon, Suwon City, Gunpo, and Namyangju.
Each year, we have other interesting locations not included on this list!
CIEE wants all our participants to feel welcomed, supported, and empowered to succeed while teaching abroad. Local CIEE staff have provided details about conditions and cultural attitudes that teachers with specific identities might encounter in Seoul, and these are generally applicable to other parts of the country where Teach Abroad participants are placed.
Please note: because of the Korean visa process, it is not possible to plan other international travel in the two months before your program begins. Plan to be in your home country during that time.
COMPENSATION
Rent-free housing with basic amenities, competitive salary, airfare, South Korean-national medical insurance benefits.
PREPARATION
Receive a 150 Hour TEFL certificate from CIEE, including real-world observation and practice, to meet the requirements of prospective employers.
ASSISTANCE
Pre-departure guidance, international medical insurance and 24-hour worldwide assistance with CIEE iNext, in-country support from resident staff members.
Hi, my name is Connie and I'll be blogging for CIEE from South Korea! I teach in a hagwon in Anyang, close enough to Seoul to pop in for an... keep reading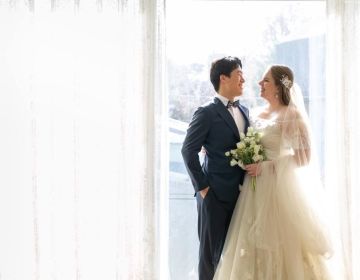 We asked some Teach Abroad alumni how they met their partner abroad. The answers did not disappoint! Haven't found LOVE abroad? That's fine, most of CIEE teachers abroad said they... keep reading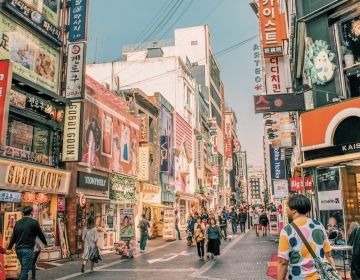 The first time I found out that I would be traveling to South Korea, I was so excited! However, the looming cloud of what I needed to shove into two... keep reading
Job Description
Job Description
In South Korea, you'll be teaching English in a society where academics are highly valued. Positions are available with KG and elementary students, so if you're excited to be a language and cultural ambassador for South Korea's youngest learners, you're on the right track!
Most Korean students attend public school during the day, then private academies called hagwons in the afternoon or evening, to help them meet high expectations for educational achievement. Each type of teaching job has its pros and cons. Visit our South Korea Schooling System comparison guide for more information.
If you choose to apply for private schools (hagwons), you have much more influence over location, and you will likely have other expat teachers at your school. It's the best approach for friends and couples seeking placement together, too. Our program will guide you with documents and the visa and arrange video interviews with reputable employers.
If you choose to apply for public school jobs, CIEE's program will provide guidance on how to make a strong application with EPIK, the Korean public school program for foreign teachers. EPIK is competitive, and offers little to no control over location, but has longer vacations and Korean co-teachers.
Keep in mind, you can only apply for one school type at a time. Not sure which one is right for you? Check out our page on Types of ESL Jobs in South Korea and then schedule a phone call!
Compensation & Benefits
Regardless of the type of school, teaching in Korea offers an outstanding package when it comes to salary and benefits. You can live comfortably and still save money each month, and use it for travel, student loans, or whatever you want!
Private Schools pay 2.3 to 3.0 million won/month, plus rent-free housing. The highest salaries typically correspond to a heavier workload.
EPIK Public Schools pay 2.1 to 2.4 million won/month, plus rent-free housing. Salary depends on credentials and province assignment.
You'll have a small deduction each month for Korean taxes, but you'll be enrolled in Korea's National Health Insurance which delivers excellent care at very low prices. There's also a contract completion bonus equal to one month's salary at the end of your program.
All teachers receive rent-free housing from their employer, in the form of a small studio apartment with necessary furnishings.
Schools & Locations
Private schools are concentrated in cities and urban areas, where there are lots of customers! It's rare for a first-time teacher to get a job in central Seoul, but there are lots of opportunities nearby in Incheon, Gyeonggido, and Suwon, as well as other cities and urban districts throughout Korea. We'll do our best to follow your preferences when arranging interviews!
The EPIK Public School program places teachers nationwide, based on each area's needs. You'll be able to list a single province or city as a preferred location, but there's no guarantee, and the major cities are highly competitive. EPIK candidates must be flexible about location since province assignments are only announced about 5 weeks before departure.
Workload
Participants at private schools are solo lead teachers with full responsibility for their classes. Class sizes are small (5-12 students), but the overall workload is fairly heavy: typically 30-33 classroom teaching hours* each week. 9-10 paid school vacation days (fixed schedule), plus 10-15 national holidays.
Participants at public schools have Korean co-teachers with them most of the time, but should be ready to take the lead on lesson planning. Expect 20-30 students per class, and 20-25 teaching hours* per week. 24-26 paid school vacation days (fixed schedule), plus 10-15 national holidays.
*Outside of teaching hours, other obligations including meetings, free periods, assemblies, and lunch supervision. 
"CIEE helped prepare to move to Korea and also helped me afterwards with organizing an orientation to make friends and get helpful insight from alumni."

Helen A. | Teach in South Korea

"CIEE was an extremely important factor in my teaching abroad experience. I was able to complete my TEFL certification online through CIEE, they helped me find a great city and hagwon, and provided me with a community once in Korea."

Teach in South Korea Alumni

"CIEE has made the transition into a new job and culture very smooth."

Jon M. | Teach in South Korea

"Very helpful with providing support. The orientation was key in helping me form my community."

Brooke E. | Teach in South Korea

"It's a great program; the process is not as complicated as others, the staff is friendly and helpful, the school I was placed at is amazing."

Eli S. | Teach in South Korea
Qualifications
You don't need to speak Korean to apply! You'll need a bachelor's degree in any field, along with a few other qualifications. These, plus a sense of adventure and a real desire to cross cultural boundaries and engage with people eager to learn English, will make you a great candidate.
CIEE looks for candidates who are independent and curious and thrive in a changing environment. Are you self-motivated, responsible, and ready for a rewarding adventure? If so, start your application now!
Requirements
Native-level English fluency
A bachelor's degree in any field, from a university in one of the countries listed below
Citizenship in the United States, Australia, New Zealand, South Africa, Canada, Ireland, or the United Kingdom
A commitment to 12 months of employment
CIEE's 150-hour TEFL certification course is included with the Teach in South Korea program. Candidates who already have a certificate or a B.Ed. should consider Korea Basics instead.
On paper, applicants must be 61 or younger to receive a work visa. In practice, we've found that schools won't consider candidates who are 50 or older.
To make your application stronger, highlight additional qualifications, such as:
Experience studying, working, or volunteering abroad
A degree in English or education
Experience instructing children
Please note that your passport's validity must extend at least 6 months beyond the end date of your desired program. If it expires before then, renew it right away!
TEFL Certification
TEFL Certification
Teaching English as a Foreign Language (TEFL) certification gives you the skills, experience, and confidence to make teaching abroad even more rewarding – both for you and those you teach. The CIEE TEFL 150-hour certification course is included in the fee for this program and ensure that you:
Develop an awareness of the field and practices of TEFL
Understand the components of English related to teaching nonnative speakers
Get personalized feedback from an experienced TEFL tutor
Can design lessons for TEFL students at a variety of levels
Complete 20 hours of practice teaching experience to hone your skills
Ready to change your life?