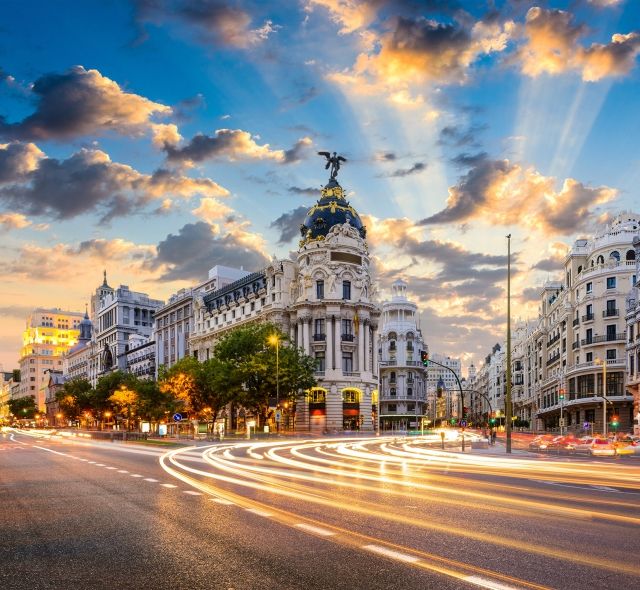 Teach In Spain Program
Accepting Applications for Fall 2024 Start Dates
Application Deadline
The application deadline has passed.
Apply Now
Overview
What's Included
Guaranteed placement in region of Madrid
Support before you depart, including expert visa guidance and online preparation course
Support after you arrive from CIEE staff in Madrid
Airport pickup and transportation to your orientation hotel on arrival day
Four days of orientation with topics including housing, banking, residency, health & safety, and more
Four nights of hotel accommodation during orientation
Cultural activities and most meals during orientation
Private Spanish health insurance with no deductibles or copayments, and 24/7 emergency assistance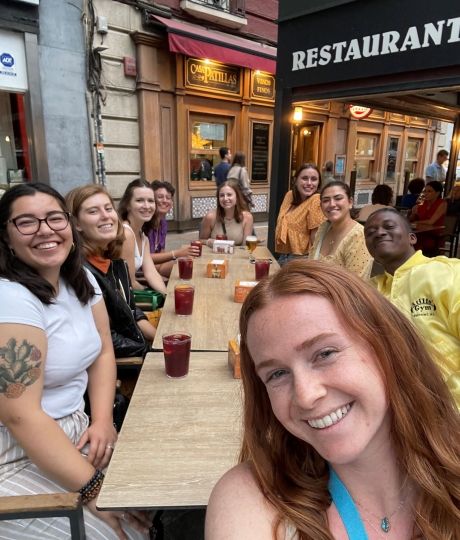 The Destination
The Destination
Madrid is the cultural heart of Spain. Teachers in Madrid have the opportunity to visit world-renowned art museums, explore diverse neighborhoods, and meet with friends at its countless parks and tapas bars.
School placements are located in the Region of Madrid, in urban and suburban areas up to 120 minutes away from the city center. Teachers arrange their own housing, so they can choose to live near their schools, or commute from further away, giving everyone the option of living in the city center.
CIEE wants all our participants to feel welcomed, supported, and empowered to succeed while teaching abroad. Local CIEE staff have provided details about cultural attitudes that teachers with specific identities might encounter in Madrid.
Please note: because of the Spanish visa process, it is not possible to plan other international travel in the three months before your program begins. Plan to be in your home country during that time.
Compensation
Monthly stipend of €1,000 in Madrid to cover basic living expenses.
Preparation
Job placement, visa application guidance, an online pre-departure course, 4-day in-country orientation, cultural activities.
Assistance
24/7 support from CIEE staff in Madrid, health insurance and emergency assistance, resources for finding housing.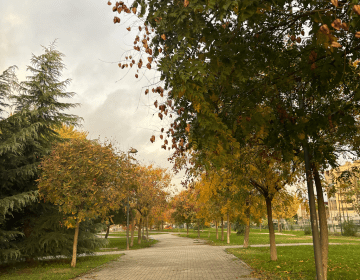 As I sit on the train on my way to my first day of school, I share some reflections on my first week as an Aux in Madrid.
For me, I would say it was a bit intimidating to walk into a large hotel with just a name and direction. Finding the CIEE, check in desk helped to... keep reading
Job Description
Job Description
While teaching in Spain, you'll serve as a Language and Culture Assistant (Auxiliares de Conversación) in a public school in the region of Madrid.  The primary responsibility of Language and Culture Assistants is to help students develop their English language skills.  You'll do this by organizing discussions and activities in English that relate to the topics students are learning in their classes.
Language and Culture Assistants are also responsible for facilitating cultural exchange and teaching students about other cultures.  You'll have the chance to share the cultural traditions and holidays that are important to you.  For example, you might organize fun activities related to Halloween.
You will assist local, lead teachers and will collaborate with them to design activities in English that support their lesson plans.  Exact responsibilities can vary, but you will not be responsible for grading or the independent supervision of students.
Learn More About Teaching in Spain With CIEE
Compensation 
CIEE Language and Culture Assistants in Madrid receive a monthly stipend of 1,000 Euros. For most participants, this is adequate to afford a comfortable lifestyle. If you're careful with spending, you'll have some money for fun and to explore Spain and other European countries. Your income will go further outside of city centers where the cost of shared accommodations, food, transportation, entertainment, etc., are lower. We will provide you with advice on how to find an affordable apartment and how to best plan your budget each month. 
Most program participants also teach private English classes, either through their school or independently. CIEE can help here, too, with advice on how to advertise and find private lessons when you get to Spain. 
CIEE participants have paid holidays around Christmas and Easter. Exact dates will be confirmed when the school calendars are approved in September. There is usually a two week break around Christmas. Participants also have Holy Week off, which is the week before Easter. Official provincial calendars are available in September.
Schools
CIEE teachers are placed at public schools participating in a governmental bilingual initiative, including kindergarten, primary and secondary schools. Most schools are outside Madrid's city center, in the Community of Madrid's other cities and small towns.  If you are placed in a small town, it is possible to live in the city center and commute to your school by public transit. For our main start date in the Fall, location and age-group preferences are considered by CIEE, but we are not able to guarantee specific placement preferences. Our January start date has a smaller number of positions. This means it's not practical to consider placement preferences, so applicants must be flexible and ready to be placed anywhere in the Madrid region.
Workload
As a Language and Culture Assistant in Madrid you'll teach 16 classroom hours per week and have a 4 day work week.  In addition to your classroom hours, you may be required to spend a few hours attending planning or professional development sessions each week.  Many Language and Culture Assistants also enjoy participating in sports clubs or other extracurricular activities at their schools. You'll enjoy 3-day weekends with either Monday or Friday off so you'll have plenty of time to travel, learn Spanish, or participate in local clubs and organizations. For teaching assistants, the fall semester runs from early October to just before Christmas, and the spring semester runs from early January until late June.
"I didn't realize how truly helpful CIEE was until I got here and spoke to people who came here on their own or through other programs and /i am honestly so grateful for the guidance that CIEE gave."

Stuart M. | Teach in Spain

"CIEE was very helpful in preparing me for my trip to Spain. Upon arrival in Madrid, I was provided with step by step instructions of what I needed to do along with the necessary paperwork."

Allison P. | Teach in Spain

"I was relieved to have a lot of the leg work taken care of for me in terms of paperwork and organization."

Brandon V. | Teach in Spain

"The tools and aid that CIEE provides both before and during the program, as well as the initial orientation experience are worth every penny!"

Amanda M. | Teach in Spain

"CIEE gives wonderful advice and a lot of support when dealing with a move abroad. They make the process much easier."

Andrea A. | Teach in Spain
Qualifications
No previous teaching experience or Spanish language proficiency is required!  Aside from a sense of adventure, there are just a few simple requirements to teach in Spain with CIEE:
Requirements
Native-level English fluency
A bachelor's degree in any field
Citizenship in the United States, Canada, or Ireland
Must be under 60 years old on January 1 of the upcoming academic year
Passport must have 3+ empty pages and must be valid at least 3 months beyond end of program on June 30
Applicants for our program may NOT have served as a Language and Culture Assistant in Spain for any part of the preceding academic year (Oct-June)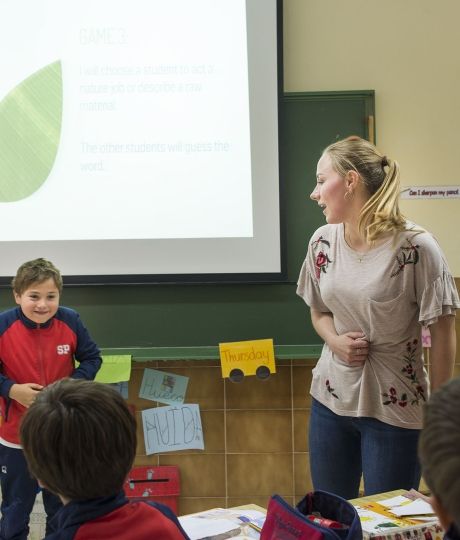 TEFL Certification
TEFL Certification
Boost your teaching skills and confidence before traveling to Spain with CIEE's 150-Hour TEFL Certificate course.  This premium online TEFL course includes:
130 hours of online coursework you can complete from anywhere
20-hour teaching practicum to give you practice teaching
Small class sizes so you'll build relationships with other classmates planning to teach abroad
ACCET accreditation recognized by US Department of Education
"This course opened my eyes to the world of TEFL.  While I do not have a degree in education, I feel more prepared to teach English in Spain this year.  The course provides you with plenty of practice, guidance, and resources to help you succeed in the classroom!"  Ashlynn H., Teach in Spain Participant.  Read more of Ashlynn's reflection on the TEFL certificate course.
Add TEFL Certification to your CIEE Teach in Spain application and receive a $195 discount!
Staff
Luke studied abroad in Morocco and taught English in Jordan, and visited many other countries along the way. He is pleased to put those experiences and lessons to good use...
Lauren taught English in South Korea for two years and she has since traveled and lived in over 20 countries. Some of her favorite experiences include trekking in the Himalayas...
Laura worked in various social services positions in France, Scotland and Thailand, before she came back to her hometown, Madrid, to support CIEE teachers in Spain.
Ready to change your life?