Introducing the New TEFL Initiative
CIEE TEFL has always been dedicated to helping future English teachers receive the best possible education and preparation for teaching English as a foreign language. As we all know, one truly never stops learning even if their time in a classroom comes to an end, and neither do we!
By the year 2020, predictions estimate the number of English Language Learner's will grow to a staggering two billion. Six years ago, CIEE TEFL set out with a mission to help create a more accessible world by empowering students with English language teaching expertise to confidently navigate the global classroom. After growing our family of 350,000 alumni worldwide, the industry has faced many changes and demands continue to rise. Evolution in the language learning industry is primarily linked to three trends: (1) multicultural understanding, (2) virtual learning, and (3) the unique skills desired in the field of English language teaching. 
The new TEFL initiative serves to meet the needs and demands of the rapidly changing industry.
Multicultural Understanding:
Our updated 150-hour course provides specific multicultural training designed to empower all teachers with the ability, confidence and knowledge to step into any classroom around the globe, regardless of background or origin, and feel prepared to teach.
We challenge students to reflect on their own culture and language to develop a deeper and more empathic understanding of their students. These new additions highlight the importance of the connection between these two elements. Recognizing these factors helps teachers to learn how to adjust and modify teaching strategies to match the specific needs driven by cultural context.
Virtual Learning:
It's no secret that the online learning is all the rage and TEFL is in the game. The online field of TEFL is rapidly growing an online presence. The new TEFL initiative is a promise to our students and an investment in the integrity of course. Where other online courses fail to meet expectations, the new TEFL initiative goes above and beyond.
New additions to our course attest to the efficacy of content acquisition, internalization, and implementation.  Our course thrives on the importance of interaction and student engagement. For this reason, the new TEFL initiative has been developed with a strong Community of Inquiry (CoI): cognitive presence, social presence, and teaching presence. The importance of each is weighted equally and contributes to meeting learning objectives. Asynchronous interaction is available and encouraged among peers and tutors to provide students access to a strong CoI. The opportunity for authentic communication allows peers to engage in relevant conversation to help promote deeper learning, which in turn yields both higher perceived learning outcomes and higher learner satisfaction.
Preparing for Practicum:
Practicum hours have always been a key element in proper TEFL training, and the new TEFL initiative is no exception. The goal of practicum is to help students feel as prepared and confident as possible before they step in front of the classroom as a teacher. Our updated TEFL course puts a stronger emphasis on the practicum and includes lessons dedicated to helping students research, prepare, and successfully execute their practicum requirements. 
These additions will assist the students in addressing their concerns with practicum, inform them on what to expect, and help them take the first steps. These steps include, but are not limited to, guiding students in reaching out to professionals at suggested locations, and providing tips for best practices in building these new professional relationships. Once a daunting mystery, completing the required practicum will be presented as an accessible element to all. 
Unique Skills Desired in the Field:
As the new TEFL initiative advanced, we never lost sight of our goal: to prepare teachers both in and outside the classroom. The industry is vast and encompasses a range of international educator roles (principals, counselors, pedagogical directors, administrative staff, social workers, immigration advisors, and many more). In each position, strong communication skills are a must. Our course is aimed to support and reach those seeking alternative positions. By creating content for international educators and integrating it seamlessly into our course, students learn how to improve the necessary skills for communication and how to provide better and more effective support and coaching services.  
Here at CIEE TEFL, we are proud of what we do. We believe in inspiring real change through TEFL. As the industry evolves, so do we. The new TEFL initiative provides students with what they deserve: the best.
*The new TEFL initiative was nominated for a 2019 GoAbroad Innovation Award.*
This award recognizes innovation in international education and identifies our new TEFL initiative for its efforts to address the growing need of English teachers who can adapt and teach to a diverse and multicultural student population.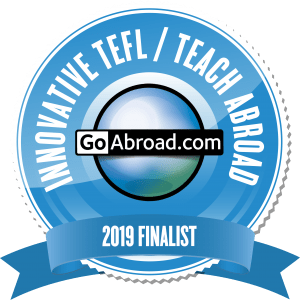 The GoAbroad Innovation New programs - Teach Abroad/TEFL award recognizes programs or initiatvies that create a unique experience or address a need/challenge in the Teach Abroad/TEFL industry. Nominees are evaluated based on current initiatives or programs, how it stands out from other resources in the field, and its overall impact on the participant experience. Winners were announced at the GoAbroad Reception during the NAFSA Annual Conference in Washington D.C later in May.  Learn more about the GoAbroad Innovation awards here.